Discover now five reasons to wear today the iconic Breton shirt. Afterthought, are you ready to follow soon my nautical outfit ideas and transform the way you usually look in fashion?
I always wanted to explore a new outfit and transform the way we usually look in fashion. Above all, everything we make with hurt and soul, it is priceless. As a result, The iconic Breton shirt is something undoubtedly fresh but with heritage and authenticity. Traditional Breton clothing inspired my nautical outfit ideas with a new approach to the future. Meanwhile, the history of fashion is an ageless state of mind. Be bold and surprise in the way you respect history. Above all, embrace elegant chic style and be original.
Most importantly, become the author of your own short story. Today we all bring our diverse identities and traditions. Together we can form something new and continue to respect our culture. Materials, like people, tell a story of origins. In the same vein, Follow my nautical outfit ideas through the iconic Breton Shirt and explore the creativity of these aesthetics.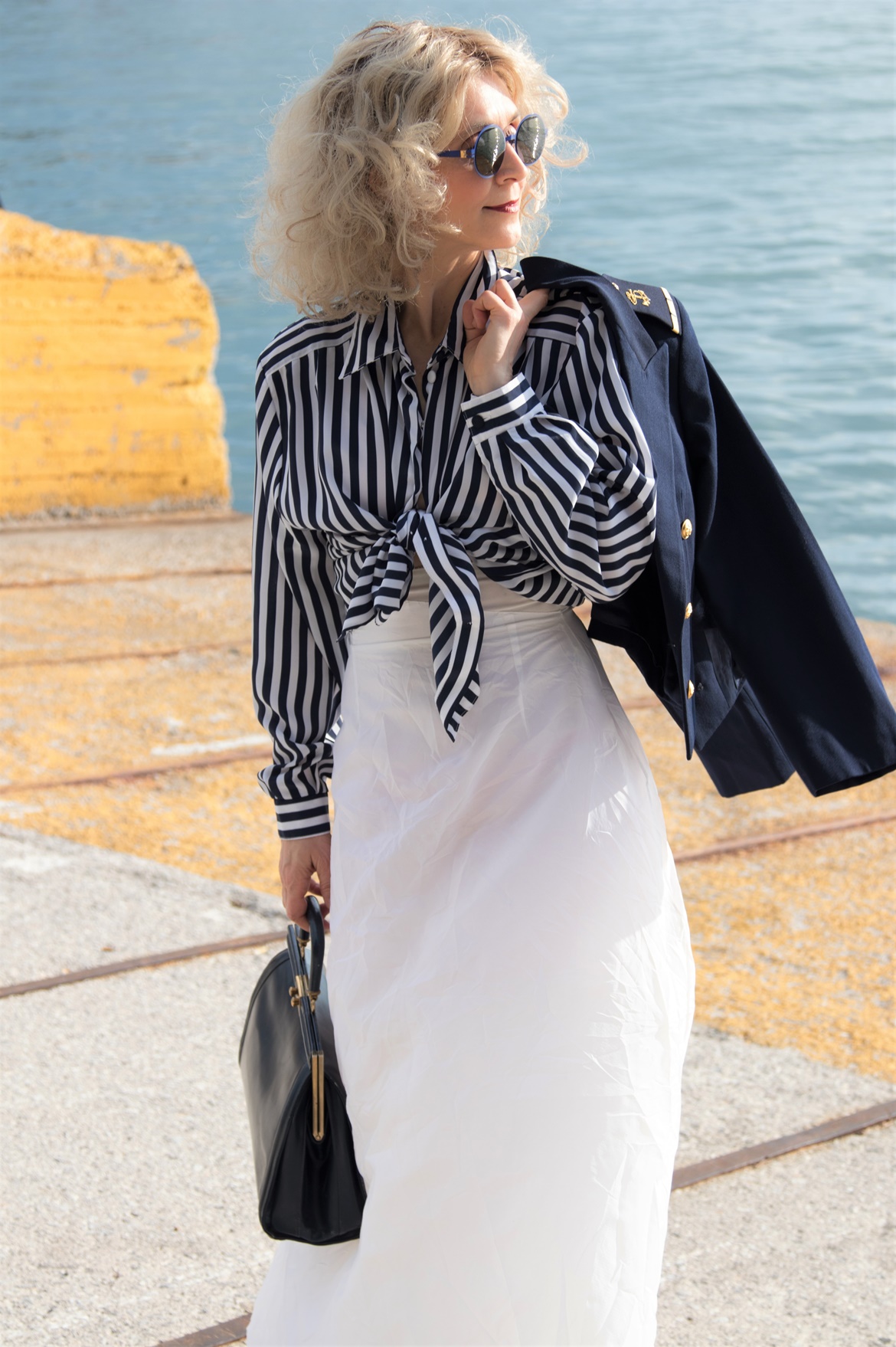 Above all, when and where is explored the Breton shirt? How Cocco Chanel years before, empowered women's style and made the Breton shirt synonymous to eternal style?
However, I found joy in exploring the history of the Breton shirt. It connects to my love for materials and real quality. This traditional nautical look is synonymous with seafarers and sailors across the north of France. That is to say, the well-known mariniere or Breton stripe was born in the Normandy region of France, in a little village called Saint-James. In 1858, the company was commissioned by the French Navy to create its official naval uniform, and the original design featured 21 stripes, one for each of Napoleon's victories.
Certainly, Cocco Chanel, inspired by the workers' uniform during her trip to the French Rivera, has created a nautical theme collection in 1917. Since then the Breton striped shirt has empowered women's style and became popular in the fashion world.
In the '50s, movie stars were seen wearing striped shirts through the media. Meanwhile, in the '60s and '70s, people expressed their voice about style.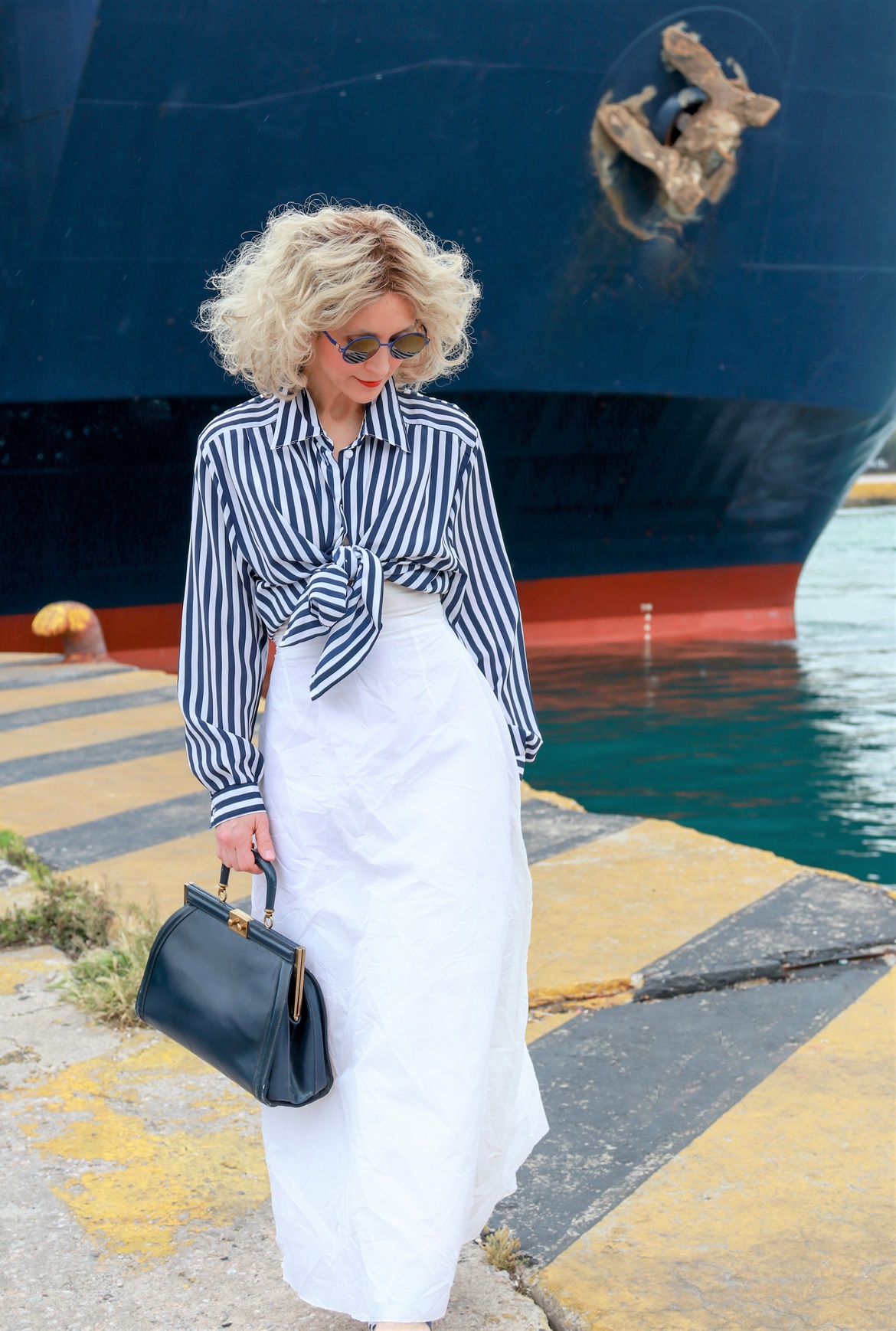 Which are the five reasons to wear today the iconic Breton shirt? Open your eyes and see: How water develop the most directional nautical look of the season?
There is a nostalgia, attached to my outfit, which I now explore freely and I enjoy. From Audrey Hepburn to Pablo Picasso, and Jean-Paul Gautier, the Breton Shirt in my eyes is always a new style message. Where ever I look, in front of me and around me, I'm happy to explore the most directional look of the season, a return to elegance and refined luxury. Meanwhile, my thought is traveling to new destinations, far from the city. On the other hand, I do believe in the importance of Aristotle's theory about water. To sum up, earth, air, fire, and water. That's life.
I focused on this theory, and I imagined a new look that has a new powerful message to deliver. The summer's new couture intricates my creative imagination. Why not wear my favorite Breton shirt with couture elements, and maybe return to a feminine, less-is-more silhouette? In short, let's discover together five reasons to wear a striped shirt with couture references.