What styles are trending today for 2021 everyday Paris Street Style? New, Top classics by Omar Mansoor AW21 collection create now the hottest ever outfits.
I immerse myself into the best everyday Paris Street Style during Paris Fashion Week 2021. Still, my personal experience during the International Fashion Week Calendar captured my attention to street fashion. How do you dress for Parisian style 2020 – 2021? What styles are trending for 2021 under the Covid-19 restrictions? What should I wear in Paris 2020-2021? However, I refocused differently on  Paris Street Style. Moreover, one thing is certain: I placed my trust in creativity to find innovative ways to move forward. Change is a chance in fashion.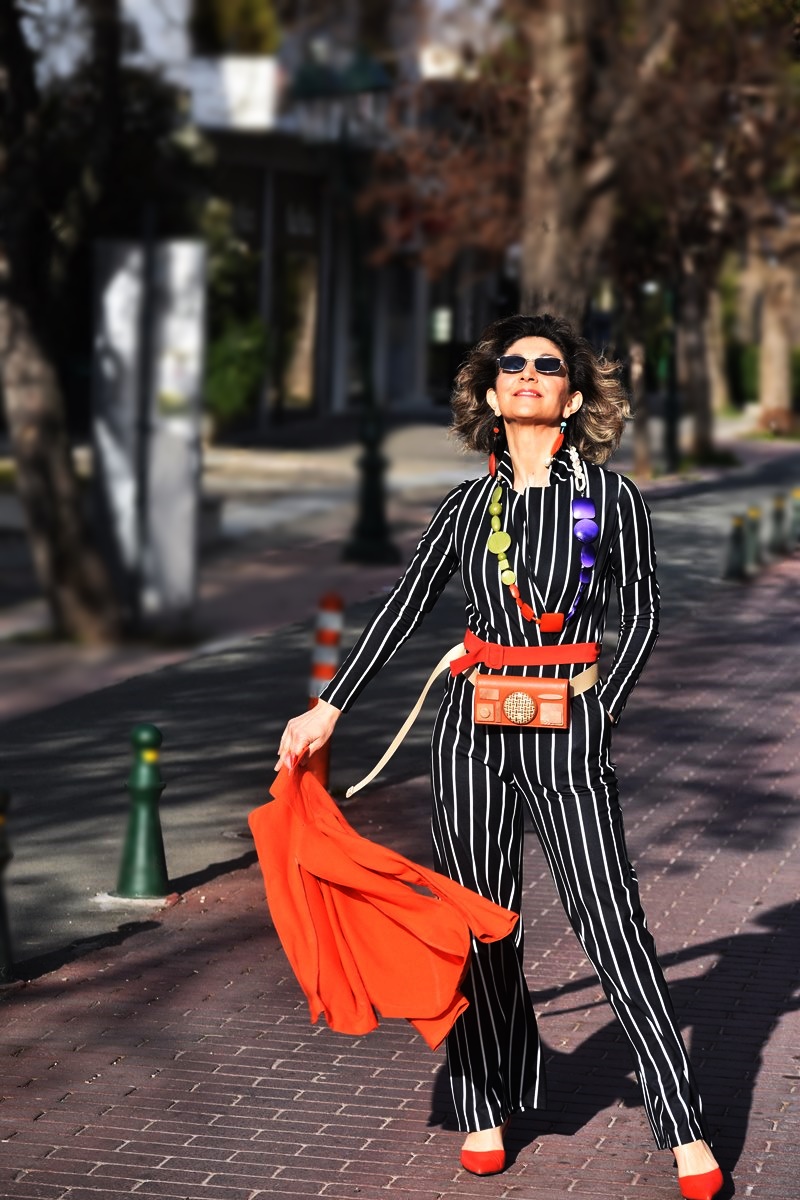 Above all, My collaboration with the London based designer Omar Mansoor found room to broaden out the fashion conversation. Today, I would like to thank Omar for collaborating with me and sending me exceptional everyday essentials from his Autumn/Winter 2021 collection. In my eyes, PFW street style has to do with a personal expression for Fashion outfit 2021. Through Omar Mansoor collection I explored new palettes of classics that are unique and individual.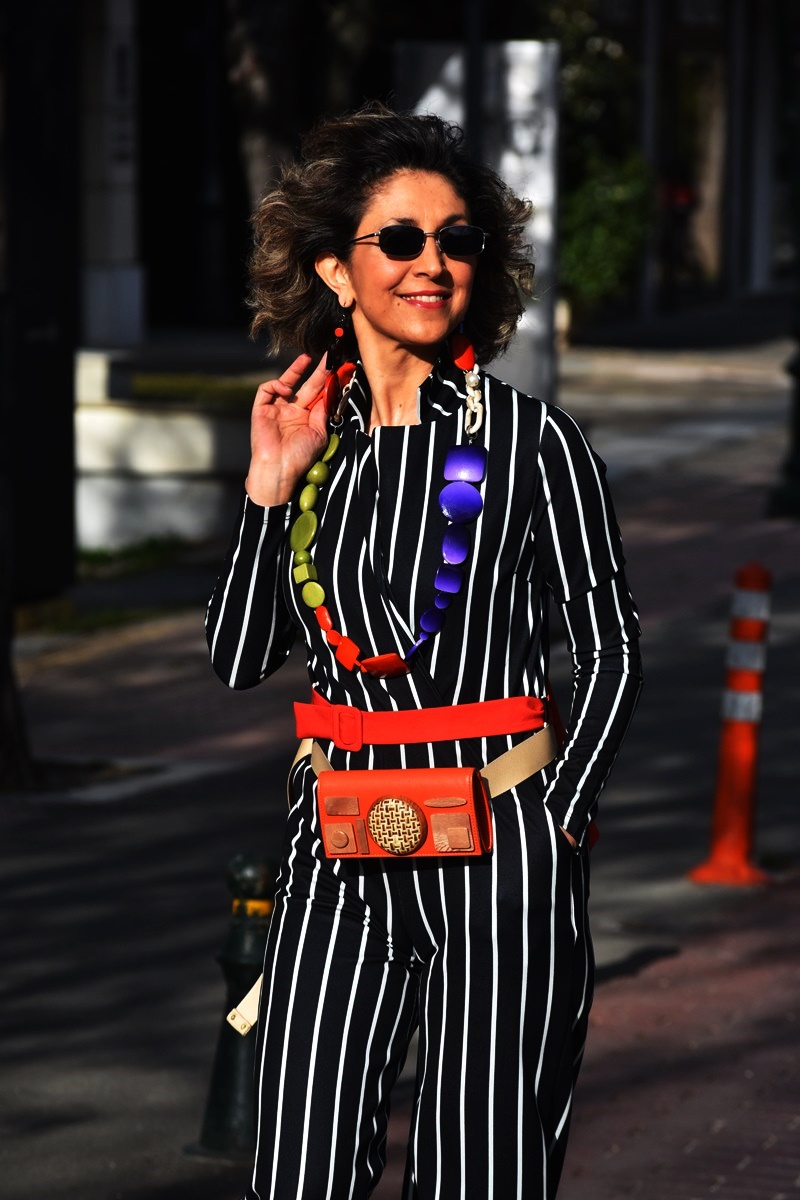 Open your eyes and see the best season's classics for your street fashion in Paris by Omar Mansoor AW21 collection.
Back to basics, black and white are high on my Paris Fashion Week 2021 chic black outfits. Firstly, Simple wide-leg trousers, striped jumpsuit, little black dresses, and v-neck blouse by Omar Mansoor's AW21 collection become a highly commercial choice for outwear. Secondly, From the season's classics in black, the orange palette of Omar's fall styles became perfect for a typical french woman appearance. I do expect to see the orange colour on cute outfit ideas any day soon.
In addition, for the designer, orange and black in colour means be passionate, strong, ready to empower your feminity. That is the new message of my collaboration with Omar Mansoor for Paris street style 2020-2021: Be proud, courageous and expressive. Timeless colours and cuts that look stunning for years to come.

About Omar Mansoor AW21 collection:
The Autumn-Winter collect is featured in two colours: Burnt orange and Black. Likewise, this capsule collection consists of pieces that you can mix and match to dress up for an evening or day wear.
Most importantly, the fabrics are the overproduction that in the fashion industry we discard as landfill. That is to say, at Omar Mansoor, we try our level best to use fabrics in a sustainable, responsible towards the environment way.
Today, dying textiles causes lots of water pollution. In other words, the dyeing process uses enough water to fill 2 million Olympic-sized swimming pools each year.
In short, this capsule collection focuses on tops, trousers, and smart jackets easy to coordinate with multiple styles.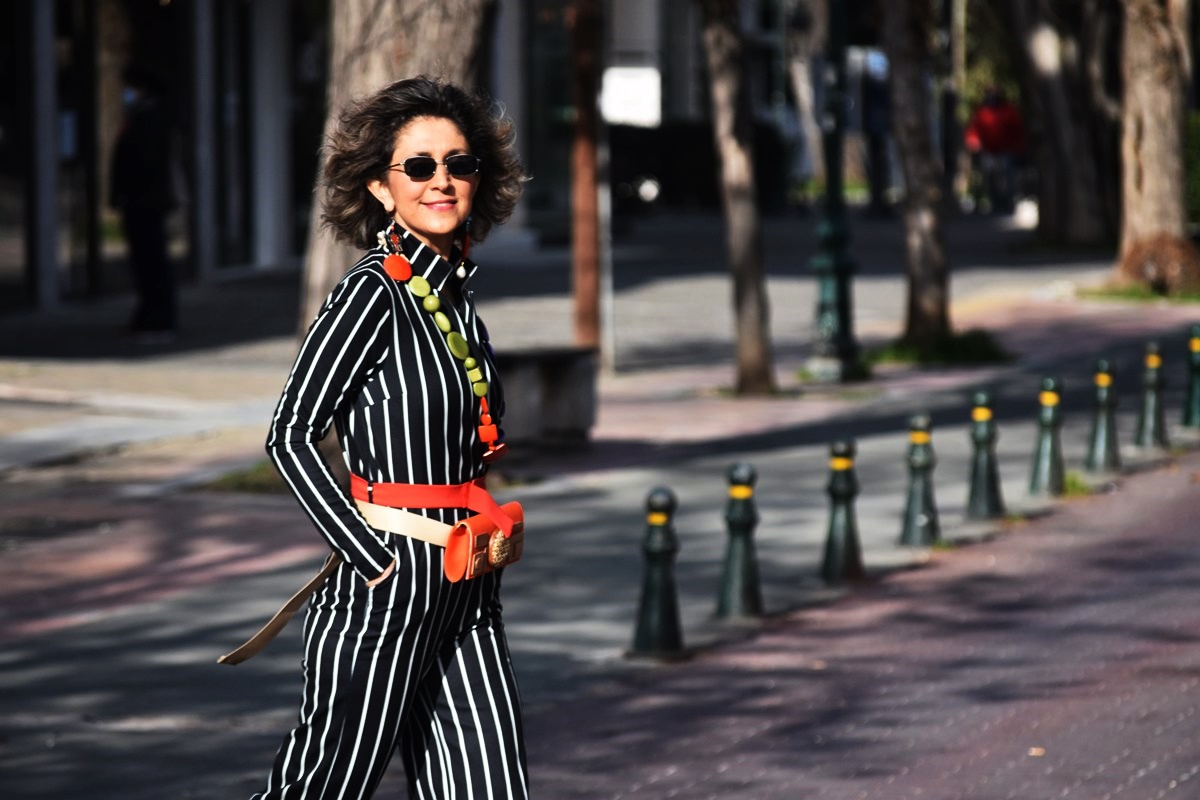 Now, the Best Street Style at Paris Fashion Week Fall 2021 by Omar Mansoor AW21 collection. Parisian Chic Style today: Finally, Your anytime Everyday Essentials.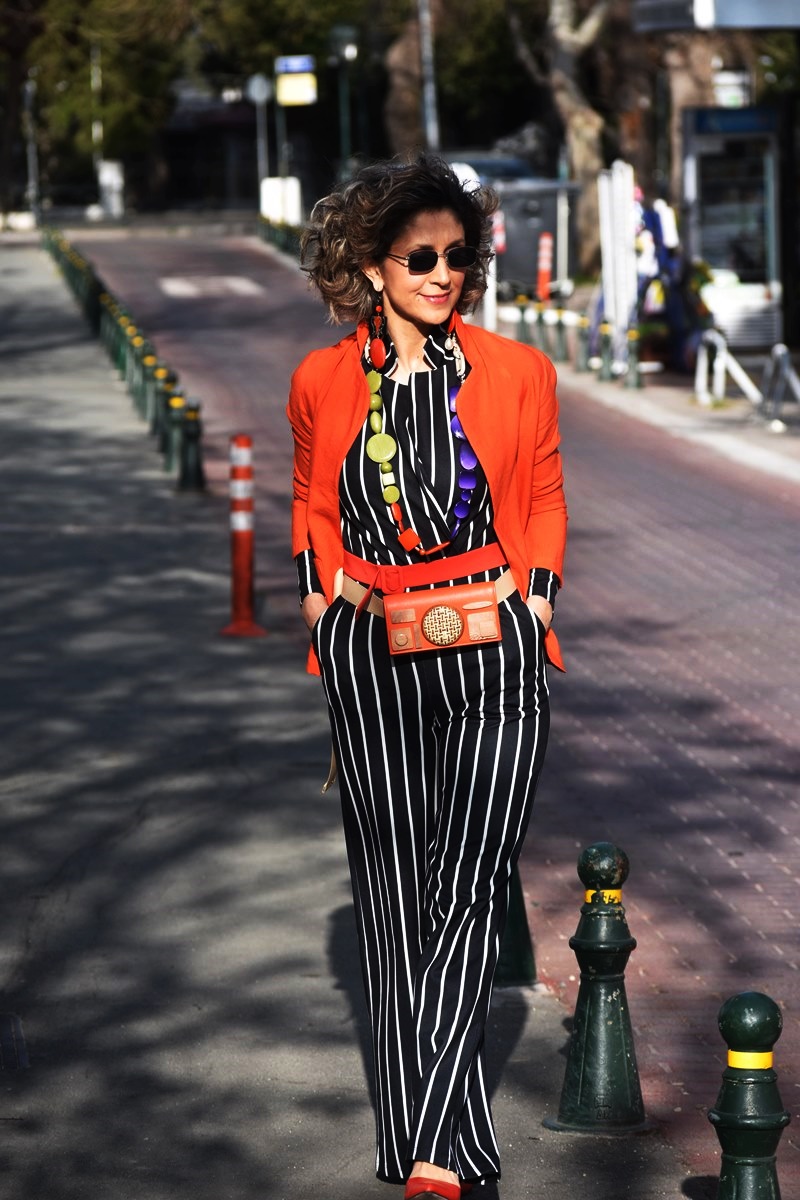 ♦The chic jumpsuit: How to wear a wide-leg jumpsuit for your everyday Paris street style from Paris Fashion Week Fall 2021?
The best street style looks from Paris Fashion Week 2021 point the way to a new era that has to do with timeless, ultra-feminine clothes. Today, the striped wide-leg jumpsuit by Omar Mansoor come into play for fluid options. A superb suit weight cloth for tailoring fashion design or casualwear fall fashion outfits. In short, that is my new relaxed approach to tailoring. The head-to-toe, all-in-one garment creates a striking look that moves beyond a simple dress or pants into more fashion elements. Let's not be afraid to enjoy our ultra-feminine side, and see how to wear a soft, wide-leg jumpsuit with sleeves.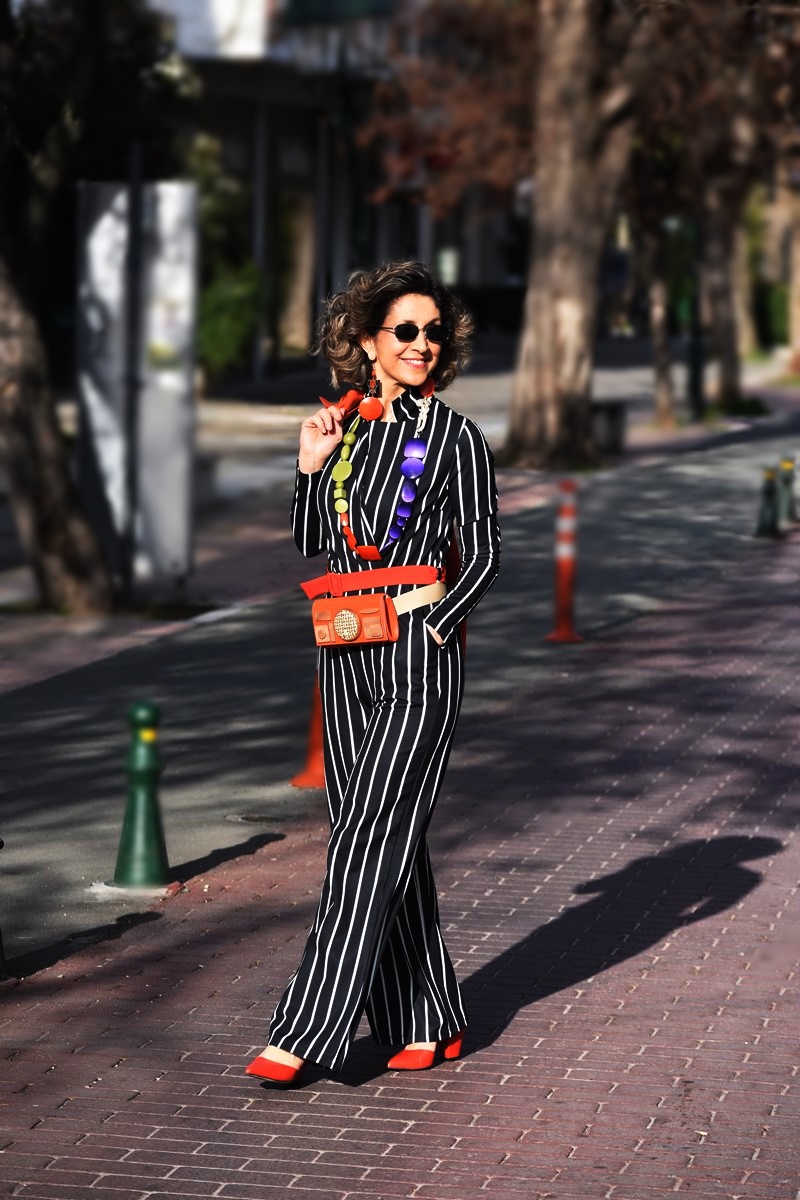 ♦Afterthought, How to wear a jumpsuit? Stop and see it now.
First of all, once I knew my requirements for key fashion trends 2021 during Paris Fashion Week 2021, I started to focus on details. However, I do know that the wide-leg jumpsuit can be just beautiful and stylish like a dress for any formal event. Moreover, I have chosen a well-tailored style that flatters my silhouette and follows my body rather than restricts it. In short, I loved the idea of a floor-sweeping one piece. In this way, my chic jumpsuit in outstanding black and white vertical stripes emphasizes the flowing movement of the garment.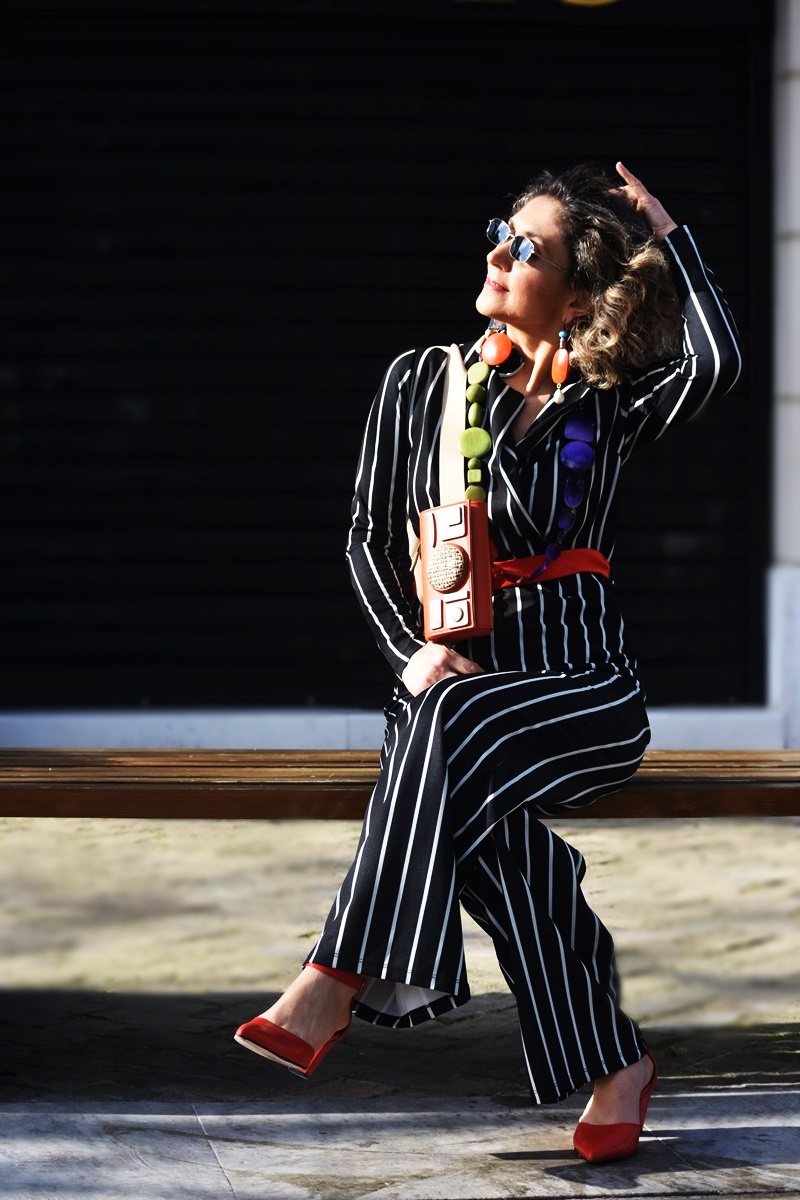 Belt bag, mid-heel shoes and Fashion accessories limited edition collection by Think-Feel-Discover.com

♦How to Layer a Jumpsuit today? Still, The always light orange blazer.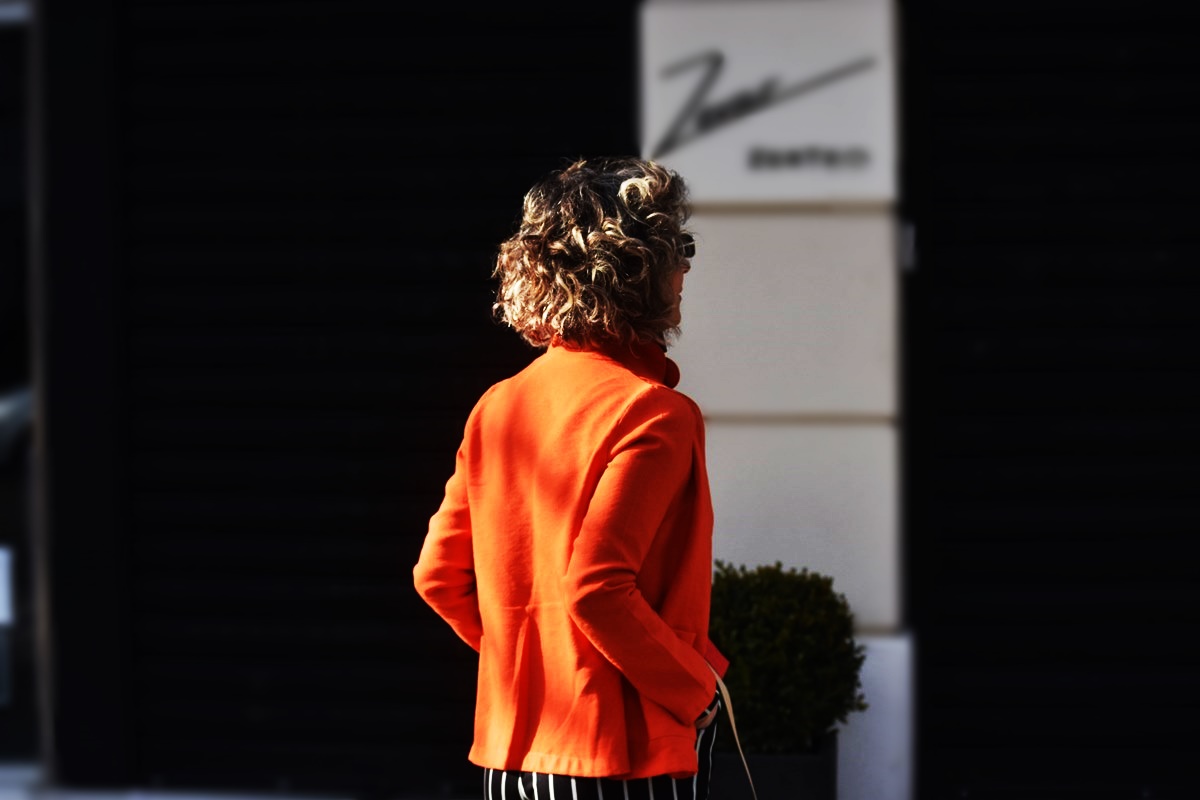 Best style ideas to layer my wide-leg jumpsuit have to do with new flexibility in womenswear colours. The orange blazer women's designed by Omar Mansoor's AW21 collection suit perfectly with the vertical striped jumpsuit. Afterwards, Orange is a powerful colour, ready for action, bold, and beautiful. Be flexible, dare to abandon old formulas. To sum up, Street fashion for 2021 during Paris fashion week 2021 look different, joyful, and embrace vibrant colour shades. A good orange blazer combination makes me look trendy, ready to brighten up my hottest outfits in Paris.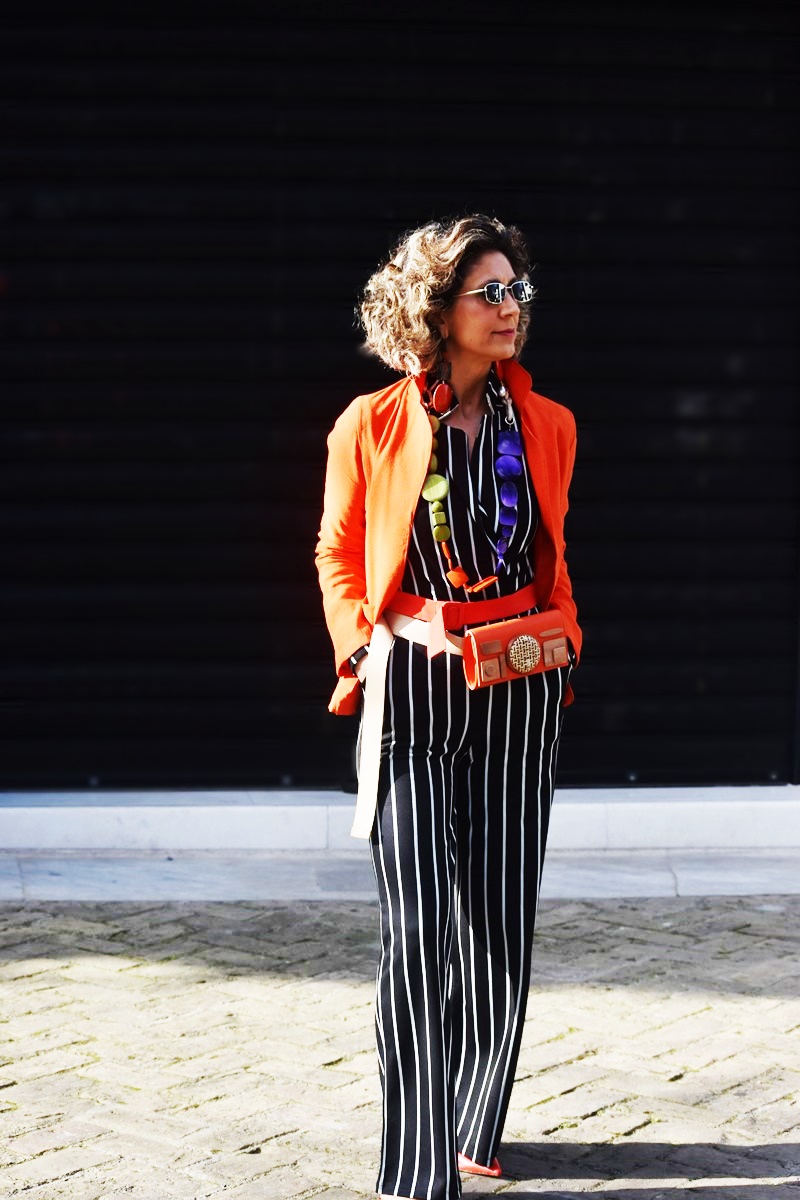 ♦What shoes do I start to wear today with a new jumpsuit for my french style clothing?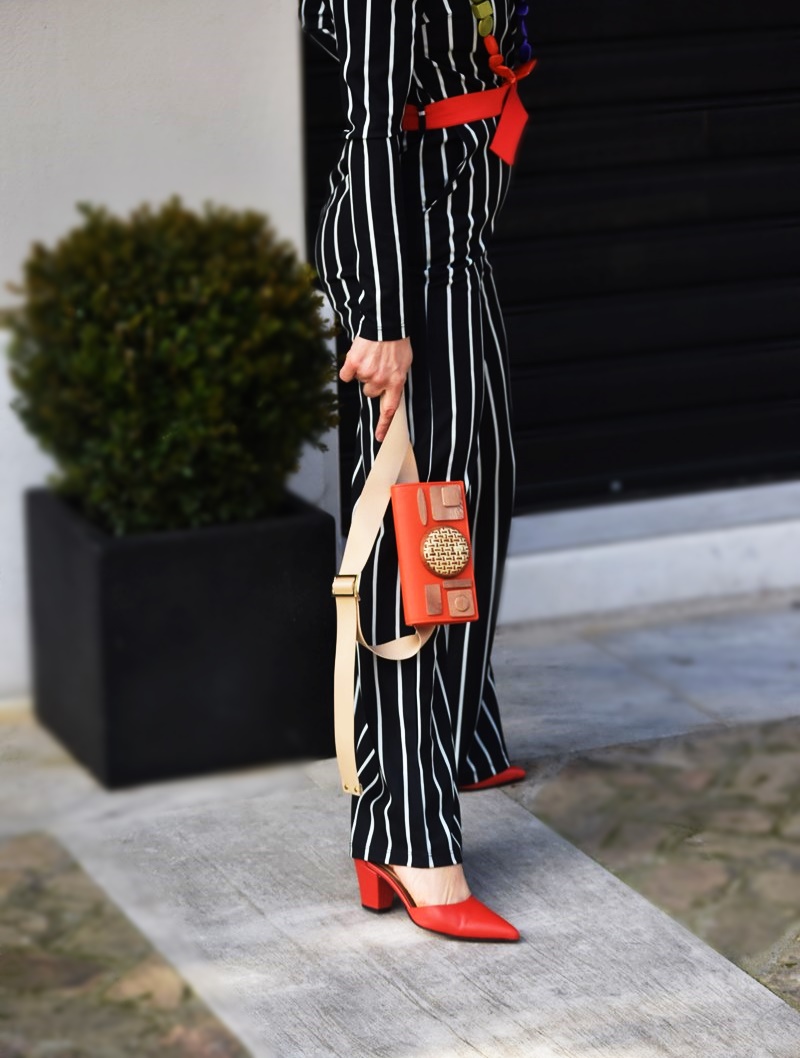 Firstly, Looking to challenge my outfit suggestions for Parisian style 2020-2021, I have chosen to wear Red mid heel shoes. This is the most classic, and comfortable heel height enough to wear all day during Paris Fashion Week 2021. Secondly, I am passionate about red heels, as red shoe uprise femininity, and empower a woman's style. However, my red mid heel shoes add energy, desire, and love for Omar Mansoor's striped wide-leg jumpsuit. Take note that red colour in mixture with black signals feminity and express your determination to stand out of the crowd. Those are the best shoes to wear for my everyday Paris street style 2021. Above all, the Parisian style is a practical and comfortable style to wear every day. Remember that Parisian girl will never compromise comfort for the style.