What shoes are in style for London Fashion Week? How does a Fashion Stylist reinvent the hottest new shoe styles right now?
Changing styles in footwear have always captured my imagination for my London Fashion Week street style 2020. New shoe styles became my priority while contemporary new trend shoes continue to make headlines and challenge my London Style. However, my daily life as a Fashion Stylist and blogger is all about finding my way to wear trending shoes, creating new images in fashion. In short, the joy of being creative, of making new outfit ideas, it is a challenge to go beyond any expectation, to reinvent the shoe trends that will be everywhere in 2020.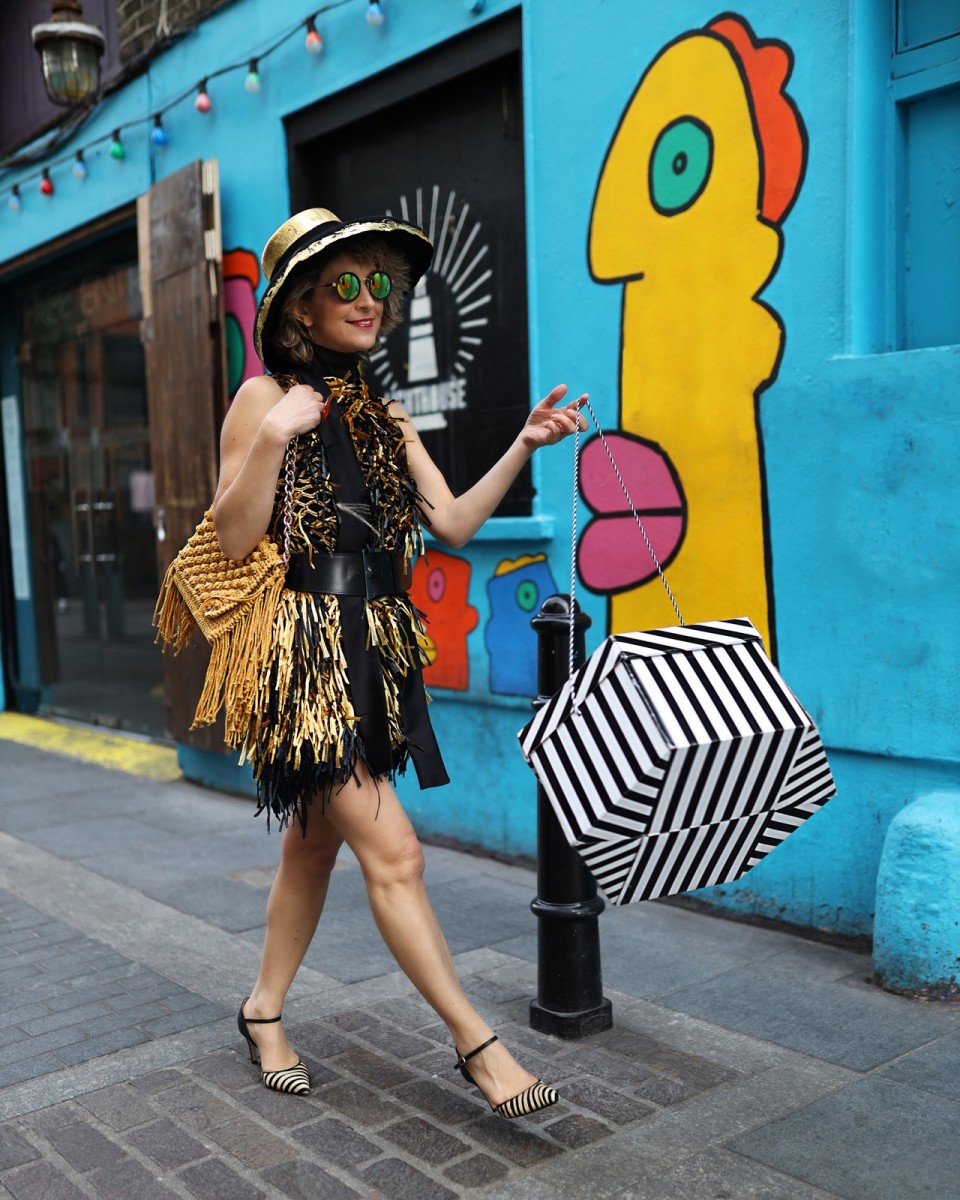 Thinking about colour, and new shoe styles to update my way to dress for street style fashion in London, I talked to a talented Greek shoe designer, Ria Labrinoudi, to explore shoes every woman should own. How to create the top shoe trends of 2020, and how to wear them? These questions were the inner voice of my collaboration with Ria. Certainly, I took inspiration from the fact that she was a unique, sensitive, strong, independent woman, whose outlook on life gave me the answer on how to evolve my fashion week outfits.
Likewise, The three definitive new shoe trends of 2020 I collaborated with Ria Labrinoudi helped me to find the best colour, texture, and style before I start shopping. Let's take an exclusive first look at Ria's Labrinoudi new shoe styles for London Fashion Week Street Style 2020.
You can never take too much care over the choice of your shoes. Too many women think that they are unimportant, but the real proof of an elegant woman is what is on her feet. — Christian Dior

Are you ready to discover the three London street style inspiration behind the new shoe styles by Ria Labrinoudi, the top trending shoes for women in 2020?
1)London Fashion Week 2020 new shoe styles: The Delfis Ankle Boots.
These ankle boots weren't just another black pair in my closet. Thanks to the matt-sheen look of floral in mixture with high-quality Italian leather, Delfis 11,5cm With Platform 1cm Leather Ankle Boots played with my eccentric sequined trouser. Above all, they had already my attention, so I loved to wear them with sequined trouser, and a stylish casual t-shirt in pale aqua. To wear this shoe is to wear a piece of art.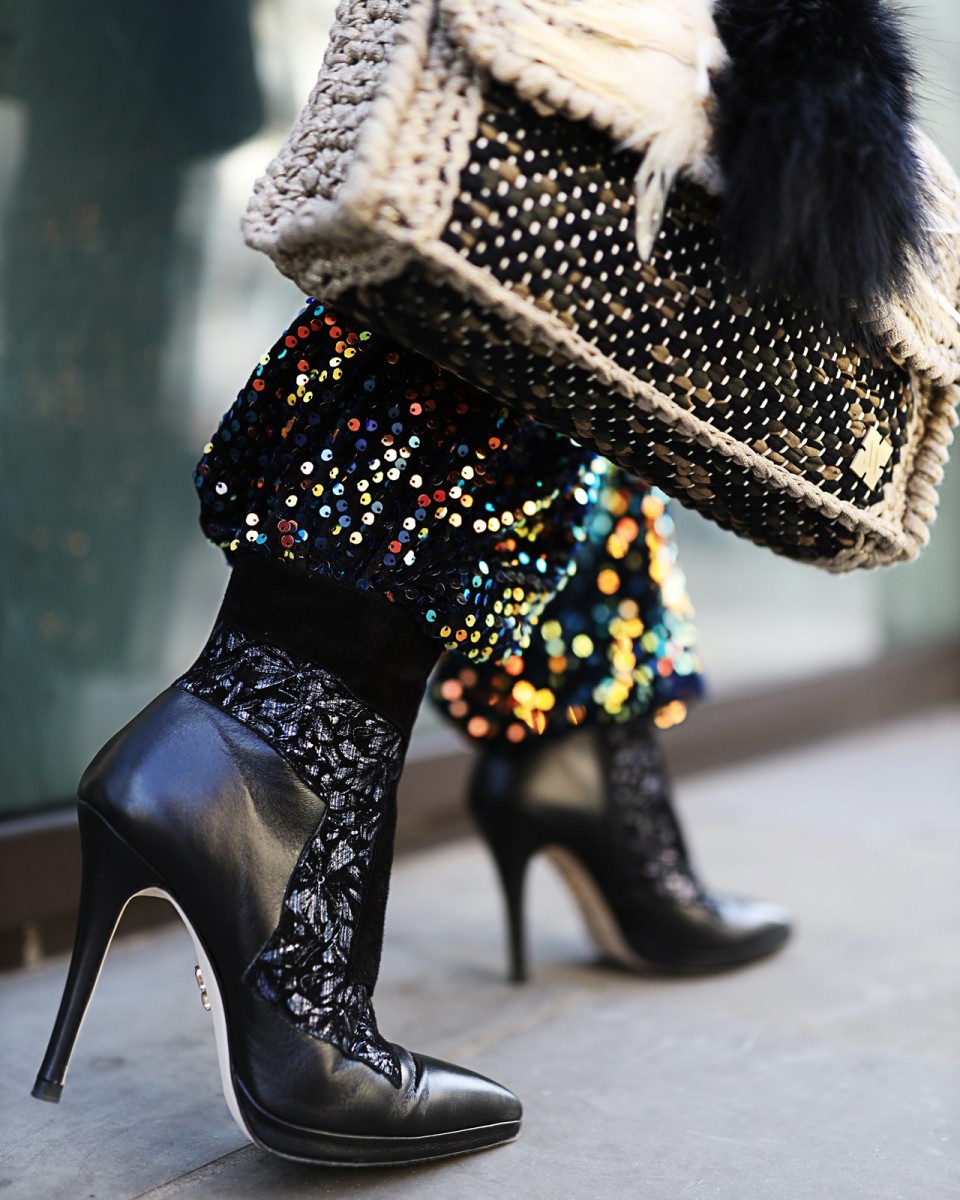 2)London Fashion Week 2020 new shoe styles: The Dioni Leather Pumps.
The most ubiquitous shoe trend for spring 2020 will be the Dioni Leather Pumps. It is about a new 8cm Zebra Print Calf Hair Pumps ready to go for a sophisticated or playful look. Firstly, I wanted something different than traditional leopard print pumps. Secondly, a complete contrast to the classic look, I've chosen to wear the Dioni Leather Pumps with an organic, natural crafted dress.
Moreover, I realized that they were so comfortable that I could wear them all day long during fashion events. Dioni pumps are trendy, elegant, and whenever you need a heel, you can wear them with jeans on Monday, and black leggings on Friday night. Most importantly, It looks comfortable, stylish, elegant, and sexy.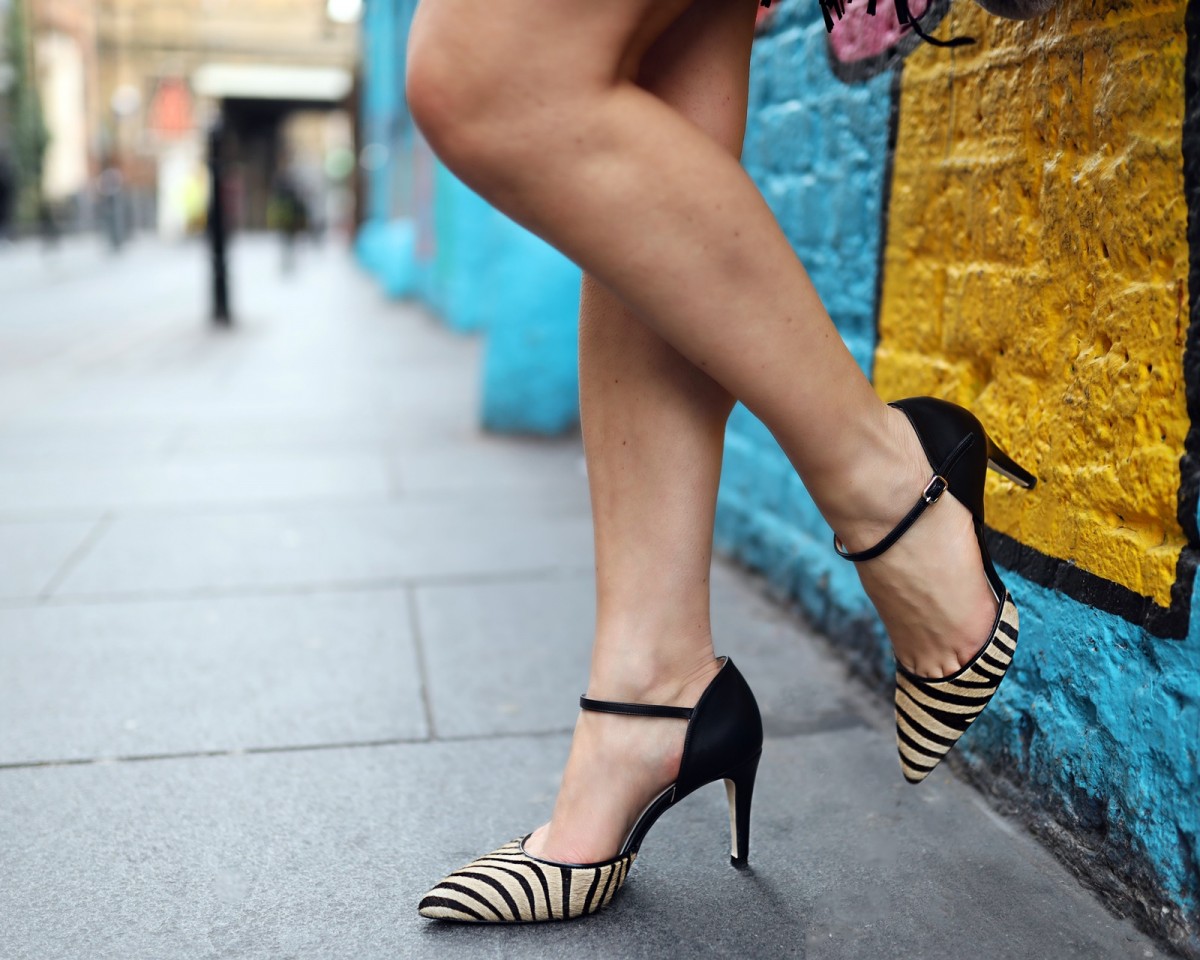 3)London Fashion Week 2020 new shoe styles: The Sunny Leather Pumps.
Though always a classic, Sunny Leather Pumps in yellow colour by Ria Labrinoudi is making its comeback in playful colour shades. No more black leather pumps. Let's add a touch of yellow. From indigo to pink or lilac, the Sunny Leather Pumps are ideal for those who don't want to play it safe in 2020. Brighten up your wardrobe with sunny shades of yellow. Are you ready for new shoe trends to shop in 2020? Choose to be the first to know.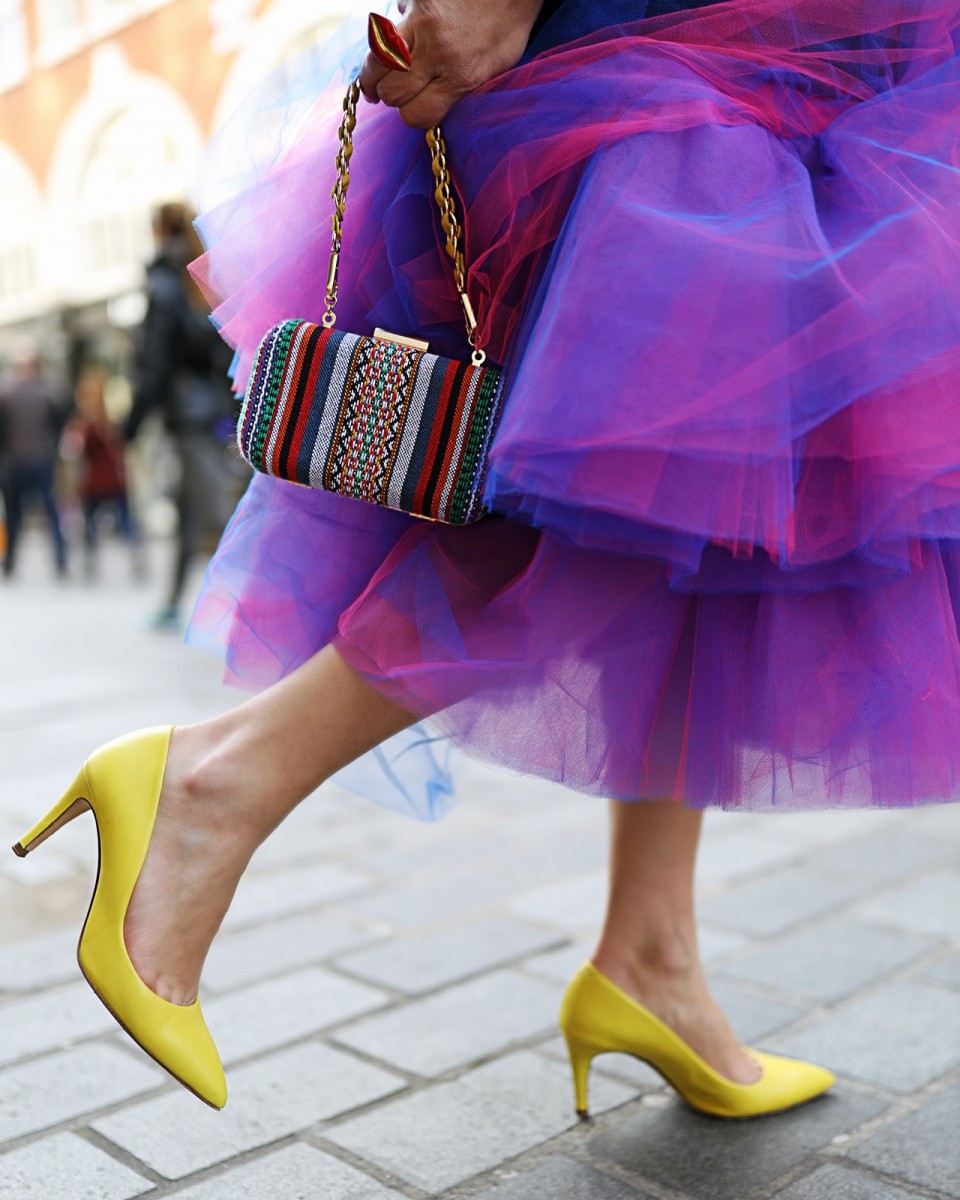 Interview with Ria Labrinoudi, the shoe designer. Discover it now.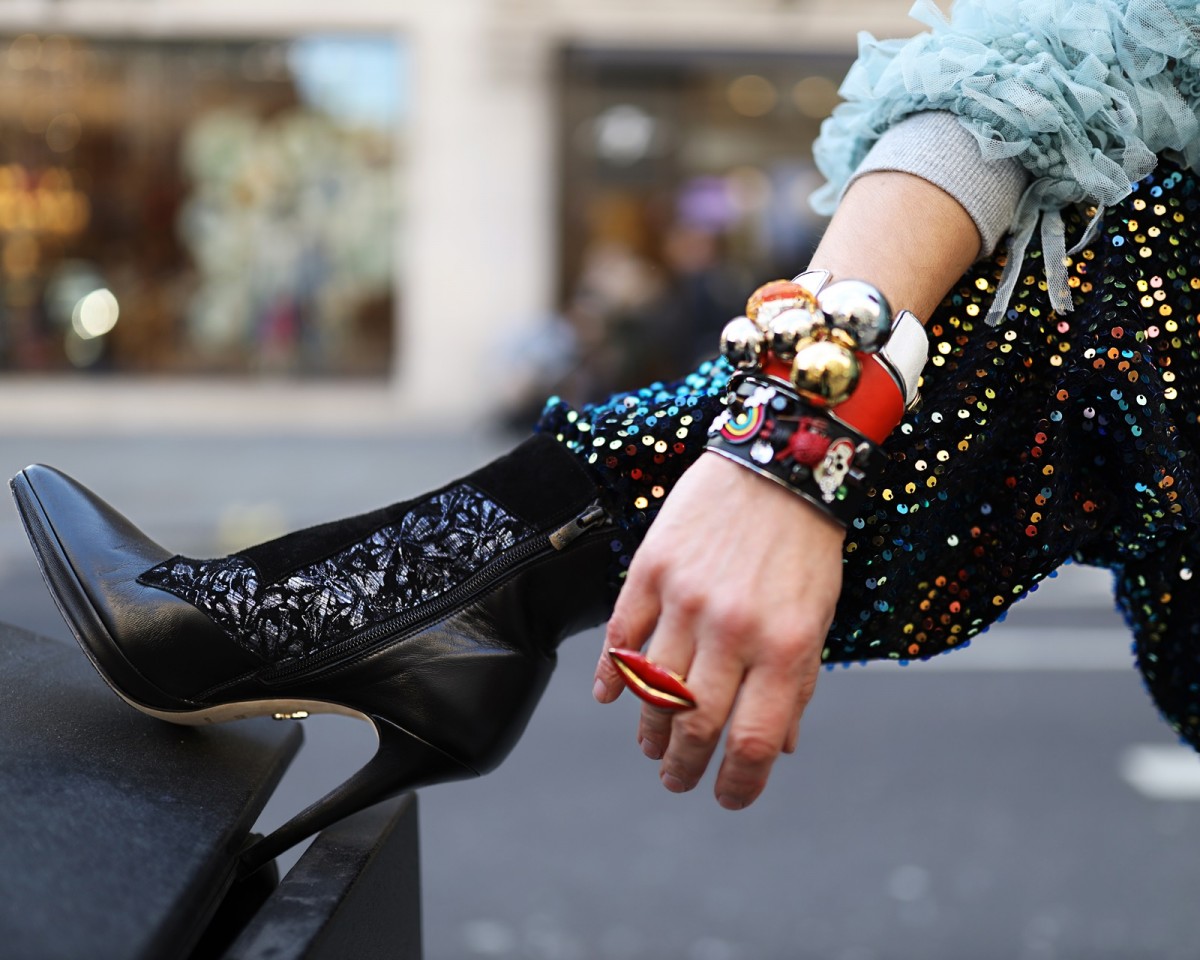 ♦Think-Feel-Discover:
Who is Ria Labrinoudi? Where are you from, and how did you become a shoe designer?
My name is Ria Labrinoudi. I was born in Chios in 1982, where I lived till the age of 18. Moreover, I studied economics in Patras for four years, and I obtained an MBA diploma. As soon as I finished my studies, I worked in the banking sector for ten years. After all these years, I decided to make a change in my life. I followed my dreams of shoes making.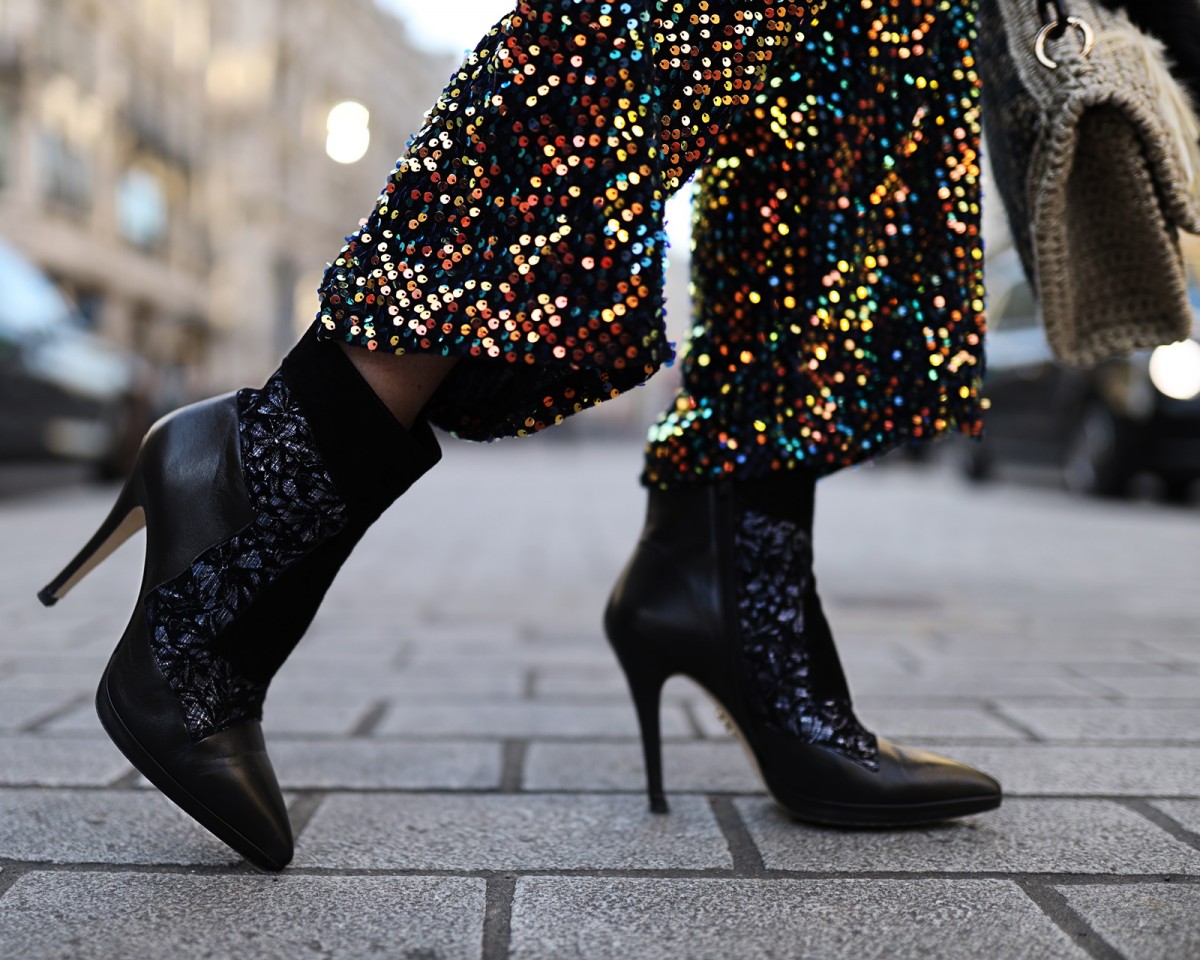 ♦Think-Feel-Discover:
How did you learn the craft of making shoes?
So, I decided to go back to school, and learn the shoe craftsmanship. Firstly, I studied in three different schools in Greece. Secondly, I made my recherche about the best Greek shoemakers and shoe designers. In addition, I worked with them to learn the craft of shoe design as well as the skill of selecting the right materials.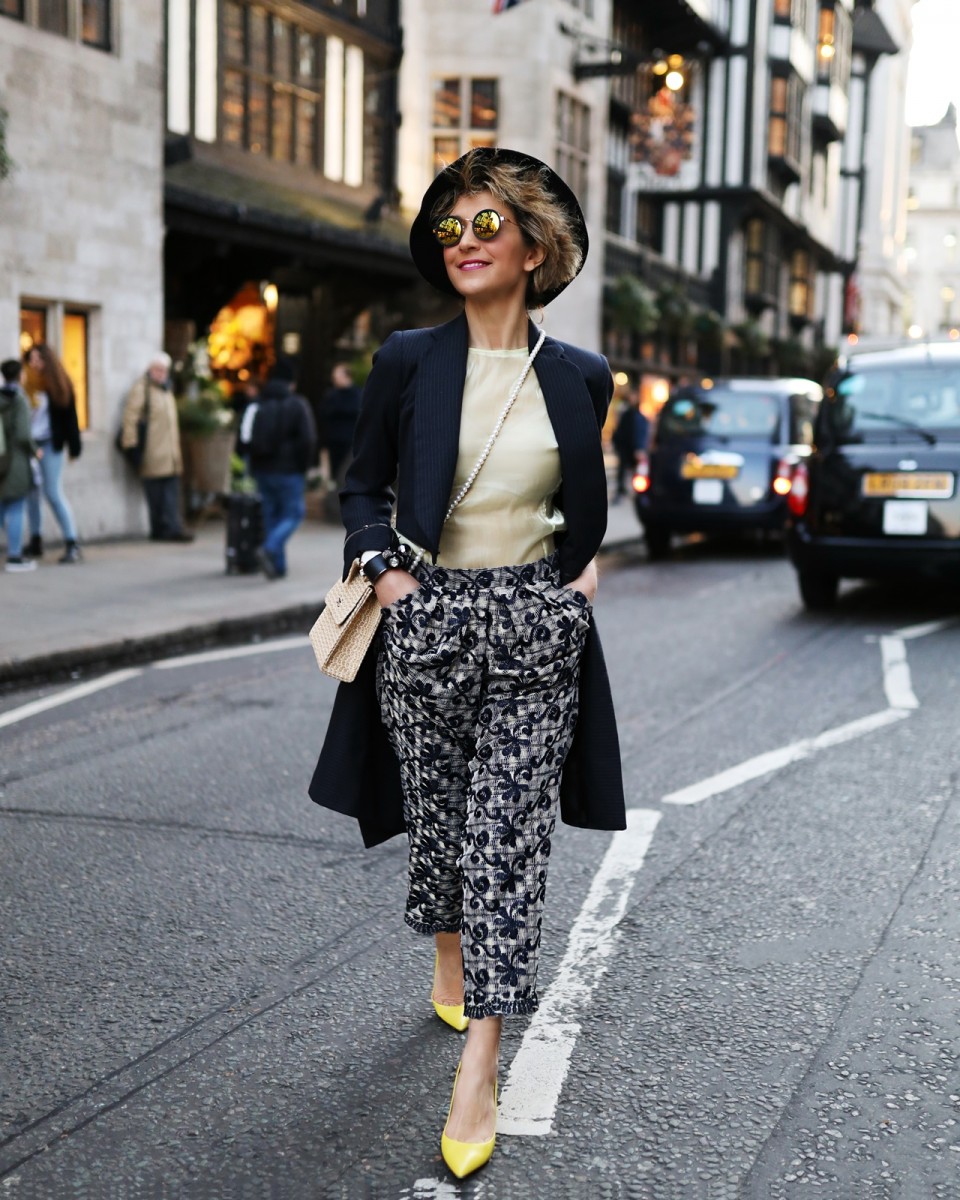 Likewise, I made by hand many pair of shoes. I did all the procedure, from, drawing the design to the final product. I learnt how to modify the shoe lasts, how to cut the leather and do all the finishing of my shoe design inspiration. In 2018, I made the step I always dreamed of: I launched my brand with my name Ria Labrinoudi. After putting so much effort, I finally made it. I succeeded in making comfortable handmade shoes. Despite the heel height, that fit perfectly on the feet yet are so chic and stylish!
♦Think-Feel-Discover:

Why did you decide to launch the Ria Labrinoudi label?
First of all, because I love shoes, and secondly by launching my label, I could use high-quality materials for my collection. That is important to me.
♦Think-Feel-Discover:

If you could describe Ria Labrinoudi shoe aesthetic in 5 words, what would be they?
Elegance, Comfort, Femininity, Smooth lines, Modern design are the aesthetic of Ria Labrinoudi shoe design. Fit to women's daily way to dress, and make them look elegant.
♦Think-Feel-Discover:

Can you tell us about your first shoe design?
I made my first shoe design in 2013. Every time I remember these days, I'm smiling. I was trying for days to finishing it, but I couldn't stop to try again, and again. I keep this first shoe design in my office to always remember how I started.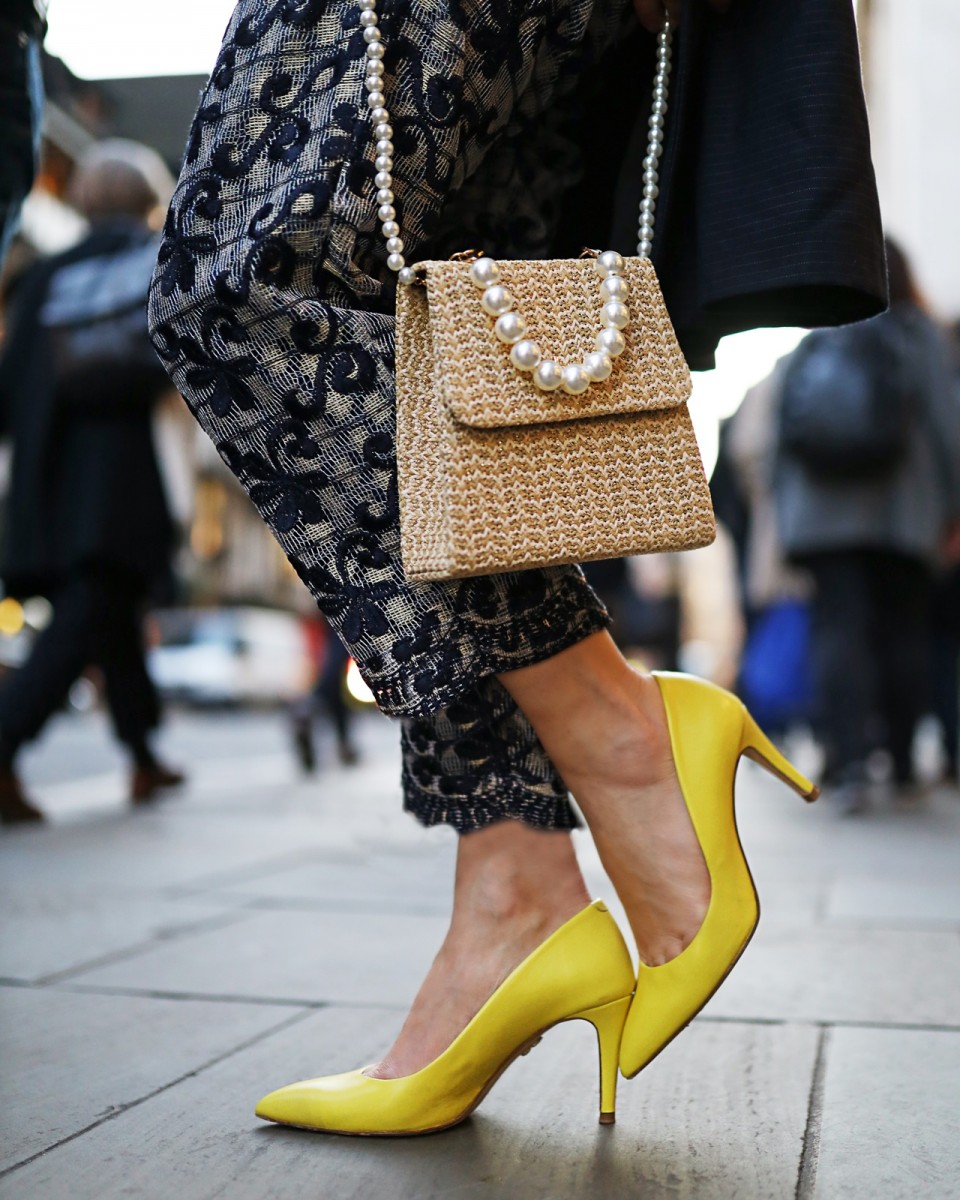 ♦Think-Feel-Discover:

Where do you make your shoe design? How do you ensure the high quality of your pieces?
I make my shoe designs in Greece. That is to say, I cooperate with the best Greek Shoemakers, and I put a lot of personal effort. However, I use high-quality materials, and I check daily the shoemaking process.
♦T
hink-Feel-Discover:

What are your criteria for well-constructed and well-designed shoes? What kind of materials do you use for your shoe design?
There are so many technical details in the shoemaking process. Above all, I love to use high-quality Italian leather and fabric. For me, it's the best material for my shoe design. High quality is my absolute criteria for my job as a shoe designer.
♦Think-Feel-Discover:

Tell us about your design style. What makes your collections unique in the industry?
Every design of Ria Labrinoudi label offers comfort and style. That makes my collections unique: The combination of design and shoemaking process.
♦Think-Feel-Discover:

Tell us about your Delfis Ankle Boots, and what inspired you to make this design of leather ankle boots?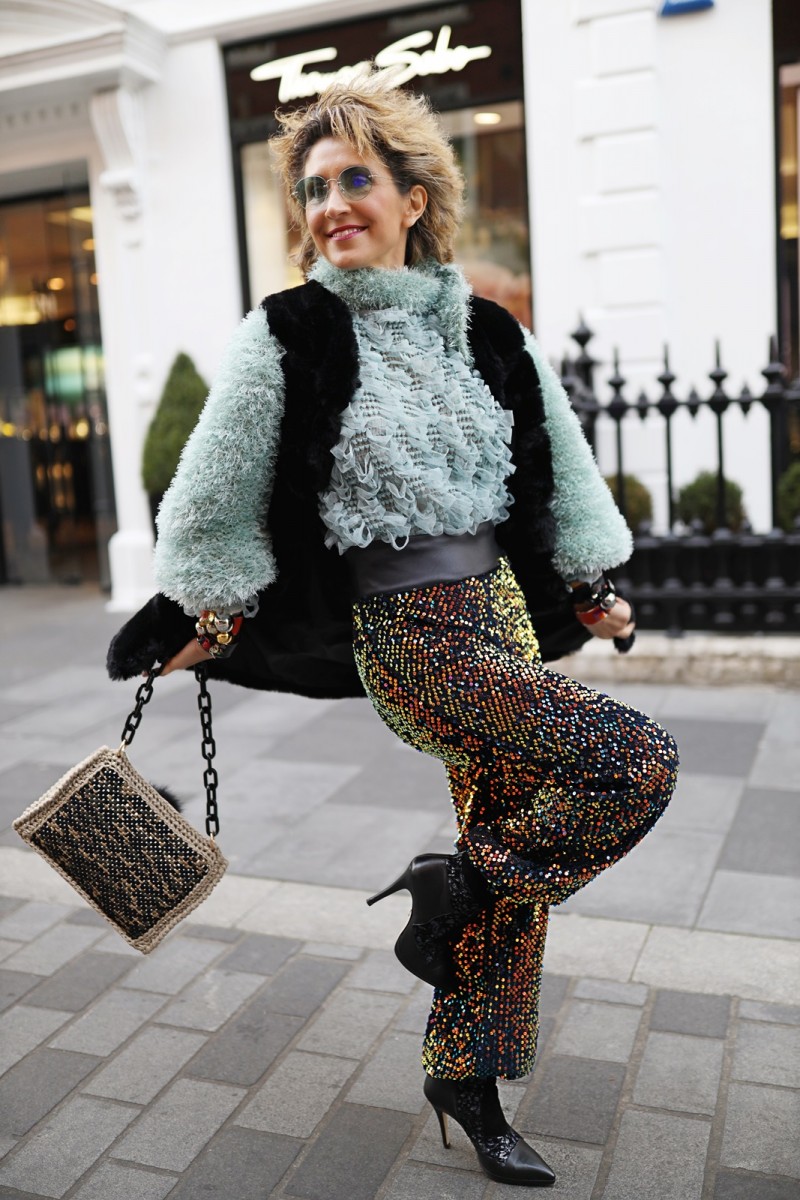 Delfis Ankle Boots is my favourite and my first ankle boot design. However, the inspiration came from the sea and the waves. I was on vacation in the Caribbean Sea where I designed Delfis Ankle boots.
♦Think-Feel-Discover: Tell us about your Dioni leather Pumps, and what inspired you to make this design of Mid heel pumps?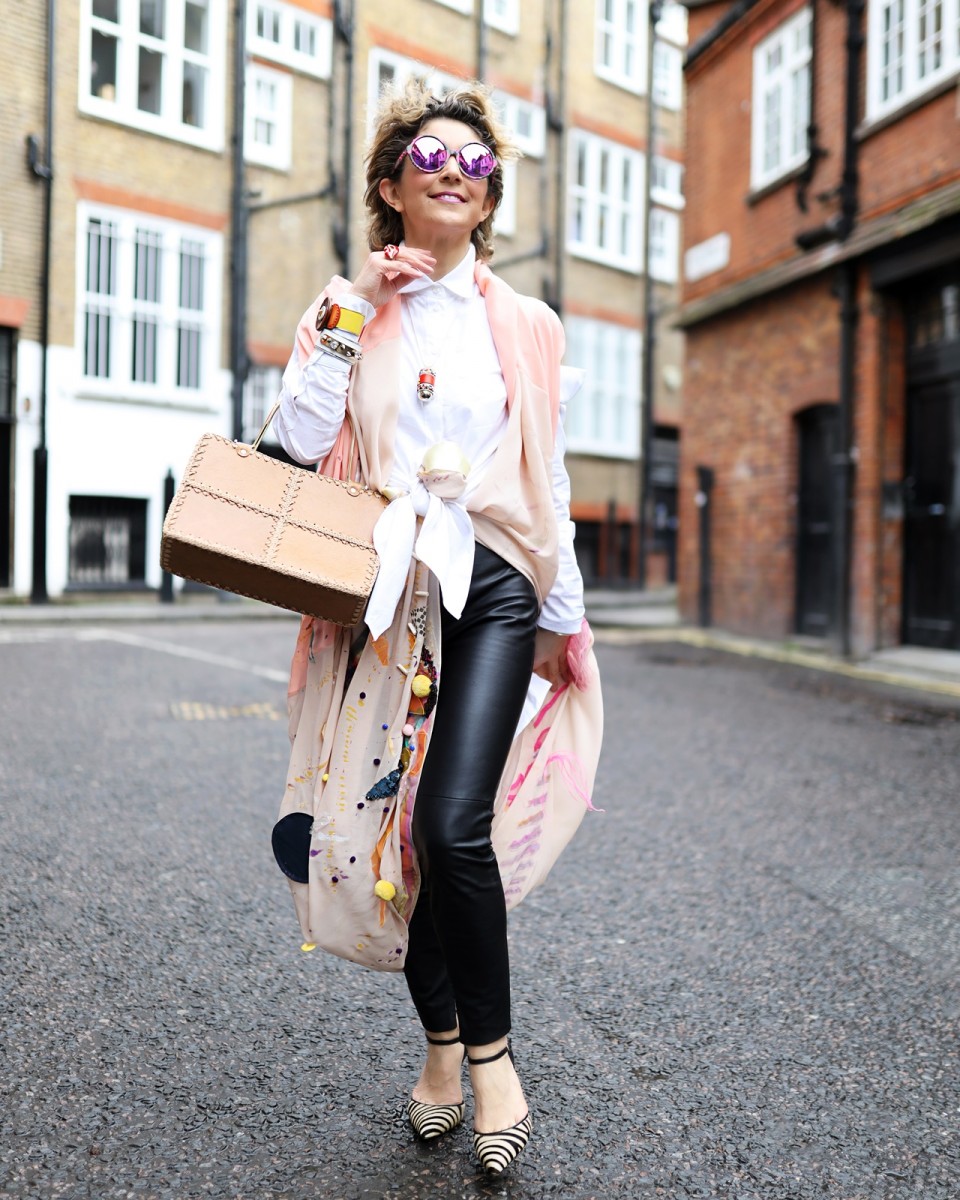 Dioni leather pumps are a simple, but so feminine shoe design. Moreover, It feet perfectly, and it looks chic, elegant, and sexy. It's an all-time classic design that every woman needs to include in her wardrobe.
♦Think-Feel-Discover:

Tell us about your Sunny Leather Pumps, and what inspired you to make this design of leather Pumps?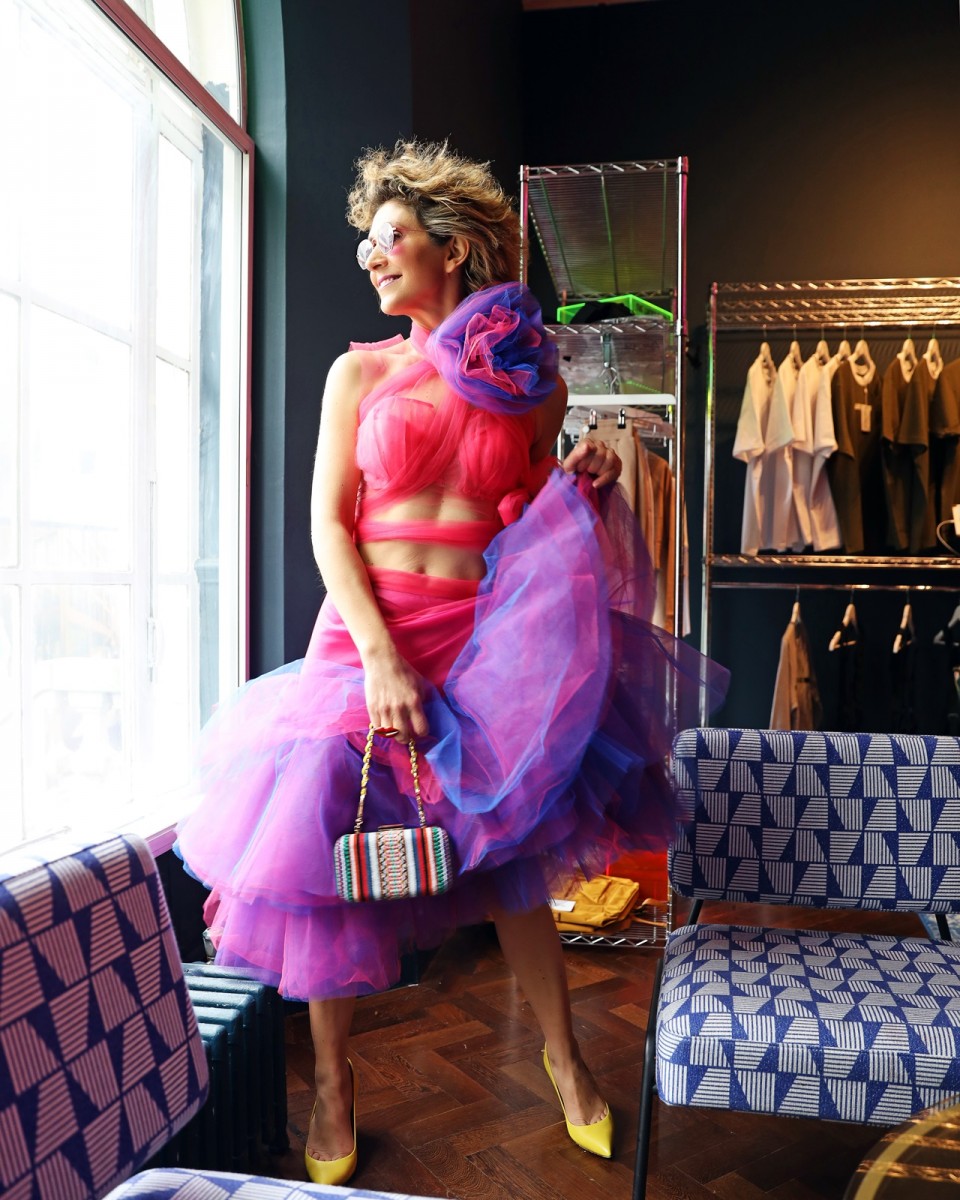 The sunny leather pump is my classic pumps design. In the same vein, I've chosen the 7,5 cm heel to wear it all day long. Moreover, I love the yellow colour, as it reminds me of the sun and the light. That is the reason I named them Sunny Leather Pumps. Great colour indeed for women's shoe style.
♦Think-Feel-Discover:

How important is it for you to collaborate with me as a Fashion Stylist for street style photography in London during London Fashion Week 2020?
Firstly, I believe so much in your work. Secondly, anybody who visits your account can realize how much you do love your job. In addition, your photos, your style, your presence is unique. For me, you are one of the best Fashion Stylists in Greece. I am so happy from our collaboration for street style photography during London Fashion Week 2020. Above all, I enjoy working with you.
♦Think-Feel-Discover:

We collaborated last February during London Fashion Week 2020 for the styling of Dioni Ankle Boots, Delfi Ankle Boots, and Sunny Leather Pump. Which is your opinion about the outfits?
In my eyes, it was a unique combination of clothes and accessories. You are just amazing. Impressive photos indeed, and so positive energy of all the outfits you presented during London Fashion Week 2020 last February. In short, I can't wait to collaborate with you for the next International Fashion Event.