Share this
2)Decorate today with images that inspire you, and always make you never stop to dream.
The first question I asked myself when I started to decorate my office was: How can I make my office at home more inviting during the quarantine? Memories from my first Fashion Show at London Fashion Week through the photo of Emilio de la Morena in 2015 help me never forget where my journey in fashion started, and who I am.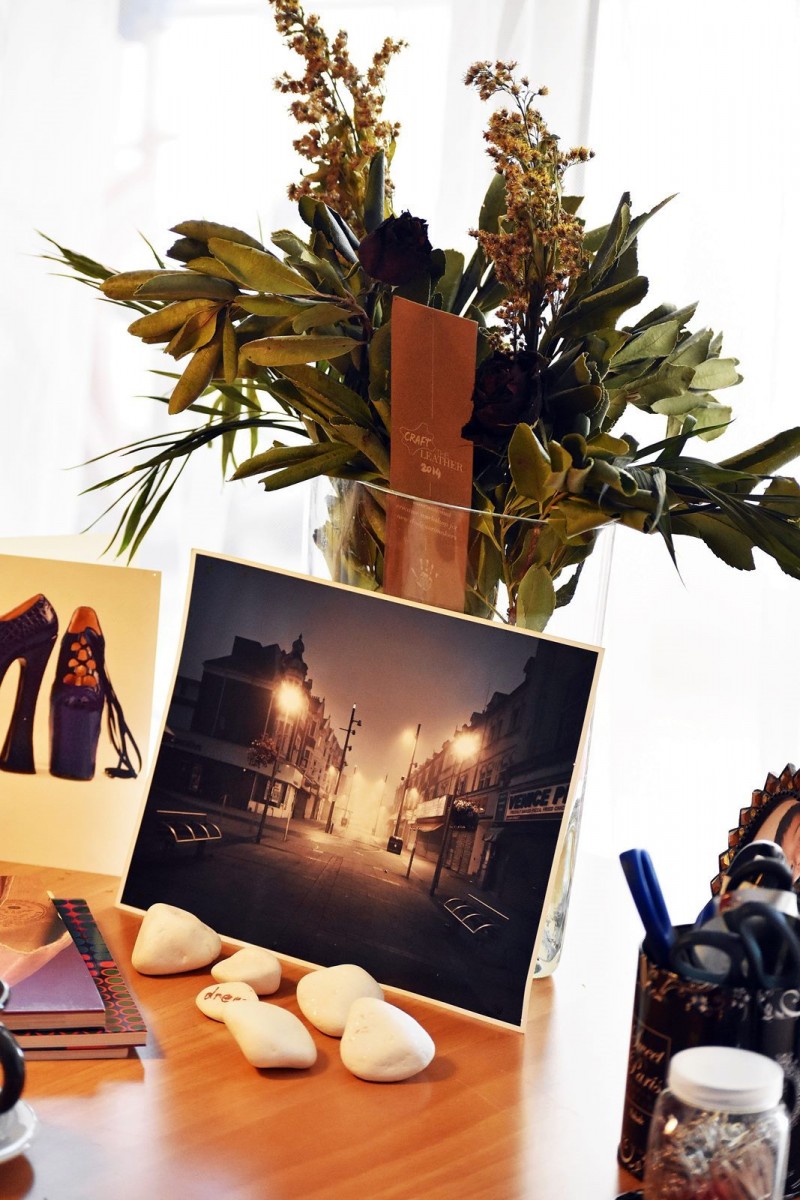 In the same vein, I do love the beauty of the design. Likewise, Decorate my office with this photo, it means one thing: My journey continues. I'll never give up to keep on dreaming. Do dreams reveal our inner life and help to solve problems, find solutions. Dreams are messages. Please start dreaming again. Start to influence your daily life, the people you do love with your imagination.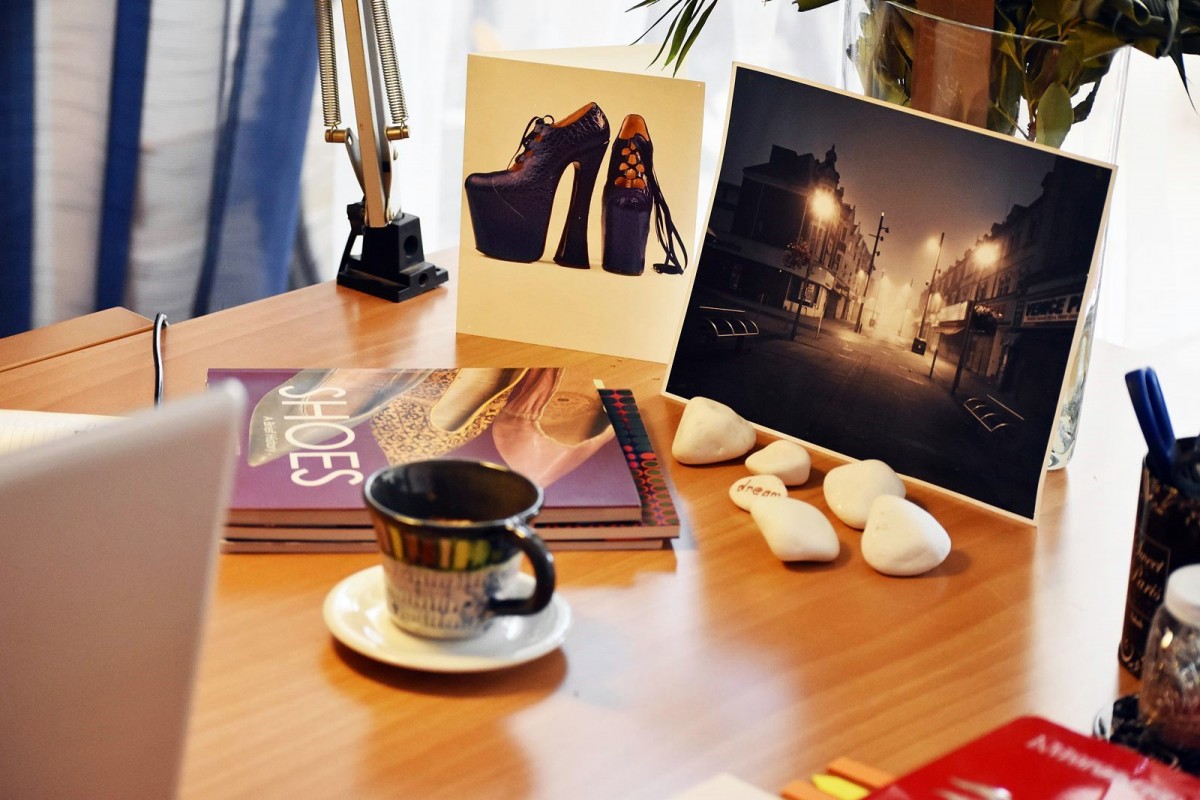 In conclusion, each different expression creates a unique painting. That is why I've chosen the photos of Vivienne Westwood and my two lovely sons. Every new approach has each own language in terms of shape, design, colour and silhouette. Most importantly, choose the image that inspires you, look at it daily, and the first moment you're bored during the quarantine, the next your imagination creates a story. As kids, we were playing with nothing but making stories. Now, use the photo, and say to yourself: Yes, I can do that. I stay home, yet I can dream and smile.
3)Always let the light in and create a calm mood. Finally, Choose transparent fabrics for your curtains.
I always start my day looking out of this big window next to my office. I can't imagine hiding the natural light. There is such beauty and calm to welcome the day looking outside. My love of fabrics made me choose transparent curtains in pure white and blue colour.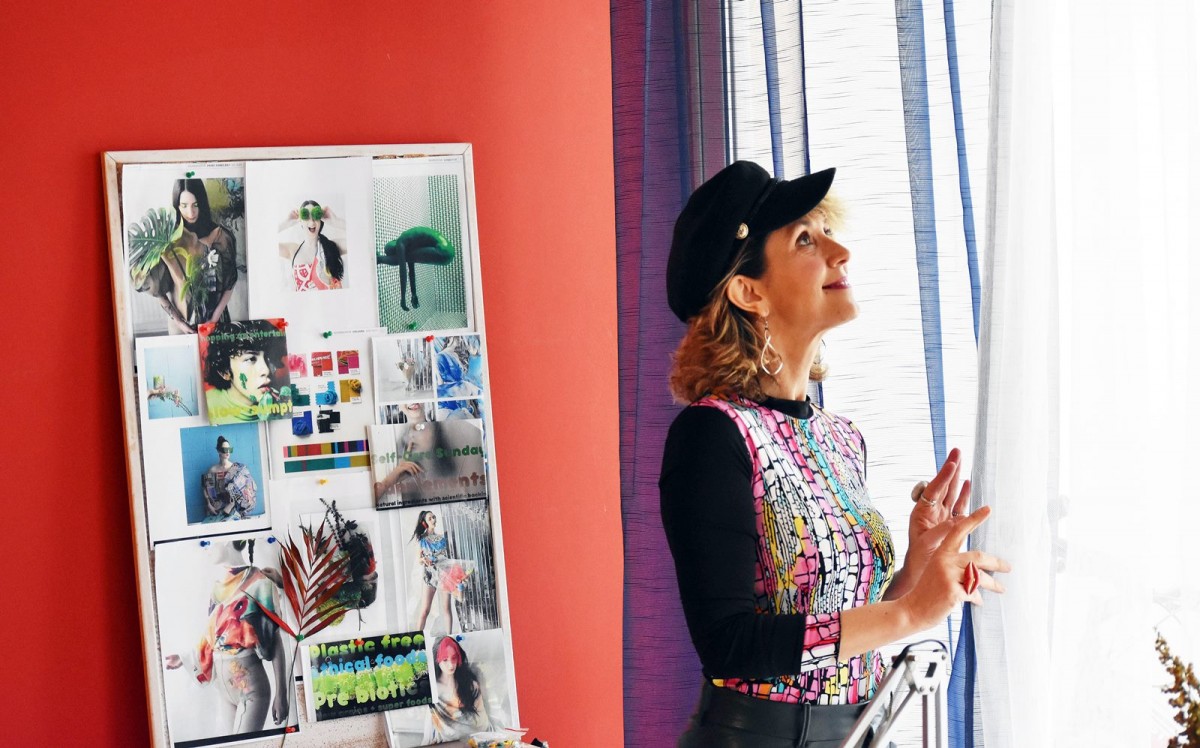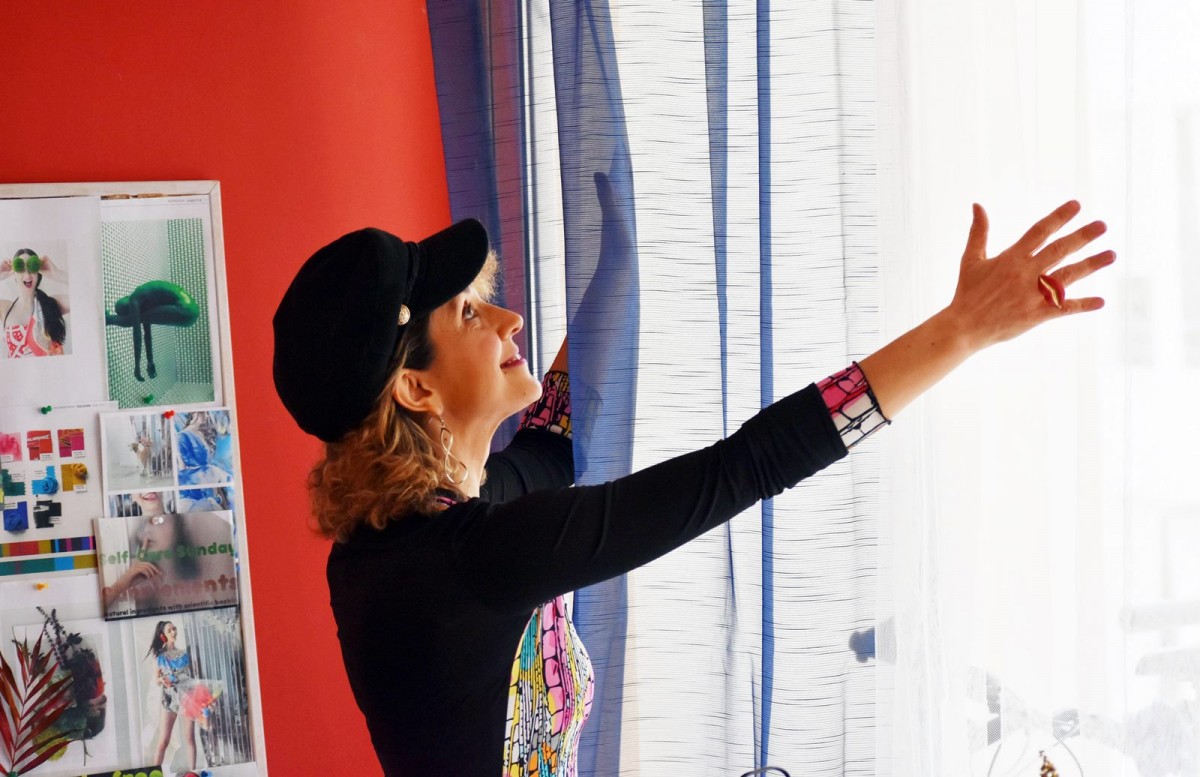 In other words, the white colour allows enough light to get in, and make me feel alive, always more efficient, ready to create new styling ideas for my fashion style. Meanwhile, the blue colour is full of character: bright, spirited, animated, and uplifting. Above all, enjoy the surprise of what happens when the light is in your room: consider that transparent curtains will add balance and harmony to your workspace. Let the light in now. You will love it as much as I do.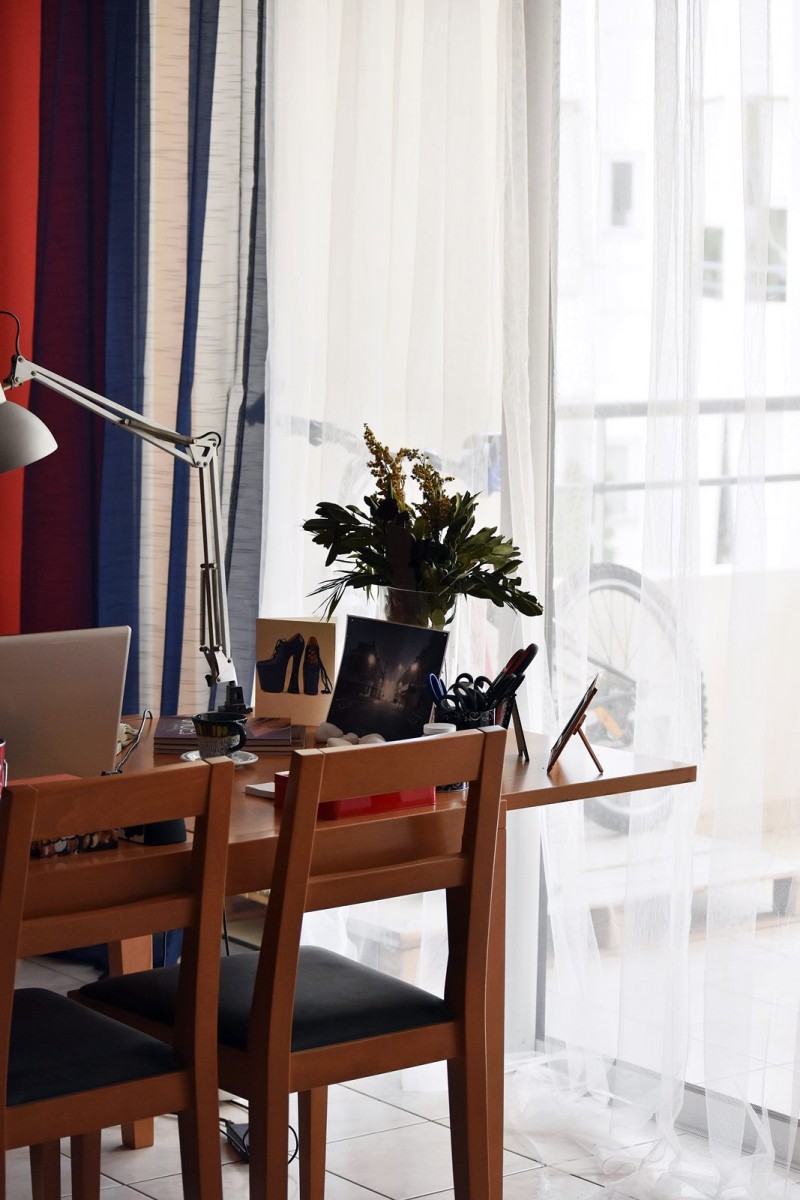 4)Work always in colour. Choose now a colour that speaks to you. Still, dare to empower yourself with red colour.
Colour is a powerful tool in my office. For me, red means energy, action, and passion for creativity. It motivates me to take action and increases my inspiration.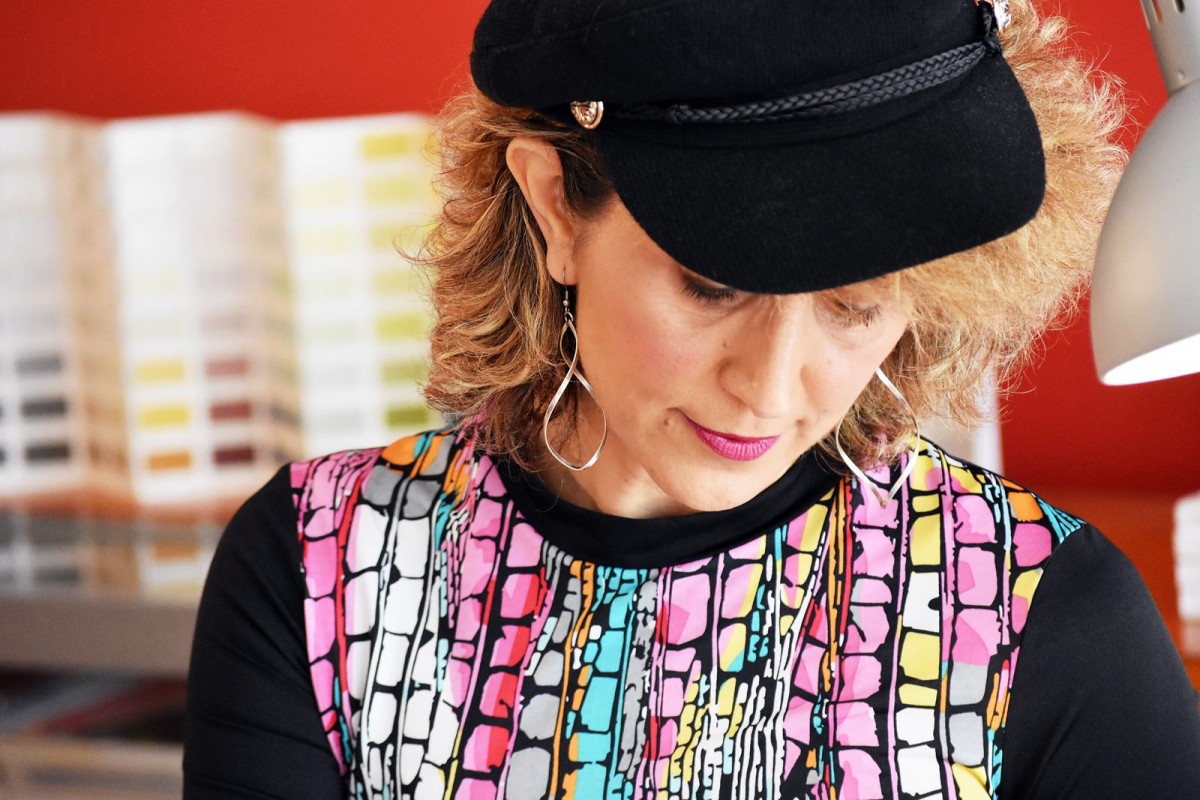 Lately, I've chosen to paint only one of the four walls of the room in red without overdoing. Otherwise, this energizing colour would irritate me. On the other hand, it reflects my love for flower, my passion, and enthusiasm for life. That's my colour choice to feel confident, excited, spontaneous, and determined.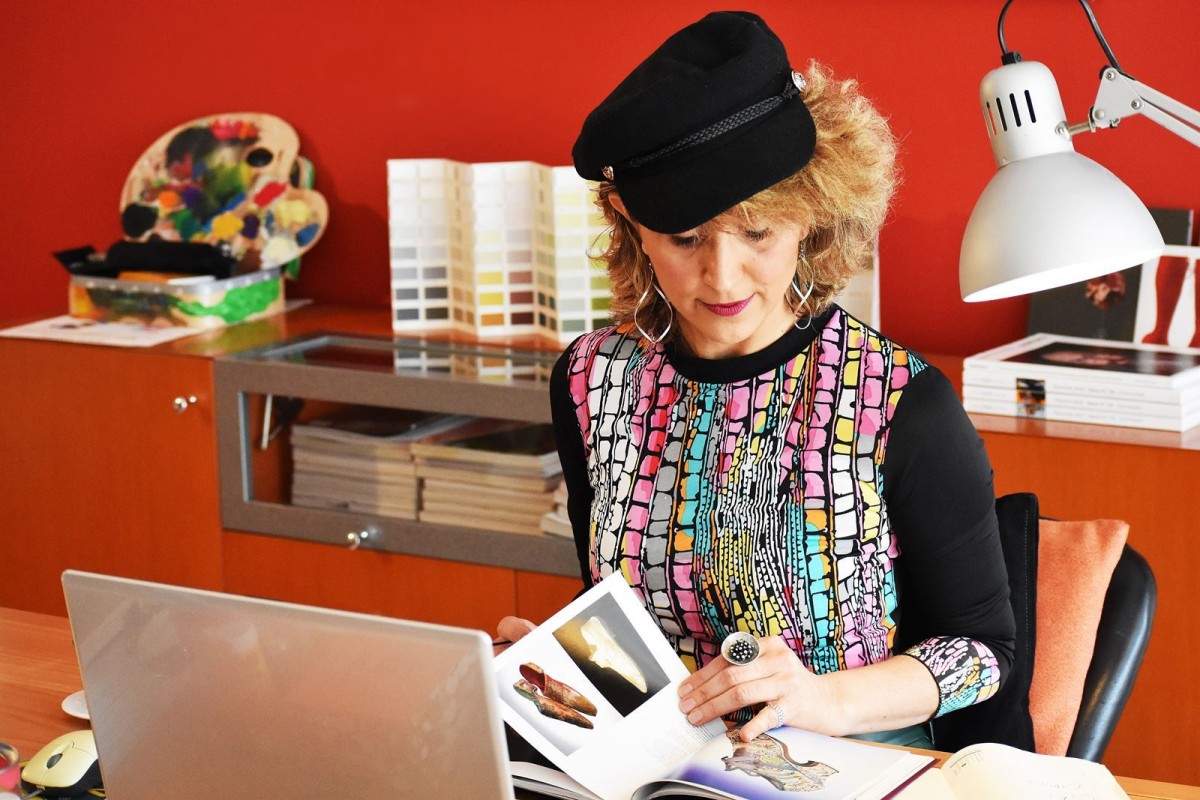 5)Still, Add plants now on your desk space in the office. Start to make your office cosy today.
Stay home and work during the quarantine, I needed to feel comfortable and warm. Afterthought, I loved the idea of green on my desk. It made me more connected with my workplace, beautify it, and helped me to be more relaxed, focused, and productive.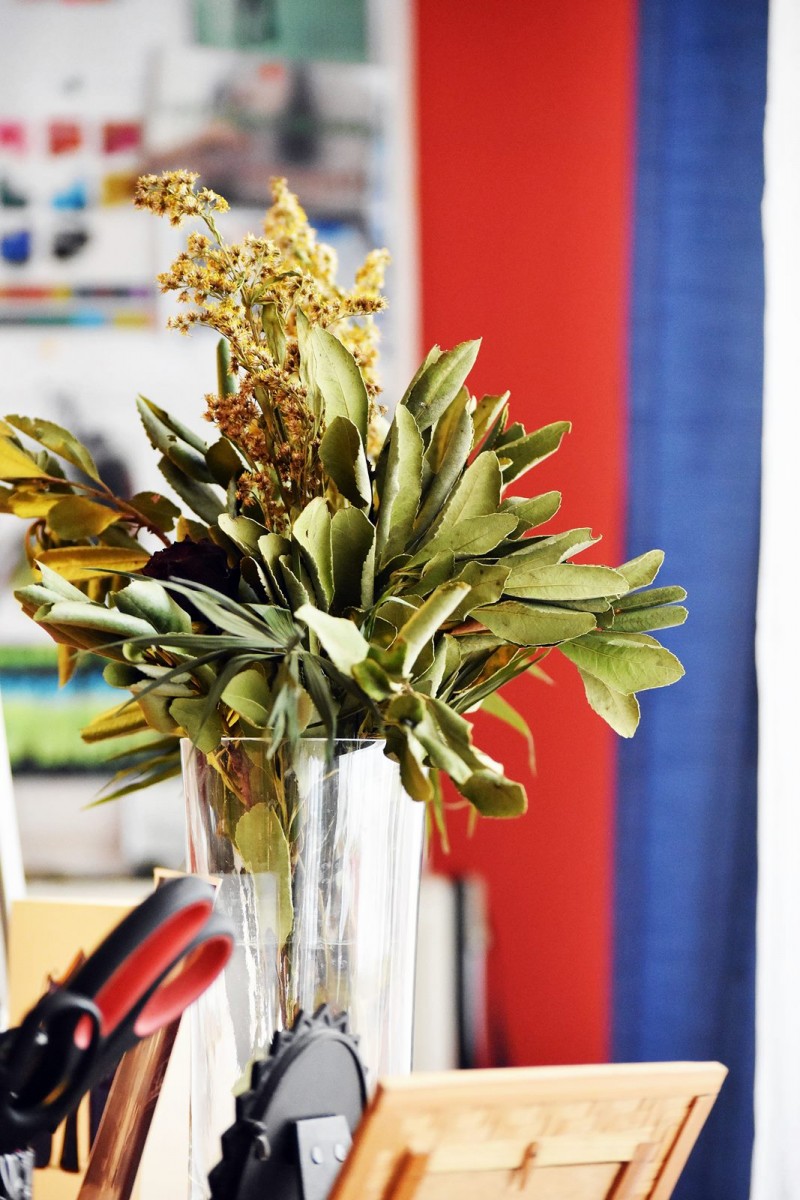 Note that green is the colour of balance, growth, and harmony. Have you ever thought about why there is so much green on our planet? Staying at home for more than thirty days now, I realized green revitalized me when I was physically, mentally or emotionally exhausted. Above all, it encouraged me to see the situation clearly from all sides. In my eyes, an olive tree green is the colour of a character's strength to overcome difficulties in life. In sort, plants on my desk are the anticipation of good things to come.
In my eyes, days that bloom with colour creativity become a tale with its truth to recount. Stay home, stay creative, during the quarantine and make your daily's life story to bloom during the quarantine. We need to be grounded in the present. My favourite place at home, my office may inspire you. Above all, find one of the five tips to make your office look cosy, and let yourself enjoy its beauty. "If you don't find spring, you make it". Odysseas Elitis.

Be at home, stay creative: Top 5 tips to make your office space look fun yet always creative
Creative concept through Think-Feel-Discover.com Blog
By Chrysanthi Kosmatou, April 20, 2020