How does a silk T-shirt embrace today creativity during London Fashion Week? Which is eventually the creative role of a fashion stylist at fashion week events?
It has been two incredible years since I launched the Creative Fashion Style during London Fashion Week. My vision was to celebrate fashion, to support creativity and start to create together with established brands designs that we made with heart and soul. Moreover, this February, I looked at the possibilities of silk fabric. Nothing ever disappears when we re-think the beauty of material in fashion. How does a silk T-shirt offer today meaningful alternatives in design? What does it mean for a fashion stylist creativity at fashion week events? These were questions that I had to answer with honesty. I took the challenge through experimentation, research, and meaningful collaborations. Create well with others, from different disciplines in fashion, inspire and prototype.
Which are still the five key reasons for a Fashion Stylist to embrace the silk fabric and redefine the way to dress during London Fashion Week? Stop for a minute and dare to discover it now.
In my eyes, the silk T-shirt has the energy to redefine our way to dress.  The silk fabric I used for my T-shirt is crepe de chine by Mouhtaridis SA. The result can be a mix of tailoring with casual wear, but the message is clear: a fashion stylist takes risks, prototypes, and pushes the boundaries of what we know and don't know. While I explore five reasons to embrace the silk fabric, follow my journey through creativity and re-think the true nature of beauty.
♦First Key reason: Dare to liberate now your femininity. It's time to stop and explore soon the new relaxed approach of silk to tailoring.
It's time to re-invent the elegance of our way to dress. In my eyes, femininity has to do with comfort and delicate details.
Silk is An all-climate fabric. It can be warm and cozy in winter and cool when the temperature rises with a flawless beauty for women's silhouettes.
The silk T-shirt achieves an ultra feminine style. Beautiful, light, fluid and shiny with matt finishes. The new relaxed approach to tailoring gives a length suitable to be worn as a mini dress also.
Let's not be afraid to enjoy our feminine side. The silk T-shirt liberates femininity.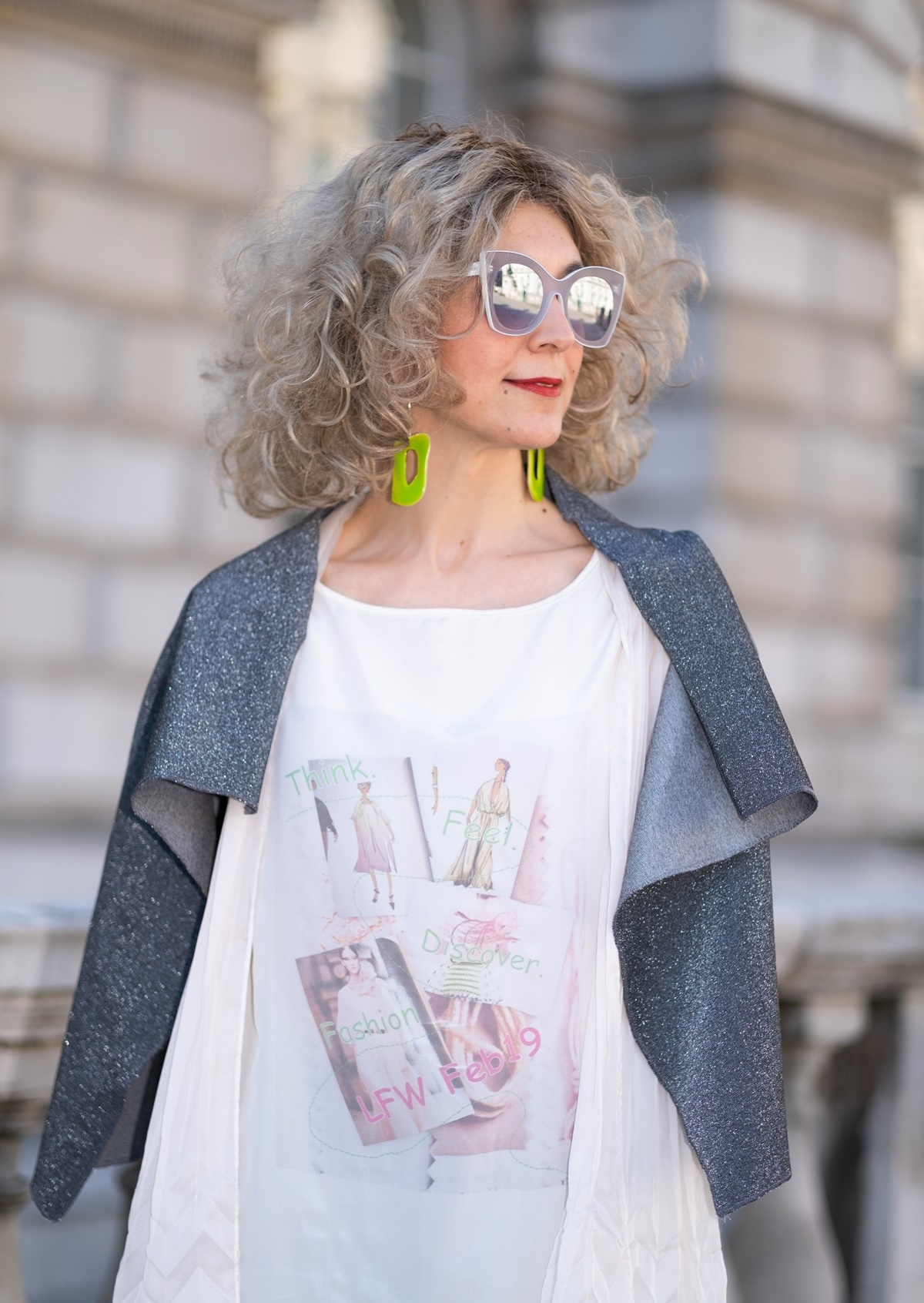 ♦A second key reason: How can you always define print creativity through silk? Reveal your thoughts now. Think about it and dare to create immediately your own story.
Inspired by my personal experiences during London Fashion Week, I loved to write my own story of prints. The silk fabric reveals the colors and reflects the delicate drawings. Moodboard sketches remind me of the design process. It was an ultimate experience for me to create my this print collage and express a new design story. I've chosen pastels in purple, yellow, orange and pink. Colors that silk can reveal with balance and harmony.
♦ A third key reason: How can you define today modernity through silk? Open your eyes and see now.
Silk continues to make my style to stand out. I imagined the silk T-shirt as a little dress without sleeves. This design detail adds freedom of movement. The ability to reveal the luxury of design, it's what I love to wear silk fabric. A shirt dress in a simple, balanced design in which functionality translates modernity.