The Top Fashion Trend Forecast 2020 today that will rule knitwear looks 2020. Stop and discover now: How does a Fashion Stylist and Blogger analyse the three latest trends during London Fashion Week 2020? Finally, Time to think about it.
Fashion Trend Forecast 2020 in February during London Fashion Week was undoubtedly a season through the lens of sustainability. However, as a Fashion Stylist and blogger, the London Street Style is still a call to action. Firstly, It is impossible to analyse trend directions for the upcoming season without exploring new design, materials, and colours. Secondly, I focused on the new knitwear colours made by Atelier Vasiliki.
Above all, I adopted a free approach to dynamic, bold shades. Colour creativity for me, it means: enjoy the surprise of colour mixture. Be openminded, and consider that the top fashion trend forecast 2020 enjoys the unexpected style.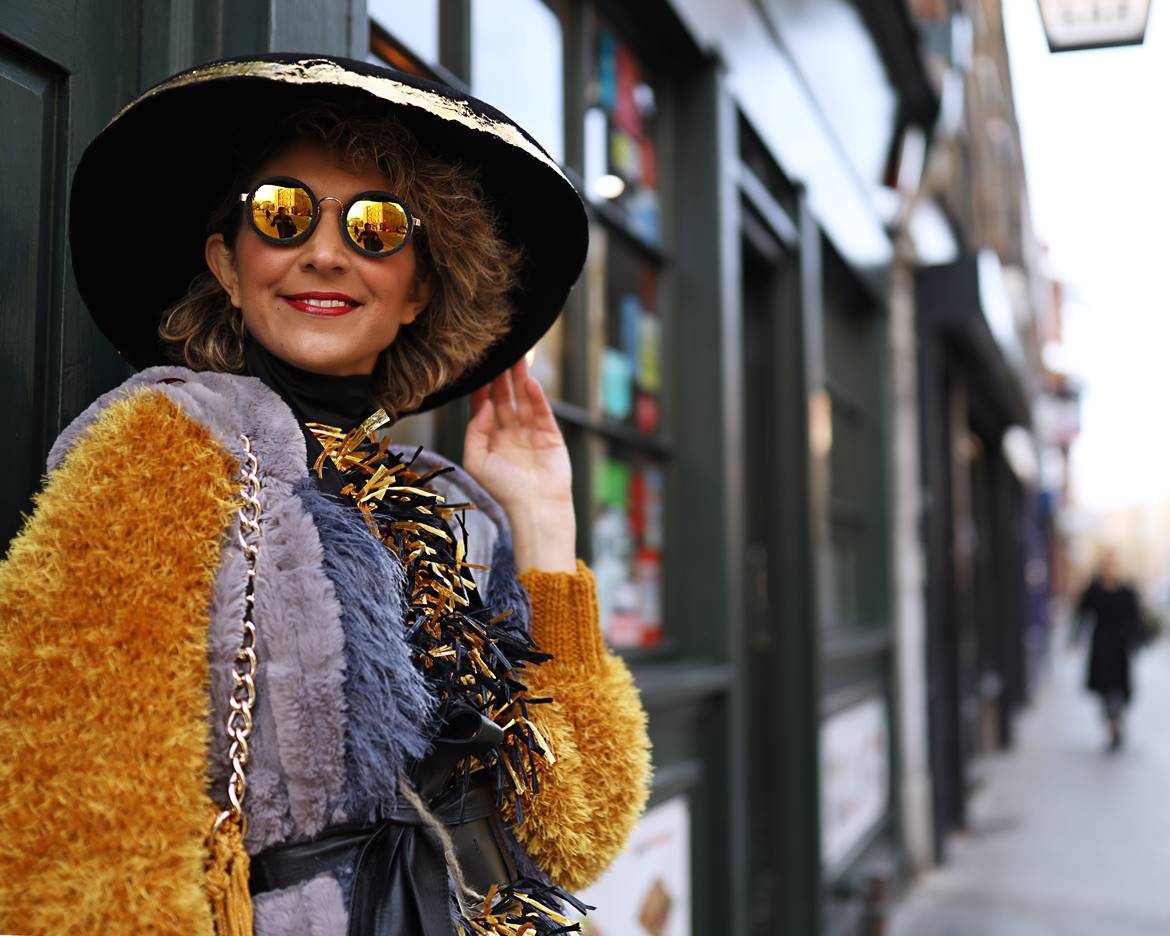 Why London Street Style is always a challenge for a Fashion Stylist during London Fashion Week 2020? Think outside of the box now: How does a new collaboration with the knitwear brand Atelier Vasiliki immediately create an unexpected fashion style? Stop to discover it.
The winds of change in London for the Top Fashion Trend Forecast 2020 is blowing hot. For me, as a Fashion Stylist and blogger the London Street Style during London Fashion Week 2020 means to push the boundaries in fashion. That means: shape the 2020 trends is a new message, a new way of thinking, an open invitation to those who believe in the upcoming change. Colour and fabric can change the way high-street fashion works.
However, to be open and curious, to investigate new ways of creating is a real challenge for me. After all, it is in the unexpected where the most remarkable things happen. In my eyes, my collaboration with Atelier Vasiliki is the perfect harmony between colour and knitwear. It's a new concept on the high street at the moment. Street style photography is offering an unexpected colour mixture, and a variety in style, design, and accessories.
How a Fashion Stylist and blogger would discover today the need for change in the streets of London during London Fashion Week 2020? Still, Which are the latest three knitwear trends you need to wear in 2020 for your fashion style?
My 2020 colour palette is a desire to reveal the beauty of knitwear. It's about energy, innovative colour mixture, and a personal, unique style. Afterthought, Knitwear by Atelier Vasiliki in 2020 will capture new yarn combination. Still, My research and thinking for the new season looked at alternative ways to wear knitwear. Firstly, make the change, be better, be inspired, and adding newness to my fashion style for 2020, I ethically sourced three bespoke looks and styling. Moreover, my three London Fashion Week street styles 2020 affirms a desire for a profound transformation.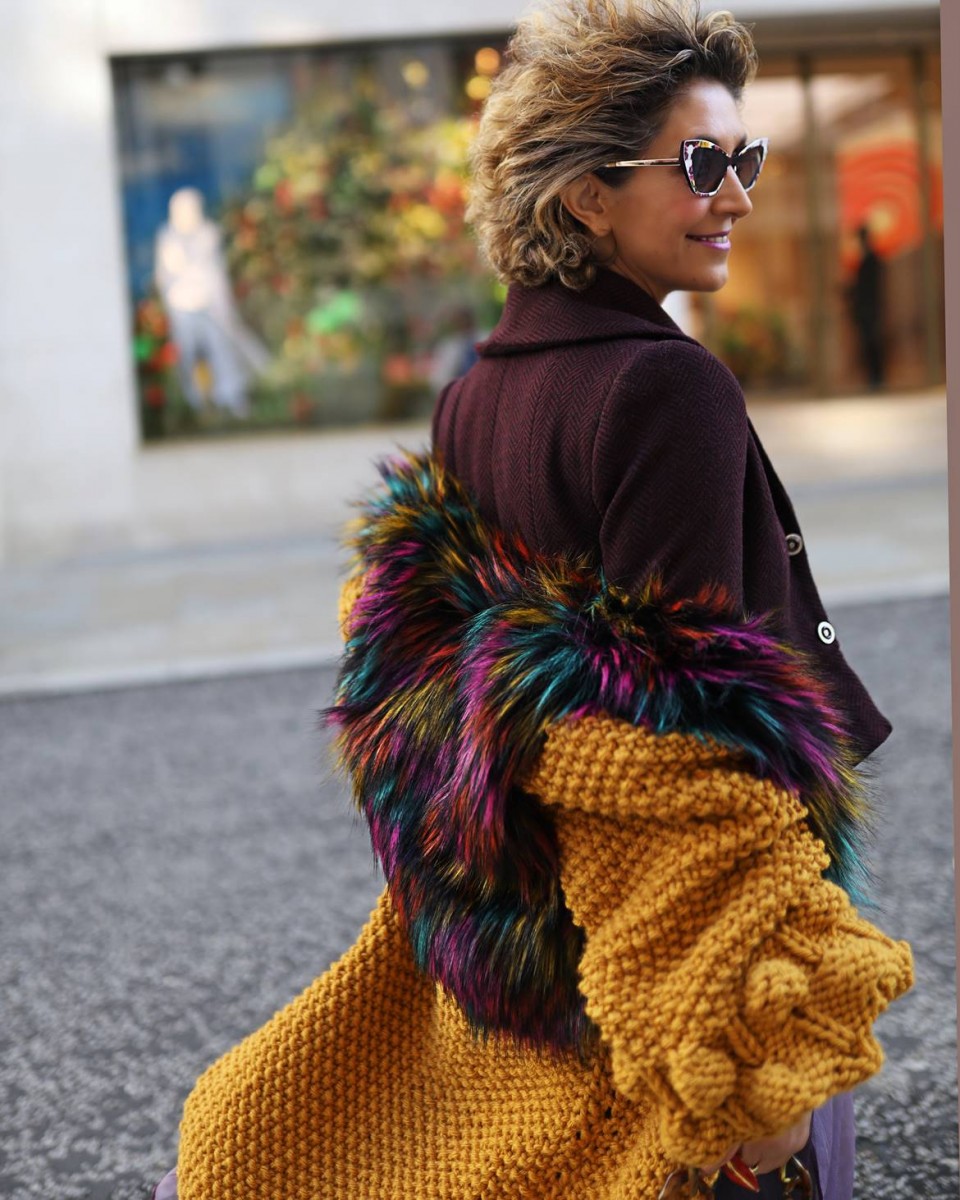 Today, focusing on my love for creativity as a Fashion Stylist and blogger, I welcome you to my trend forecast 2020. Lately, What I want to show is that London Street Style for Think-Feel-Discover.com is my way to express: Finally, Together, we create new aesthetic trends. It's my answer to your questions: How I would discover the need for change in the streets of London during London Fashion Week 2020? What would I wear in 2020? For 2020, here are three styles inspirations born out of my love for knitwear by Atelier Vasiliki, and desirable garment concepts.
1) Fashion Trend Forecast 2020: Nature balance, cocoa brown and asphalt grey the new luxury. Open your eyes and see now.
The smart use of eco-friendly fur with luxury knitwear challenged my creative imagination to create a new fashion style, a glamourous look, an original approach to luxury. Femininity no longer stands for fragility. Above all, My eco-friendly fur cardigan by Atelier Vasiliki in pale asphalt grey looks amazing in mixture with knitted sleeves.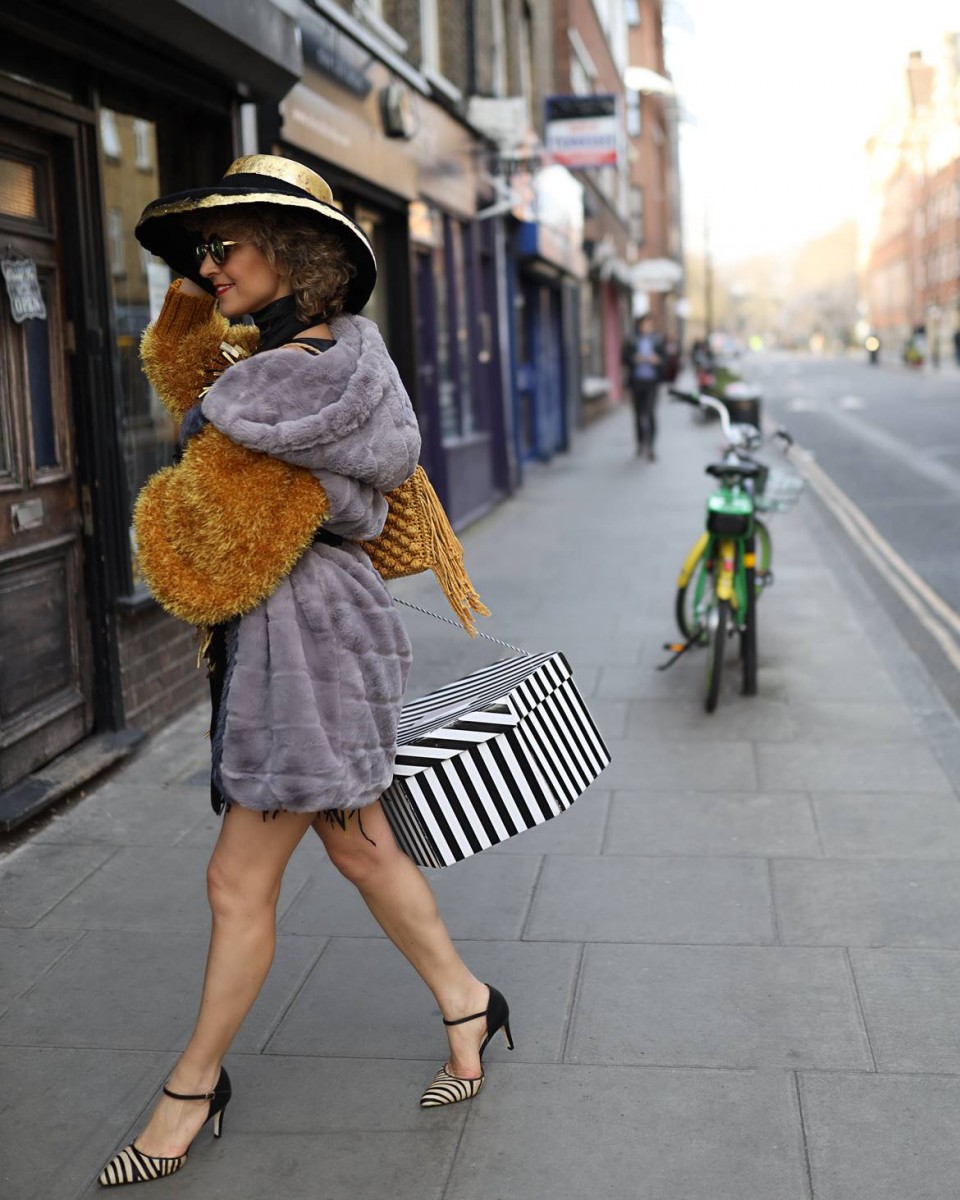 Meanwhile, the honey mustard yellow of knitwear details and bag create the best colour choice for your 2020 style. In sort, Dare to wear it with animal print pumps and a black hat with gold details. It's about desirable strength, sensuality, and freedom.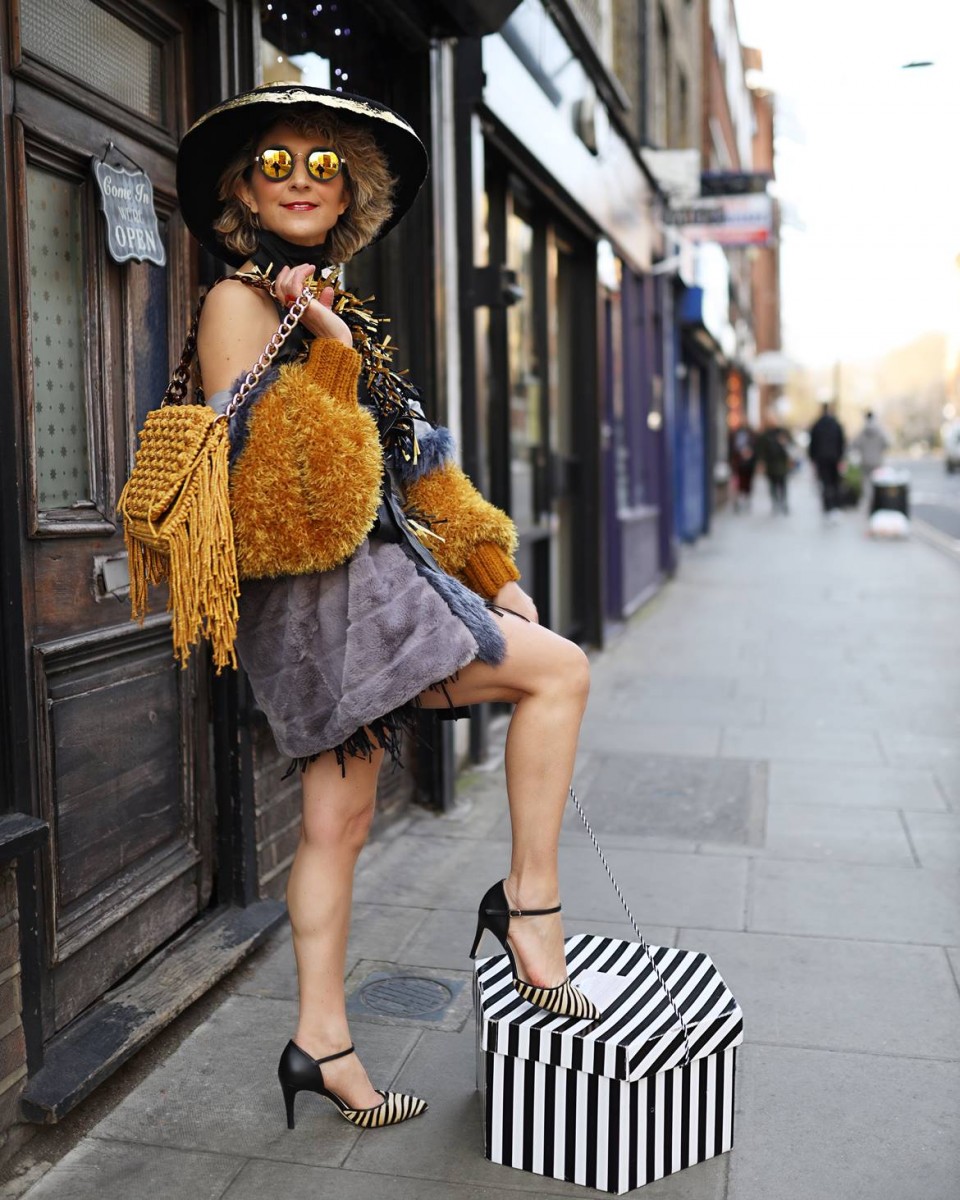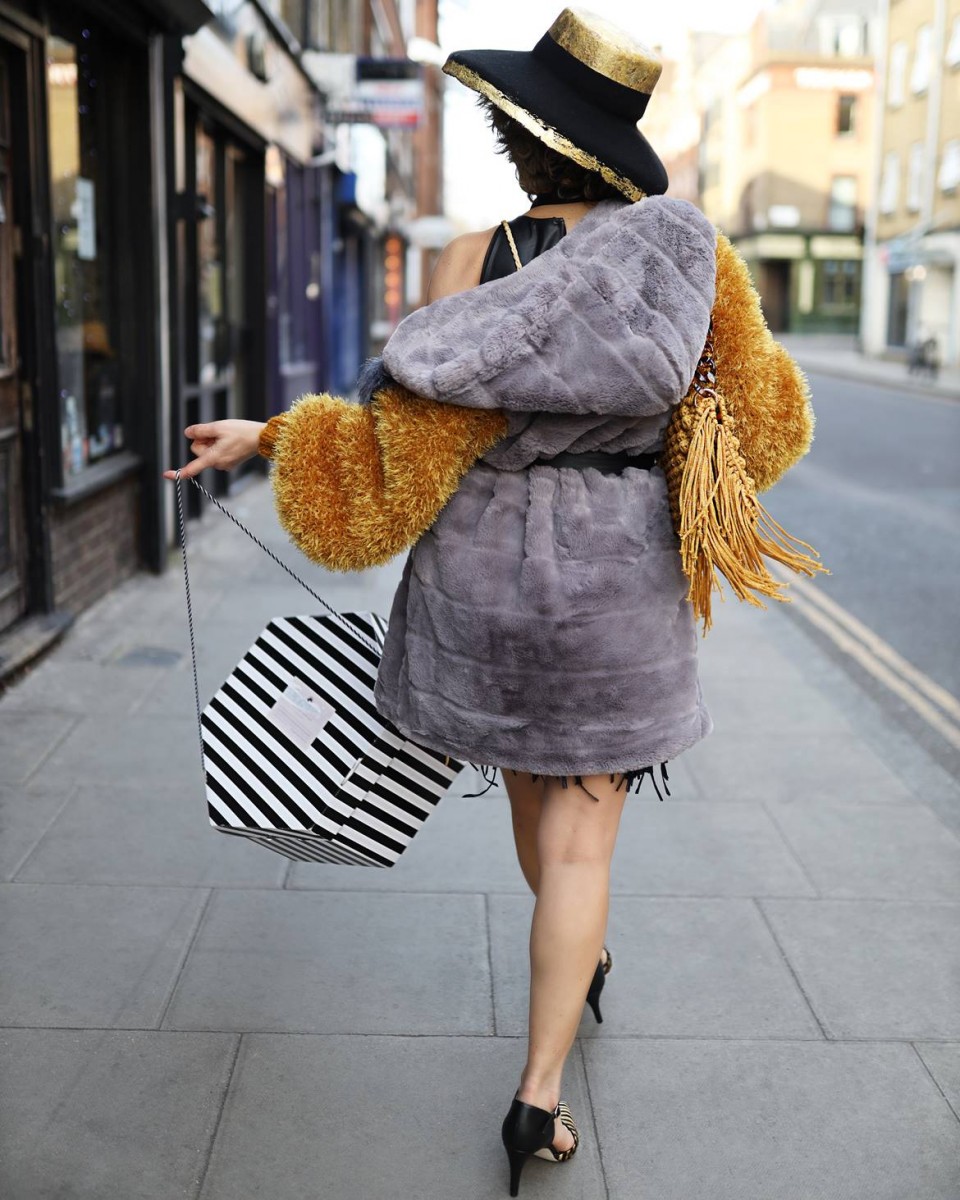 Take note that cocoa brown and asphalt grey will be very much present. In my eyes, despite the desire for simplicity, there is a parallel feeling for femininity. Be warm, feel beautiful, one of the key looks of the new season. There is nothing best to wear than a cardigan that slides delicately off the shoulder, and suits perfectly with your mini dress. In conclusion, Cosy and earthy knits will attire attention. This knitwear outfit will take a more elegant turn with your updated look.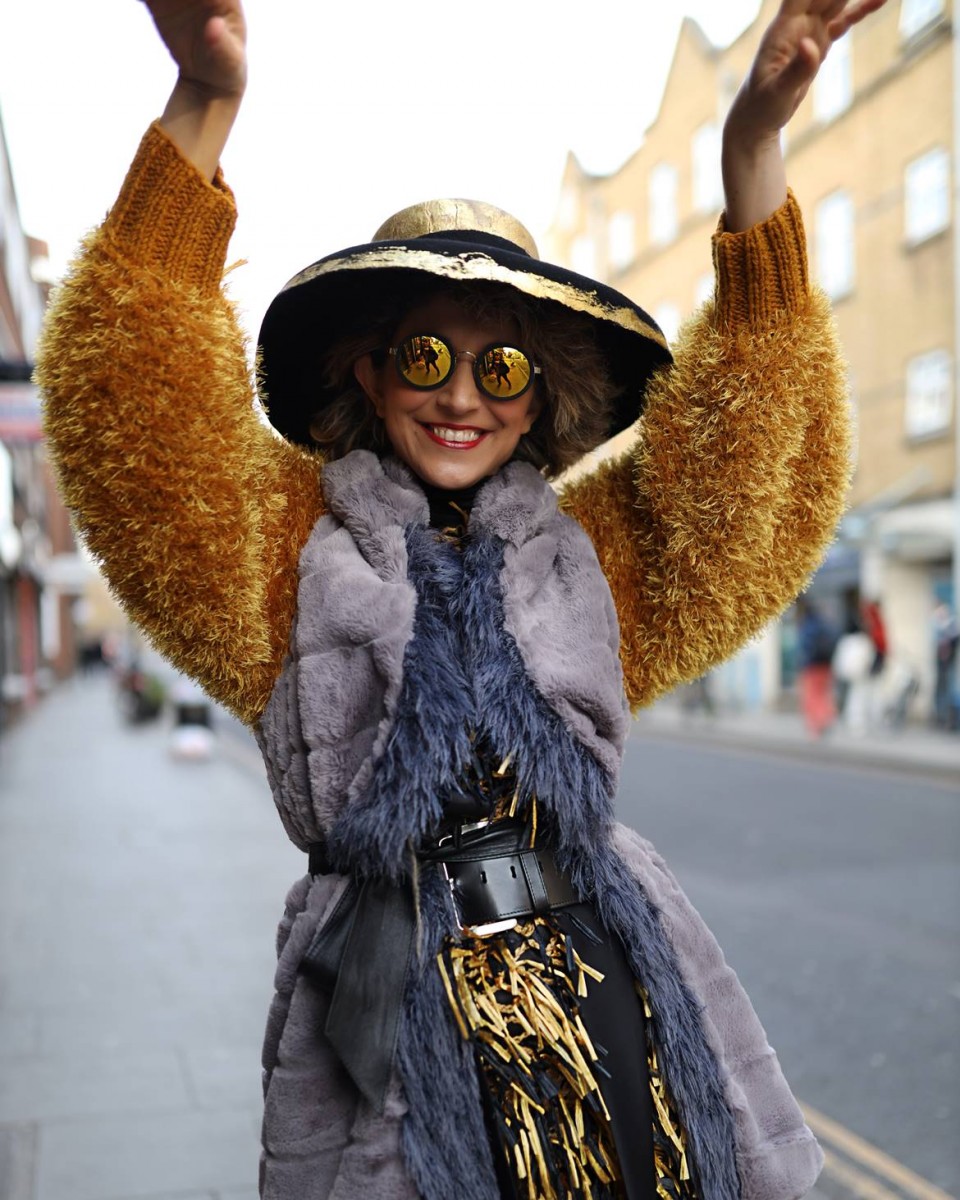 2) Fashion Trend Forecast 2020: Opaline aqua, still the new energy of pastels. Stop and think: Are you ready to discover it now?
Every season colour continues to play a critical role. Unusual combinations of pastels, darks, and brights inspire our way to dress. For my Trend Forecast 2020, I've chosen opaline aqua. A delicate colour shade that looks amazing in a mixture with Black.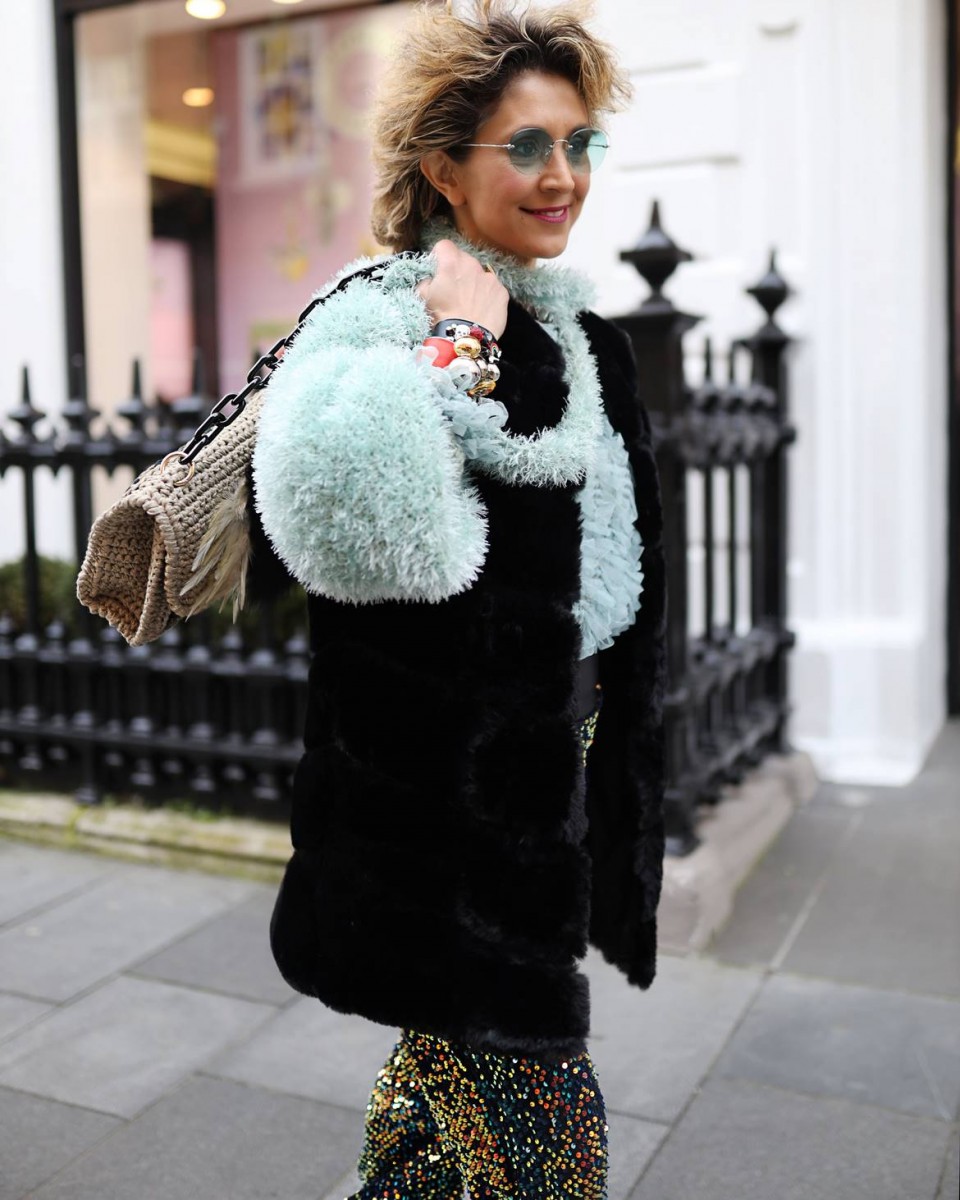 My second fur cardigan with knitted sleeves in aqua is a return to 70s style. The iridescent disco pants with sequins add light to my dark cardigan. Be delicate and sensual. Plastics, paillettes, and Lurex, they all play their part in a new approach to sport and streetwear. Plastic is at the centre of design and fashion attention.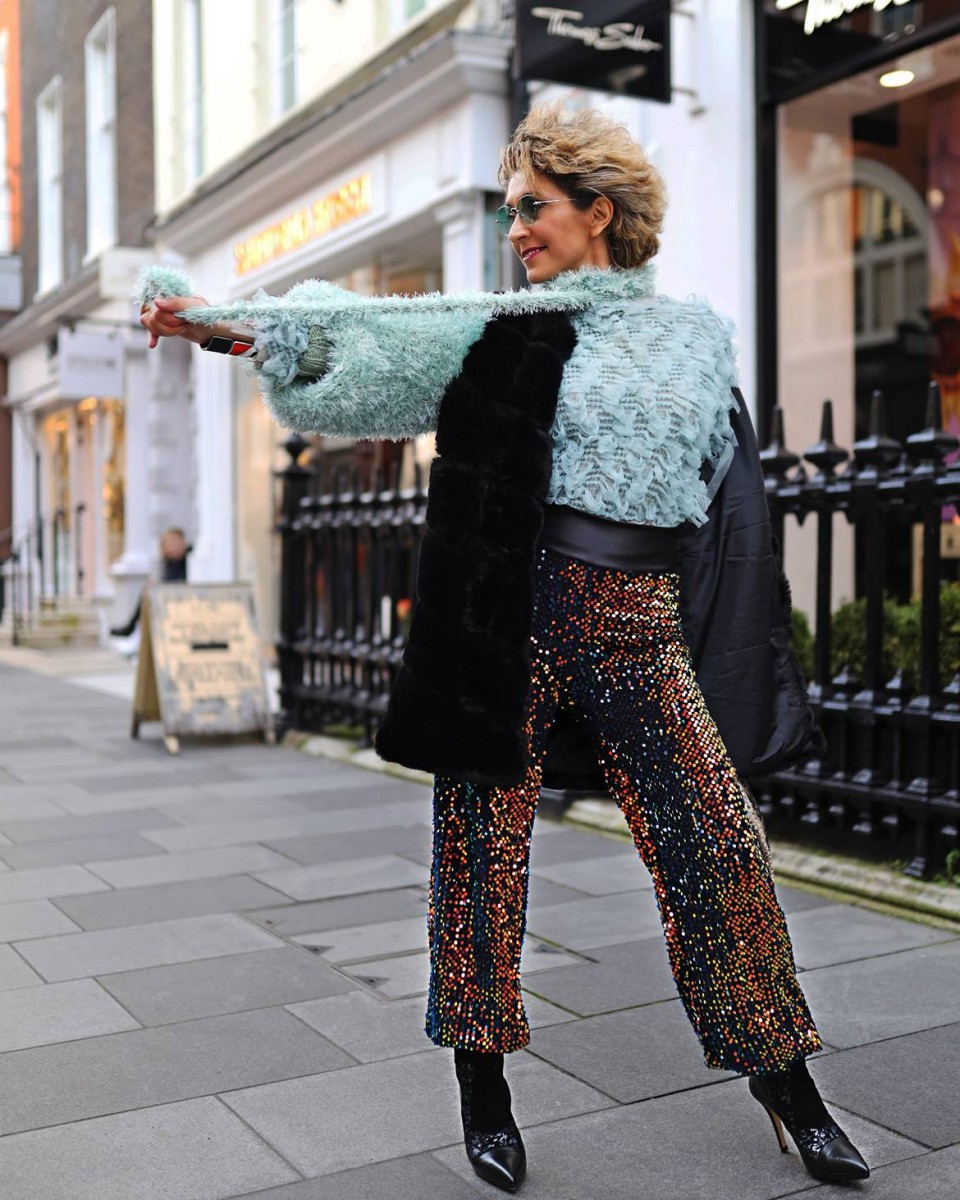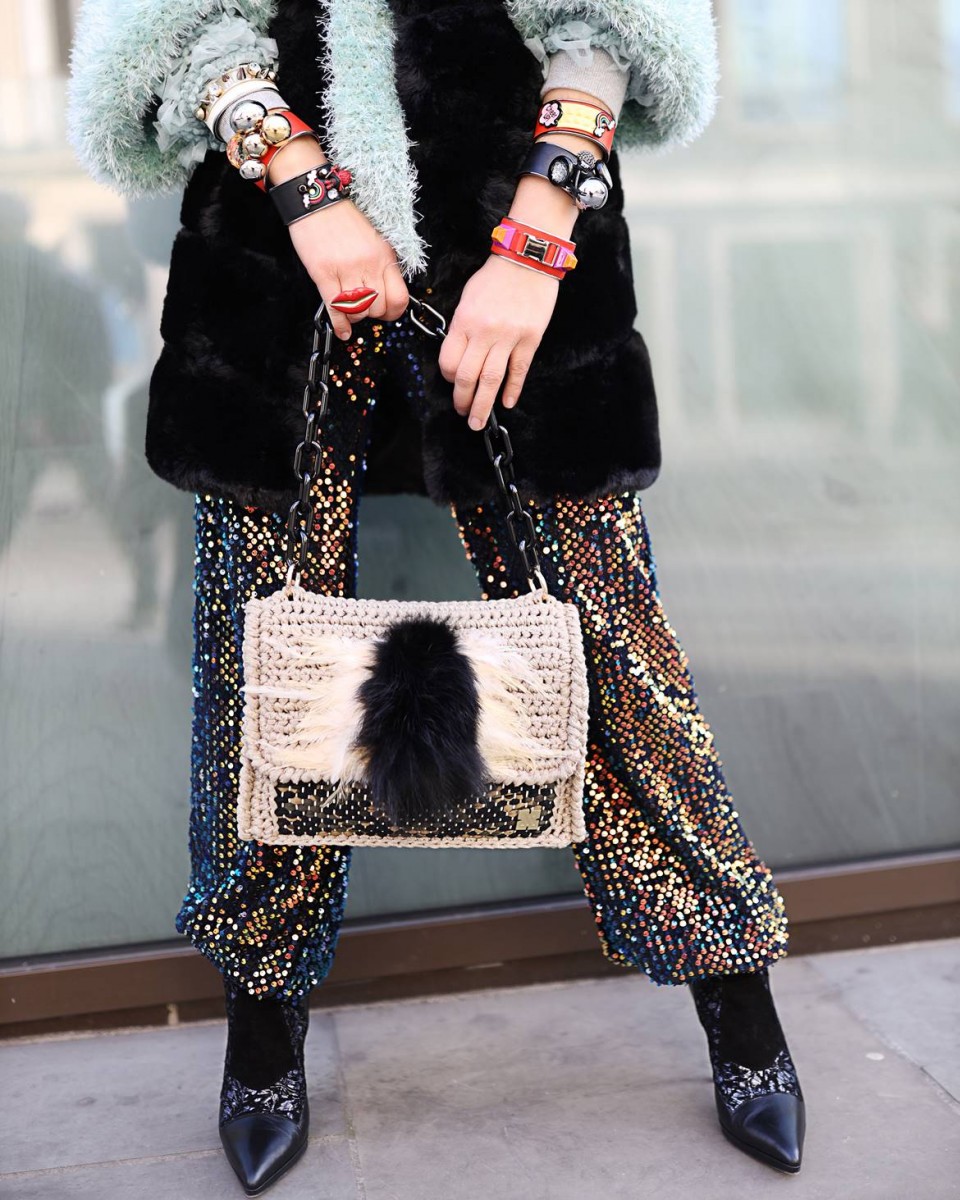 Afterwards, I loved to explore this new way to wear an eco-friendly knitted cardigan with precious shiny textiles. In my eyes, it is about positive energy which engages all the senses and challenges your aesthetics. Don't you think? Fashion Style for 2020 is about having fun, and wear one of the most surprising precious materials. Stylish, easy to wear, comfortable, and always in fashion. The black, and brown of my bag in unexpected checks suggest passion, laughter, and emotion. That's a real new direction for my Top Fashion Trend Forecast 2020.