Share this
The Top 2 Spring 2020 Bag trends: What are the trends during London Fashion Week 2020 for your bag style?
This February during London Fashion Week 2020, I explored a new object of desire for my London Street Style. The 2020 Bag trends challenged my creative imagination to create a new womenswear message. I focused on sustainable solutions and a new way of thinking. Above all, Femininity is the new object of desire.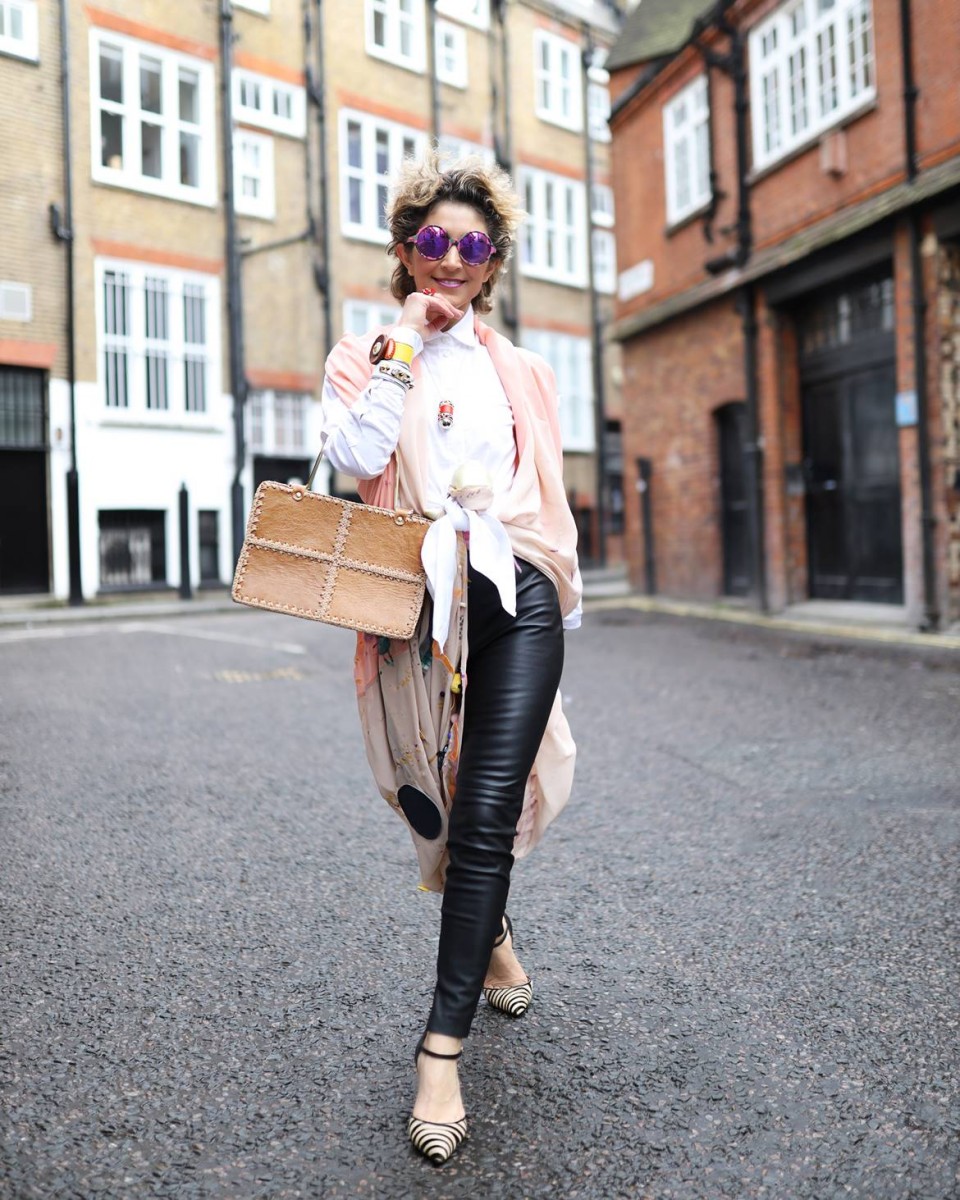 Questions like: What handbag brands are in style? What are the fashion colours for Spring 2020? What is the most popular purse for 2020? Carry on. However, Balance is the key. My collaboration with UNICUM accessories for street style photography in London this February, it's a desire to connect with something meaningful.
2 Spring 2020 Bag trends to keep an eye out for your street style. Is it today about trends or a new aesthetic during London Fashion Week in February 2020?
The Top 2 Spring 2020 bag trends that I created are the need to engage with eco-awareness. The luxury of quality, material, and the handmade process of the brand is the new expression in fashion. Likewise, together we design the future, and street style during London Fashion Week by Think-Feel-Discover.com  is not only to talk about the brand. Here, in London, I love to create images, new aesthetic with a new vision, hope and optimism. Do not be mistaken. Spring 2020 Bag trends are sensual, glamourous, powerful, independent, and colourful.
Firstly, UNICUM for me means: I'm a woman, not just a brand. Secondly, I'm unique. In short, I decided: why I wear, where I want to wear, how, and when I want to wear UNICUM accessories. During the Spring 2020 shows in New York, London, Milan, and Paris a wide range of accessories, they are a new approach to fashion style. Be openminded, ready to explore my three Spring 2020 Bag trends in London during London Fashion Week 2020. Moreover, Enjoy the surprise of colours. Realize the coolest bags of the moment. From the original waxed Italian leather handbag and the new look clutch bag, you will explore how to wear and shop the next-level handbag trends right now as well.
Explore now the 2 Gorgeous Spring 2020 Bag trends form London Fashion Week Street Style in February 2020. Open your eyes and see: Are you ready to discover the upcoming fashion colours?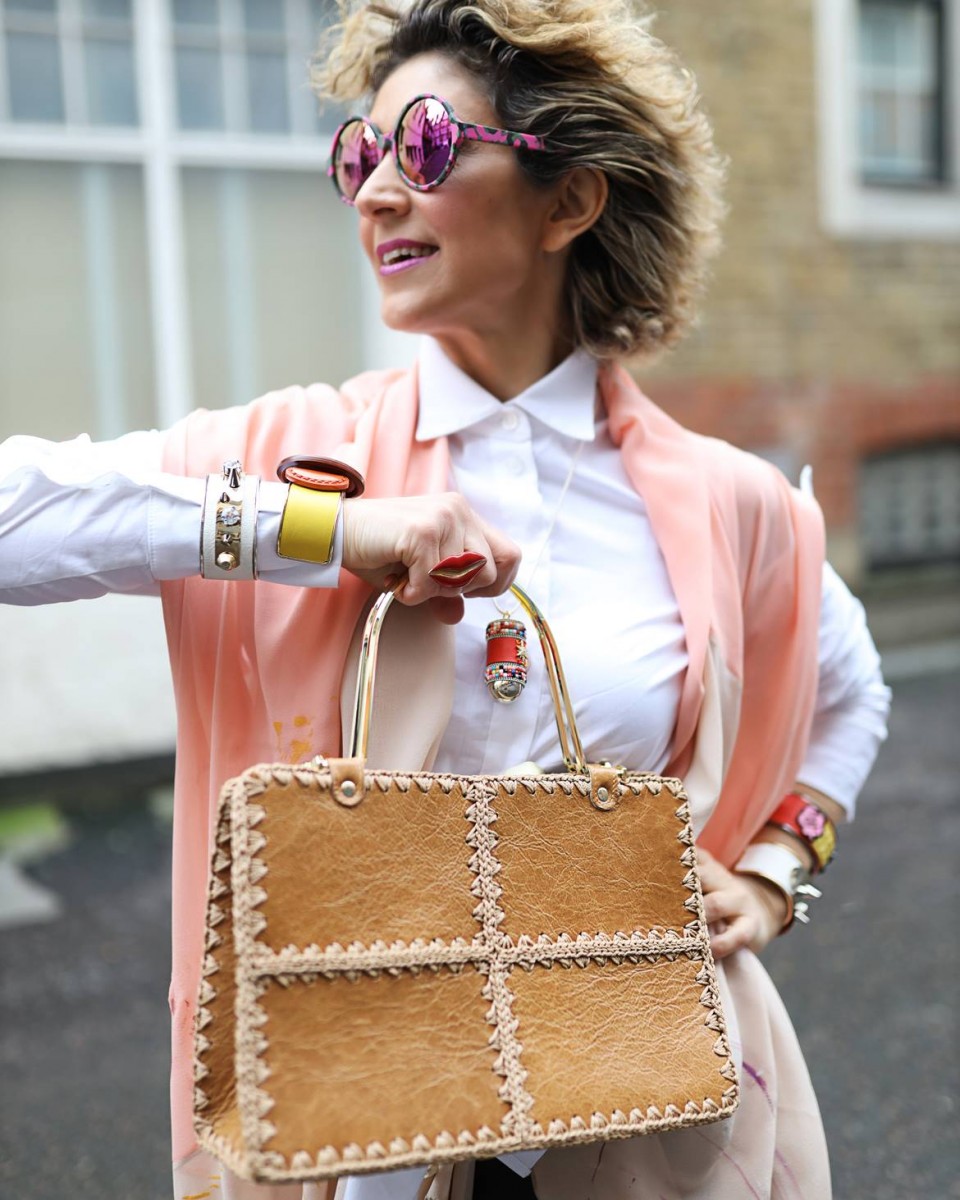 1.The Italian Leather Handbag: Natural Luxury.
A new desire to escape the rhythm of the everyday. The perfect bag for your daily essentials: a credit card, your AirPods, and, of course, your favourite lipstick. Meanwhile, you will stand out wearing it with a casual-chic outfit. Undoubtedly, the bag that will go with everything.
For my London Fashion Week Street Style, I created a sophisticated, casual look. It's about a tribute to the mixture of minimal, contemporary design with Couture handmade prints. Natural Luxury of the UNICUM beige leather handbag reflects the new desire for authenticity. Colours are delicate and sensual. Pure white, aurora pink, and orange pastel suit perfectly with beige crochet details of my handbag.

For any further information or question about the Italian Leather Handbag, please visit the official website of Unicum.gr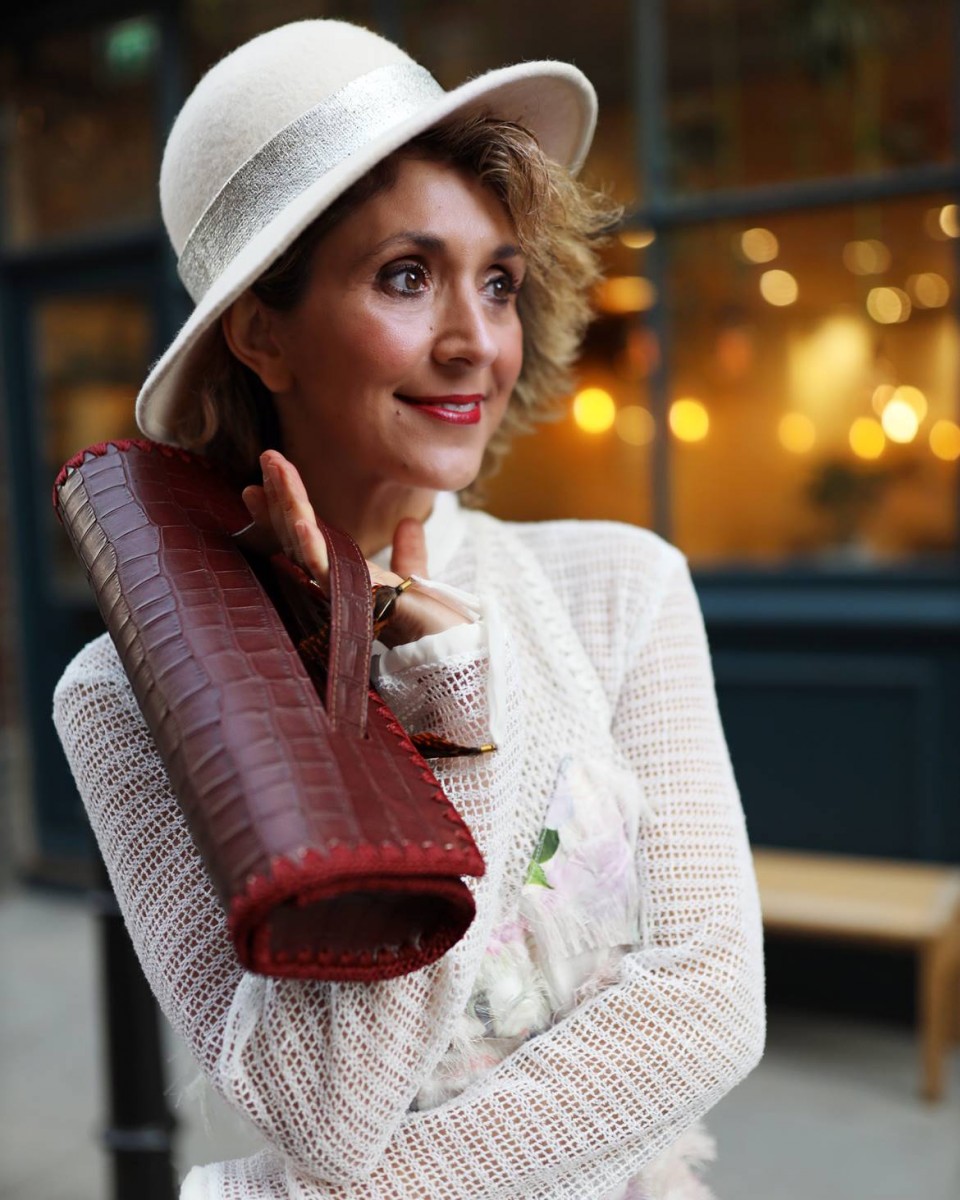 2. The New Look Clutch Bag. That's entertainment.
The New Clutch Bag is about an ultra-feminine clutch bag with an expression of personality and fashion individuality. I loved the way that I can hold it around my wrist as an accessory, and be ultra-chic. Certainly, accessories tell a story. In the same vein, forget satin clutches the next time you dress up for a night out—spring is all about leather.
Bordeaux is the next pink. A key colour for Spring/Summer 2020/21. I created this outfit with a feminine feel to talk about fashion stories of 1920/30s. Feathers, knitwear, hat design, delicate transparency, became a desire for a new wardrobe in a play with the new Croco Clutch Bag, and romanticism. In my creative imagination, accessories always build a strong feminity for my London Fashion Week Street Style.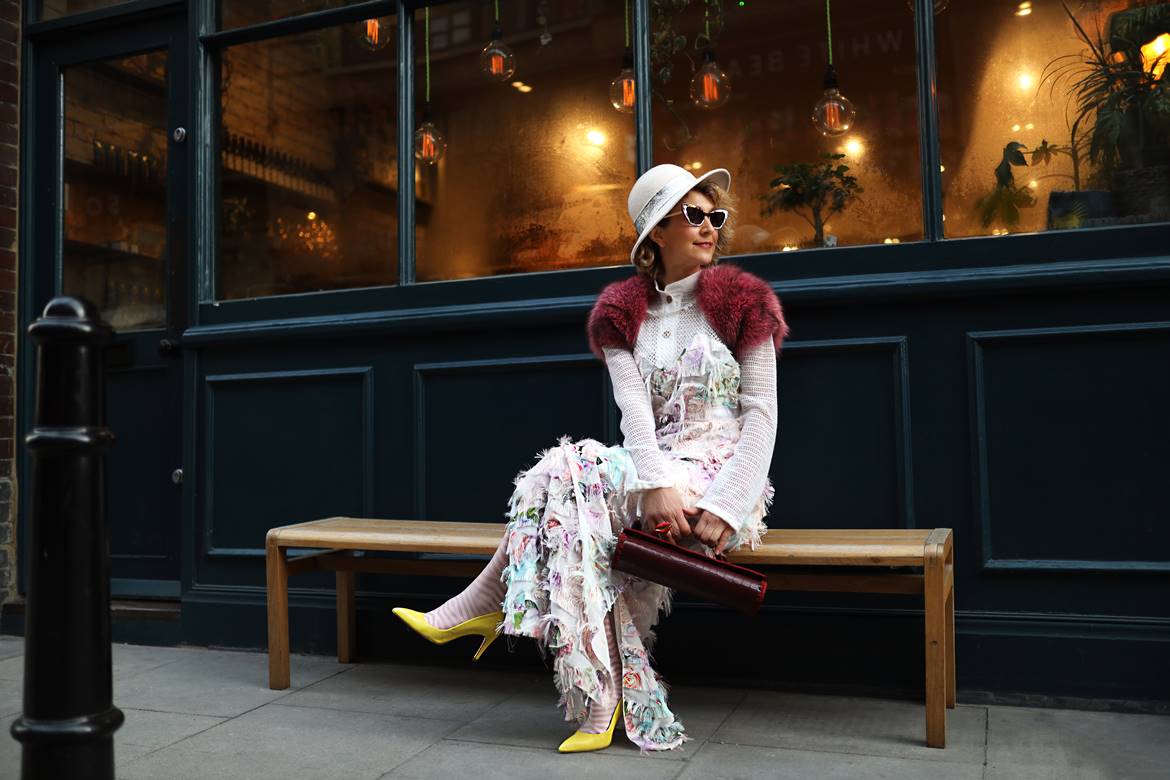 For any further information or question about The New Look Clutch Bag, please visit the official website of UNICUM.gr
Interview and London Street Style for Spring 2020 Bag trends with UNICUM accessories during London Fashion Week 14-18 February 2020.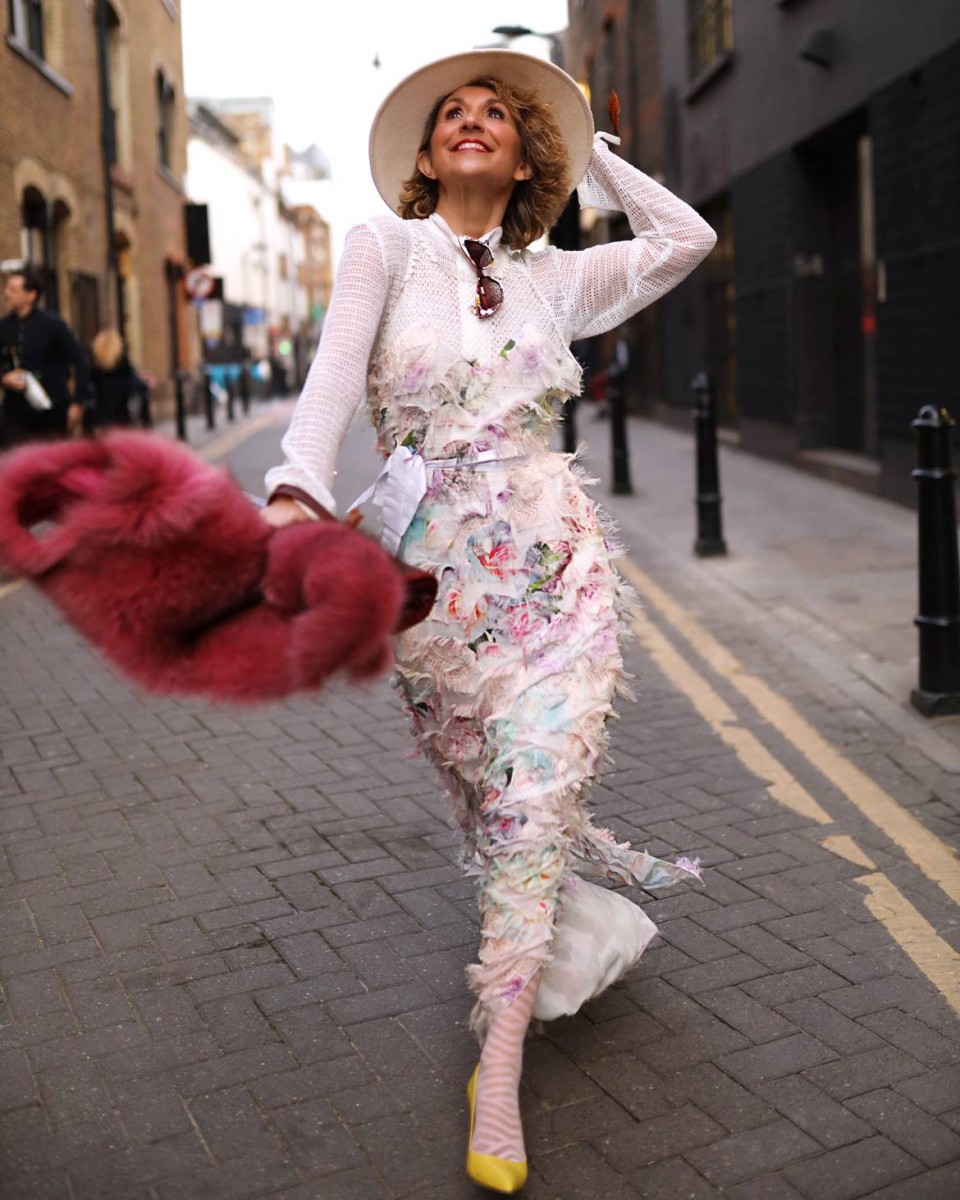 ♦ Think-Feel-Discover:

Tell us a little bit more about yourself, such as where you grew up? When and why did you decide to become an accessory Designer?
Working from a very early age in the jewellery industry, but bags always were my real passion. My biggest dream was to have my fashion brand and be able to express myself through this.
In 2015 I created Younique Lab, my first brand with my husband. It's about leather and cork accessories for crochet bags. The concept is DIY for the clients who love it, as they choose all the materials. We help them make their bag. In late 2019 we launched UNICUM accessories, a brand with finished products. Above all, I'm excited to create the designs that I also love to wear. Undoubtedly, I enjoy the process from the idea to the end product.
♦ Think-Feel-Discover:

Where do you find inspiration for creating your leather and cork crochet accessories?
I find inspiration everywhere. My style is minimal, and I always choose to work with high-quality materials. The original design for Unicum accessories means premium quality.
♦ Think-Feel-Discover:

Which are the accessory items that you designed for your first collection?
I designed my first collection thinking about the needs of the modern woman. A variety of bags (handbags, backpacks, clutches), belts, glasses, mobile cases, and key fobs are the accessories that a woman can find in UNICUM accessories for her fashion style. It's about everything she needs to wear in her daily way to dress. I know that woman of today, she will love it as much as I do.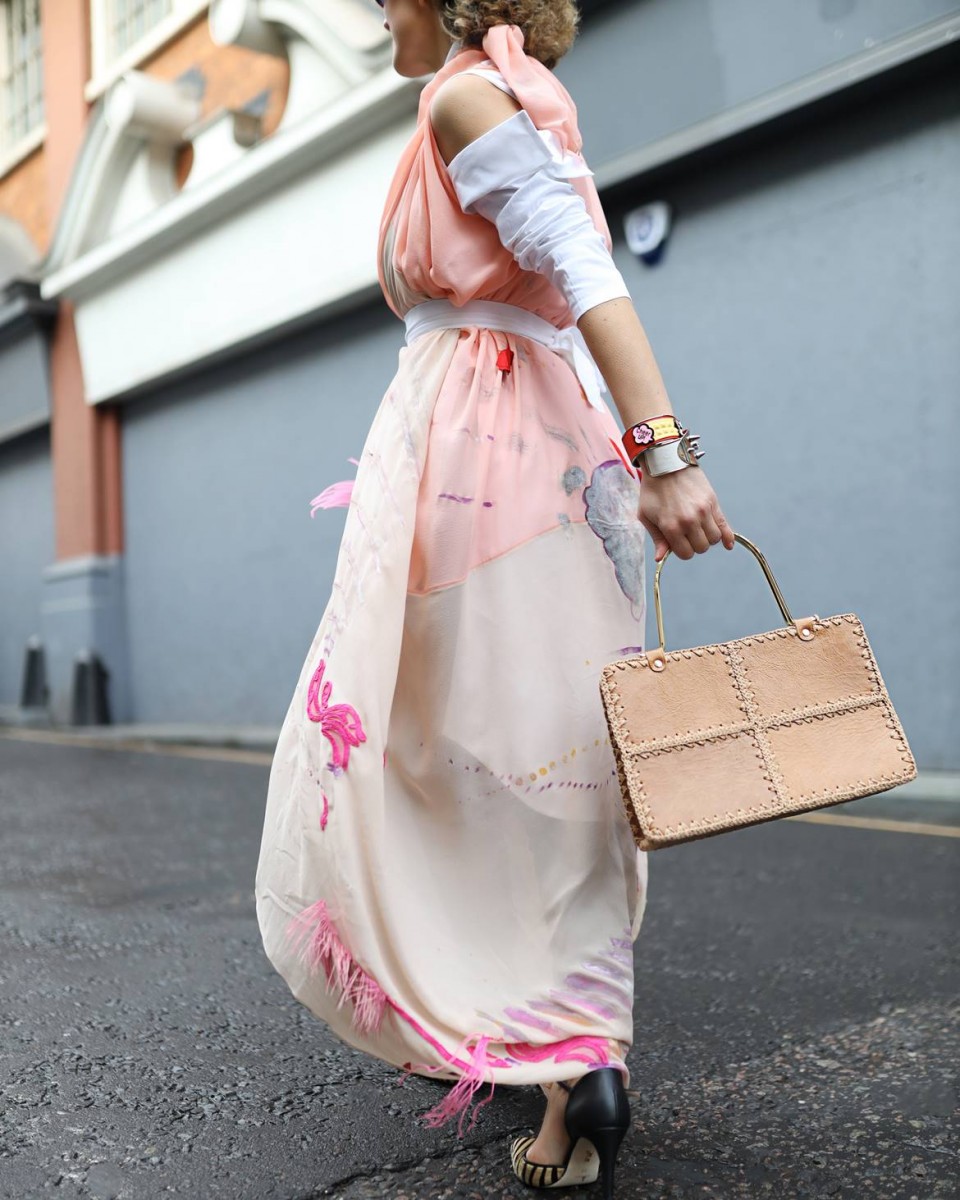 ♦ Think-Feel-Discover:
Approximately, how long does it take to design and produce your bags and accessories collection?
All our products are handmade. It depends on the design. Firstly, we work on the samples and focus on the design details. As soon as everything is ready, we go on with the production. Usually, it takes more than a month to finish a new design and included in the current collection.
♦ Think-Feel-Discover:

Do you produce all of your designs yourself, or do you have a team?
I have a great team behind me to support me, but always the final check is on me.
♦ Think-Feel-Discover:

Where do you source your materials from, and what are the criteria behind your choices?
Our motto is "Premium crochet accessories", so our materials cannot be less than premium. We choose all of our materials carefully. The criteria are of exceptional quality and unique designs.