How do your emotions affect your daily style with the designer Danae Sakellari,1014Lex? Open your eyes, stop for a minute and see your fashion style choices, your life during London Fashion Week.
While I'm attending London Fashion Week and trying to think about style and why do we choose what we wear, I stop for a minute and I always I ask myself: How do you really feel today?
I do believe that after attending many fashion shows during London Fashion Week, I still trust my instincts. When I have to make a decision about style, I am not afraid to feel and to express my feelings. The further I feel connected with design, the more I crave simplicity in my life.
I usually invest time and energy in watching the new designers collections, investigating their style and make my personal selection from their design collection. This season I've chosen to collaborate for my Fashion Style at London Fashion Week with Danae Sakellari. Creative and free to express her individuality, Danae studied at the Parsons School of Design in New York. She collaborated with Donna Karan and created costumes for major thematic events in museums and other venues with Sotu Productions. She designed her own Manhattan boutique and participated in film productions until she decided to return to Athens and start her own brand in Greece.
Named 1014 Lex. inspired by the management of her atelier in New York, the designer creates separate collections of high aesthetics with luxurious fabrics, based on the moulage technique.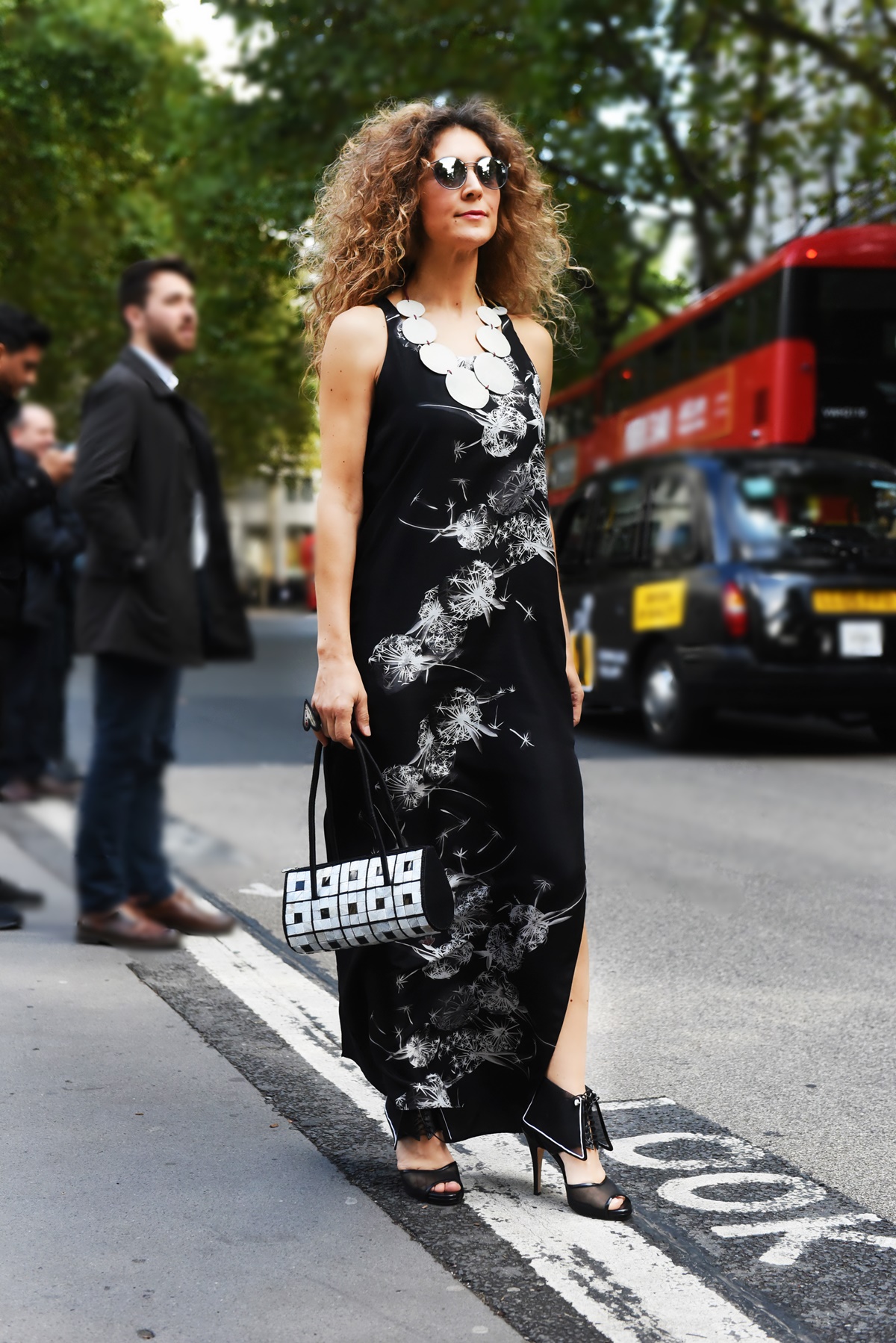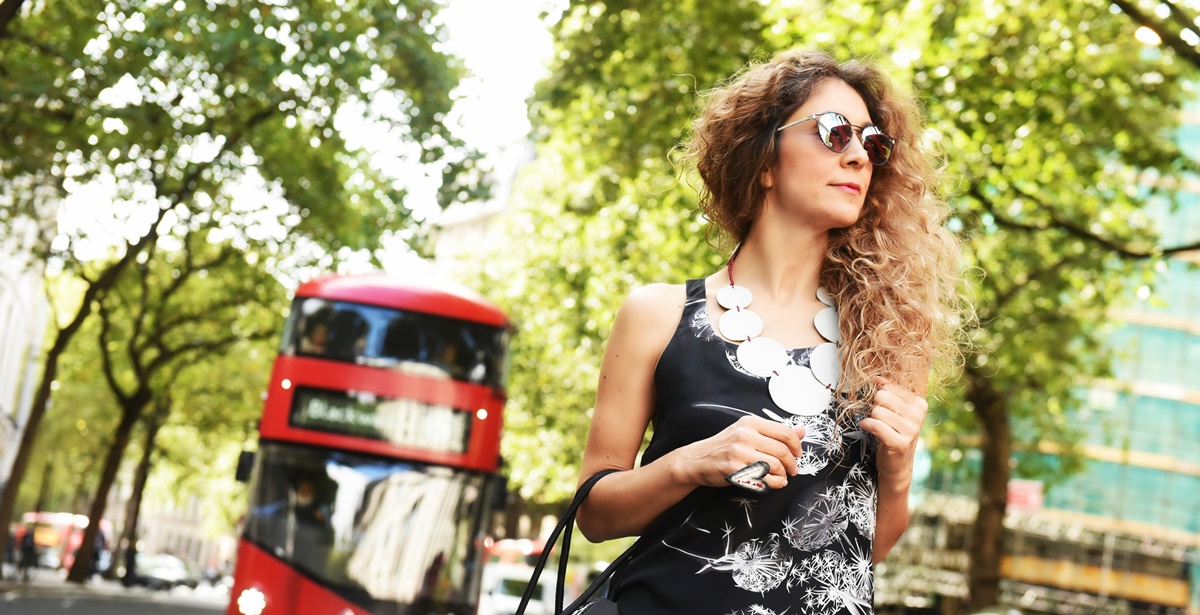 How does today tailoring design detail of the floor-length dress by 1014Lex can add this ultimate feeling of elegance to your London Fashion Week Style? Eventually, Don't think about trends. Open your eyes and think, feel, discover your own modern style.
Sophisticated and super modern the black printed dress by Danae Sakellari, in my eyes, it's the best way to refresh my look in London Fashion Week SS2018 that will embrace your style. Black and white is an endless story. I really love the contrast of the white print.
Above all, it is a unique sense of sophisticated elegance.
The shape of the floor length dress begins with a classic pattern for relaxed movement. The gentle back binding detail adds a clever tailoring design detail. Personally speaking, The beauty of black silk fabric is everything. Tailored dresses and luxurious accessories make me always feel so feminine, creating my own personal style.
We are hearing much talk about trends and dress codes during London Fashion Week. Let's think out of the box and discover our personal style. This freedom to express individuality attracts other people's attention and finally create an authentic style. There is nothing excessive here at my fashion style with Danae Sakellari designer of 1014Lex It's all about simplicity and balance in style.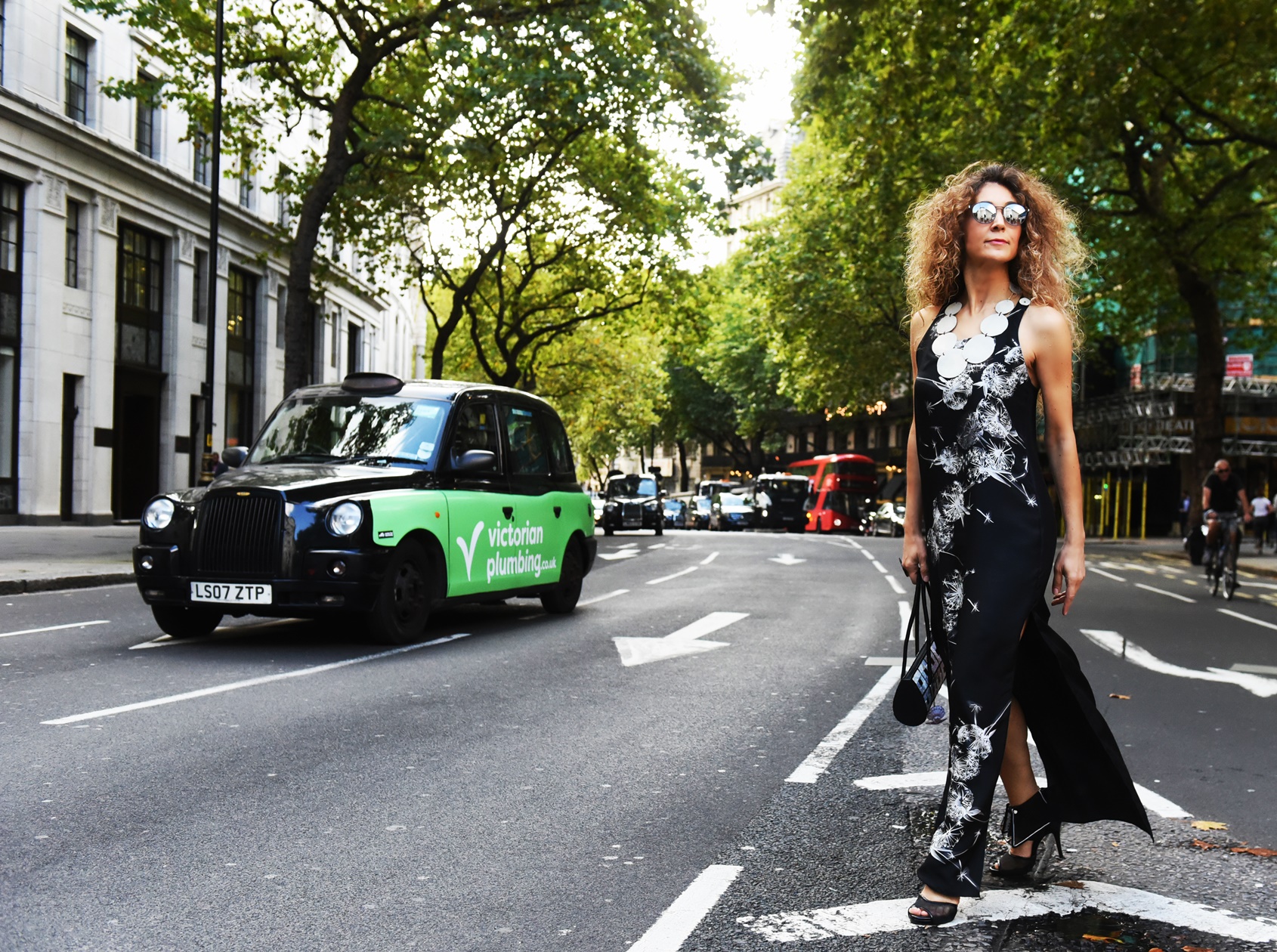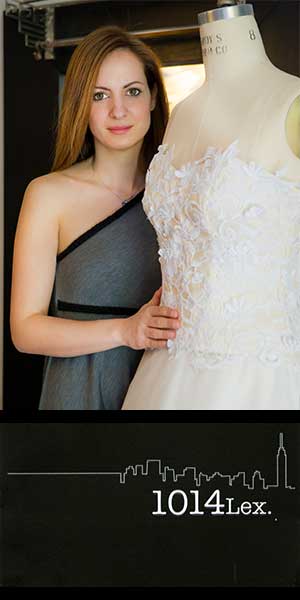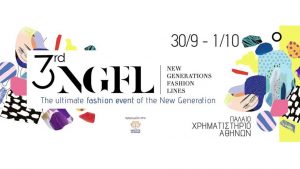 ♦Dress: 1014Lex designer of www.ngfl.gr 
♦MEN handmade shoes design by Chrysanthi Kosmatou & Savrani Creations
♦Bag by Bmb bamboo bags www.bmbbags.gr 
♦Necklace & ring by Kartousa 
♦Sunglasses Prada by Optika Pismopoulou

 ♦Styling by Chrysanthi Kosmatou 
 ♦Photography credits: Bill Patrick
 By Chrysanthi Kosmatou, 23 September 2017