Today, Salvatore Ferragamo creates a "Future Positive" Winter collection at the latest Milano Fashion Week 2021. Stop, See and start to discover it now.
Today, I may come to further investigate the latest fashion trends from Milano Fashion Week 2021. Firstly, The Covid-19 pandemic has shown to me the inventive Milan fashion. Secondly, the "Future Positive" Fall 2021 collection by the iconic Salvatore Ferragamo House represents the textile creativity of tomorrow.
However, the unique, sustainable style of one of the major players in the luxury goods industry is here at Camera Della Moda 2021.  Reinvent fashion design for a world blessed with creativity. That is to say, "Future Positive" has already begun.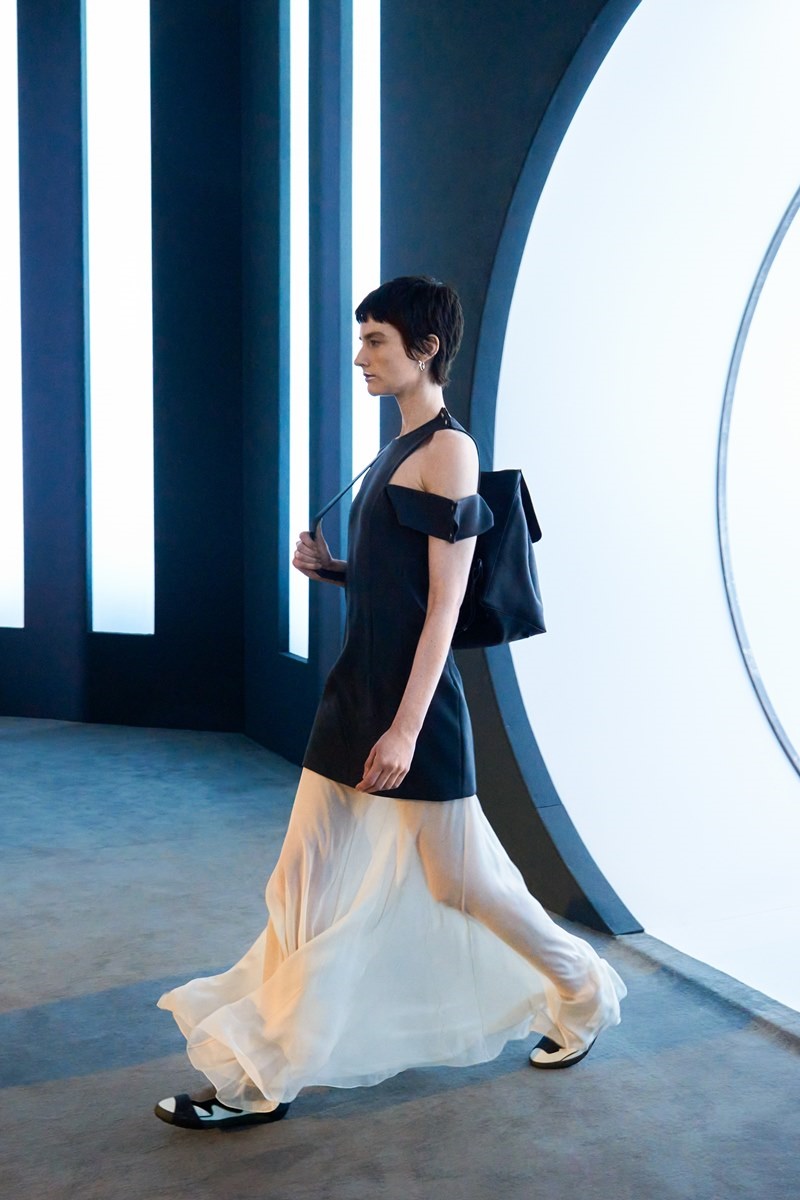 Likewise, I feel lucky to discover that made in Italy in 2021 by Salvatore Ferragamo means to rethink and rebuilt a visionary new design. In short, the most important message of the house's Creative Director Paul Andrew is Optimism. To sum up, technical innovation creates an outstanding collection that reimagines fashion design.
How does Paul Andrew, Creative Director of Salvatore Ferragamo reimagine "FuturePositive" today? Open your eyes and see: How to define and reconsider progress in fashion?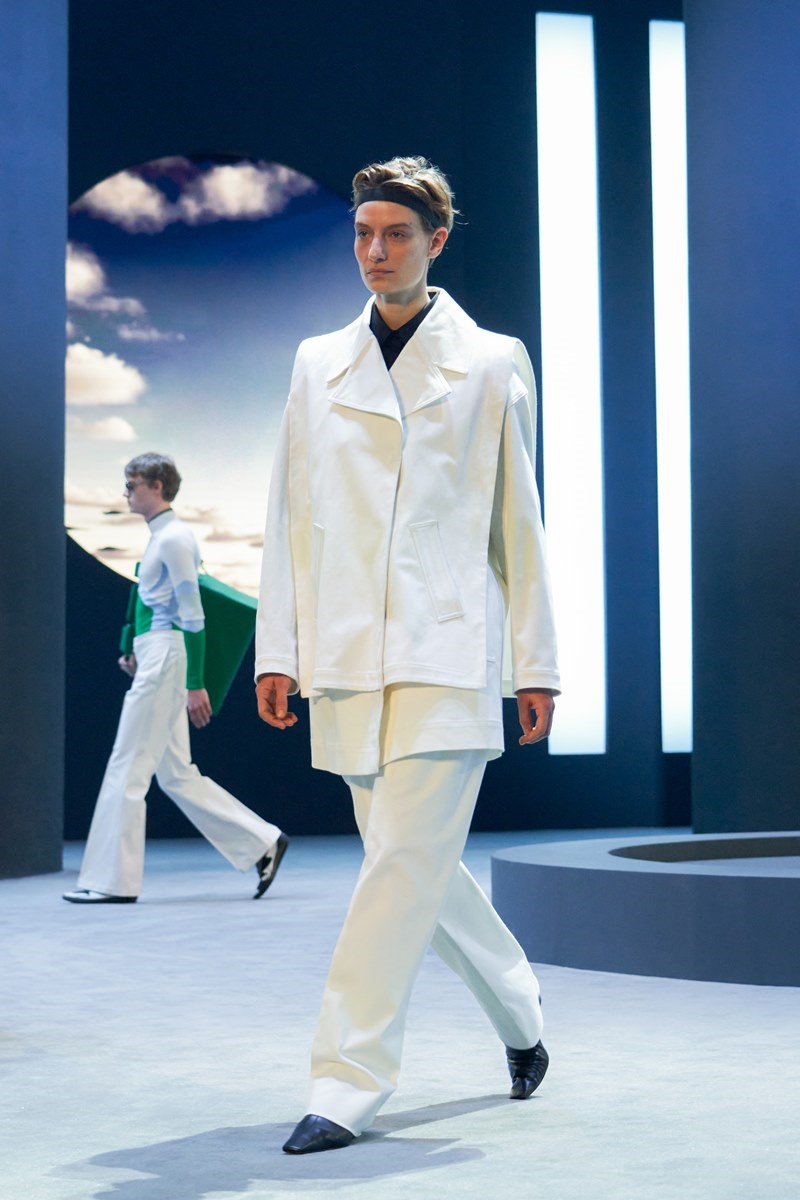 ♦Paul Andrew, Creative director of the Salvatore Ferragamo House says:
" The objective was to engineer a collection that sees the present through a prism of the future. Pre-millennial sci-fi classics Gattaca, Until The End Of The World, and The Matrix were all cinematic influences. For this 'Future Positive' collection I imagined the standard contours of today's uniforms as fossilised remnants of a long-forgotten past.

This collection proposes new uniforms for a utopian future in which diversity and positivity combine to transform our world for the better. As Salvatore Ferragamo once said of his work, this collection is dedicated 'to all those who must walk'. At a time when we must be united in our determination to reimagine, rebuild, progress."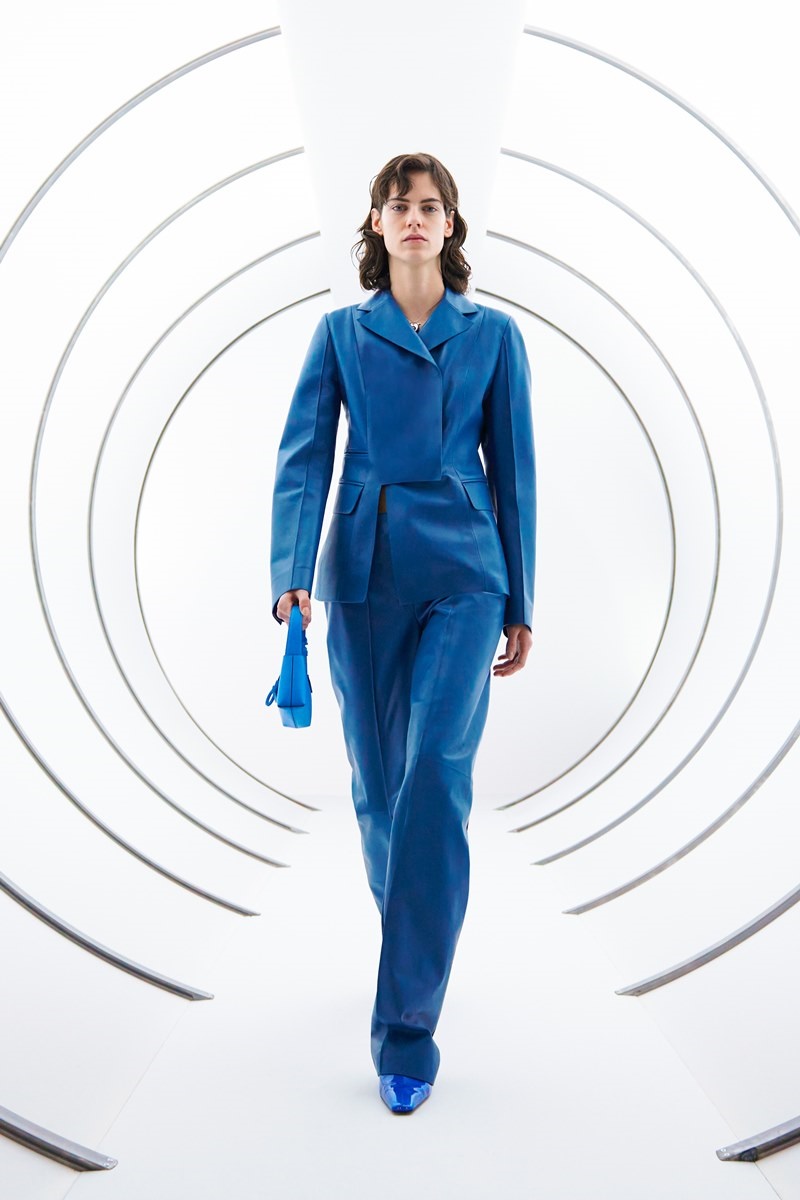 Latest Milano Fashion Week 2021 Fashion Trends you need to know now from Salvatore Ferragamo "Future Positive" Winter collection. Still start to feel the change.
1) Casual Tailoring,
Salvatore Ferragamo Fall 2021, Milan Fashion Week 2021: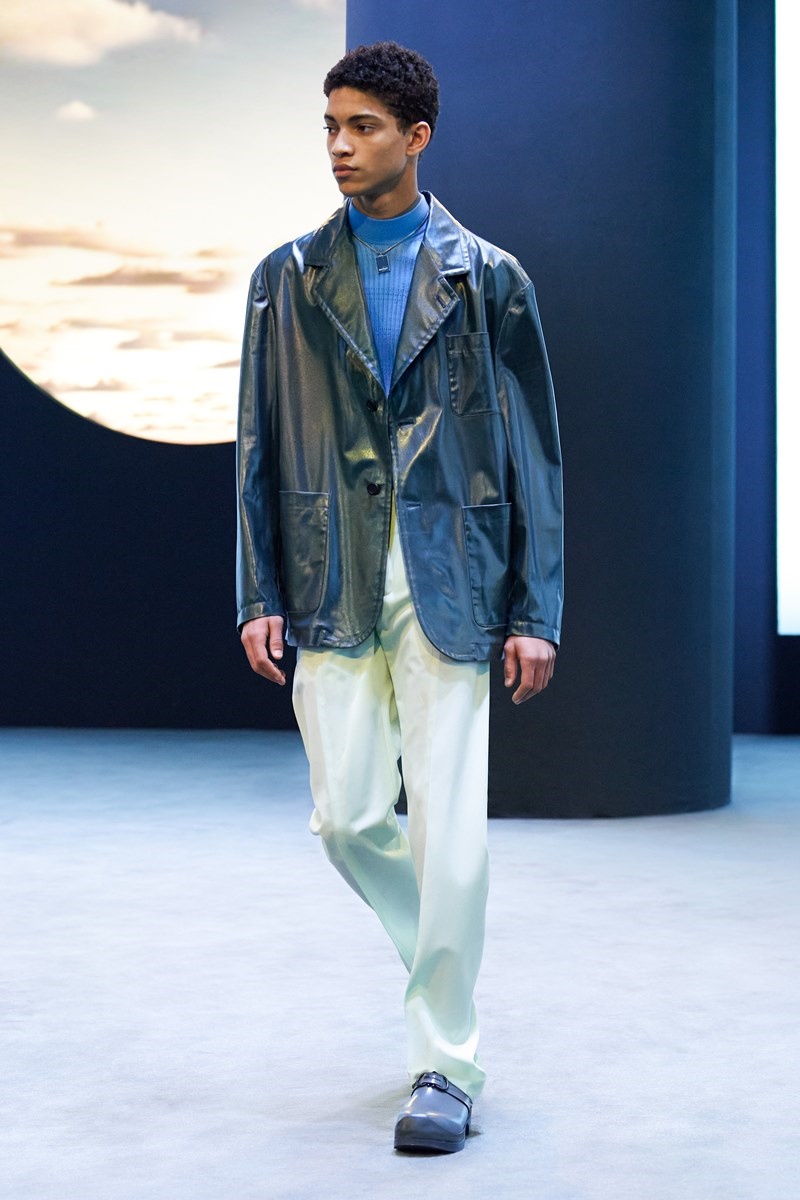 Science, architectural shades, and city life update "Future Positive" collection by Salvatore Ferragamo for Winter 2021. It is about a forward-thinking design collection in a modern palette of emerald greens. Above all, powerful colours like blues, steely greys, vibrant orange are ready for action. In short, they sit perfectly together in monochrome clothing. Likewise,  Clean-cut silhouettes, jackets with multi-patch pocket details create a casual look and feel.
Above all, at Salvatore Ferragamo, Winter 2021 collection creates an ultra-modern look. It feels so elegant for both menswear and womenswear. However, Contemporary style meets clean athleisure looks. Similarly, ready-to-wear takes inspiration from militaria, moto. Above all, it is about lightweight, athletic, scuba pieces to wear all day long.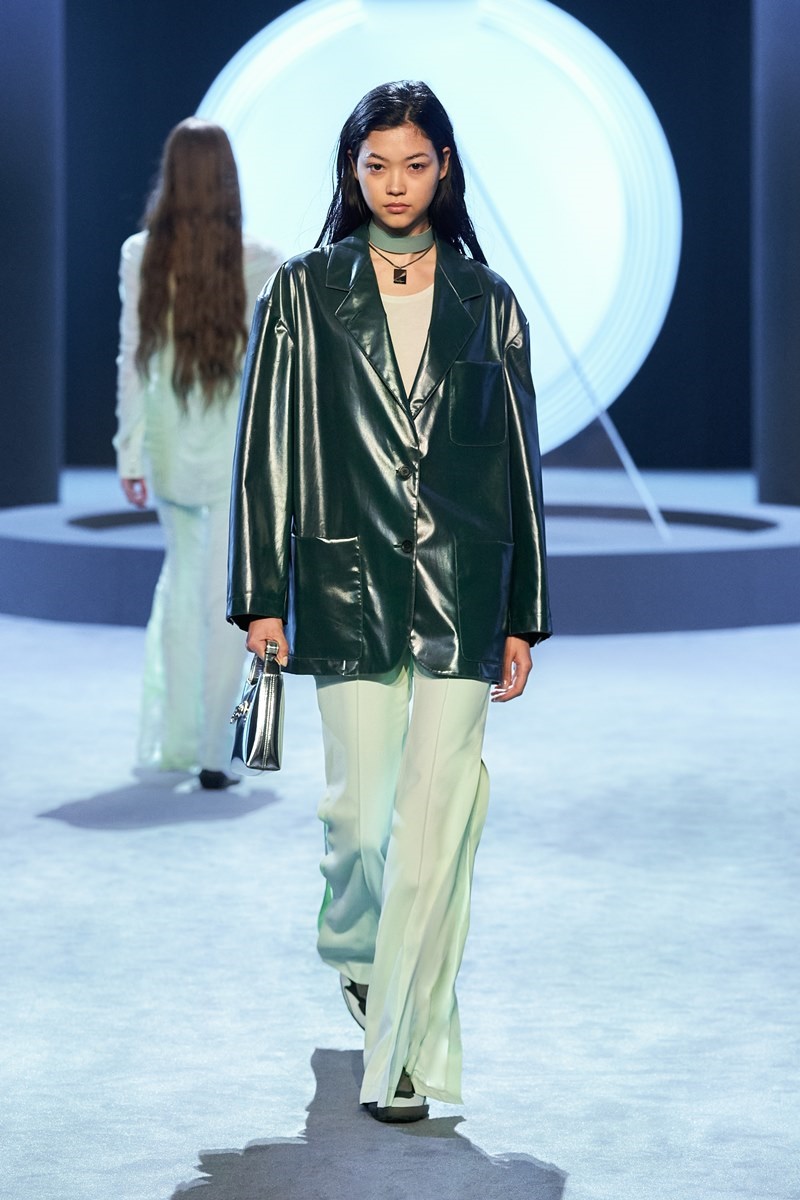 2)Coats, utility parkas, and capes:
Salvatore Ferragamo Fall 2021, Camera Della Moda 2021:
There is nothing more relaxed in fit than a stylish coat. That is to say, utility parkas, capes by Salvatore Ferragamo Fall 2021 with relaxed pants create a unique style. In emerald green, burgundy, delicate rose pastel, camel or brown, outfits are outstanding. Moreover, heat-processed leathers and wools, become highlights for street fashion.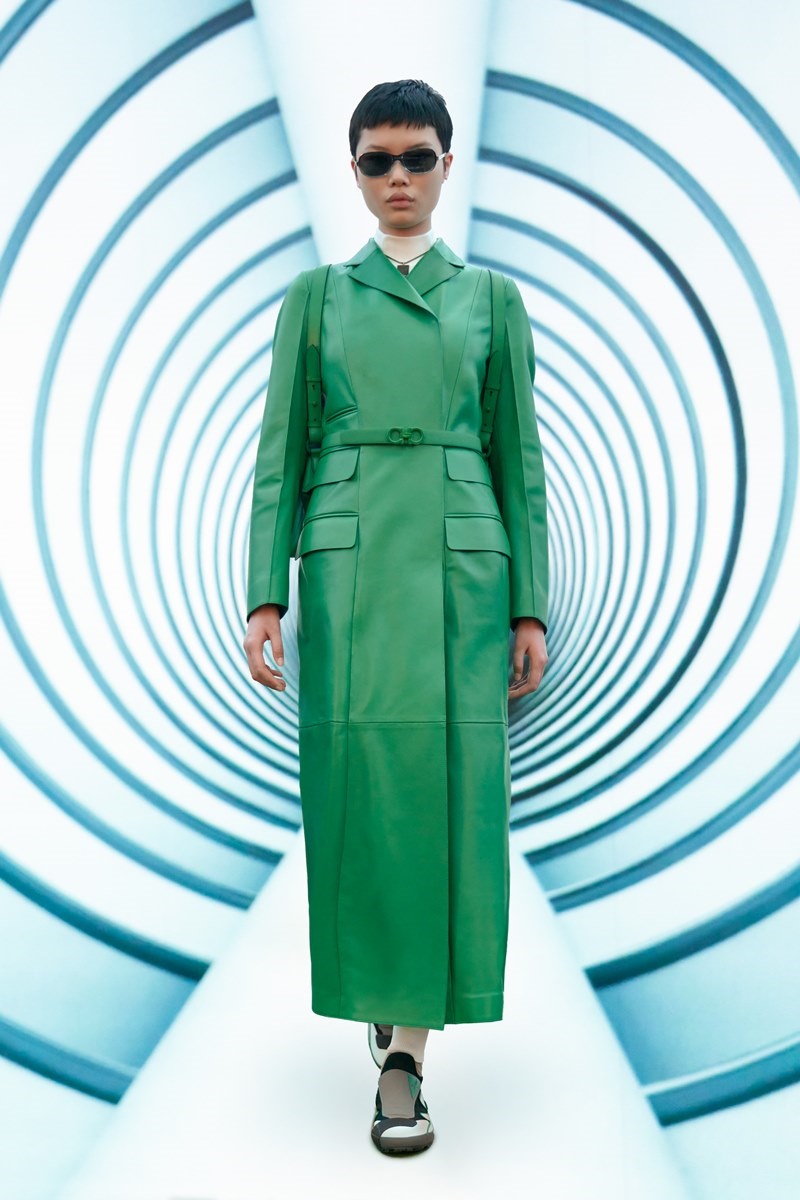 Meanwhile, this palette works well for clean tailored looks. To sum up, technical fabrics add a contemporary twist to utility parkas by Salvatore Ferragamo House. In my eyes, cocooning casual looks emphasise the feeling of comfort and ease.
2)Abstract camouflage dresses:
Salvatore Ferragamo Fall 2021, Milano Fashion Week 2021: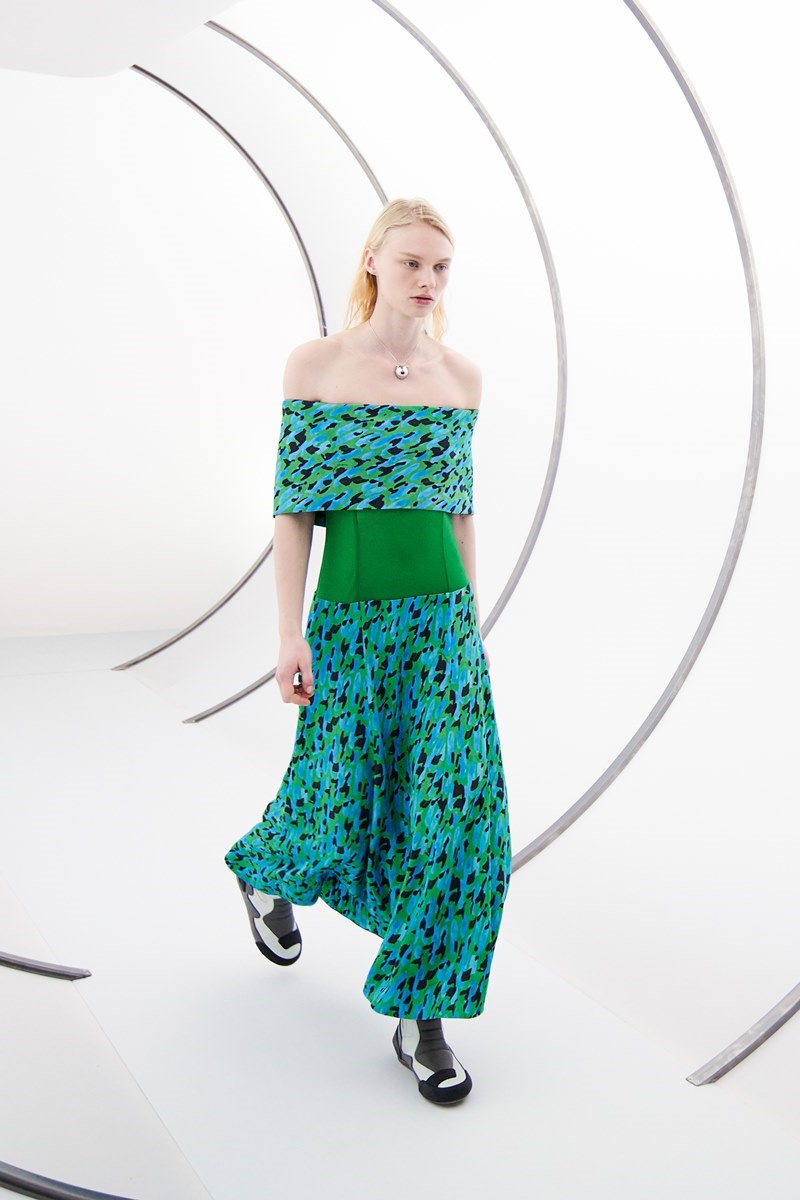 Certainly, for Winter 2021 the strapless sleeve dress by Salvatore Ferragamo is unique for your casual looks. Afterwards, with Space-biker boots, it makes a statement where ever you wear them. In conclusion, short sleeves create an elegant, sophisticated style.