How does recycled fashion ideas by Bethany Williams reveal now a new attitude in fashion? However, stop for a minute and always think: Above all, how does a British fashion designer embrace innovative technologies today?
Today, we usually talk about recycled fashion. Similarly, we look with fresh eyes at recycled fashion ideas during London Fashion Week 2019. However, Bethany's Williams SS19 collection brings a new aesthetic. Her collection "Adelaide House" turned my attention to what I want to see in the future. Most importantly, it is about a new attitude which embraces recycling, and social enterprise foundation. Likewise, Bethany's Williams SS19 collection brings a new material aesthetic.
In short, it is time to reduce waste, to embrace innovative technologies, and support people's lives in a new aesthetic. How does sustainable fashion by Bethany Williams lead to social consciousness? Personally speaking, the design is the core of any company's communication. In the same vein, your product, your values deliver a single message at every step. Listen now to Bethany's Williams design approach.
Who is the innovative British fashion designer Bethany Williams today? Above all, how do you think she has still created her amazing recycled collection "Adelaide House"? Afterward, why is she finally awarded for exceptional British design by HRH The Duchess of Cornwall on behalf of Her Majesty The Queen?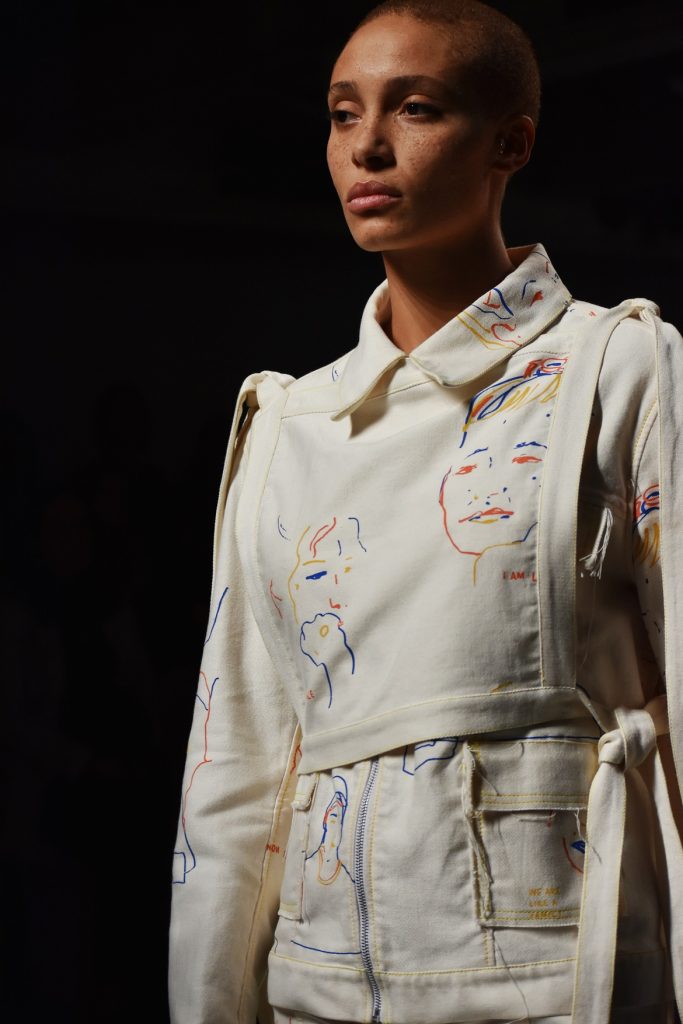 Bethany Williams is a British designer who believes that recycled fashion ideas can support social issues. Her vision is to create a change through charity, and collaboration.
Moreover, the current collection "Adelaide House" is made in collaboration with Adelaide House, a women's shelter based in Liverpool, and it is one of only six such facilities in the country.
They provide care and support to women leaving the prison because of domestic violence and homelessness.
Meanwhile, Giorgia Chiarion, a London based art director, has been inspired by the women of Adelaide House. She painted illustrations of Liverpool landscape and collaborated with Bethany Williams to develop her recycled fashion collection. Through traditional handcrafted techniques, and working with the community San Patrigano drug rehabilitation community in Italy, the Echo Newspaper, she produced "Adelaide House" a collection from recycled and organic materials.
In short, Bethany awarded for British design at London Fashion Week by HRH The Duchess of Cornwall on behalf of Her Majesty The Queen. Above all, it is an honor for emerging British fashion designers who break boundaries and create sustainable fashion. In conclusion, Bethany is donating 20% of the profits of this collection to support Adelaide House, and create a new mindset of responsible fashion design. Through collaboration with communities and charities, the designer hopes to have a real effect on society.
Still, which is the concept of fundamental elements forming the basis of a new attitude in fashion today? Afterward, stop for a minute and discover: which is always the Key impressions for Adelaide House sustainable collection by Bethany Williams?
Brave new things are coming into fashion. A new generation of fashion creatives faces the future with creativity and innovation. Happily, the Bethanny's William Adelaide House collection mirrored the desire for change in the fashion industry.
New advances in textile recycling companies are the barriers between innovation, and expectation of life quality. Create with fresh energy, support some of society's most vulnerable women to change their life, gain skills, and meaningful employment. Sometimes, however, the most fashion-forward direction is based on collaboration.
"It shocked me how many people were using food banks, and how many shelters were closing," Bethany William said. "At that time, homelessness in Brighton was increasing hugely, so it was scary to see those services closing. I was aware of how much power and influence the fashion industry has but also that there are so many people in this country who can't afford it. I just thought, 'How can I connect the two? How can I use it as a tool for good?" Finally, let's explore the three key details of the designer's collection.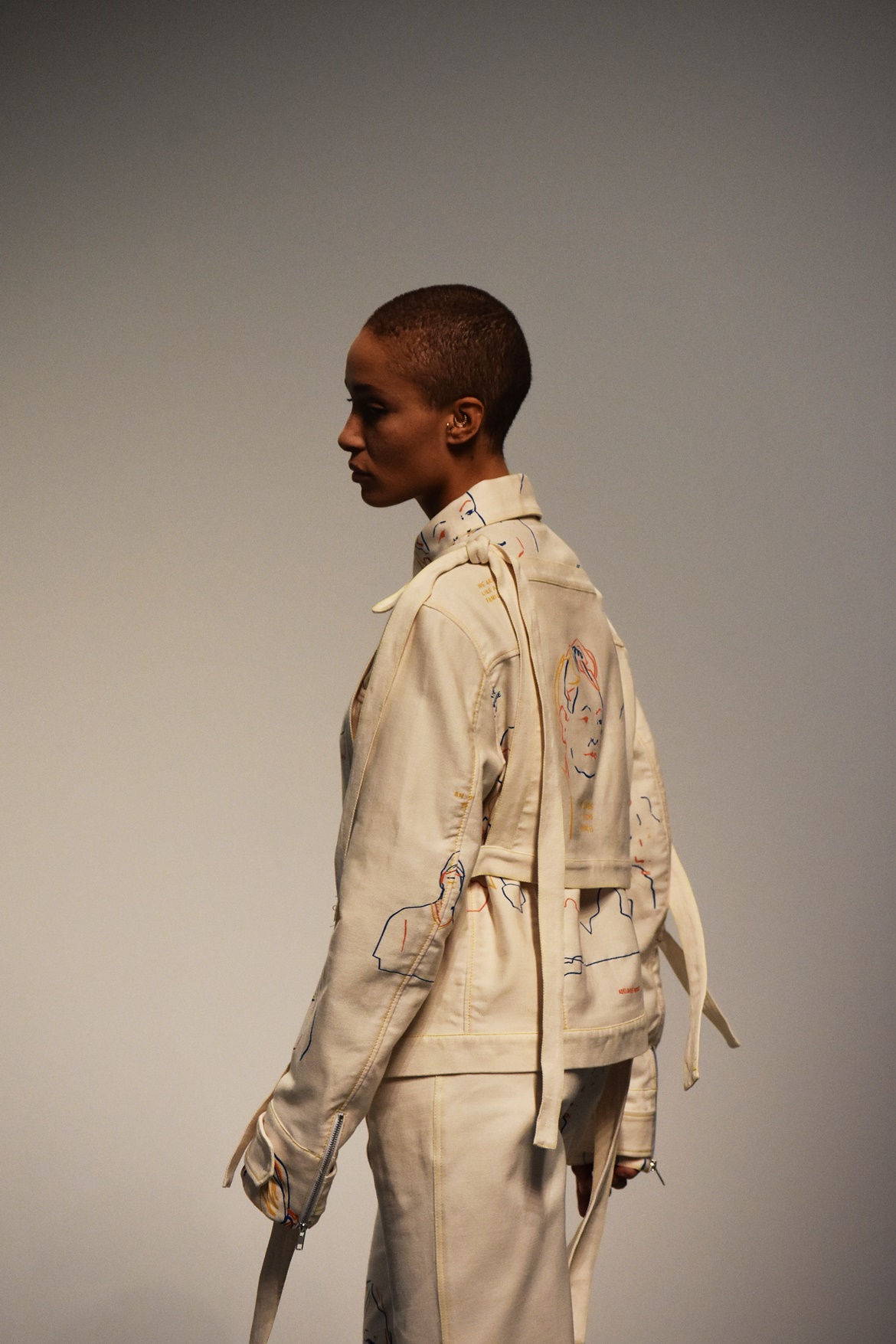 1) How does today an Artist collaboration still embraces community, and celebrates now connection in fashion? Above all, how do always abstract paintings create today an already atmosphere of high energy?
Bethany Williams worked with Giorgia Chiarion and illustrated the women of Adelaide House. Amazing abstract paintings approach with spontaneity, and enthusiasm for women's lives. That is to say, we feel the message, and we enjoy the vibe of color. Be generous with others, estimate life, and improve our wellbeing. Meanwhile, I admired the free spirit of those recycled fabrics with artistic influences. Dancing with creativity sometimes is the source of our life's canvas.No limit, no stress, only color to flow our positive mood.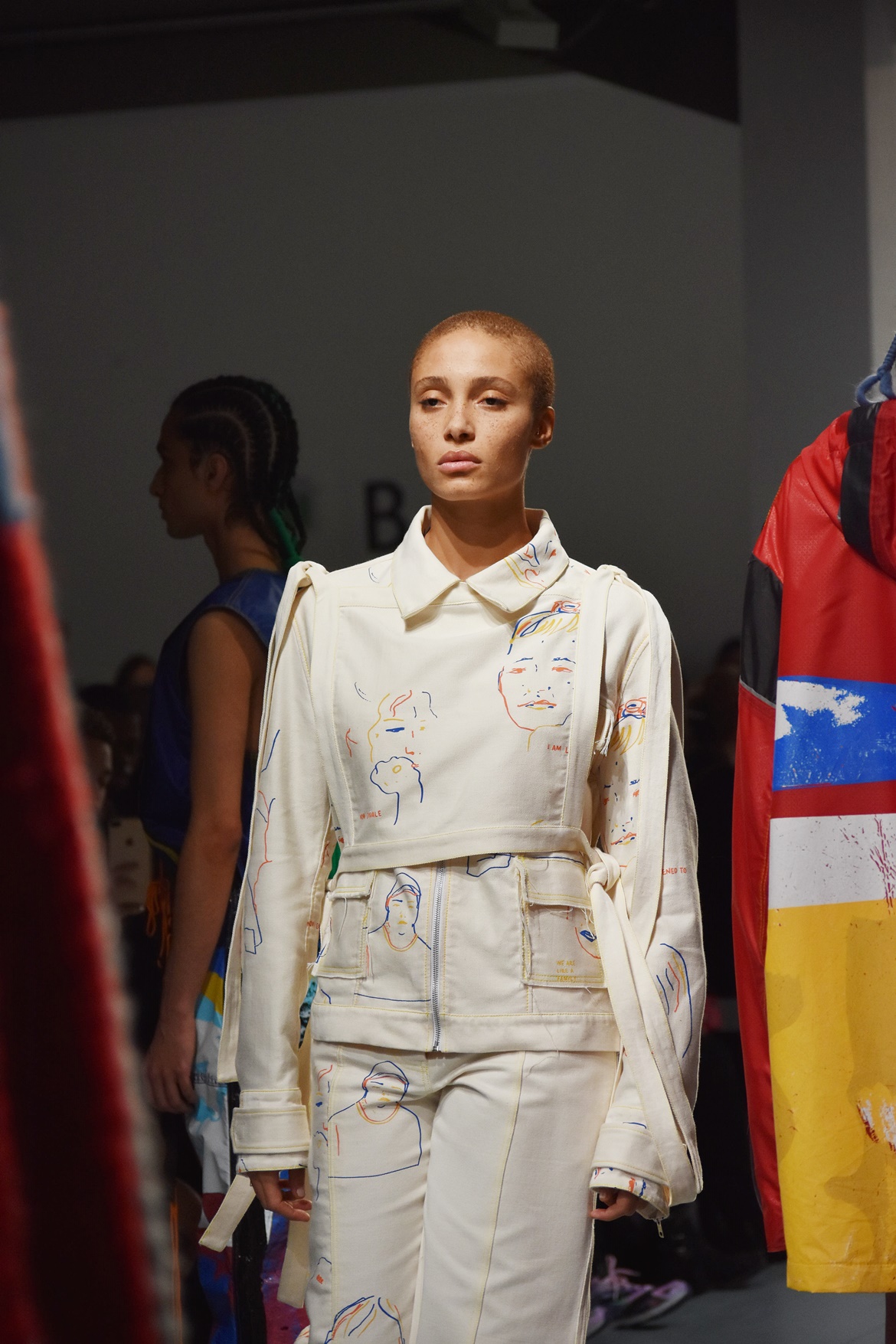 Blues and greens are extraordinary, while red and yellow create an atmosphere of high energy. Vibrant colors in abstract, playful mixture offer a strong positive message on Adelaide House collection. An imagination that captures our attention and reflects the mood of transformation.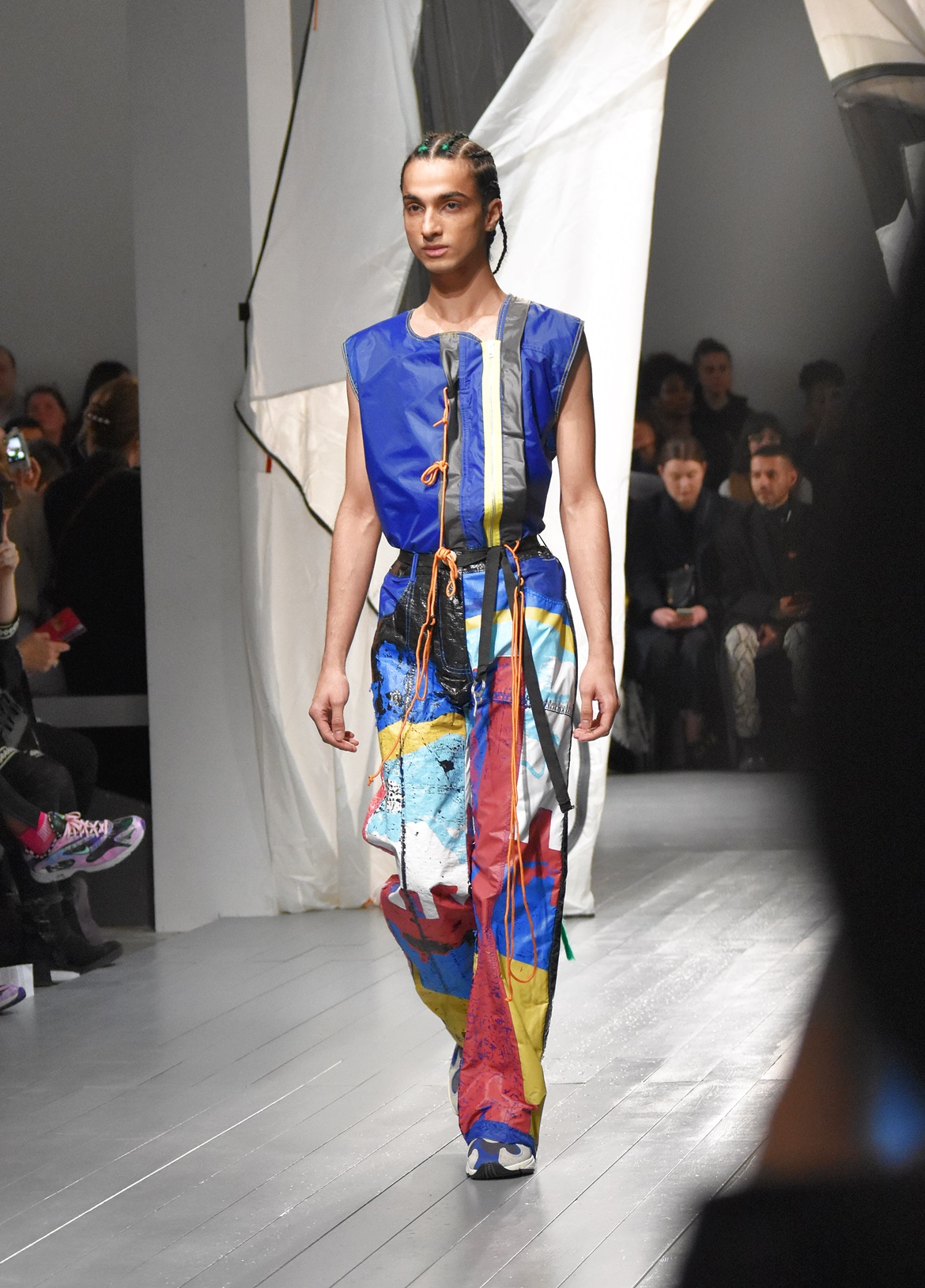 2) How important is today a Knitwear collaboration with Wool and the Gang? Afterward, do you prefer to always believe in the beauty of recycled yarns? Above all, define now the top knitwear style of the collection.
Designers Aurelie Popper, Jade Harwood, and Lisa Rodwell as CEO, they have created Wool and the Gangs. Moreover, they work with renewable, biodegradable wool, and dead stock yarns. In collaboration with Bethany Williams, they created oversized knitwear in warm, vibrant color mixtures. In the same vein, these knitted designs are soft, elegant, suitable to be worn by both genders. I do believe that as soon as we focus on recycled yarns, the more we respect ourselves. That is a reason to plan a new brighter future.