Share this
Which are the best Winter outfit ideas 2020 today? Still, The new eight fashion looks and colours you need to know now.
For my best Winter outfit ideas 2020, I recently created the hashtag, stay home love fashion (#StayHomeLoveFashion), to inspire you with the items I really love to wear. However, I focused on my friends' wardrobe to discover comfortable pieces, designed for a simple life. All-time, favourites, clothing and accessories which reflect a slower approach to daily life. Afterthought, my attention for Winter fashion trends 2020-2021 takes inspiration from both colours, and casualwear.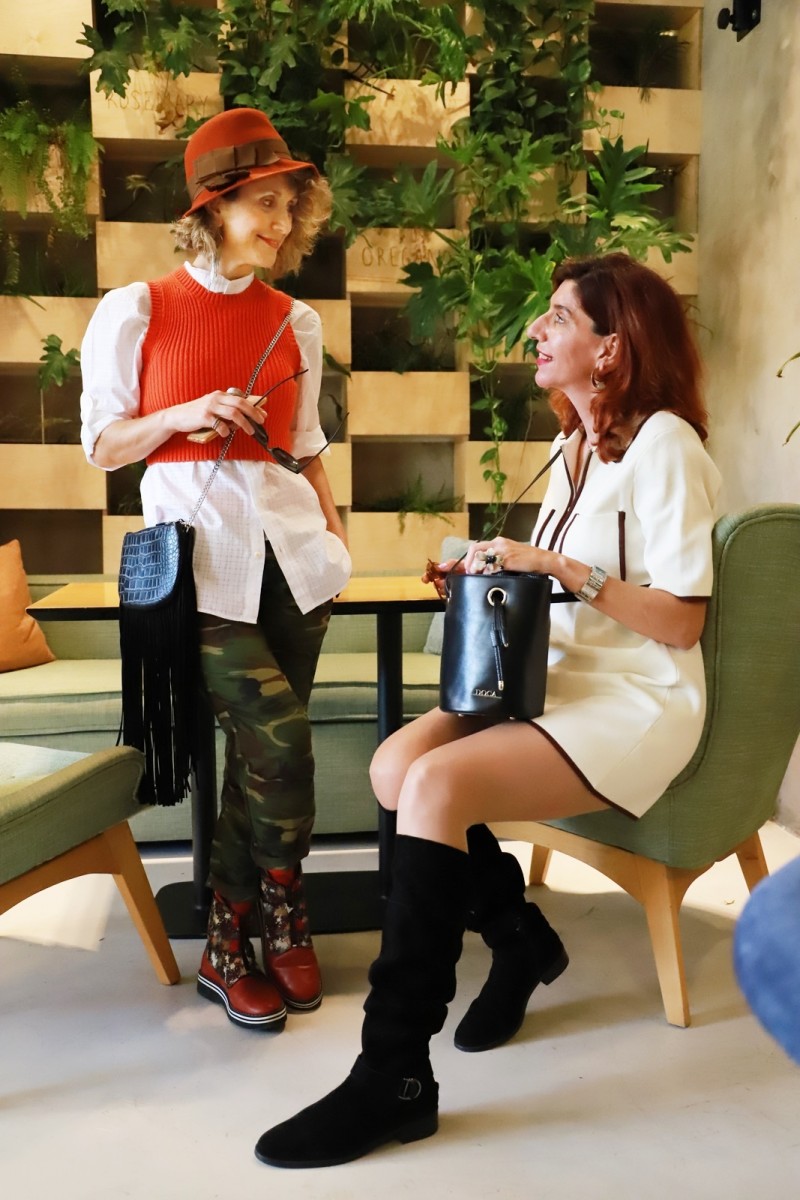 Firstly, I enjoyed the surprise when I mixed unexpectedly bright colours for my winter wardrobe essentials 2020. On the other hand, I do know that the timeless black and white knitted dress by my lovely friend Smaragda's wardrobe has a rich identity. However, under the lockdown in our daily life, we both search for comfort. Secondly, sharing pieces from my friend's wardrobe is my latest challenge to stay home and love fashion. Likewise, discovering other people's way to dress, I met the challenge to restyle their pieces. In sort, fashion has to see itself in a new style, to move away from the mass to personal. In conclusion, that means that our requirements change during the lockdown of Covid19, and fashion does reflect that change.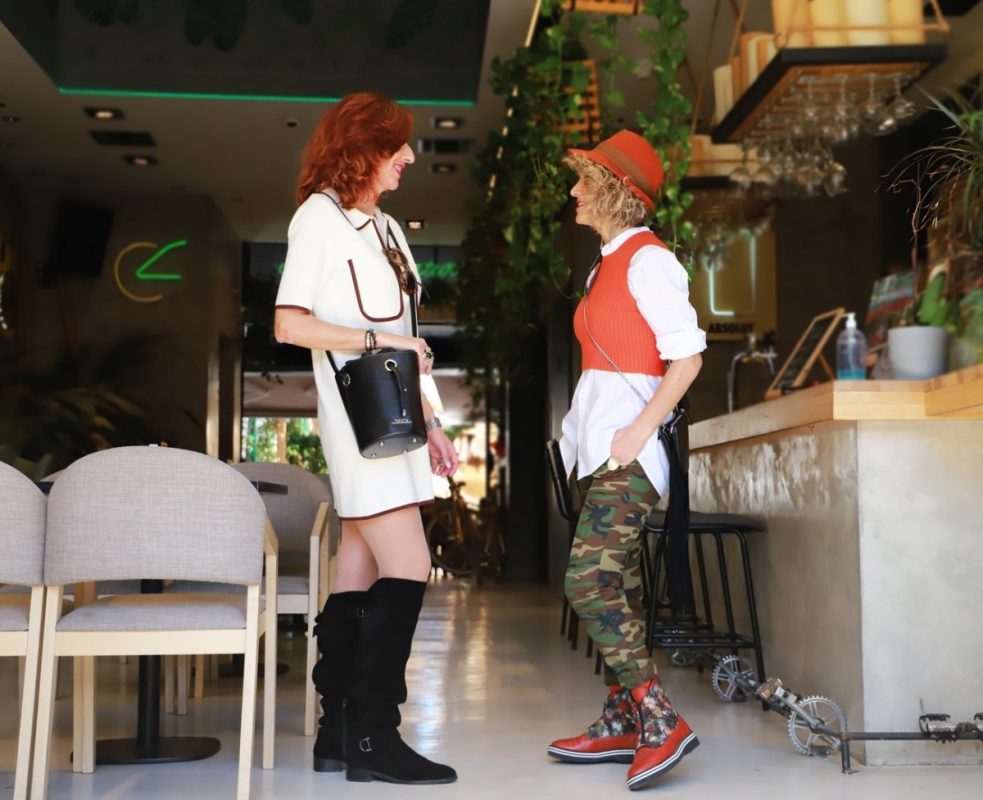 Afterthought, These are the best 8 Women's Casual Winter 2020 fashion trends to follow for your new winter styles. Love to wear them now.
Of course, I also bring you today this week's 8 highlights. Including those pieces that will hopefully make me and Smaragda smile, share positive energy with you, and inspire your fashion style.  Above all, What should you wear for winter 2020? However, what is the new colour for Autumn/Winter 2020-2021? How can you look elegant and dress in casual winter outfits 2020?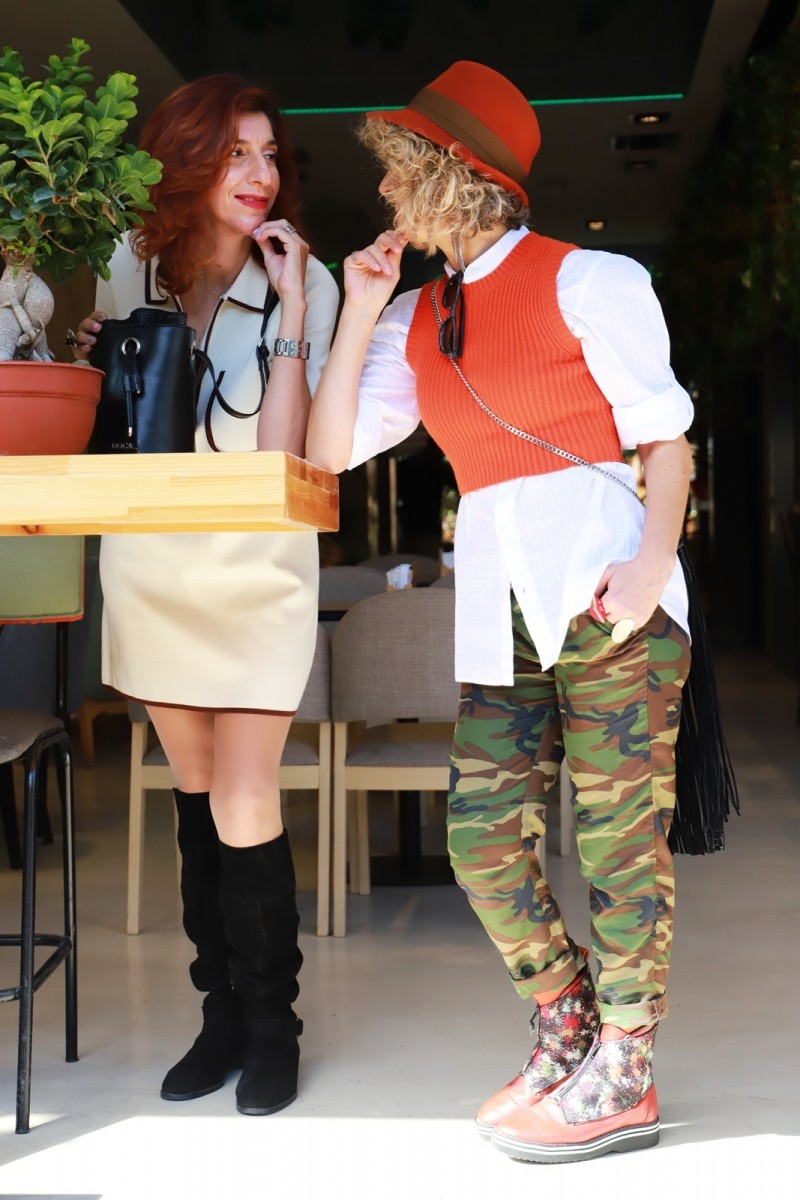 For Autumn/Winter 2020 – 2021, here are eight style inspirations born out of a love for brights, and easy-to-wear clothing. I tried to understand why we choose what we wear. In the same vein, I do know that our emotions affect our style choices in our daily life. To sum up, the further we stay at home because of Covid19 lockdown, the more we crave simplicity and something we can really enjoy wearing. My love of fashion has no end, as all of my favourite dresses, shoes, bags, hats, trousers, sunglasses, and jewellery challenged my creative imagination. Today, spending most of my time inside my home, I reinvented my fashion style with clothes that made me love my wardrobe even more in 2021. Let's do not let the lockdown stop us from finding something unique for our fashion style.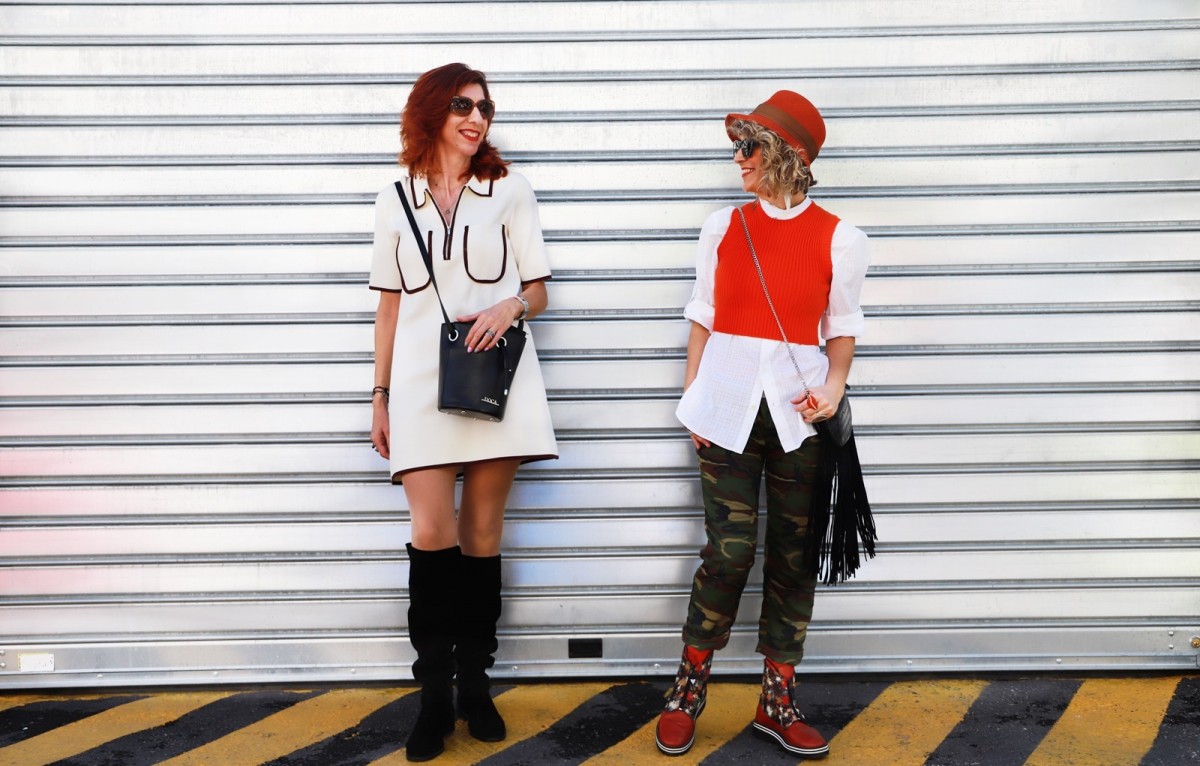 Best Winter outfit ideas 2020 and 2021. Still, The best 8 new-in pieces for your amazing wardrobe.
1)Discover now the black and white knit dress: It is already the biggest Winter outfit ideas 2020 in fashion right now.
My priority for this winter when it comes to clothes in 2020 is comfort. The elegant Polo collar two-tone knit dress of Smaragda's wardrobe in black and white will continue to be the best street style for stylish winter outfits. Softly coloured in classic black and white bring a modern edge to daywear. For me, the mini knit dress brings a sense of comfort, quiet, elegance, and delicate beauty to every woman's fashion look.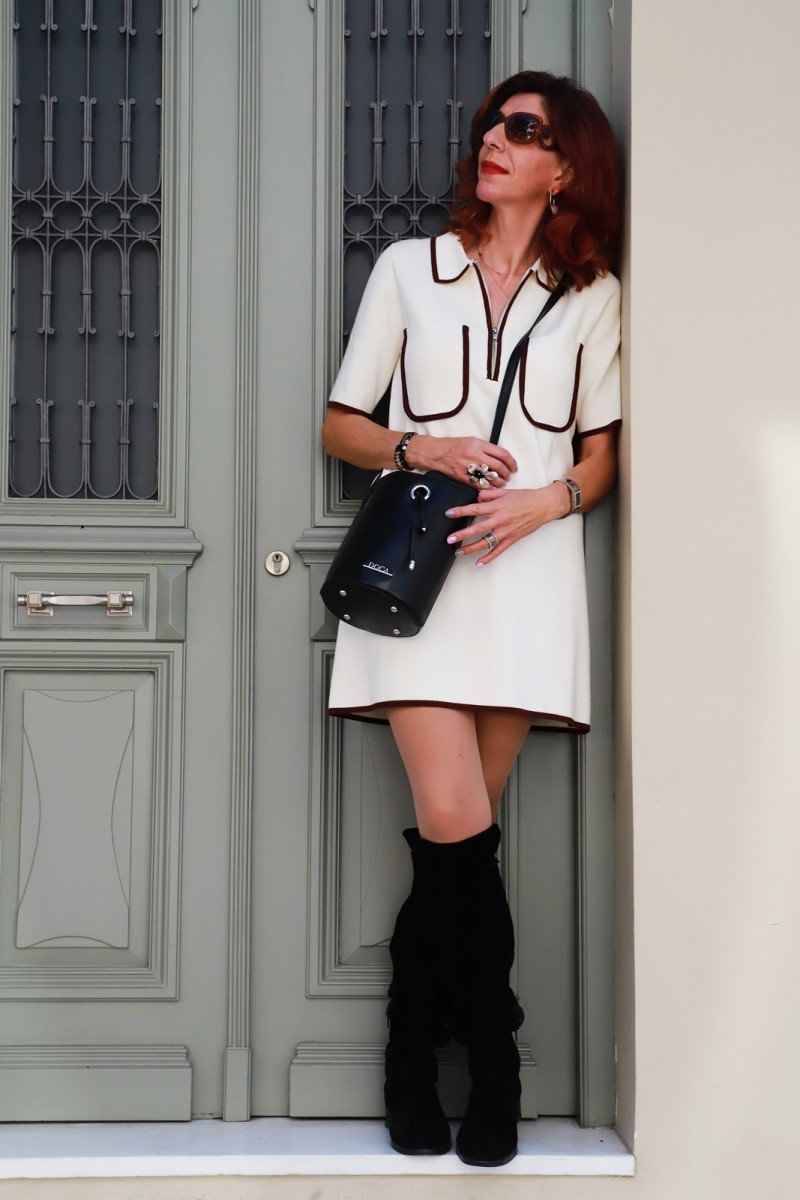 Moreover, design details as to the three-quarter sleeves, and the zipper fastening down the front, they make this outfit to stand out. In short, I have no dought that Smaragda will love to wear the black and white knit dress when she is working from home. Take note that collars and pockets allow the texture of the knit dress to create a smooth, and smart contrast. To sum up, that is the perfect choice for your winter fashion ideas.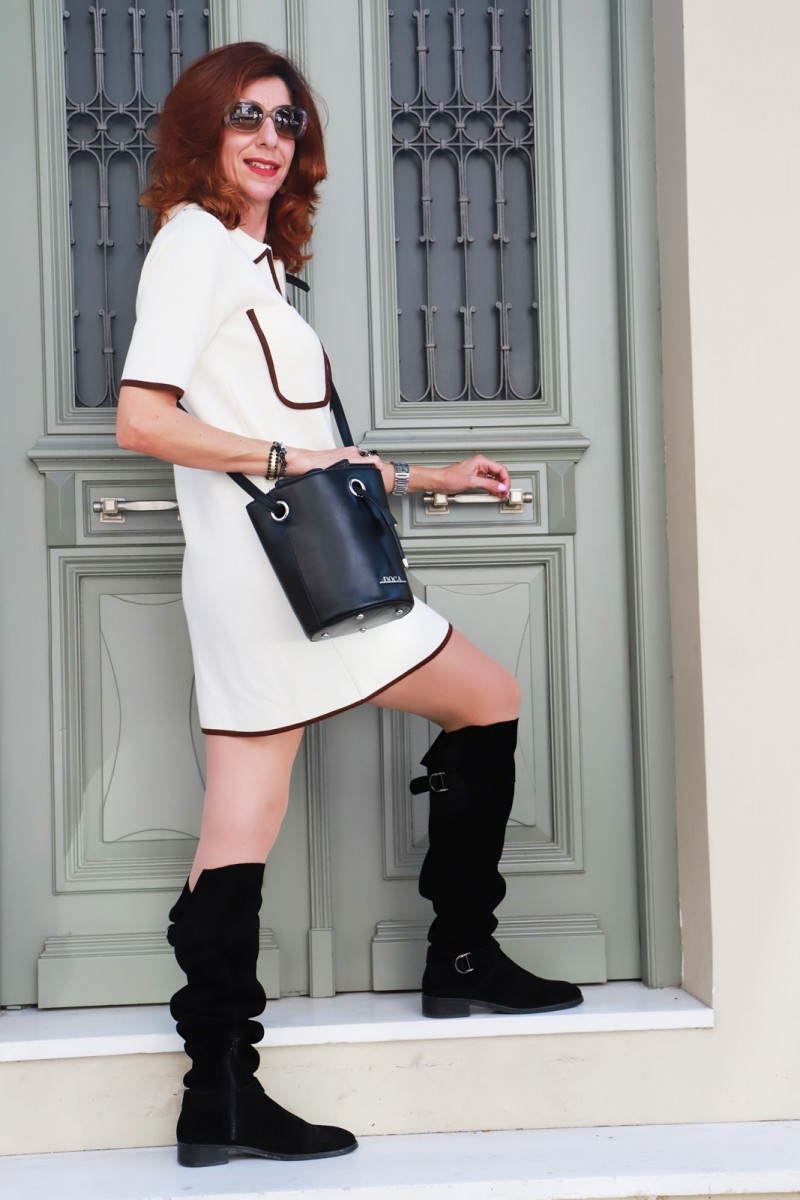 2)Wear now the Fall knee-high boots: the smartest style investment you can make for your winter outfit ideas 2020.
My favourite style about tall boots for Smaragdas black and the white knit dress is the black knee-high suede black boots. The knee-high boots are the smartest style investment you can make this winter. However, wear it today with a mini dress, light wash denim, or a chic shirt dress. If you ask me: what boots are in style for fall 2020? I would answer you that the fall knee-high boots with heel continue to be a look across womenswear. Pair it with looks inspired from traditionally smart items like the blazer, a chunky knit and casual jeans at the weekend.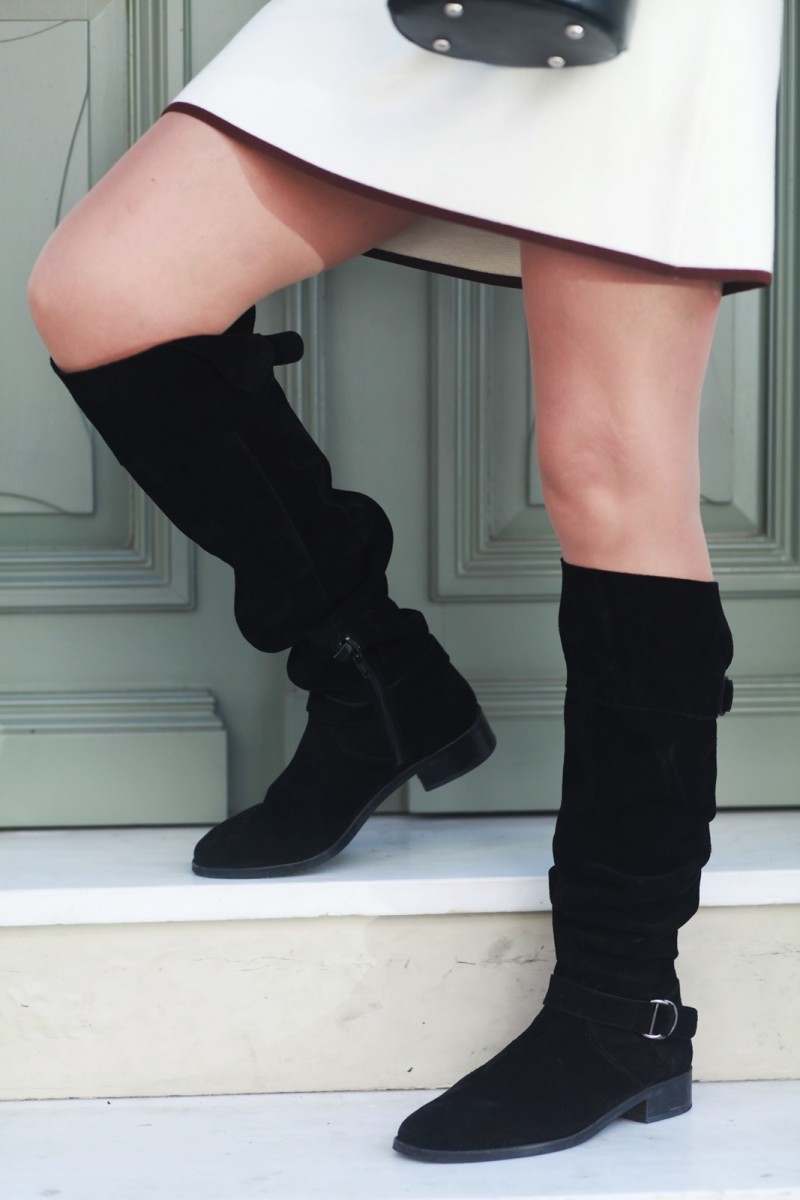 On the other hand, Smaragda's over the knee-high boots are a great addition to her wardrobe and can instantly elevate her look. Be inspired how to style them, and consider that they are the best investment for the new season. A round toe offers more of an everyday option and works perfectly for the daytime way to dress as prooven by Smargda. Above all, they are so comfortable that you can wear them all day long. In other words, copy Smaragda's Sereti tall boots, and style with your tiniest black and white mini knitted dress.
3)Fall 2020 jewellery trends: See now Big rings for women. Always, the ultimate accessories that they warrant a second look. Look The New-Season style.
The big rings for women style are here to stay. Smaragda is wearing on the right fingers two big silver rings that accessorize her winter look. There is no dought that you can find different types of big rings to wear.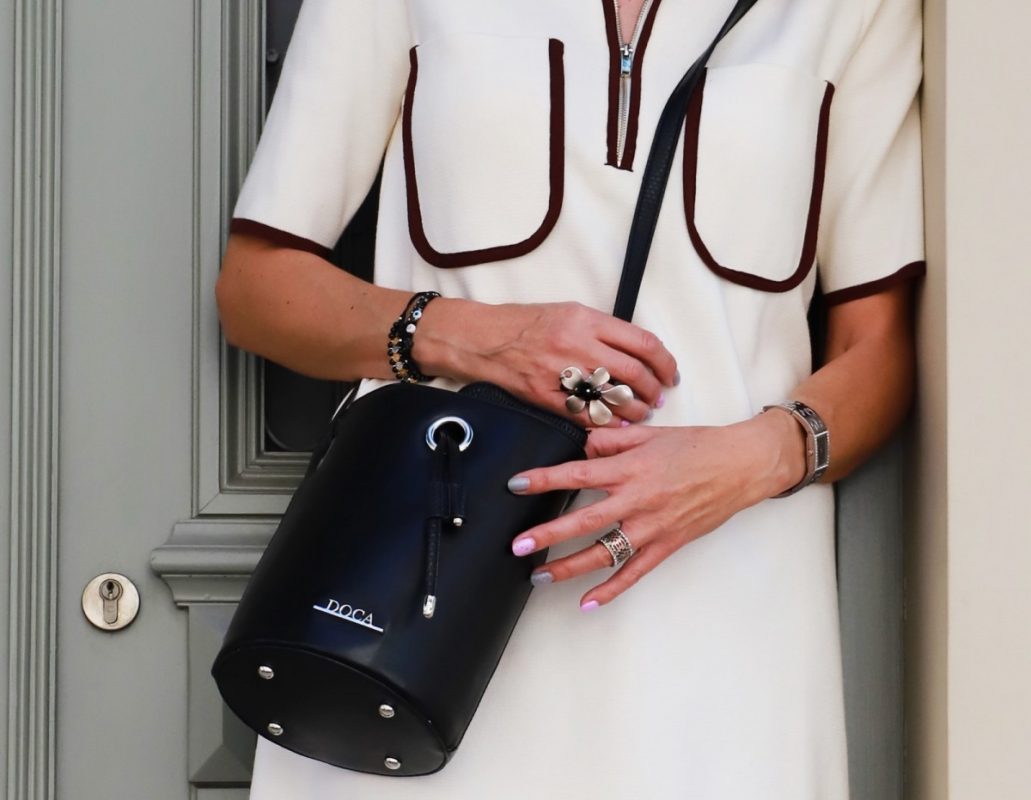 However, Smaragda's big ring is my accessory of desire. What is new about the ring trend is the attitude and how you pair it. Once you are confident with the way your hands and nails look, you can go all out with a statement ring. Wear it as big as you want. Big rings are going strong for Autumn/Winter 2020. In short, they are accessories that they warrant a second look.
4)Choose to wear now Bucket bags 2020: the most fabulous accessory to wear for your Winter outfit ideas 2020.
Bucket bags 2020 are my favourite accessory detail for Smaragdas autumn outfit. Since 1932 that Gaston-Louis Vuitton invented the Noe, to carry champagne without breaking the bottles, it is still going strong. From Gucci to Balmain and Chloe bucket bags are the best bag trends of Autumn /Winter2020.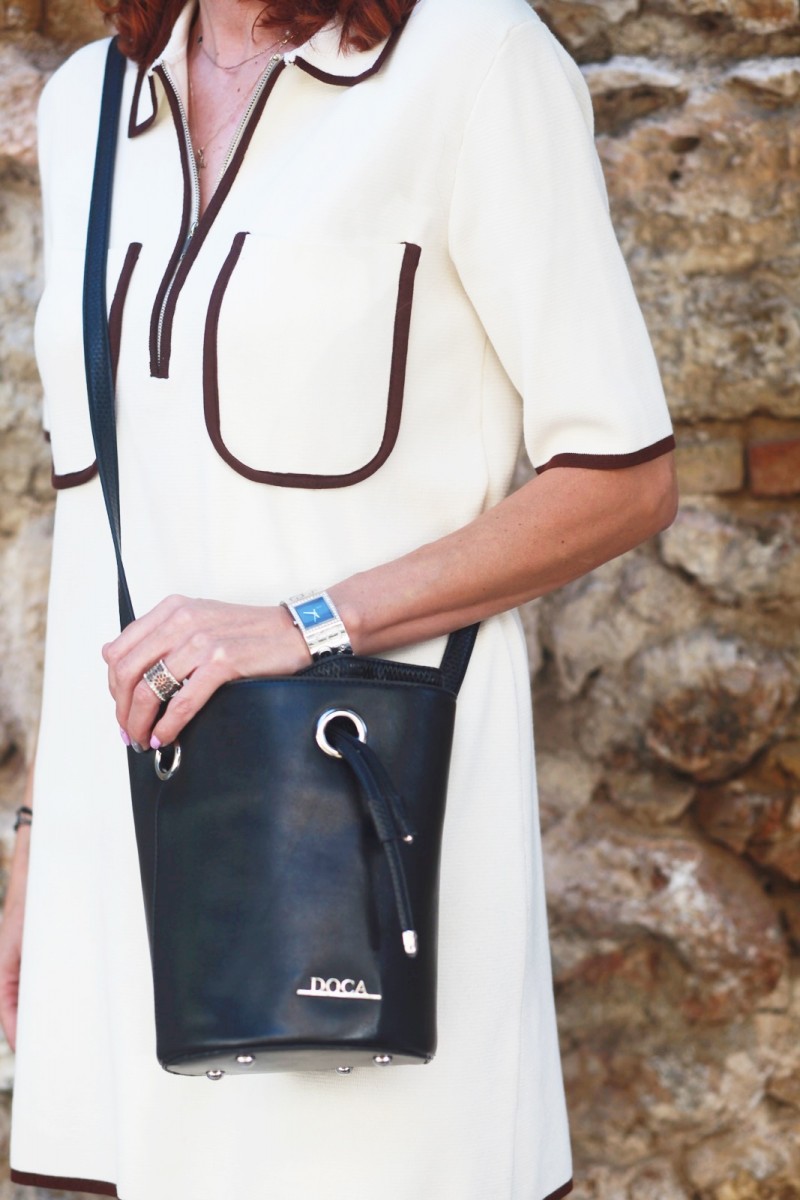 However, Smaragda asked me: Are bucket bags still in style 2020? Well, as she recently asked for my advice on which bag shape she should wear with her knit mini dress, this is what I answered her: Bucket handbags will never go out of style. Firstly, What I love on bucket bags is that while the shape itself is pretty classic, they are timeless and practical. Secondly, I personally admire the minimal, while the elegant shape of this bag. Afterthought, the bucket bag of Smaragda is big enough to pair with her black and white knitted dress. In my eyes, a must-have accessory for a stylish winter look.