Share this
However, which are the hottest outfits for a woman to wear for Autumn/ Winter 2020? Which are the eight cute Fall outfits ideas 2020 to start wearing today?
For me, optimism is the keyword for Fall outfit ideas 2020. Even if a lot is happening this season, my collaboration with Smaragda Sereti, a fashion lover for autumn outfits from her wardrobe made me realize one thing: Anytime, colour expresses style more than words ever do. In short, it is like poetry. It touches the hurt and moves beyond reason. However, it is about the hottest outfits for a woman to wear for Autumn/ Winter 2020. Now, it is time to wear your knitted maxi dress and fashion shirt without having any dought that these eight stylish looks require little or no effort to stand out of the crowd. Stop for a minute and see: The effect is outstanding, exciting, bold, and chic.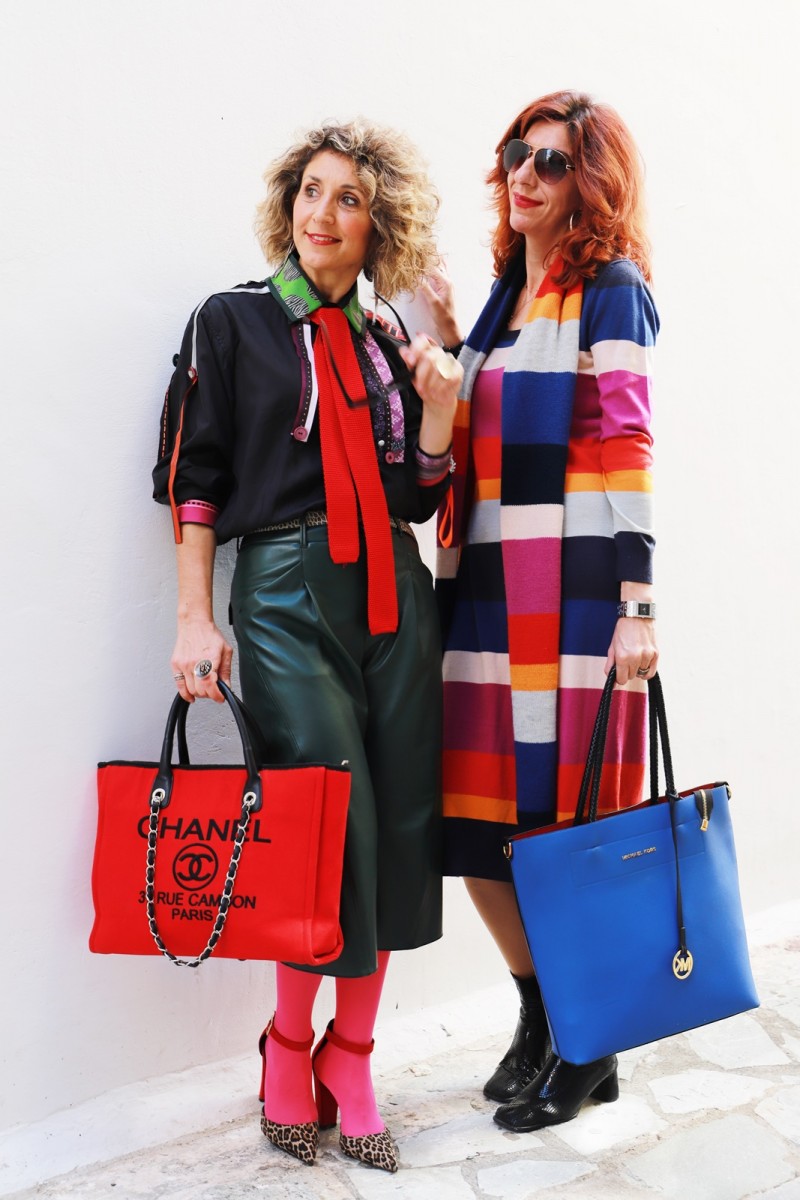 Today, I am going to show you how you should dress for 2020, and answer your questions like: Are scarves out of style 2020? What colour is in fashion for casual fall outfits? What shoes do you wear with fall dresses? How do I style the Tote Bag and the Chanel handbag to create new fashion ideas? So whether you are venturing out into an office again or maintaining your work-from-home status, here are eight cute fall outfits to start wearing today. However, read ahead for some quick everyday styling tips to get started on your fall looks. Likewise, you will love them as much as I do.
Fall outfit ideas 2020: Top Eight Fall outfit ideas 2020 that make fall clothes look unique. What's new for what to wear in fall?
♦Outfit: The knitted maxi dress styled from Think-Feel-Discover.com through the wardrobe of Smaragda Sereti/Instagram: @smaragdasereti
1)Bring out now your amazing knitted maxi dress for casual fall outfits. Still, stop and see immediately the top playful brights today for your best ever fall style.
Firstly, the knit dresses for winter are an ultra-light autumn outfit to look cute in fall. Secondly, they offer coverage, and above all, you can style knitted maxi dress with a stylish pair of ankle boots. For the autumn style of my lovely friend Smaragda, guess what I recently discovered to her wardrobe: I started to fall in love with this knit maxi dress long sleeve dress in powerful, bright shades of pink, orange, and blue. Stop, and take note now: Believe me, playful brights are the best fashion colour for 2020.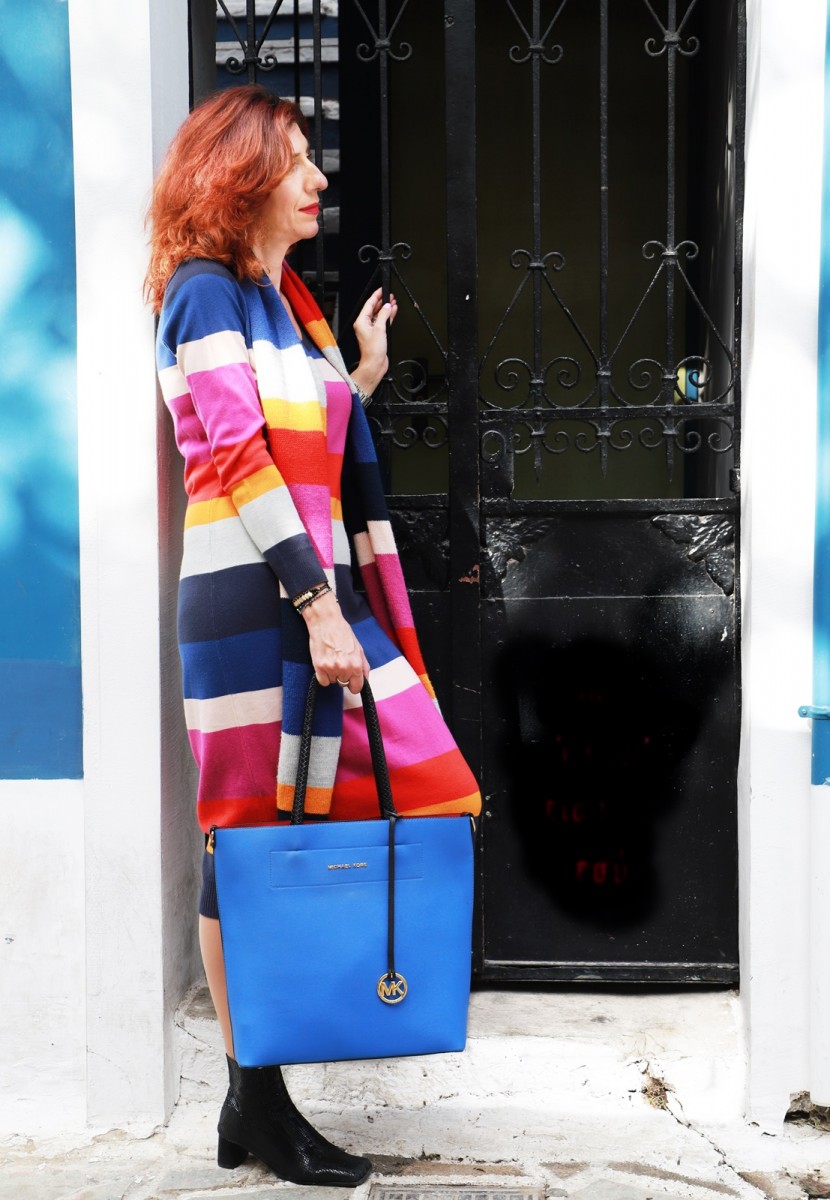 In this fall style, I preferred not to style it with a belt. However, I liked the way it embraces the body, and let Smaragda easy to move, look beautiful, stylish, and elegant. Afterthought, the knit maxi dress is great to create nice outfits for Fall outfit ideas 2020. Above all, keep your look simple. Moreover, play with brights. To sum up, I do know that colour is the answer to how anything new comes about for elegant outfit ideas.
2)Discover today the beautiful striped knit scarf for your Fall outfit ideas 2020. How to wear it now, and always look amazing?
Stop and think now: Are scarves out of style 2020? Today, my answer is that the striped knit scarf continues to be the best way to create cool outfits. This year there is a feeling to explore intense brights for trendy outfits 2020. Hyper blue, solar orange, pink, and light grey are used to intrigue the eye.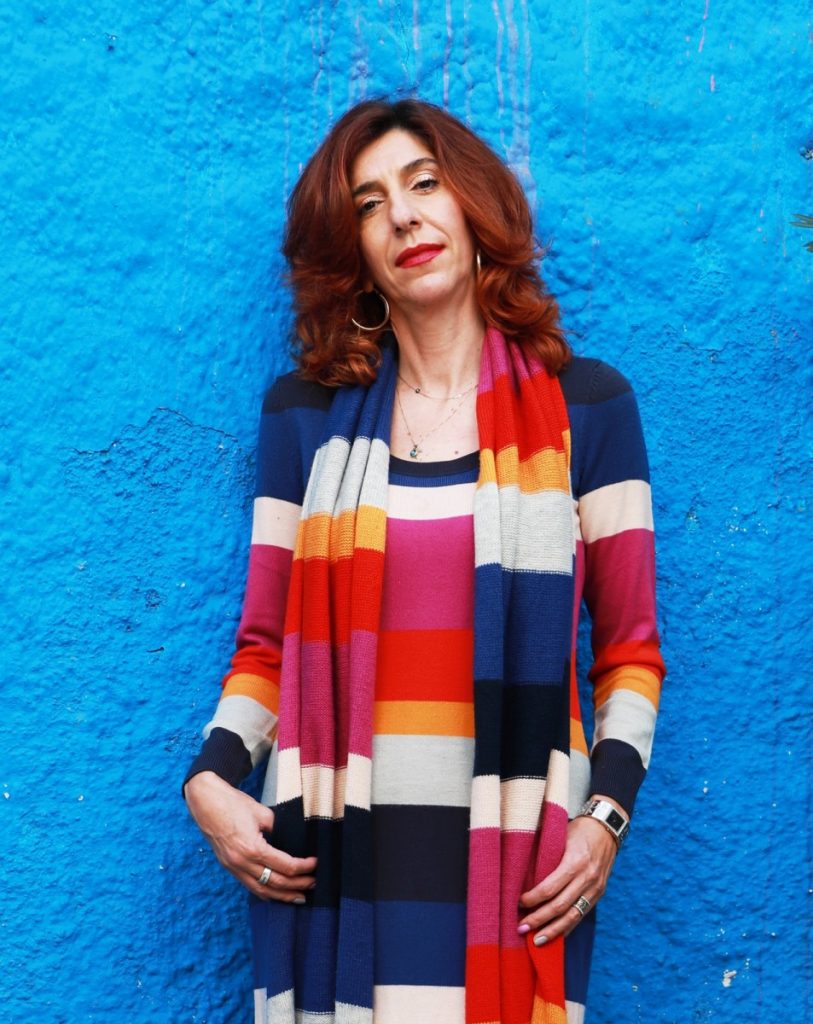 Firstly, Autumn is the perfect time to wear warm multicoloured scarves and create the fall looks. In the same vein, I found a great idea to pair the knitted maxi dress of Smaragda with a long Fashion scarf in the same bright colours. What a lovely surprise? The horizontal stripes of the scarf look great on Smaragda's fall style. On the other hand, the beautiful knit scarf can look so stylish if you wear it also with a coat, your jeans, or your jacket. Still, watch now for the stripped knitted scarf and embrace winter brights for your Fall outfit ideas 2020.
3)The black leather ankle boots: The best looks you will always want to wear in Autumn/Winter 2020.
Firstly, the ankle boots are the best Autumn/Winter 2020 fashion trends to know. However, it is the best style to wear with everything in your wardrobe. On the other hand, there are so many ways to wear heeled ankle boots with jeans, pants, dresses, skirts, or statement coats.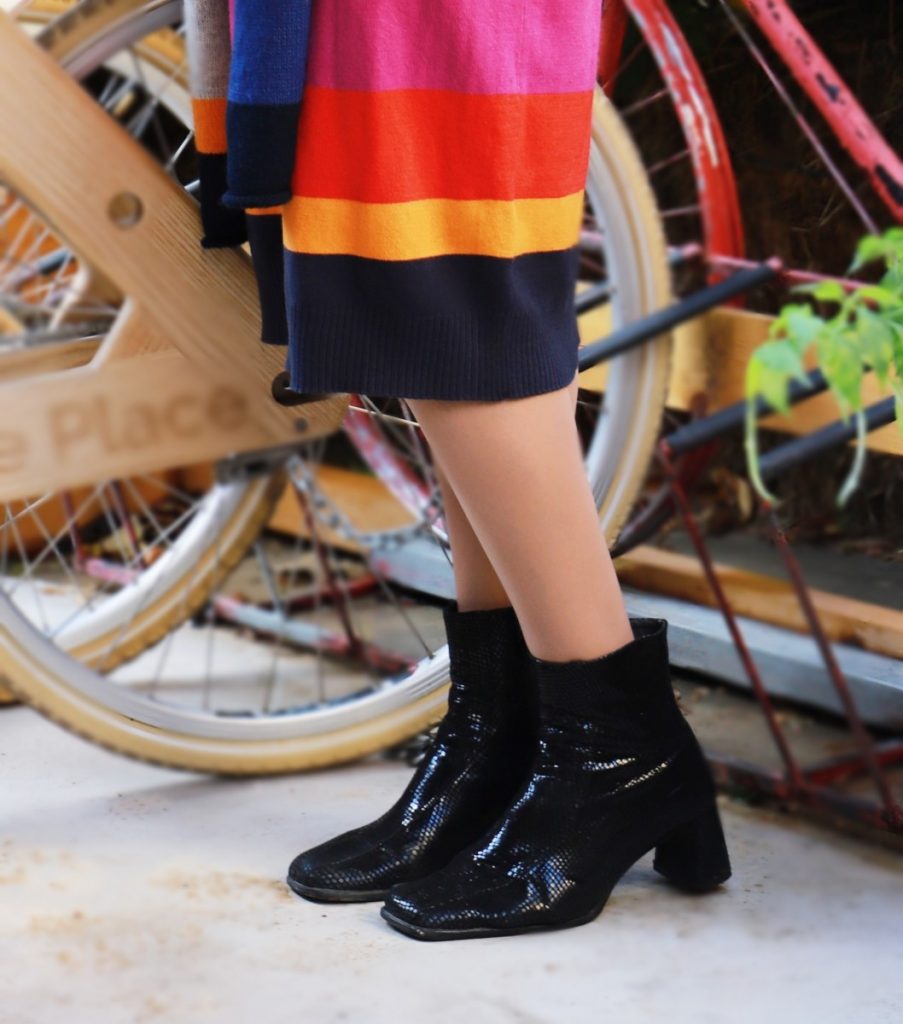 Secondly, for Smaragda's casual fall outfit 2020, I liked to pair it with black leather ankle boots. Most importantly, the knitted maxi dress looks stunning with the new look ankle boots. For me, It is about one of the hottest outfits to wear from day to night for your autumn outfits 2020. Afterwards, there are equally many chic alternatives, however, be inspired by how to wear ankle boots with practically every outfit you own. That is fall fashion for your Fall outfit ideas 2020.
4)The Tote bag: The best blue colour you will always want to wear for your Fall outfit ideas 2020.
Similarly, the Tote bag in this vivid blue colour gives to the fall dress of Smaragda energy. However, this shade of blue colour is the perfect choice to make her Tote bag fashionable.
Whether Smaragda gets the Tote bag, for the office, the gym, or for coffee time, she does know that she can carry everything she needs for a long day and always look elegant. Cute fall outfits remind us of the importance of accessories. In short, I enjoy seeing a woman carrying the iconic Tote bag in such a high-energy colour.