Share this
5)Knitted crop top: The knitwear statement for Autumn/Winter 2020-2021. See now the best colour to wear.
Forever young and stylish this look reveals the beauty of colour and streetwear. However, the sleeveless knitted crop top in bright orange is warm, classy, dynamic, and show how knitwear can move with the times. Moreover, It is about smart casual wear in a mixture with my classic white shirt. The classic knit top can not be missing from my wardrobe.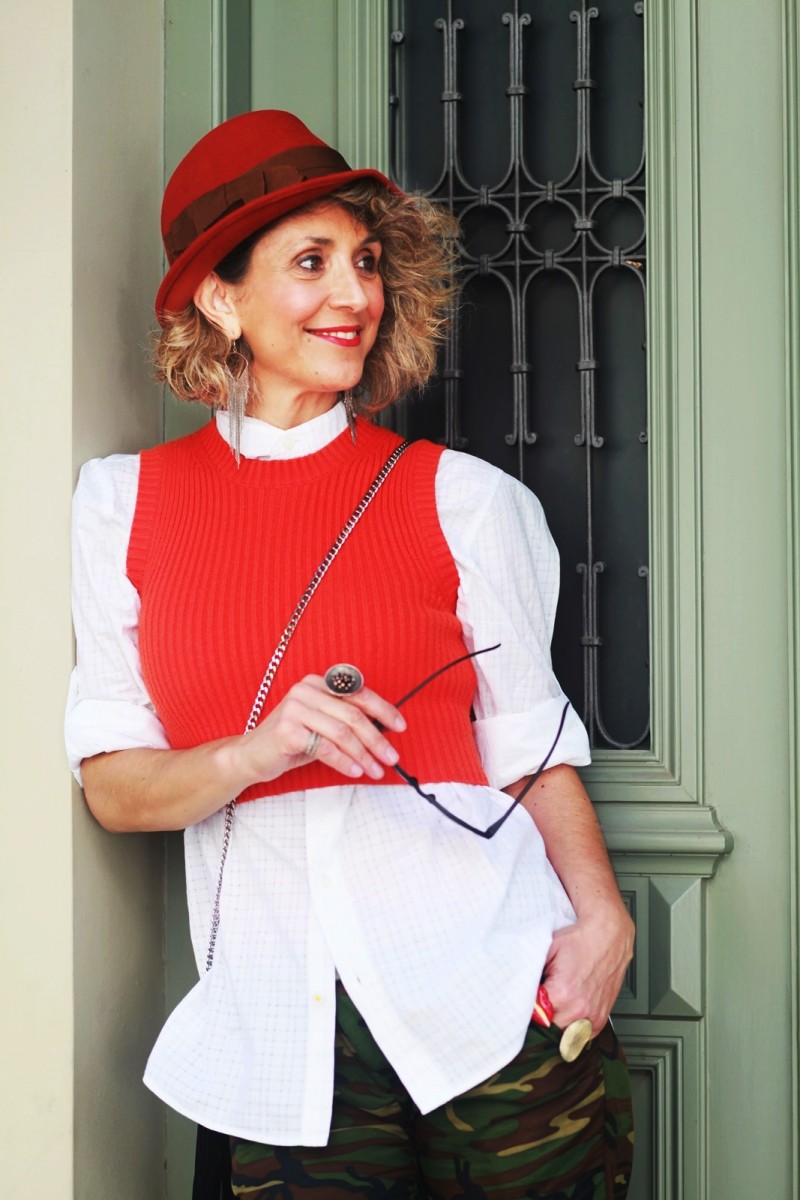 Always, Casual wear is outstanding in brights. Think positive, do not be afraid of dynamic colour mixture. The knitted crop top is full of style. Wearing it over my white shirt, it makes me look attractive, chic all the while keeping me warm. Explore it now. The Little, short knit crop top is a knitwear statement for Autumn/Winter 2020-2021.
6)Choose to wear camouflage cargo pants: How to wear it this winter, and always be in style?
Today, I continue to look for unexpected mixes of street sports and technical innovations. What I do love wearing my camouflage cargo pants is that I feel free to move. Designed from pure cotton is ideal for my casualwear. However, even if it is a menswear theme, I do believe that wearing it with my orange bright crop top offers a new look within womenswear for Autumn/Winter 2020.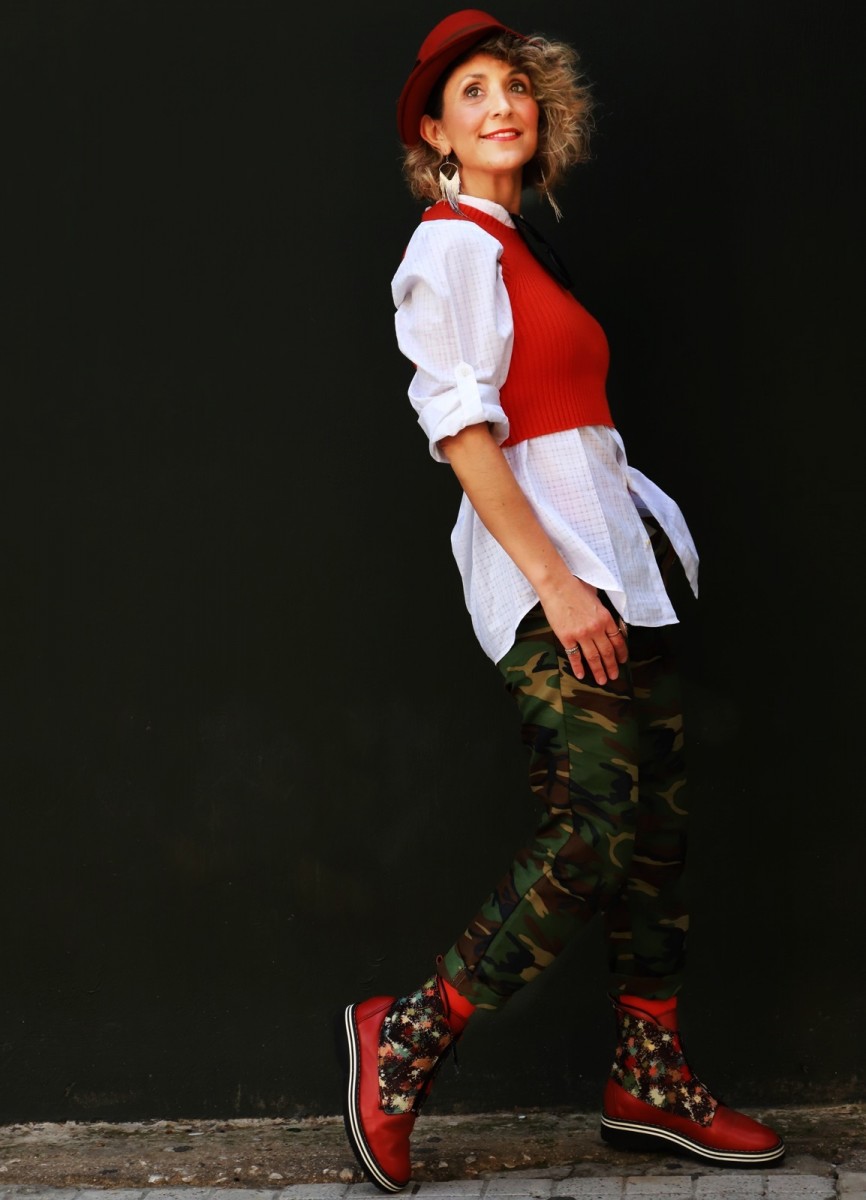 Update now your way to dress with creative styling of the camouflage cargo pants. Dare to create a more contemporary look and feel. Classic shirting is an eclectic look to pair with camo pants. So relax, feel the joy of comfort, and focus on practical styling details for a smarter, while more elegant look.
7)The Fringe handbag: the best shoulder bag you will always want to wear for your cool winter outfits.
Strength and delicacy, my fringe bag breathe elegance, femininity, and self-assured power. In black leather, this elegantly ethnic bag is impeccable in quality and remarkable in design. For Autumn/Winter 2020-2021, this bohemian bag style feels so comfortable in mixture with my camouflage cargo pants. A bag style that I started to invest in my fall fashion looks.
Moreover, Imagine wearing this bag with airy floral dresses, sheer shirtdresses, or denim. Be flexible, think beyond the trends, and take note that the fringe bag has just the right attitude to please you in a casual chic outfit, at the coffee time with your friends or at the party. In my creative imagination, it is a distinctive accessory, functional, with prices and styles to match every budget. Just wear it!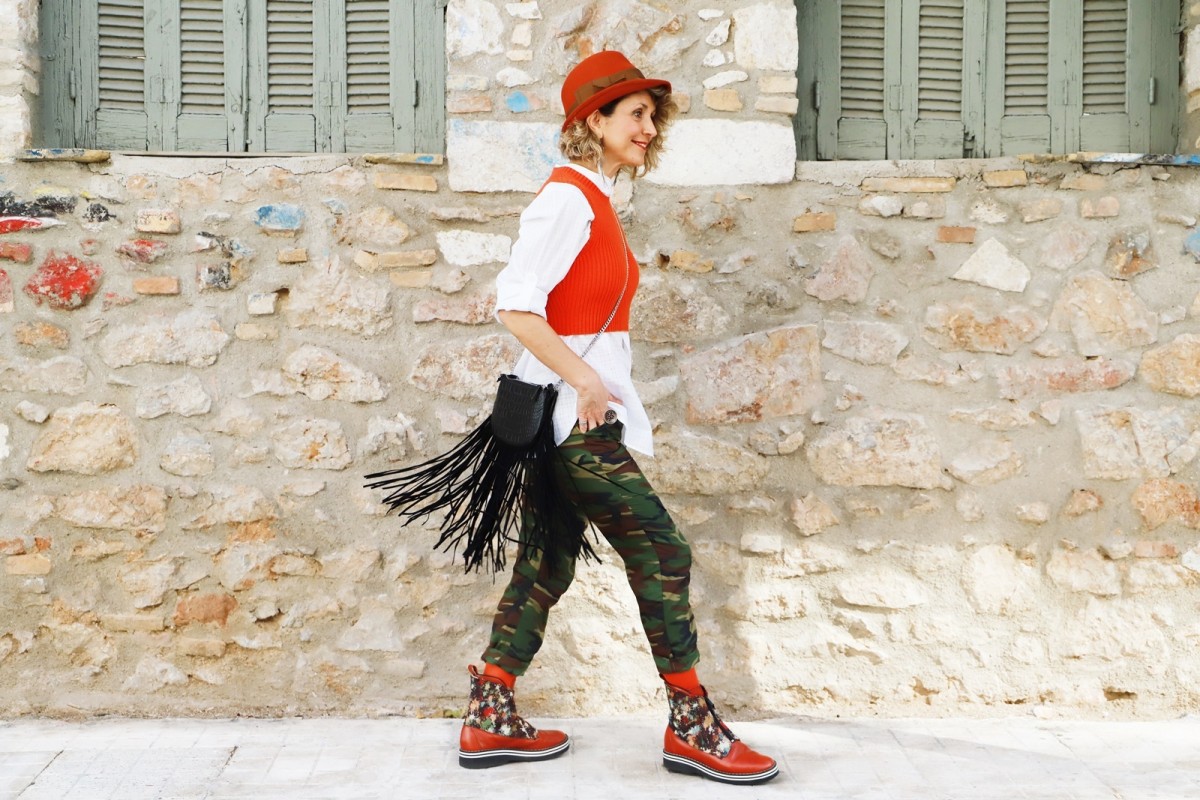 8)Ankle boots 2020, see now and think: Why Vibram sole boots are the shoe of Winter 2020?
I love the look of high heels pumps, but with my casualwear outfit, I recently got a custom made Vibram sole boots by N Modisto Handcrafted shoes, and they became one of the must-have items in my wardrobe. I even wore these for miles while walking around London during London Fashion Week, and I am excited with their innovative design. Every season new ankle boots trends make their way into the fashion lovers street style. Right now, It is the mixture of high-quality leather with a waterproof print fabric, high-end Vibram soles, and zippers that seem to create the ankle boots style my wardrobe needs now.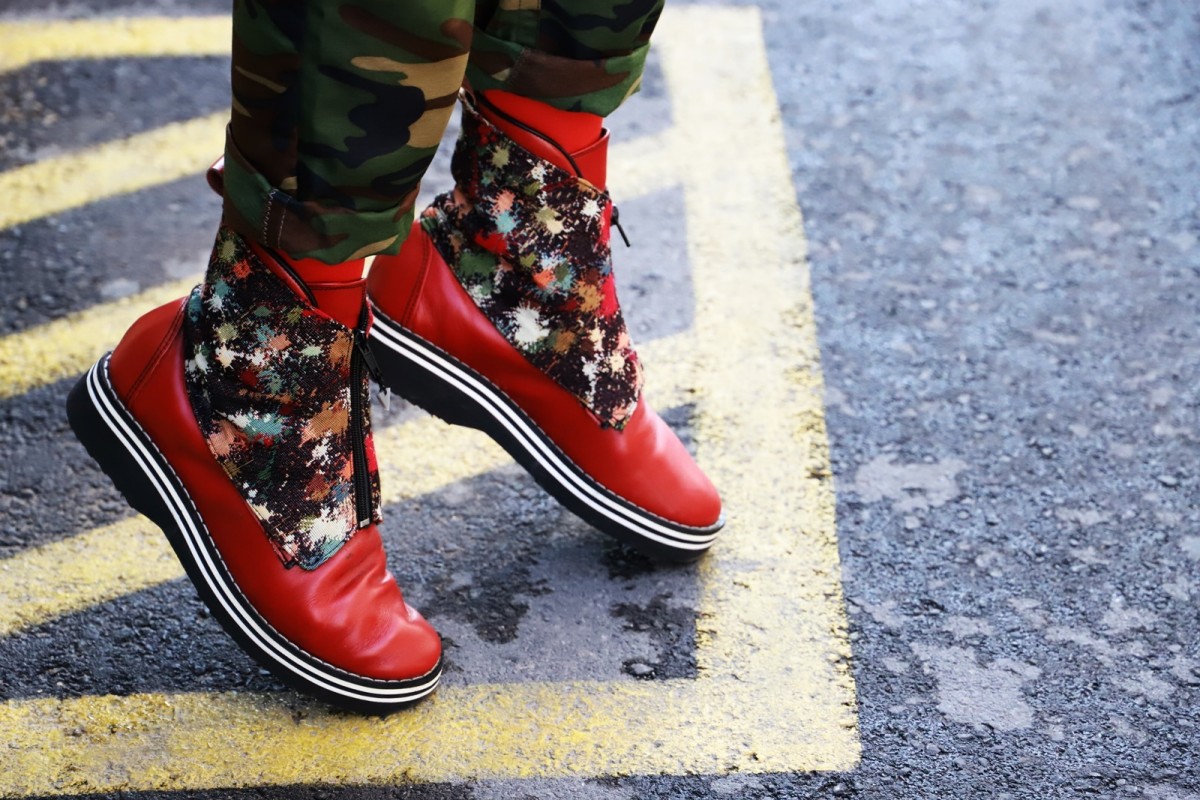 Vibram sole boots by N Modisto Handcrafted shoes / Custom made ankle boots design for my Street Style during London Fashion Week.
These new ankle boots made me create a timeless style with my fall outfit ideas. What Is So Special About Vibram Soles? First of all, they are well-known for quality, durability, comfort and traction. Secondly, I've chosen to wear Vibram sole ankle boots not only to be comfortable on my feet but also to look great with my jeans. Above all, I always love to wear a shoe that has a personality. That is what my wardrobe needs right now.
To sum up, bright leather and fabric colour of my ankle boots are my optimistic approach to the future. Focus on the modern, relaxed casualwear with brights. Eccentric pairing through casual tailored looks is always smarter. Be inspired!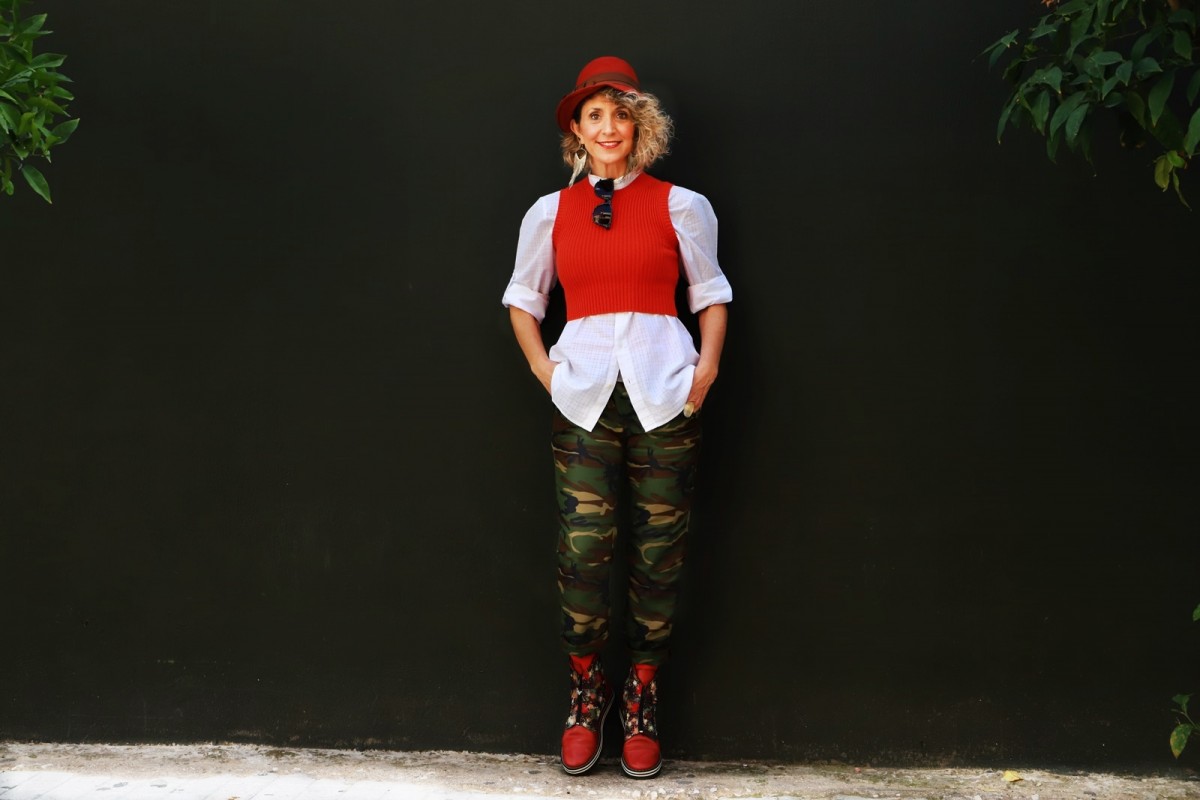 Best Winter outfit ideas 2020/2021.
Best 8 new-in pieces for your amazing wardrobe.
♦Photo rights & styling by Chrysanthi Kosmatou/Think-Feel-Discover.com
♦Special thanks to Smaragda Sereti/ Instagram: @smaragdasereti for trusting me to style the eight Fall outfit ideas 2020 through her wardrobe.
♦Photo credits by Dimitris Alexandropoylos/Facebook: Dimitris Alexandropoulos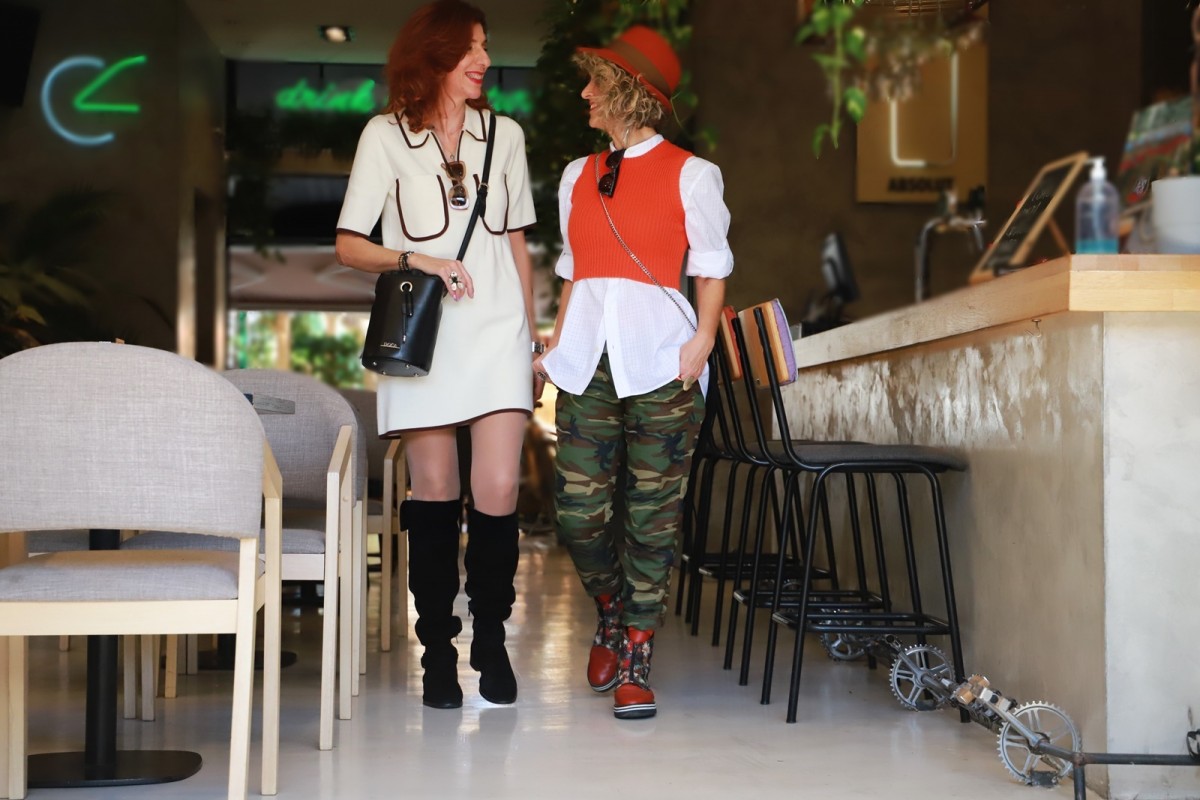 By Chrysanthi Kosmatou, Tuesday 24 November 2020.