Victoria & Albert Museum, London,  Photo credits: Think-Feel-Discover.com
How do ten amazing must-do experiences make you realize today how much love always goes into creativity during London Fashion Week Men's? Afterward, open your eyes and see: choose now to become a part of this everyday cultural celebration in London.
There is always a voice that makes me love London during London Fashion Week events. However, the 14th edition of London Fashion Week Men's (LFWM) ran from Saturday 8th June – Monday 10th June. Certainly, It is a celebration of the creativity and diversity that has made London an international hub for menswear. Above all, it is the time that I discover free thinkers and people who embrace their life with passion, love, and care. Probably you may say that I am a dreamer, but ten must-do experiences below made me realize how much love goes into creativity.
Which are the best experiences today in London? Afterthought, explore now ten must-see London attractions. Which are still the best things to always do during London Fashion Week?
Recently I saw the extraordinary design of design Universities in the UK during Graduate Fashion Week. New ideas which are enabling people to be adaptable, flexible, and to move forward in fashion. There is no dought that London is my love of fashion. I am aware that I have just witnessed something extraordinary. In the same vein, I was excited to follow the journey of Manolo Blahnik and discover his enquiring mind. Moreover, Christian Dior's love for English traditions made me understand how does the environment embrace fashion talent.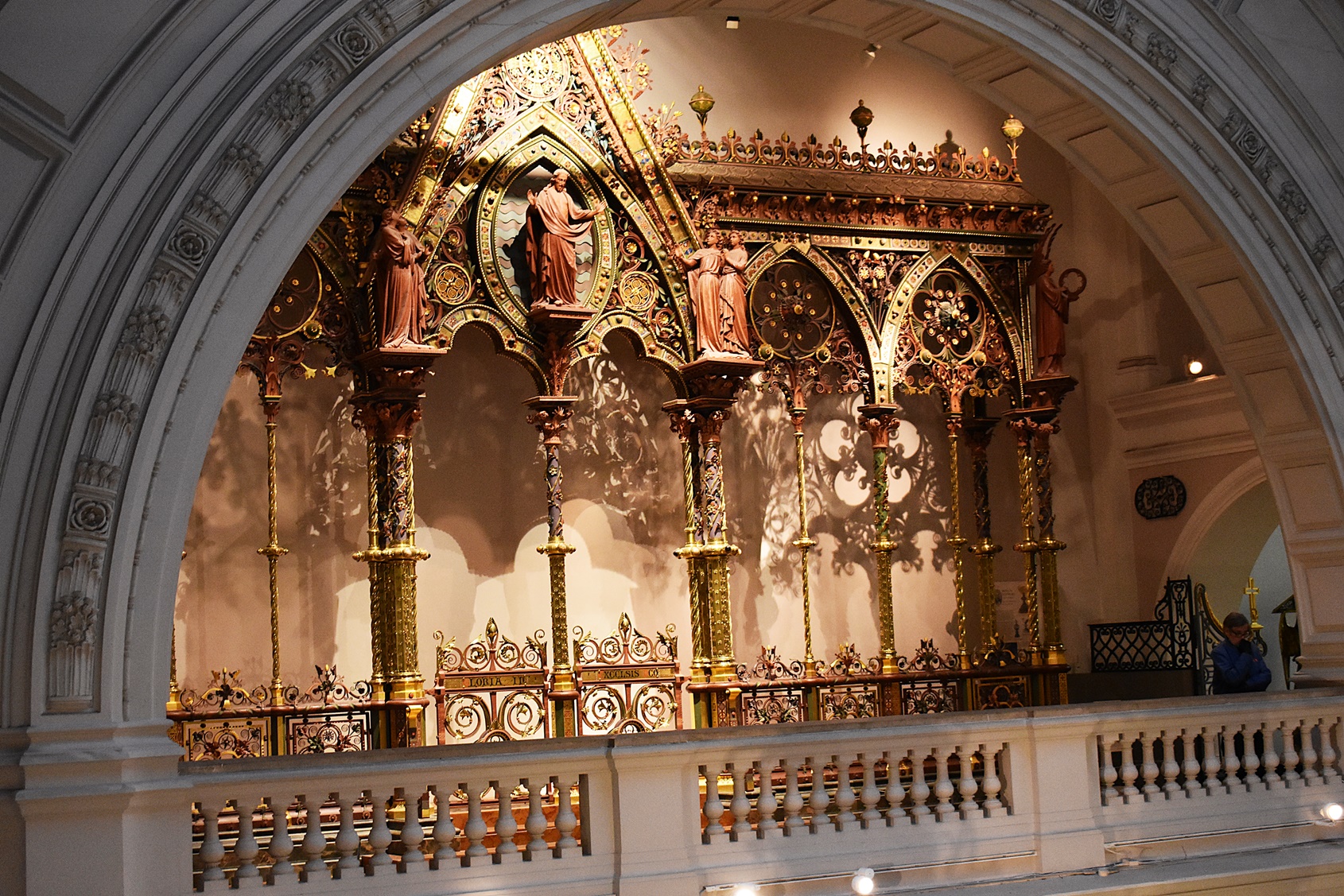 Victoria & Albert Museum, London,  Photo credits: Think-Feel-Discover.com
Explore today best experiences in London. Above all, discover new things not to miss now. Finally, always learn from the everyday passion and love of people's curiosity, approach, and bravery to create.
Amazing collaborations, contemporary expression, no boundaries create the future. The "Far side of the moon" exhibition truly opens me up to new possibilities. It is about a journey of discovery. However, the results are surprising. The fields of interest are diverse, but they stand out. My interest in hand made, in the beauty of color made me explore Frank Bowling and Leonardo Da Vinci exhibition. Best experiences in London and things not to miss. Certainly, we need to learn from the passion of people's curiosity, and bravery to create. Free thinking is the answer. Pioneer of the swinging sixties, an icon of a new feminism Mary Quant exhibition invited me to focus on a radical new look of the materials. In short, sharing a new focus on creativity is the starting point of innovation.
Fashion has many ways to be expressed. In other words, with a strong sense of love about painting, drawings, technical details, and creative color energy I couldn't miss to include in my list the exhibitions below: Natalia Goncharova, Stanley Kubrick, The Knights of Knightsbridge by Nick Knight, Van Gogh, and Britain Review.
How to always push the boundaries and be new in fashion? Invest now your time in a new aesthetic and connect with London's outstanding surroundings.
However, in the Uk, my experience is that art education plus the talent of innovative British designers creates the energy of thriving new fashion culture.
We do become free thinkers when we have something personal to say with passion and authenticity. Talent, vision, civilization draws the future of the years to come. To go forward, to innovate, we have to know our past.
Best experiences in London have to do with self-expression, research, and social understanding. Do not miss the ten best things to do in London. Invest your time in a new aesthetic and connect with London's surroundings. Change your expectations and be aware of art during London Fashion Week events. The possibilities of creativity are endless.
Victoria & Albert Museum, London
Photo credits: Think-Feel-Discover.com
There is no other country in the world, besides my own, whose way of life I like so much. I love English traditions, English politeness, English architecture. I even love English cooking / Christian Dior.
1. An Enquiring Mind: Manolo Blahnik 10th June – 1st September 2019, The Wallace Collection, Hertford House, Manchester Square, London W1U 3BN.
The Wallace Collection and Manolo Blahnik will present An Enquiring Mind: Manolo Blahnik at the Wallace Collection. The exhibition features a personally selected edit of shoe designs from Blahnik's private archives set amongst the masterpieces of the Wallace Collection. This exciting venture juxtaposes an icon from the world of contemporary fashion with Wallace's outstanding collection that has been an inspiration to artists since it opened to the public in 1900. A rare opportunity to see excellence in contemporary design. Find more → HERE ←
2. Christian Dior: Designer of Dreams 2nd February – 14th July 2019, Victoria and Albert Museum, Sainsbury's Gallery, Cromwell Road, London SW7 2RL.
From 1947 to the present day, this exhibition traces the history and impact of one of the 20th century's most influential couturiers, exploring the enduring influence of the fashion house, and Dior's relationship with Britain. Explore 200 rare Haute Couture garments drawn from the V&A's couture collection and the extensive Dior Archives. Find out more → HERE ←
3. Far Side of the Moon by Victor Wong x A.I. Gemini
16th April – 14th June 2019, 3812 London Gallery, 21 Ryder St, St. James's, London SW1Y 6PX.
Innovative artist and inventor, Victor Wong, is leading the collaboration between artificial intelligence and ink art. Wong is the creator of A.I. Gemini, the world's first robotic ink artist programmed with artificial intelligence to paint unique Chinese landscapes. Gemini is coded to plot 3D virtual terrain. Gemini's arm dips its brush into ink and water, sweeping across fresh Xuan paper with calculated choreography to reproduce this terrain with lines and shading. Each resulting work is unique. Find more → HERE ←
4. Frank Bowling 31st May – 28th August 2019
Tate Britain, Westminster, Millbank London SW1P 4RG.
Bowling gets a much-deserved major exhibition at Tate Britain. The artist's long-running career has seen him develop a unique style fusing abstraction with elements of figurative art. Londoners are in for a treat with this show which includes the artist's stunning 'map paintings' and his 'poured paintings' (created by literally pouring paint down a canvas). Get tickets → HERE ←
5. Leonardo Da Vinci: A Life In Drawing 24th May – 13th October 2019
The Queen's Gallery, Buckingham Palace, Buckingham Palace Road, London SW1A 1AA
Marking the 500th anniversary of the death of Leonardo da Vinci, the exhibition brings together more than 200 of the Renaissance master's greatest drawings in the Royal Collection, forming the largest exhibition of Leonardo's work in over 65 years. Drawing served as Leonardo's laboratory, allowing him to work out his ideas on paper and search for the universal laws that he believed underpinned all of creation. The drawings by Leonardo in the Royal Collection have been together as a group since the artist's death in 1519. Acquired during the reign of Charles II, they provide an unparalleled insight into the workings of Leonardo's mind and reflect the full range of his interests, including painting, sculpture, architecture, anatomy, engineering, cartography, geology and botany. Find more → HERE ←