Share this
Fashion Trends Spring 2021 now: What is fashionable today? The Top ten newest fashion looks from Omar Mansoor Kintsugi SS21 during London Fashion Week 2020.
There is a call to action for Fashion Trends Spring 2021 that you can not ignore. A new stay home way of living invite you to be unique, feel comfortable, be happy, and always be stylish. However, I need to remind you that designers keep on creating under the restrictions of Covid19 lockdown. On the other hand, As the fashion editor of Think-Feel-Discover.com, I can't stop thinking about what I want to wear immediately in Spring/Summer 2021.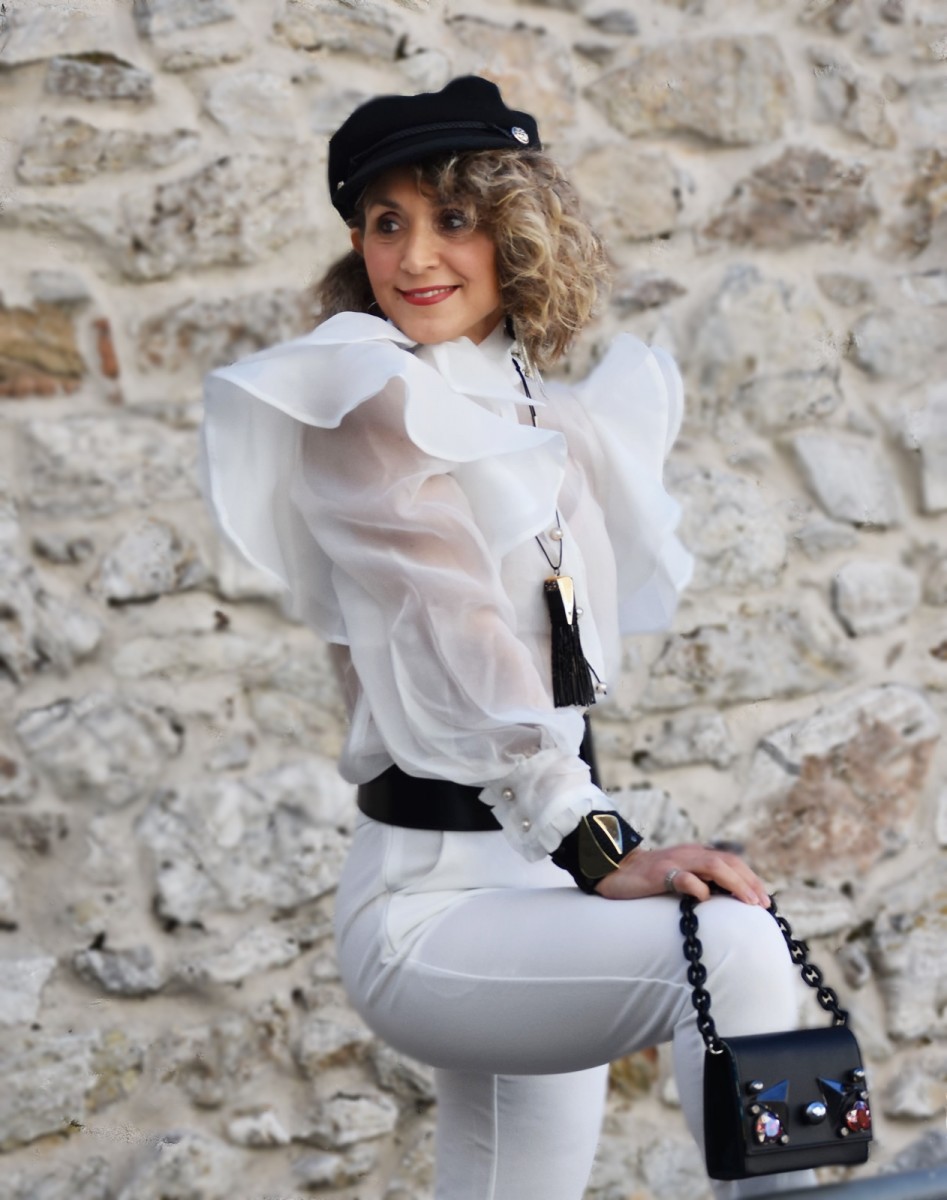 Above all, in my conversation with the London Fashion Week designer Omar Mansoor, I took the challenge to create surprise and newness in wearing two exceptional pieces of his Kintsugi collection SS21: The puffed sleeves top, and the slim fit white trousers.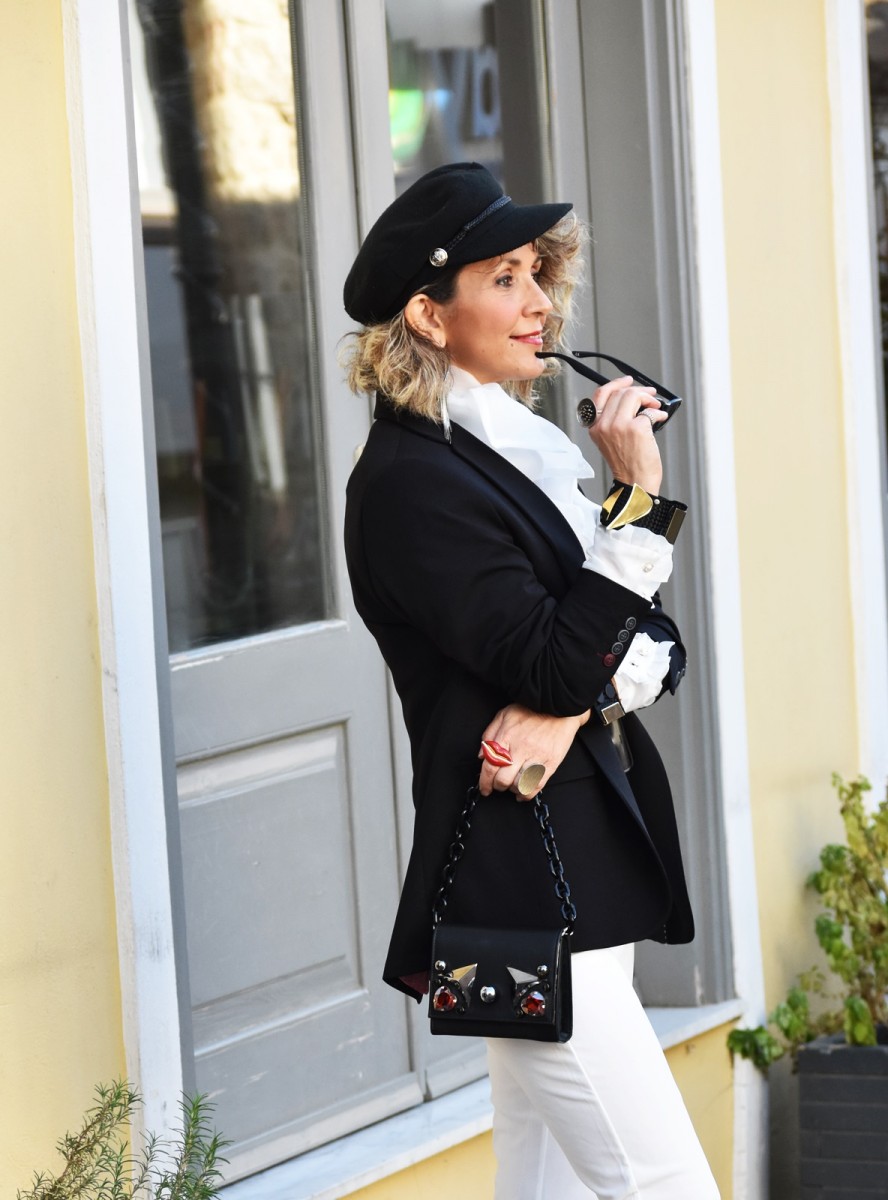 How to be unique in women fashion trends 2021? Stop and see now: How to style the new clothing trends of Omar's Mansoor Kintsugi Spring/Summer 2021 collection?
Innovate or Fade. For me, Feel comfortable is a necessity. Likewise, my fashion looks can influence my daily life. How to wear Omar Mansoor Fashion Trends Spring 2021 slim fit trouser, and puffed sleeve top? Firstly, I focused on some joy by mixing bold colour shades with pure white. Secondly, I invested in bag and accessories trends to inspire my summer looks. In other words, my Spring/Summer Trends 2021 will give you the freedom to dream. In conclusion, they will remind you of the origin of joy and make you smile.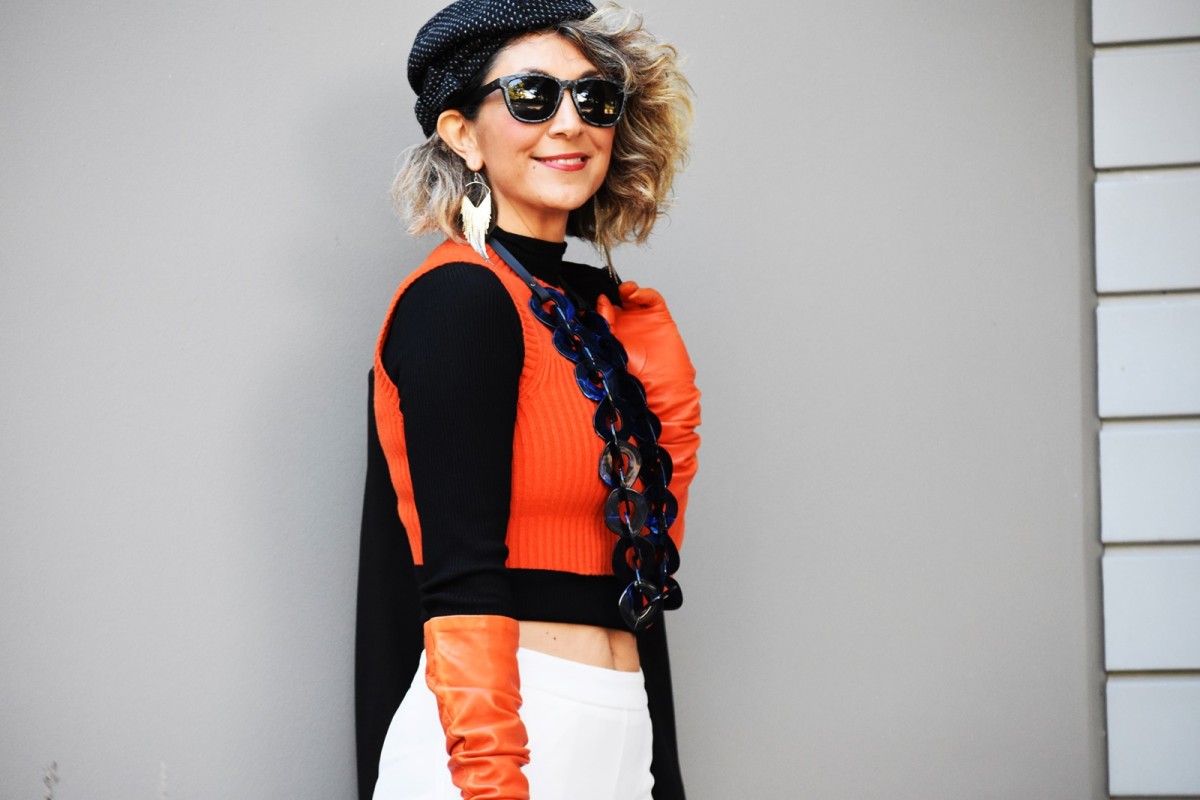 Besides, It is about having fun. Now it is the time to be feminine, stop talking about Covid19 restrictions, and share the joy with all of you. On the other hand, it is about a new aesthetic: I created new codes mixing references for streetwear and luxury. That is why you will find below my ten Standout  Fashion Trends Spring 2021  inspired by Omar Mansoor Kintsugi SS21 collection during London Fashion Week 2020.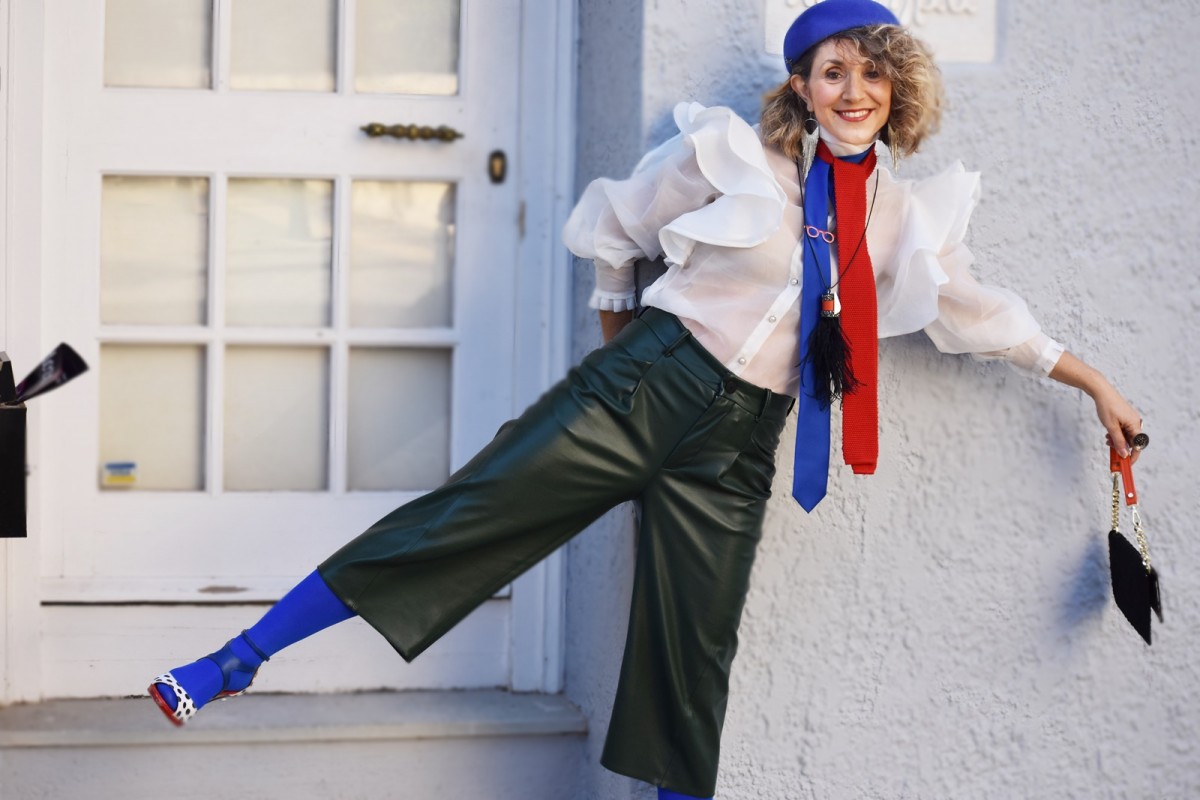 Dare to create something great, to ensure that it makes us feel better. Open your eyes and see: Connect with your surroundings, honouring the partnership with designers from different countries, and cultures. Guess what: Partnerships are the hottest trend for Spring/Summer 2021.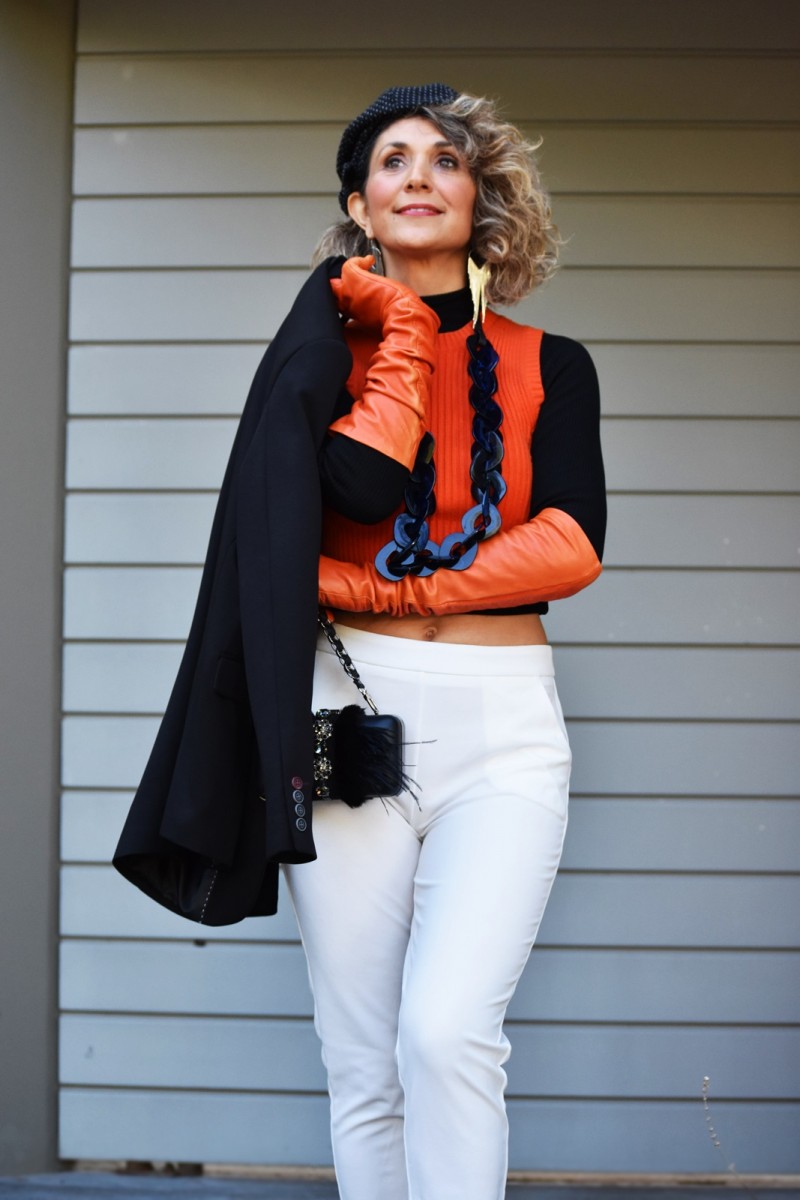 Dare to wear total white looks. How to stand out anytime in the best-puffed sleeve top? How to always Be stylish in slim fit white trousers?
In the same vein, are you ready for post-quarantine total white looks? Do you want to stand out in puffed sleeve top? Be stylish in slim fit white trousers? Are opaque coloured tights still in style 2021? I do believe that now it is time to act. My vision is to bring together communities, to create a new sense of discovery in fashion. By this way, we reshape fashion style. The possibilities are endless.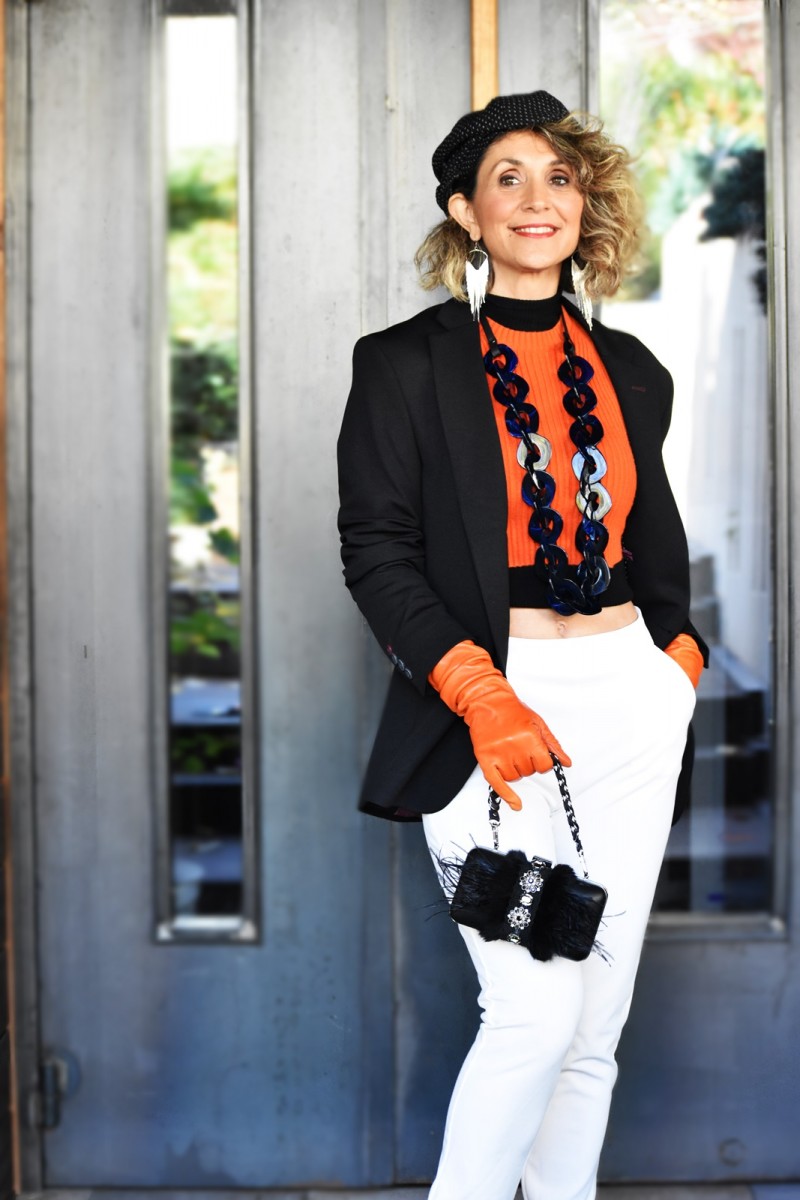 The old rules no longer apply. However, keep on scrolling for my latest Spring/Summer 2021 fashion trends. Actually, the top fashion trends below for Spring/Summer 2021 will be your guide to beautiful looks for your SS21 wardrobe. Let's explore together what you need to invest in this season, and what may already be in your closet.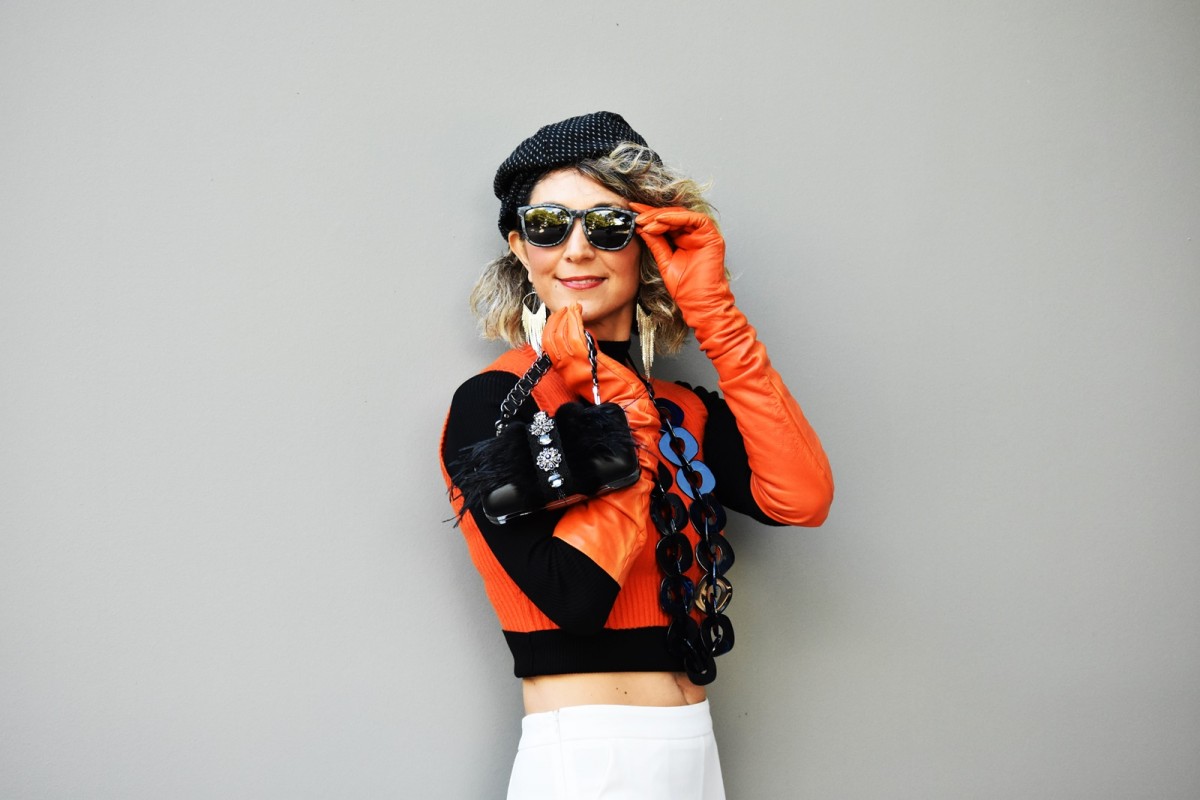 Open your eyes and See now: Top 10 Fashion Trends from Omar Mansoor Kintsugi Spring/Summer 2021 London Fashion Week.
♦1)

Big puffed sleeves top and sheer fabrics

.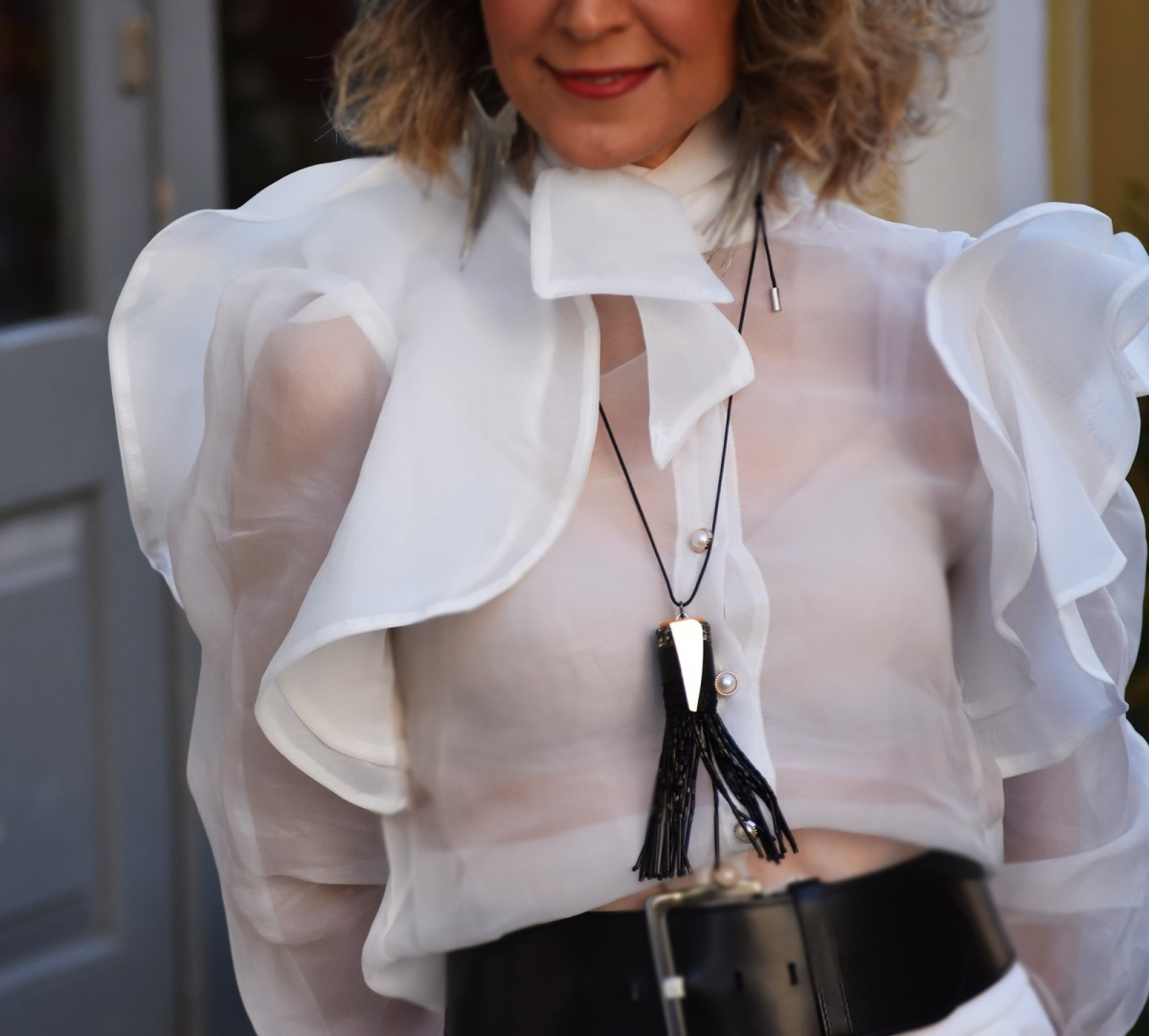 How do you wear the Omar Mansoor's gorgeous white puffed sleeves top? Firstly, The puff-sleeve trend is here to stay for Spring Summer 2021. Secondly, dare to wear it with men ties in bold colours. Red and blue will be highlighted for ss21. Take note also that voluminous, sheer white fabrics will make your fashion style to stand out. Omar's puffed sleeves top reflects my identity. In conclusion, get ready for even more shoulder action in Spring/Summer 2021.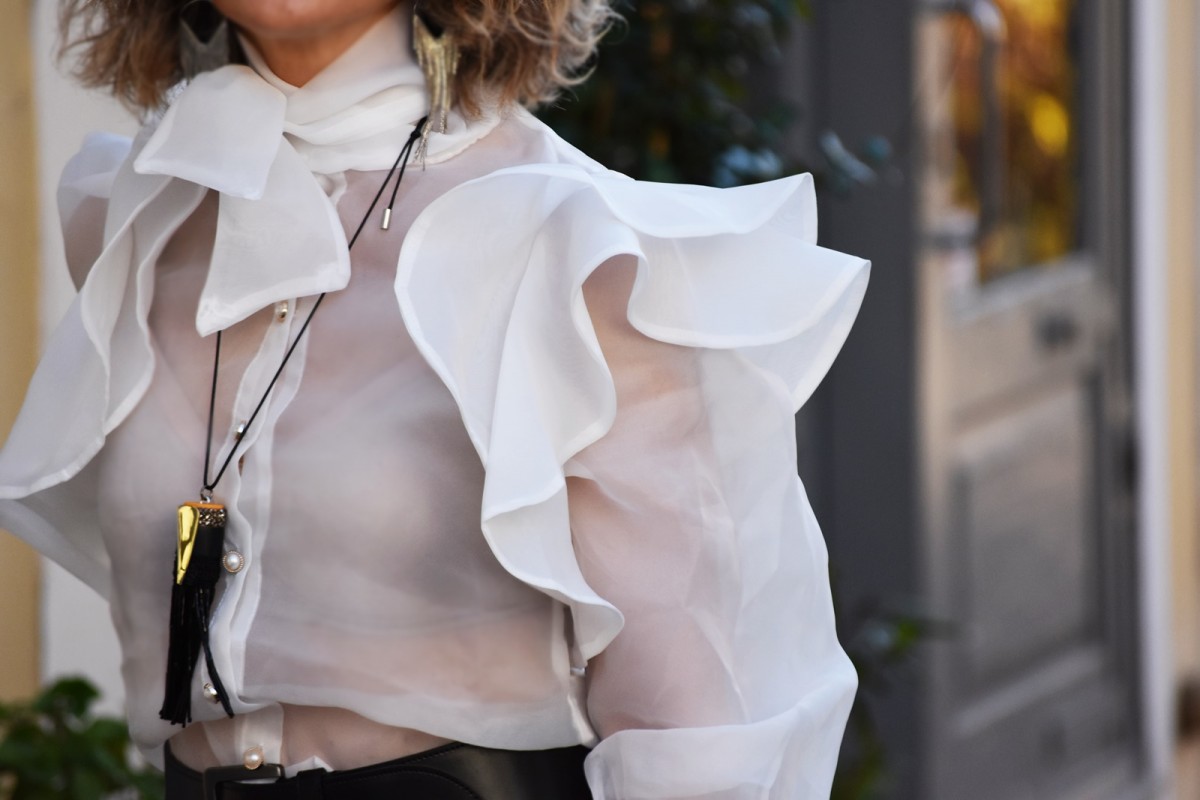 ♦2)

Slim fit white pants.
Black and White are high on the fashion agenda for Fashion Trends Spring 2021. Go back to basics and embrace what is on-trend with a minimalist approach. However, the slim fit white pants designed by Omar Mansoor delivers a unique luxe look for Summer fashion highlights. On the other hand, the fine elastic fabric of my white pants high waisted is soft and comfortable. They lie comfortably close without feeling like it's pulling at my knees when I walk or bend down.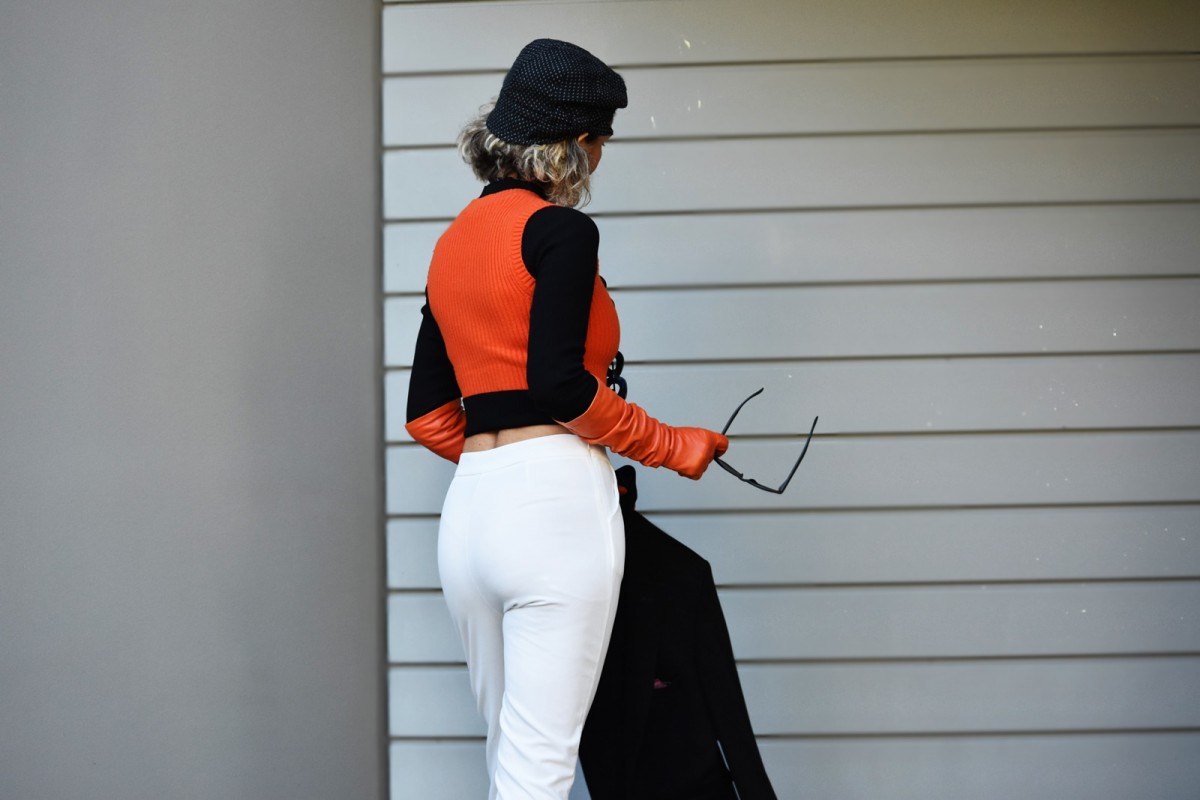 Above all, my slim-fit white trousers fit close to my hips and legs without being skin too tight. My eyes shift towards trending fashion, I wore it with a black second skin tops and an orange knit crop top. In my eyes, new trends for Summer 2021 express my desire to see the positive side of my life and keep on smiling.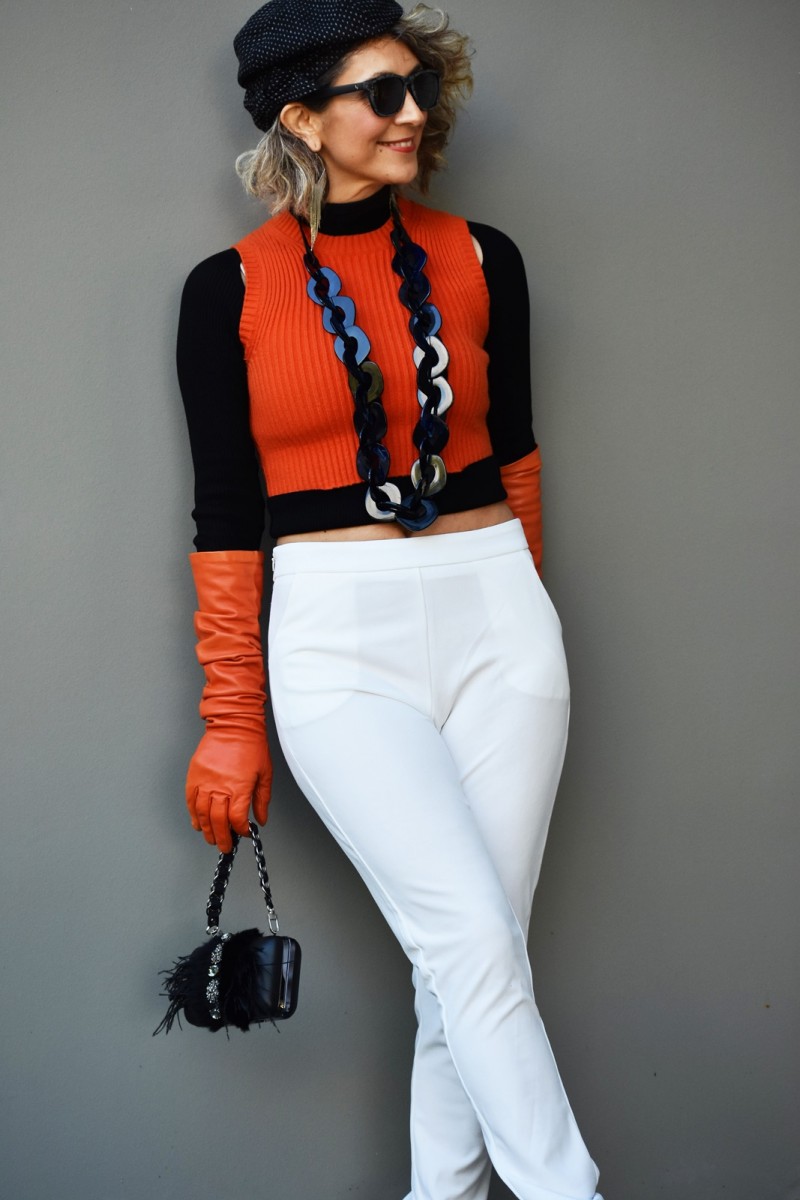 In sort, Solar orange adds light to my slim-fit white pants. Should you wear slim-fit or regular fit pants in Spring 2021? Guess what? I would say that slim-fit white pants would update your classic tailoring look for S/S 2021. Details such as smooth fabrics, colour contrast are the summer trends you need to know.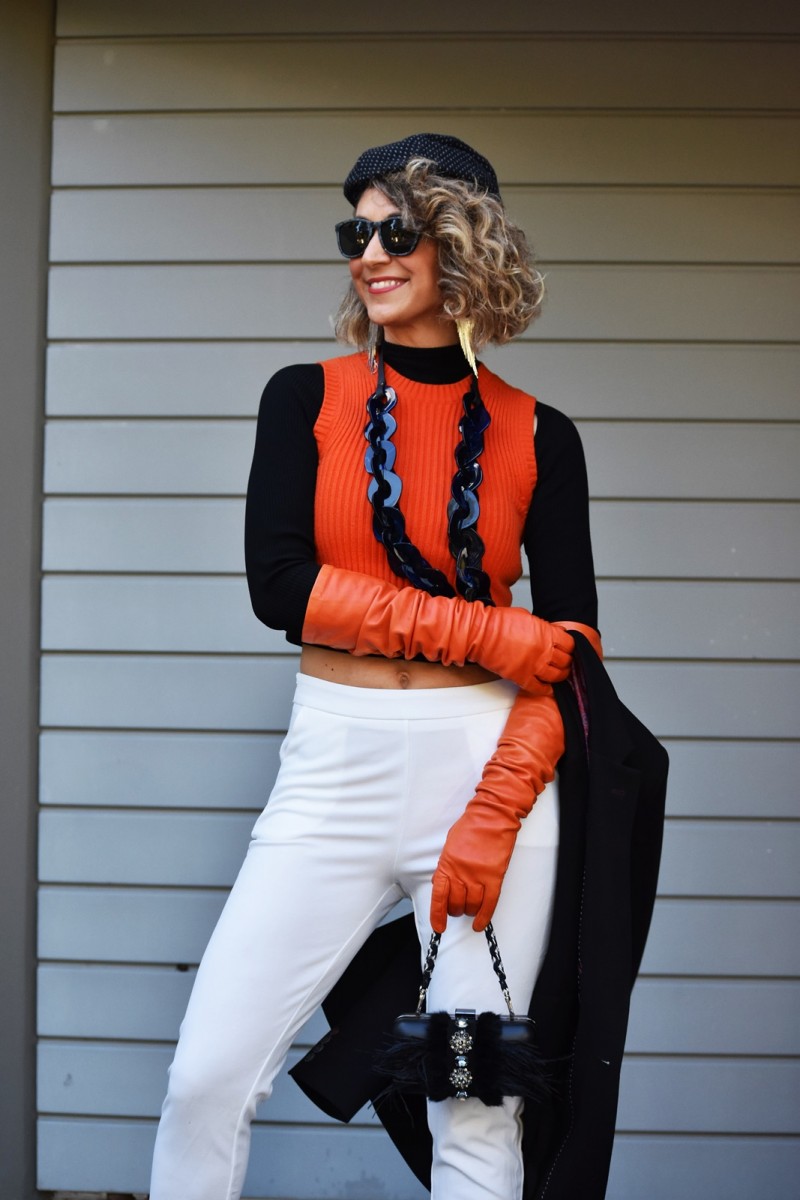 ♦3)

 Gaucho pants women.
While classic tailoring style continues to be a current fashion trend for S/S 2021, casualwear continues to dominate the latest clothing trends. In my shopping research for Fashion Forecasting 2021 Spring-Summer, the gaucho pants are my preference for comfort, functionality, and flexibility.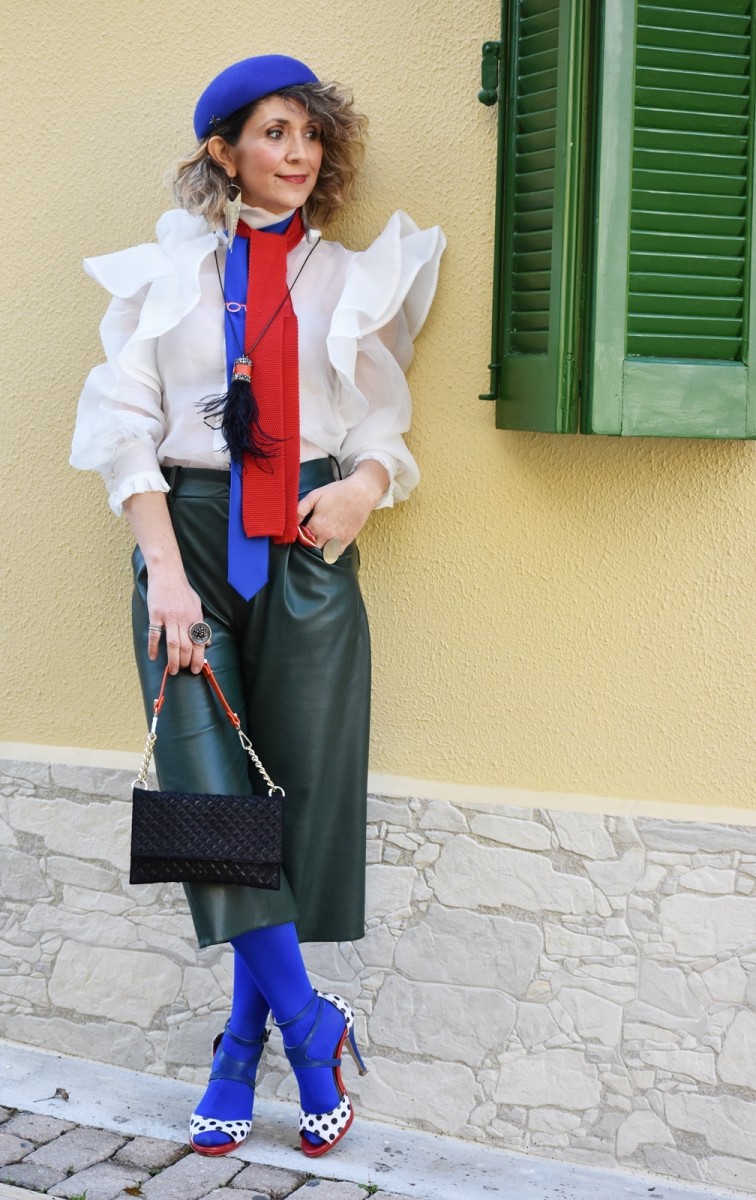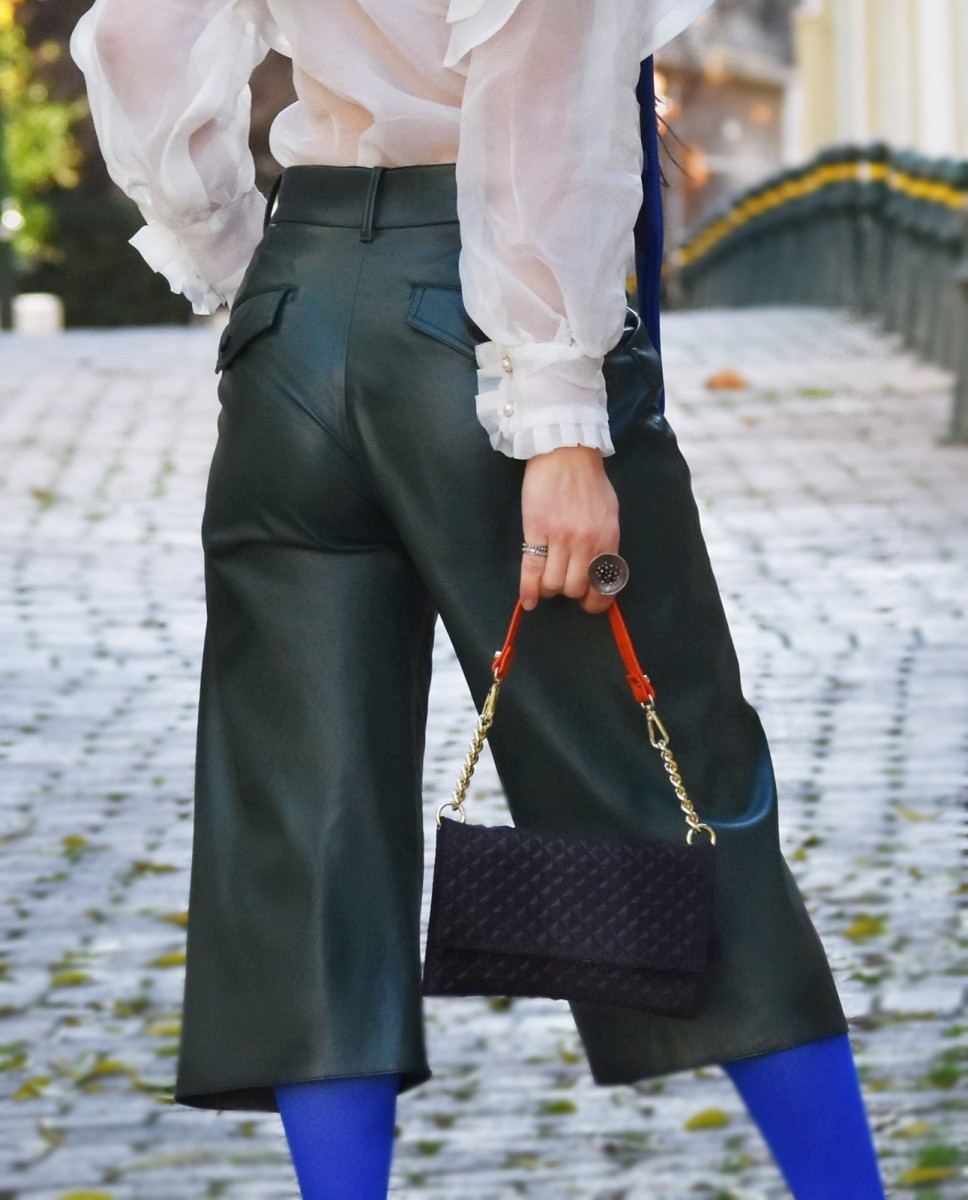 You might wonder which is the difference between gaucho pants and culottes today. Gaucho pants are like wide-leg pants. On the other hand, culottes look like a skirt. Moreover, Pine green, a rich shade of spring green, is unique for my gaucho pants outfit. I see a fluid elegance in this Spring 2021 look. Be practical in your way to dress for SS 2021. Above all, be stylish and have fun.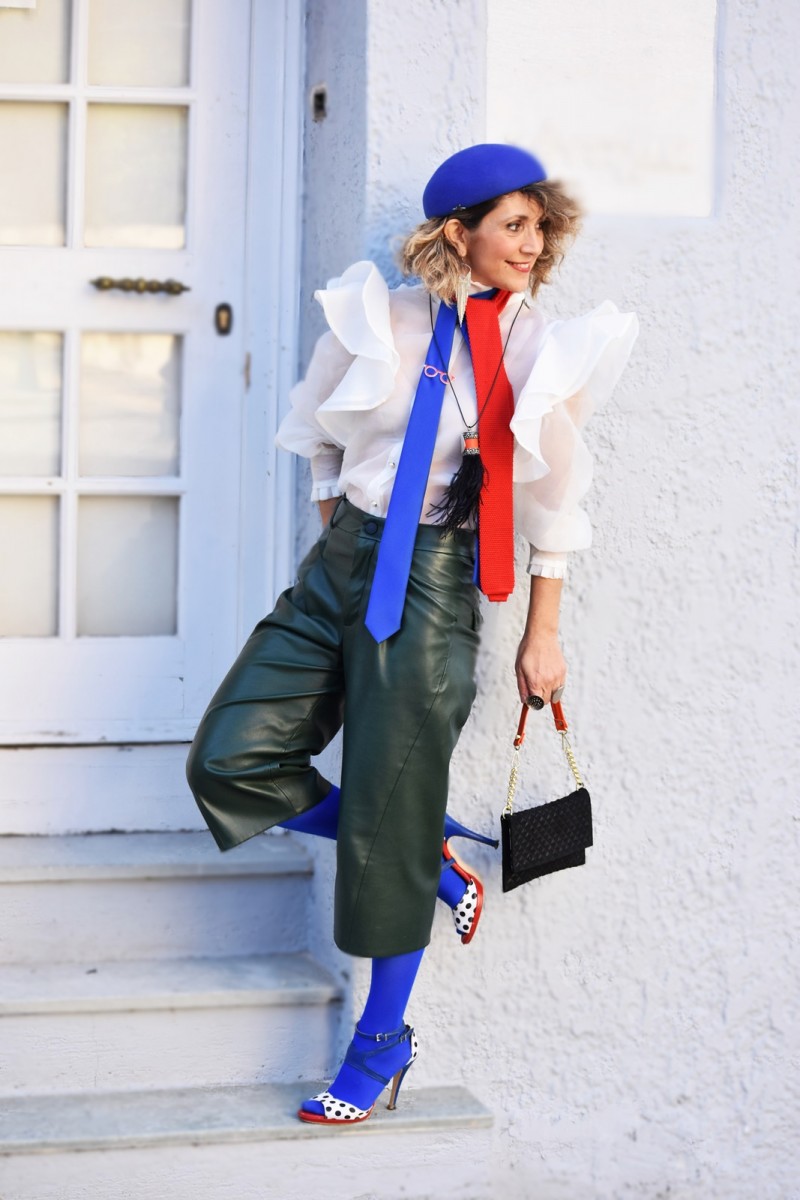 ♦4)

Coloured tights and Polka dot shoes.
The season is about having fun and letting go. Let the colours to create glamourous fashion aesthetics, and smile. Are coloured tights in style 2021? Definitely, yes! This look is my answer to minimalism. They are as good in bright blue colour to adorn Omar Mansoor's white Puffed sleeves top. Sweet, and powerful, full of charm, and happiness.
The coloured tights are full of character. Yes, we love coloured opaque tights with Polka dots shoes. These are the Only Spring 2021 Shoe Trends, that Matter. Now, if you find yourself to stay home and wear your house slippers, I suggest you invest in the passionate mixture of polka dot pumps with coloured opaque tights, and Omar Mansoor's voluminous white Puffed sleeves top. Since 1920 until today, Polka dots are popular for Summer trends.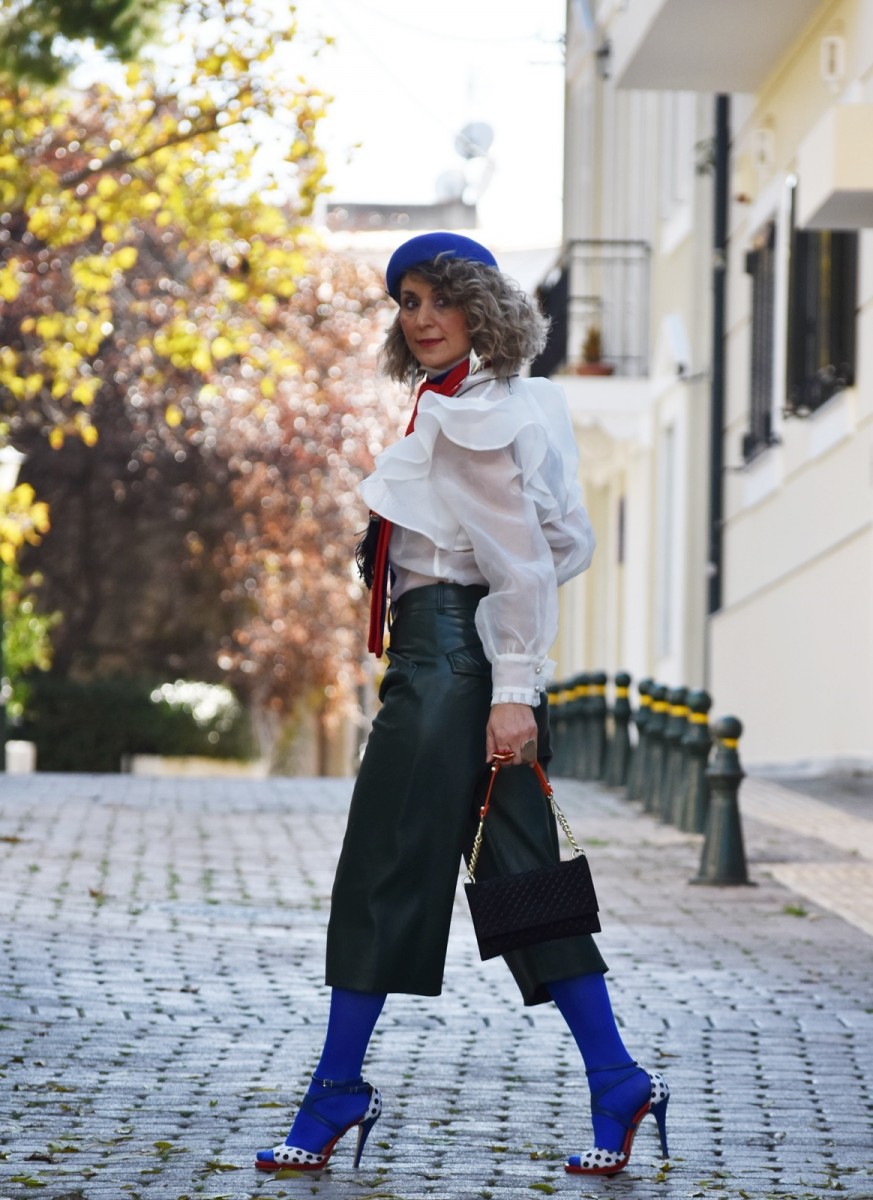 ♦5)

Fashion leather gloves.
My favourite upcoming trends for Spring 2021 are the Fashion leather gloves in bright orange. Meanwhile, they are the ultimate accessory to elevate Omar Mansoor's white slim feet trouser. Be ready to add a pair to your wardrobe, and you won't regret it. However, long fashion gloves are always chic, feminine, and elegant.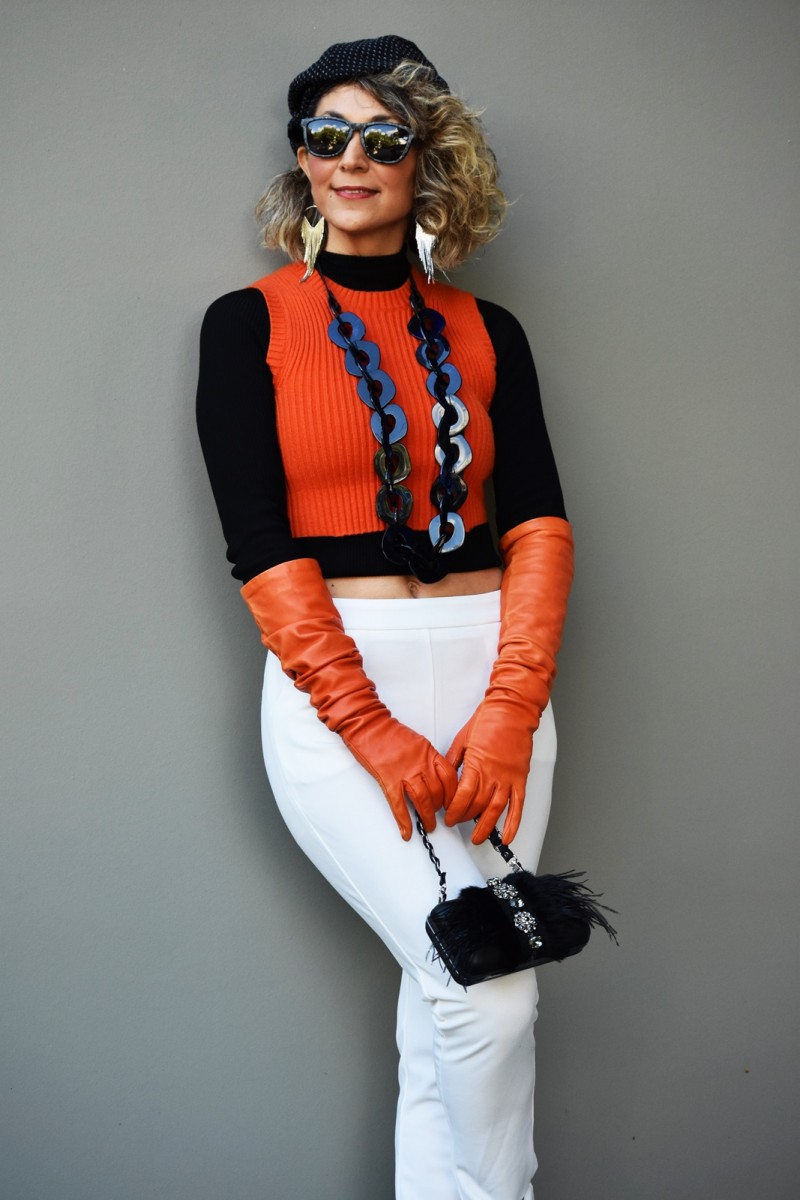 For me, current style trends for Spring 2021 have to do with hand gestures. Try to wear long fashion gloves and look sophisticated. Make the difference, enjoy Fashion Trends today.