Share this
3)How do you style today the famous Chelsea boots with the all-black outfit? Afterthought, Come and see the new autumn men style
Today, I found myself at a point where the contemporary men look is more relaxed. The tailoring pieces I found in Agis Ioakim wardrobe gave me many ideas to style them cleverly. So the starting point may be the Chelsea boots, but the final look, I styled for my friend to wear, reveals a self-assured man. Already, traditional Polka dots Men shirt updates grey in mixture with black jeans.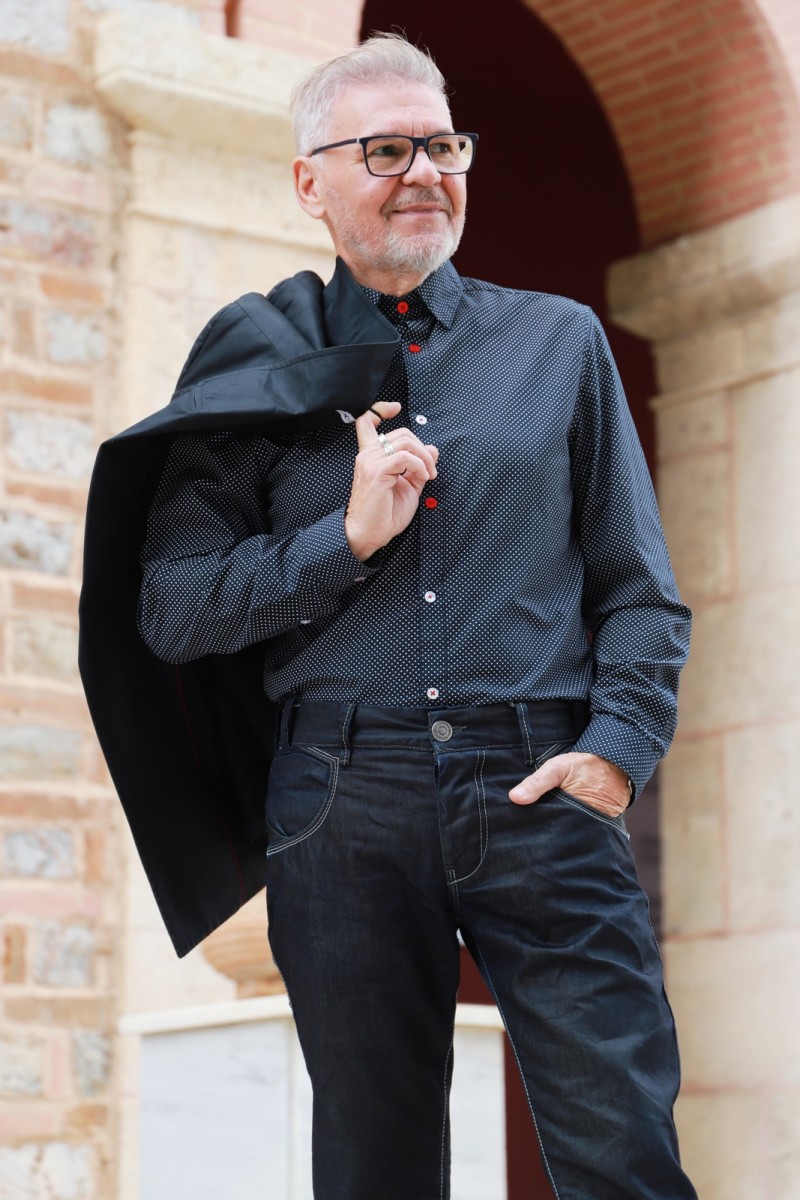 Likewise, I paired Chelsea boots with a knee-length overcoat to create a sophisticated style. Afterthought, the influence of casualwear is inevitable. However, the Black colour remains the origin of a new sartorialist with high reference to the quality of fabrics. For me, Black, and, grey are much more elegant. Above all, they bring something new to casualwear. What makes the difference is the use of quality. That is real fashion for Autumn outfits 2020.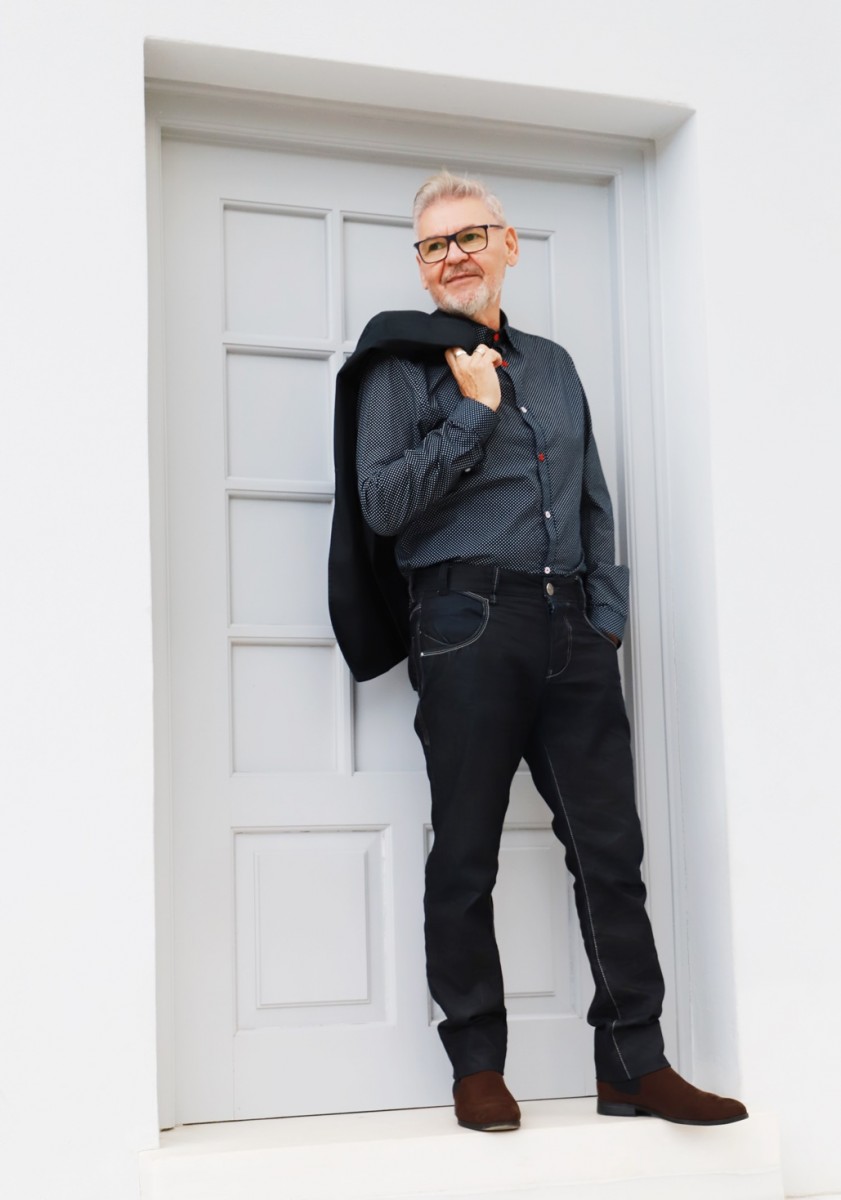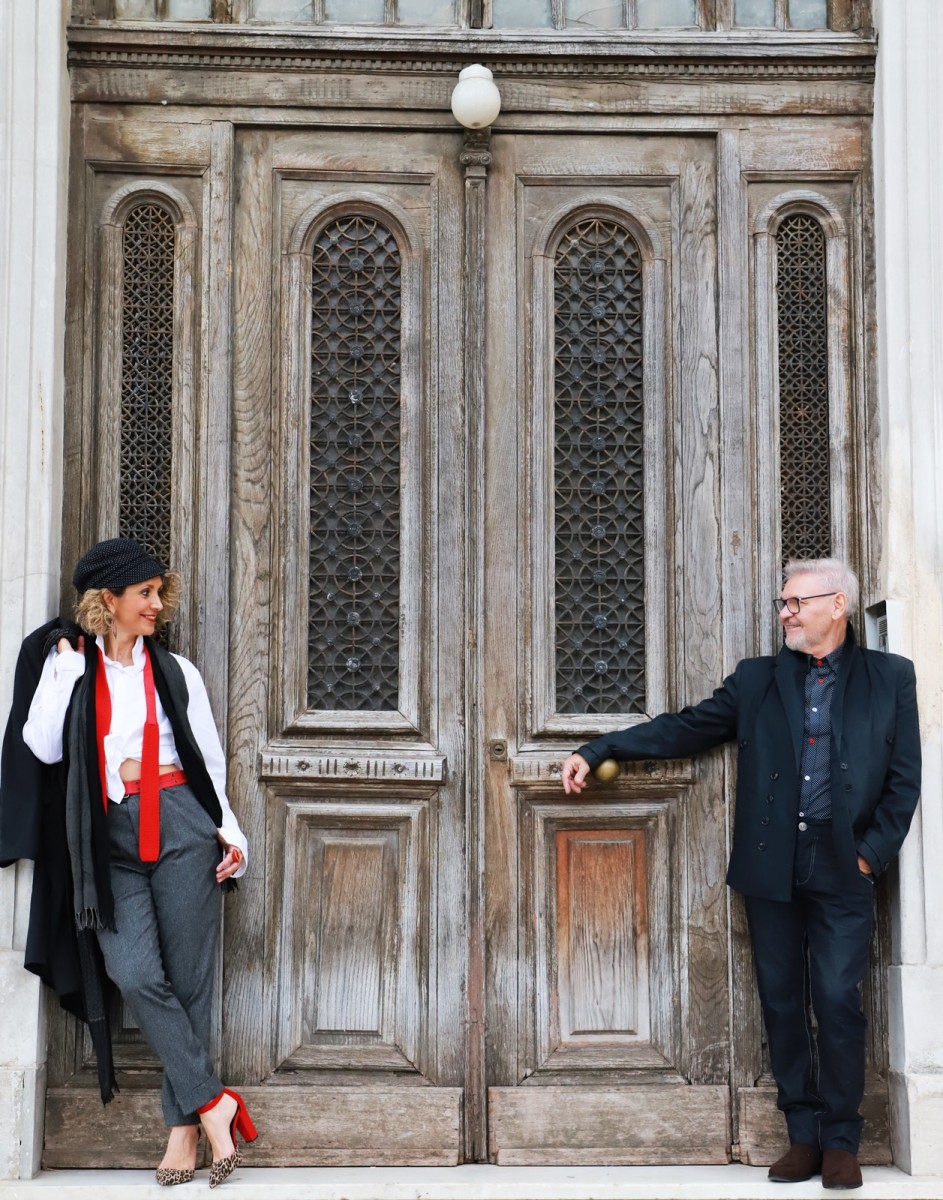 How do you style today the tied-up Tummy white shirt? Come and see the new autumn women style.
Finally, I want to share the third black outfit from men wardrobe for my women fall fashion outfits. Besides, I discovered pieces with an authentic, old-world feel to wear as a woman. For me, tailor-made looks are like an old photograph, an old-time favourite.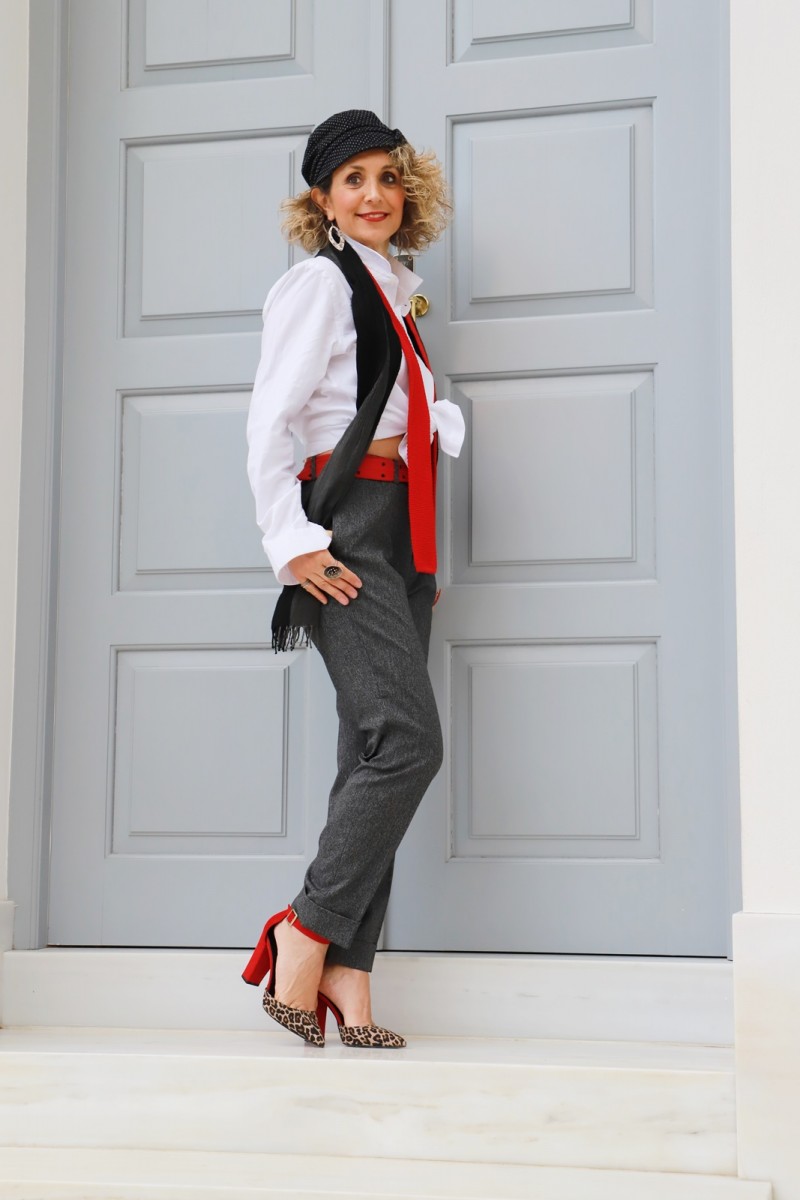 First of all, The tied-up Tummy white shirt looks so feminine with the untied tie look in a Man Navy knitted red tie. Secondly, the plaid wool scarf replaces the balance between red and black colour. As a result, this composition works best with knee-length men overcoat. Furthermore, I paired a reversible dreadlock poorboy hat with animal print pumps to refresh the high waisted tweed slim fit trouser in dark grey. Now that is real style.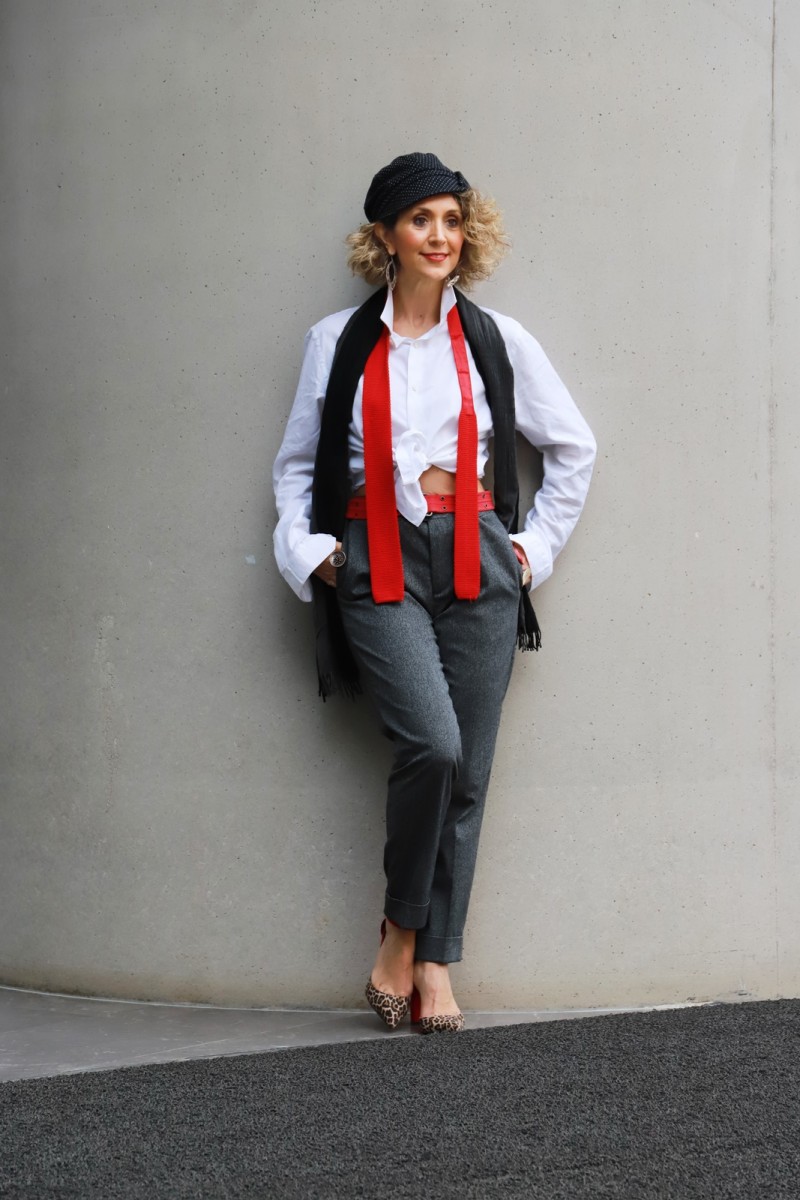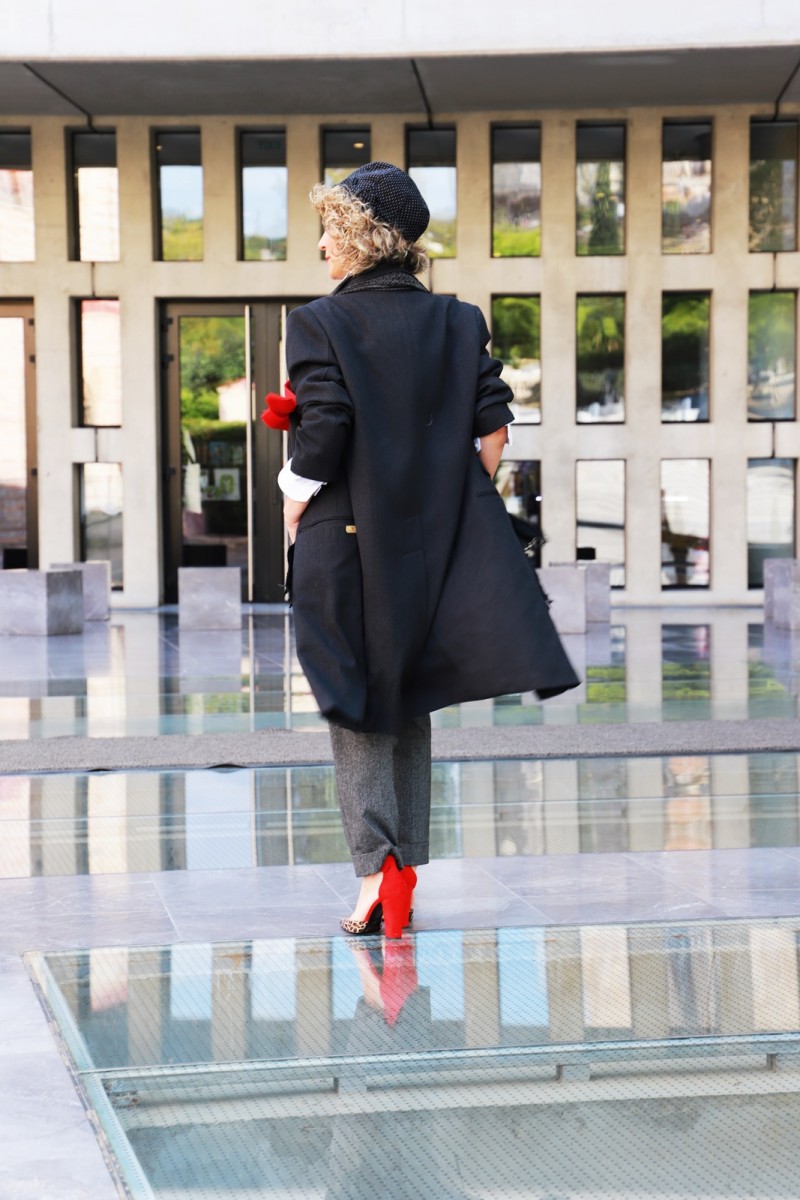 Above all, I'm obsessed Autumn outfits 2020 now for my best all-black outfits. For me, Black always suggest new fall fashion ideas. However, the colours are my love in fashion, but all-black outfit women are timeless. It's all about detail. In sort, Be flexible, combine menswear with women fashion style, and write new rules for Autumn outfits 2020. Dare to do it now.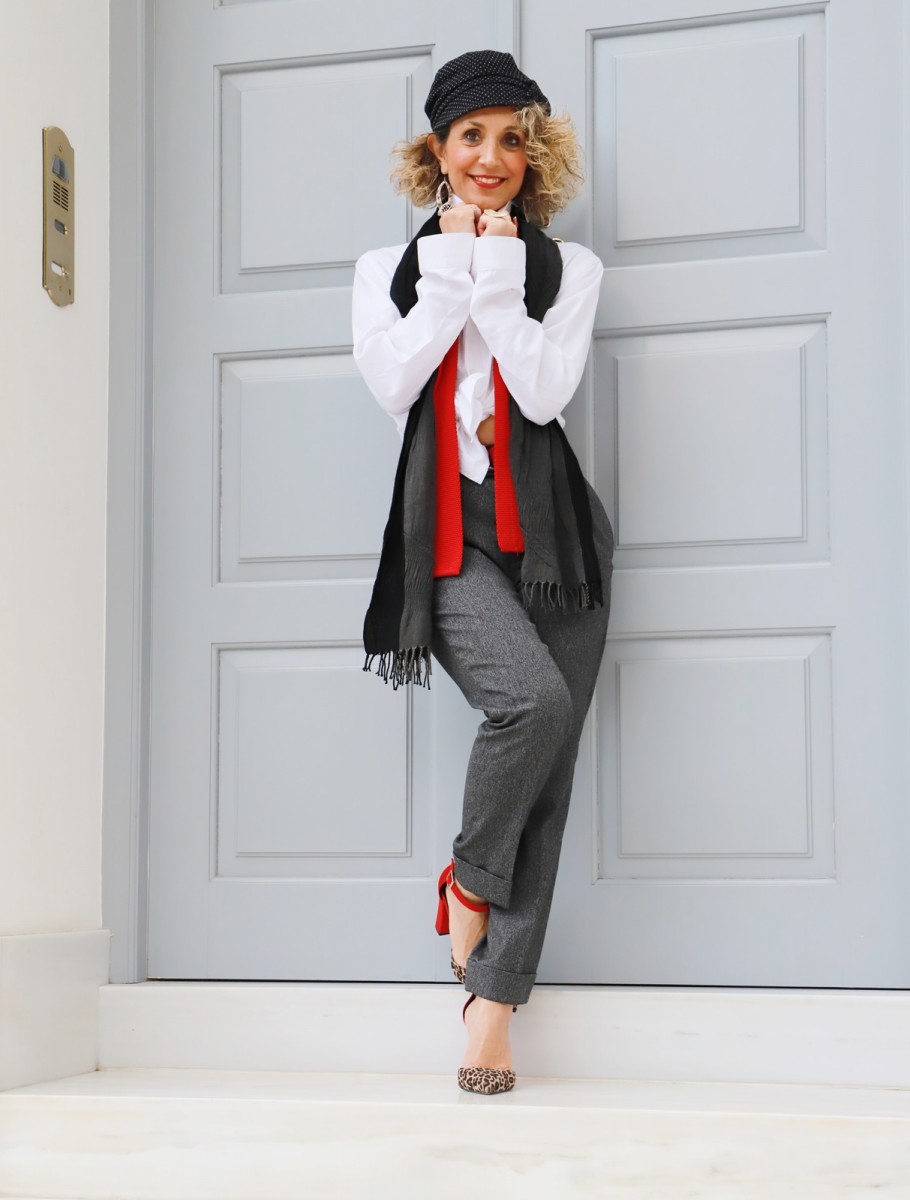 Three coolest Autumn outfits 2020 now for your best all-black outfits.
The best dark clothes style that will always inspire you.
♦Photo rights & styling by Chrysanthi Kosmatou/Instagram: @think_feel_discover
♦Special thanks to Agis Ioakim/ Instagram: @agisilaosioak for trusting me to style the three Black outfit ideas through his wardrobe.
♦Photo credits by Dimitris Alexandropoylos/Facebook: Dimitris Alexandropoulos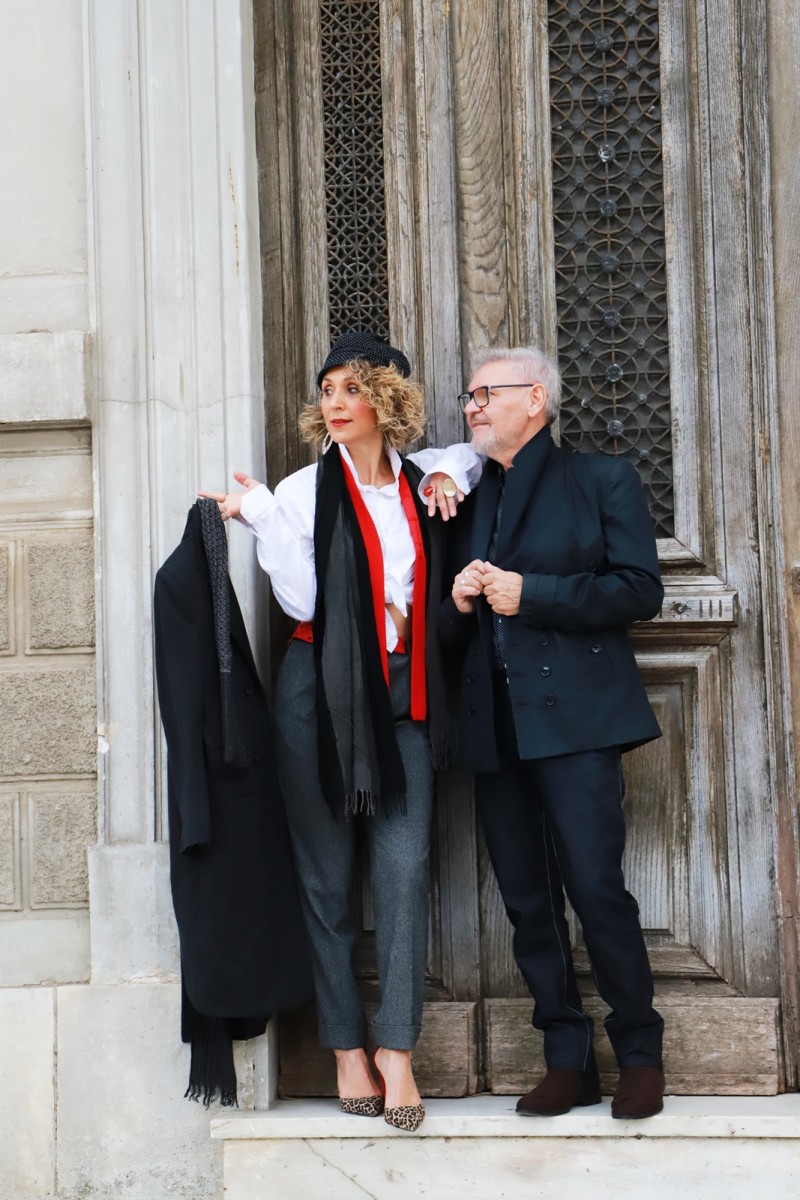 By Chrysanthi Kosmatou, Wednesday 4 November 2020