Share this
♦Think-Feel-Discover:
Tell us a little bit more about yourself, such as where you grew up, why you love fashion?
My name is Alexandra Chalvatzi, and I come from Greece. I grew up in Kozani, Greece. Meanwhile, I'm the mother of two lovely children and three small dogs. Above all, I love crafting and discovering new design ideas.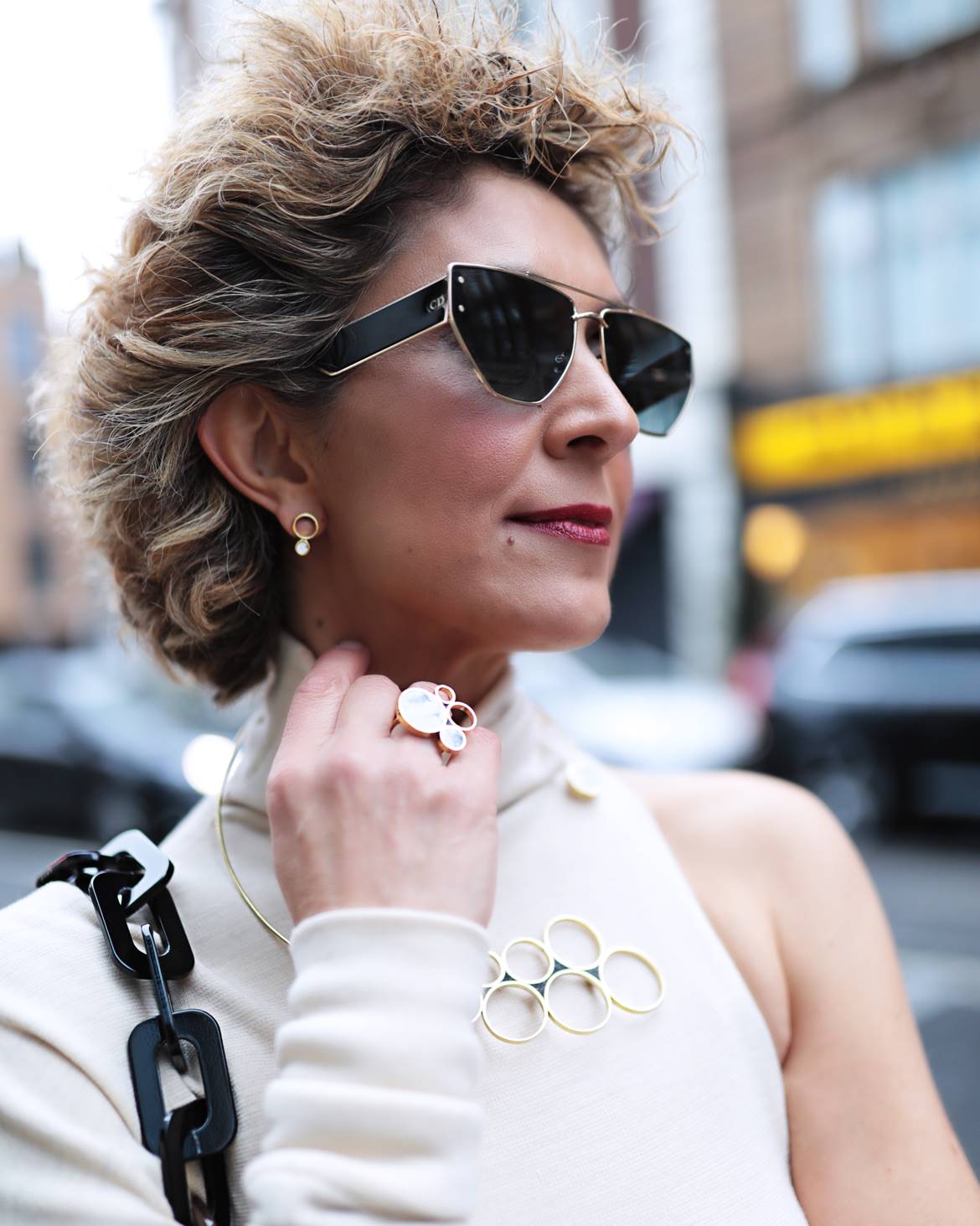 ♦Think-Feel-Discover:
What did you study in school, and how did you make the change to jewelry design?
I am an HND graduate student of Manufacture Design. I studied in London several years ago, but I never actually got involved with it. Meanwhile, I was a bank employee for 20 years. But I was always a crafter. Today, I am a jewelry designer and maker, and I own a craft shop in my home town. In other words, I felt the need to do something more creative. As a result, I started an experiment on this fabulous material, concrete. I started making jewelry by concrete. But that was not enough. So, I started taking some classes on handmade jewelry. Until today, creating jewelry by concrete is fascinating for me.
♦Think-Feel-Discover:
Why did you start Alzeto handmade jewelry collection?
AlZeTo is a combination of three names: Alexandra, my name, Zeta, and Tony, my children's names. In my eyes, AlZeTo symbolizes my love for my children. They are everything to me. However, I love them as much as I love to create every single AlZeTo jewelry design.
♦Think-Feel-Discover:
What kind of materials do you use for your jewelry and why? 
Above all, I use concrete. Secondly, I use brass, nickel silver, silver925, and sometimes liquid glass(resin). Every piece I make is by concrete in its natural color. I love to craft with other techniques.
♦Think-Feel-Discover: 
Tell us about your design aesthetic and inspiration for your latest jewelry collection.
I like simple forms, geometrical, simple lines. My inspiration depends on something I saw or just put on my mind. When my customers ask for a jewel in an old design, with a slight change, it's always a challenge for my creative imagination. My last collection takes inspiration from the circle. I think you became my inspiration. That is to say, You asked me for a big jewel. In sort, the neckless I created is because of you. So, thank you for being my muse for this collection!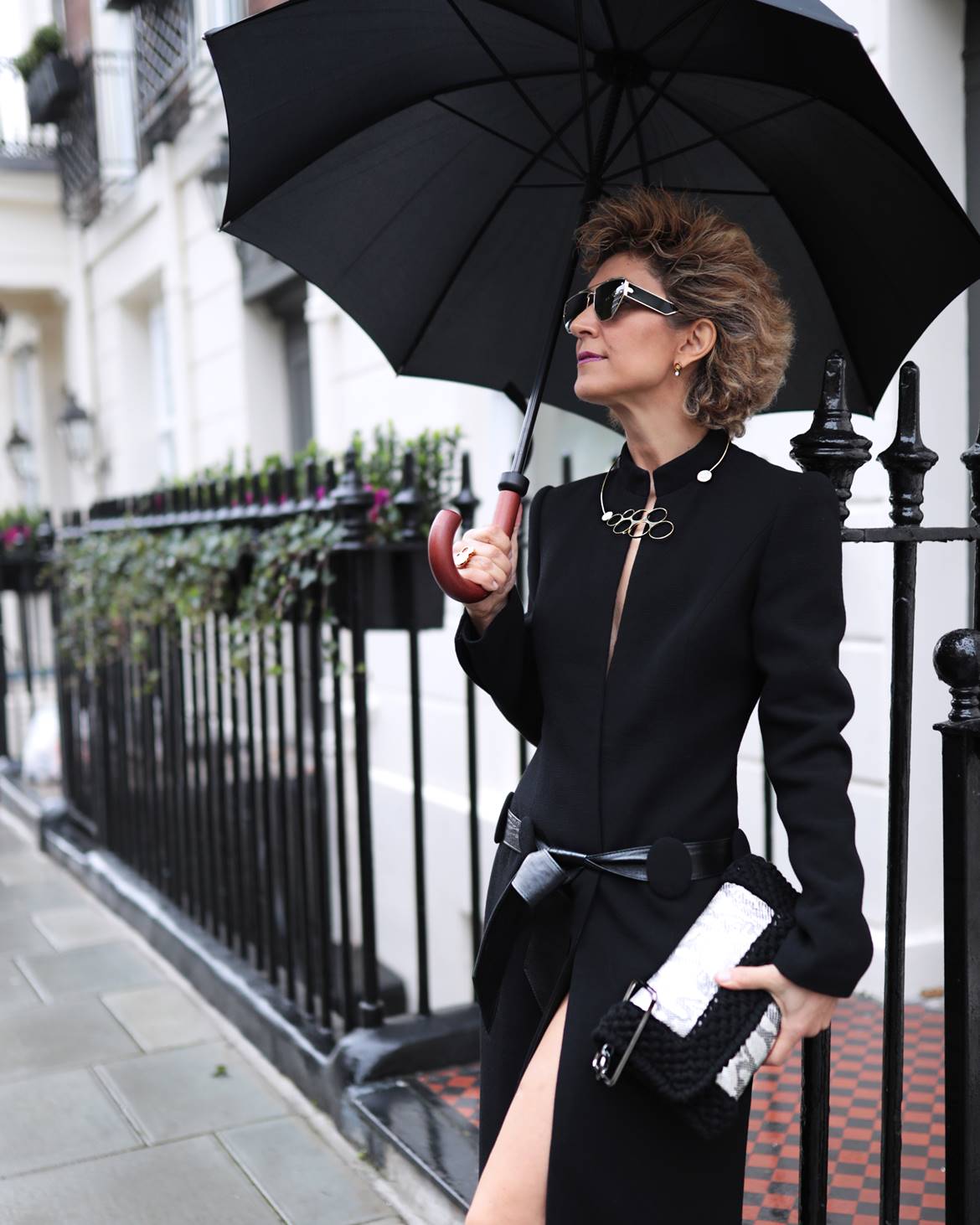 ♦Think-Feel-Discover:
How important is the color of your design process?
The natural concrete's color is light or dark grey. I love this color. However, mixing other colors in this fascinating material is a temptation. Generally, I adore the "rough-dusty" color on shiny surfaces like brass or silver.
♦Think-Feel-Discover:

What inspires your jewelry designs and creativity?
I take inspiration from daily life. Buildings, new shapes, even the raw material I use can inspire me.
♦Think-Feel-Discover:
Tell us about your design style. What makes your collection unique in the industry?
The way I put together two or three different materials, all in minimal shapes, makes my collection unique. Even if the principal idea is the same, there is always a slight difference in the final design. On the other hand, every piece is handmade. That makes my work unique.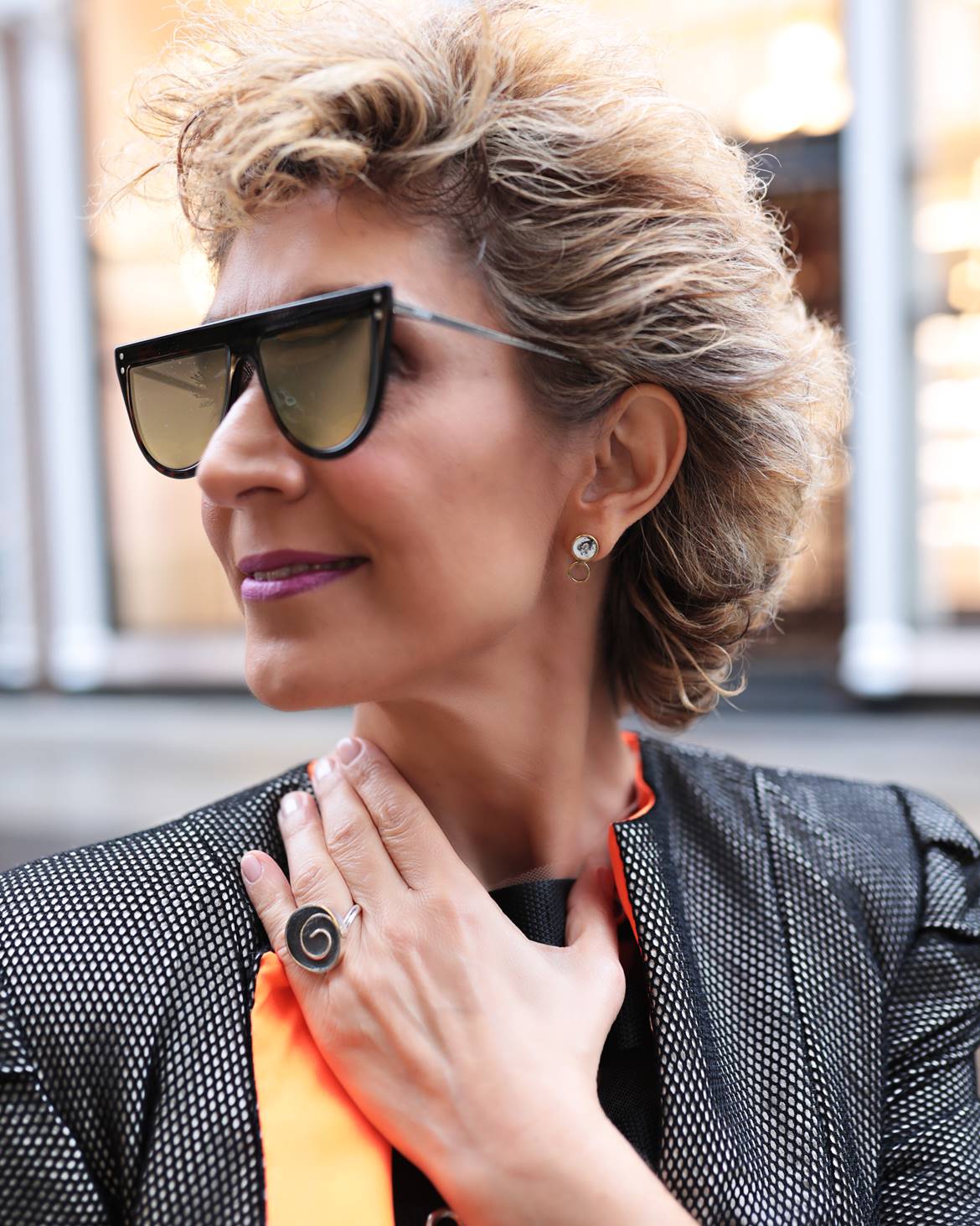 ♦Think-Feel-Discover:
Describe the AlZeTo jewelry woman.
AlZeTo jewelry woman has no age. She is an elegant, modern, dynamic who knows what she wants and knows where to find it and of course, doesn't afraid to make the difference.
♦Think-Feel-Discover:
What does define your personality
I am a working alcoholic, restless, perfectionist. I love to help people, and I am an animal lover.
♦Think-Feel-Discover:
What's the first thing you do when you sit down to create?
The first thing I do is listening to music. For me, put some music to play, makes me work, and creative thinking.
♦Think-Feel-Discover:
How do you recognize high-quality jewelry?
High quality!! My target!! My persistence! I always look for something better. No matter how simple is te design, as long as the appearance is "almost" perfect. AlZeTo jewels respect its client.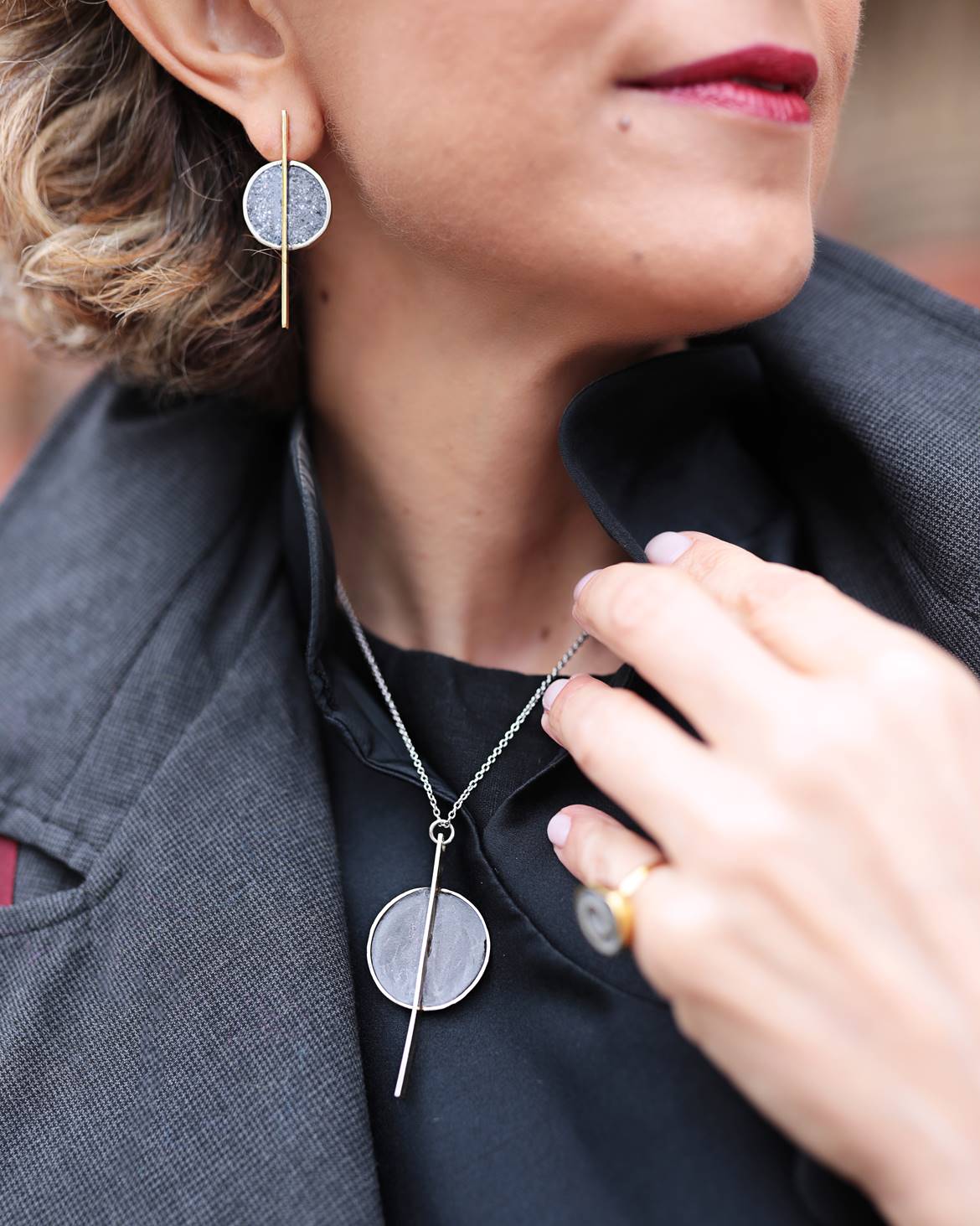 ♦Think-Feel-Discover:
How would you describe your designs?
Minimal, industrial, contemporary.
♦Think-Feel-Discover:
What does a typical day look like for you as a jewelry designer?
My day always starts with a cup of hot coffee. Then I start checking for my e-mails and scrolling down the social media for new design ideas. I take notes of new thoughts for my jewelry collection, and I spent the rest of my day in my workshop. Time is running fast. Sometimes, it's getting dark outside. Then, the next possible step to do is to stop.
♦Think-Feel-Discover:
Why do you do what you do? What makes it all worth it?
My motto is: Do your hobby your job, and you will be happy. That's what I do. Every new design is alive for me. The best moment for me is when people wear my jewelry designs. That's real happiness for me.
♦Think-Feel-Discover:
How do you want women to feel when wearing your jewelry?
Stylish, unique, dynamic, beautiful!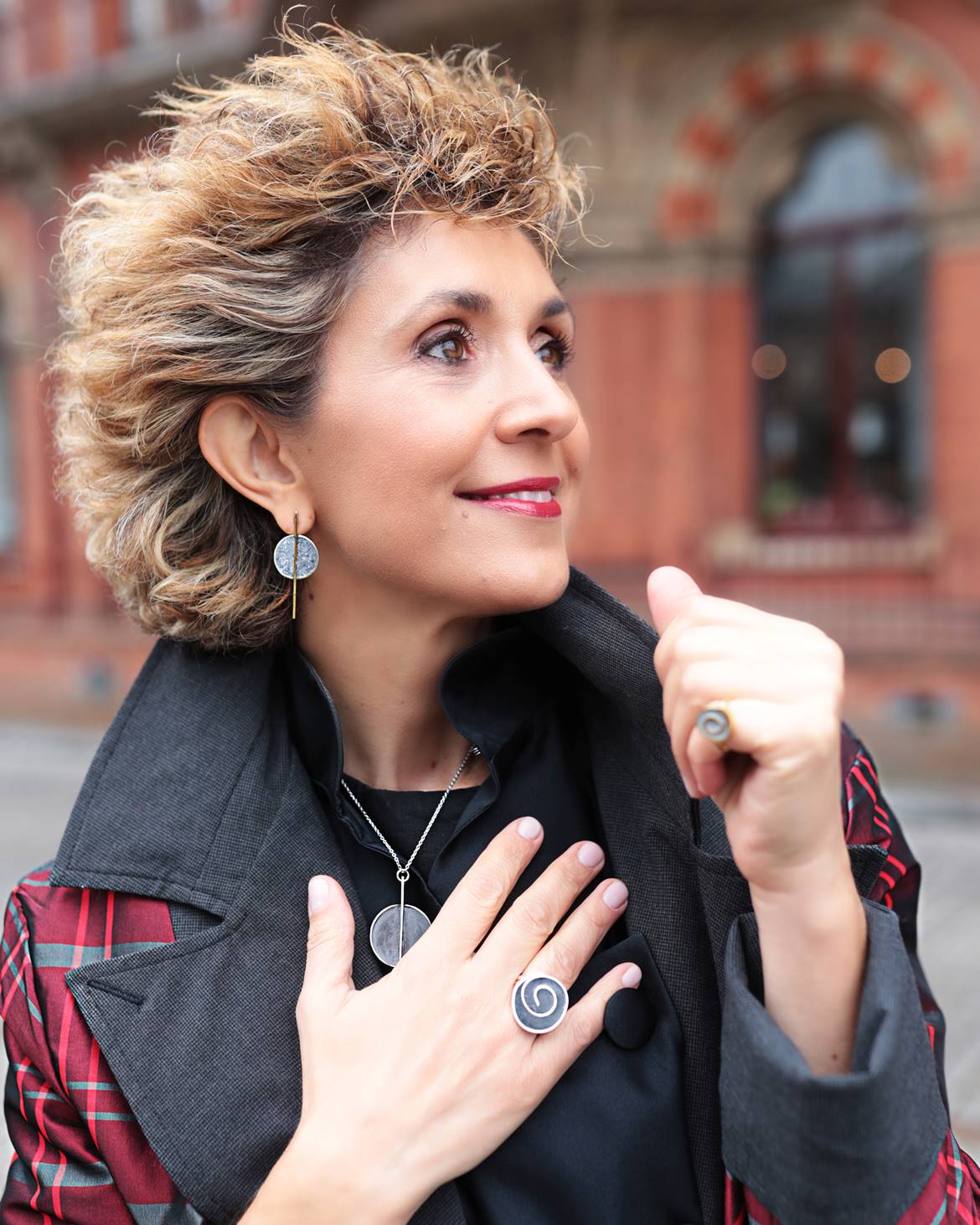 ♦Think-Feel-Discover:
What does style mean to you?
Concerning the definition of style, I would love to share what Ralph Lauren has said:
"STYLE IS VERY PERSONAL. IT HAS NOTHING TO DO WITH FASHION. FASHION IS OVER QUICKLY. STYLE IS FOREVER" Ralph Lauren.
♦Think-Feel-Discover: 
What are your plans?
I want to share AlZeTo design with people, and see them wear my designs.
♦Think-Feel-Discover:
What is your vision in life?
My vision in life is to have people beside me who I love and love me. To have people that love what I do and respect me. If I feel love, I can do anything.
My vision in AlZeTo is to be recognizable to people. I love to ear a woman saying: I wear an AlZeTo jewel, and smiles. That's recognition for me as a jewelry designer.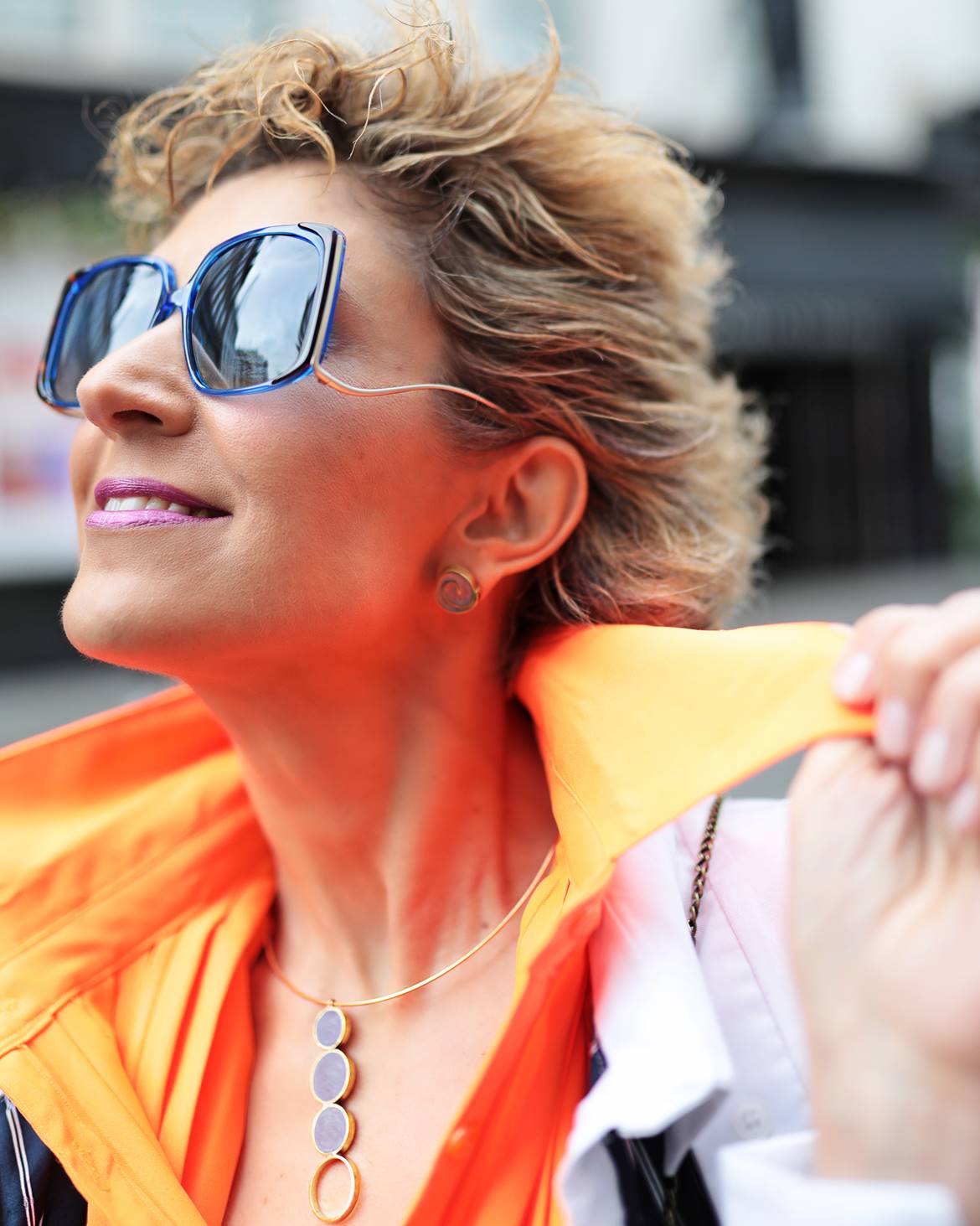 ♦Think-Feel-Discover:
Which is your motto in life?
I have two mottos in my life. Firstly, Everything you make with love is well done. Secondly, Don't afraid to make the difference, just be yourself.
♦Think-Feel-Discover: 
What do you like to do in your free time?
I always spend my free time with my children. My three dogs are part of our family. Above all, I'm feeling grateful for this lovely family.
♦Think-Feel-Discover:
How important is it for you to collaborate with me as a fashion stylist for street style photography and jewelry trends 2020 in London?
You perfectly feet in the AlZeTo jewelry woman image, and I am sure that you will do your best to show off my jewelry. You will respect them, and I'm sure that lots of people will see them. And of course, through you, I return to my be a loving city, where I started my designing life.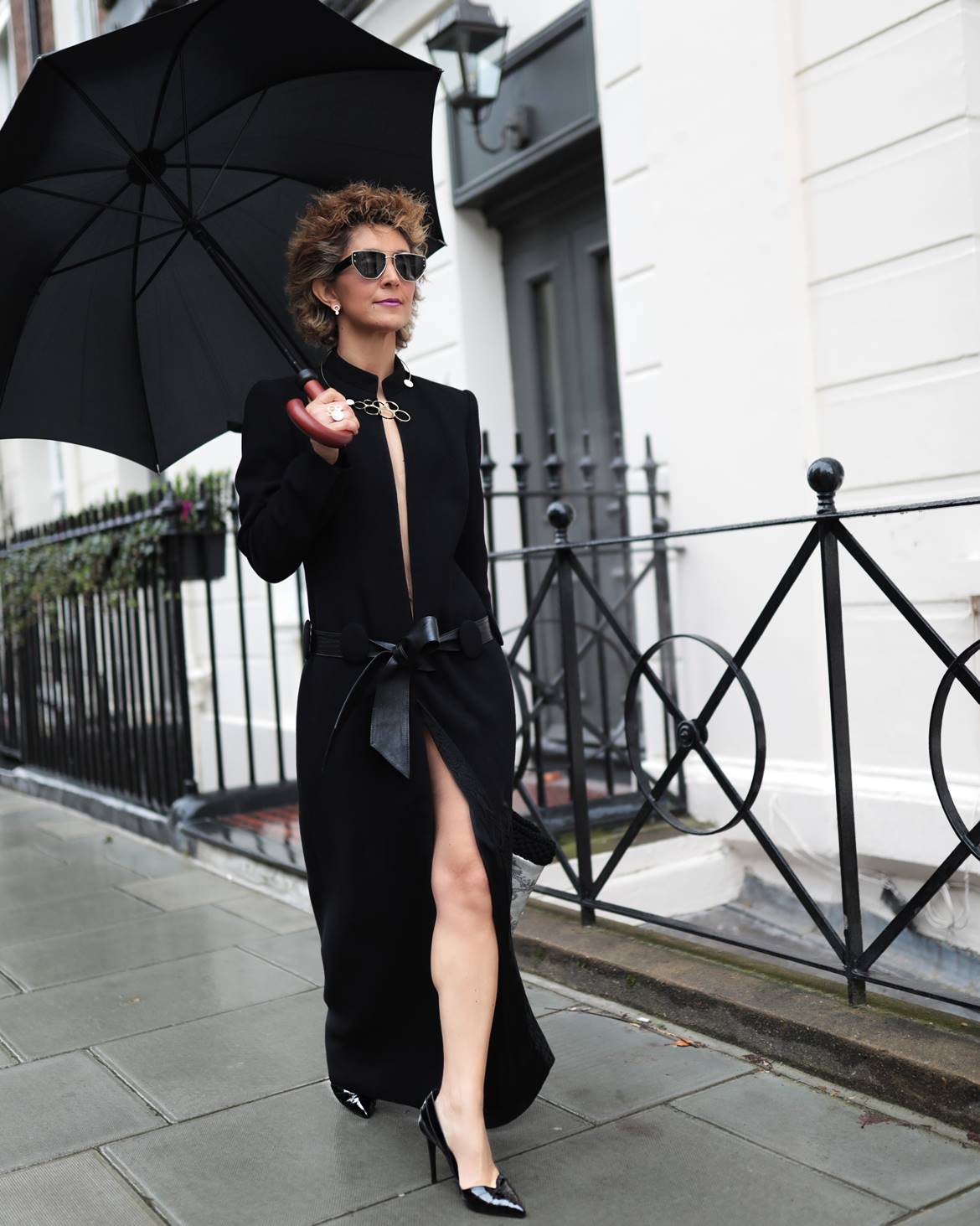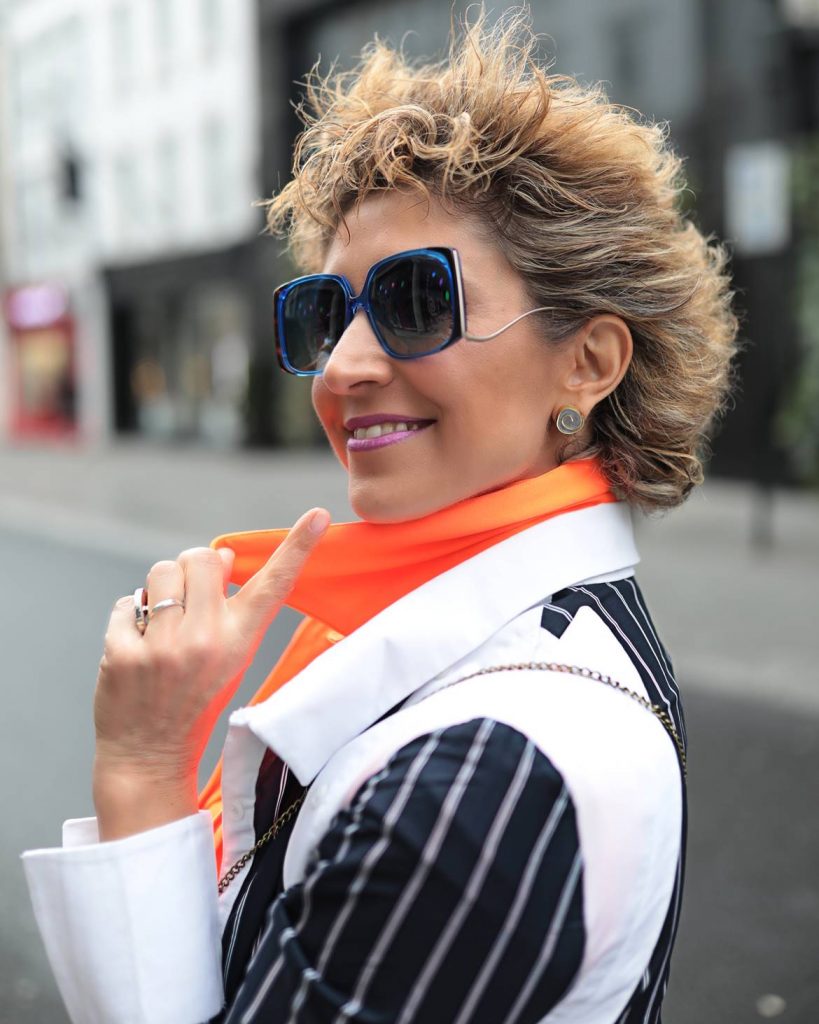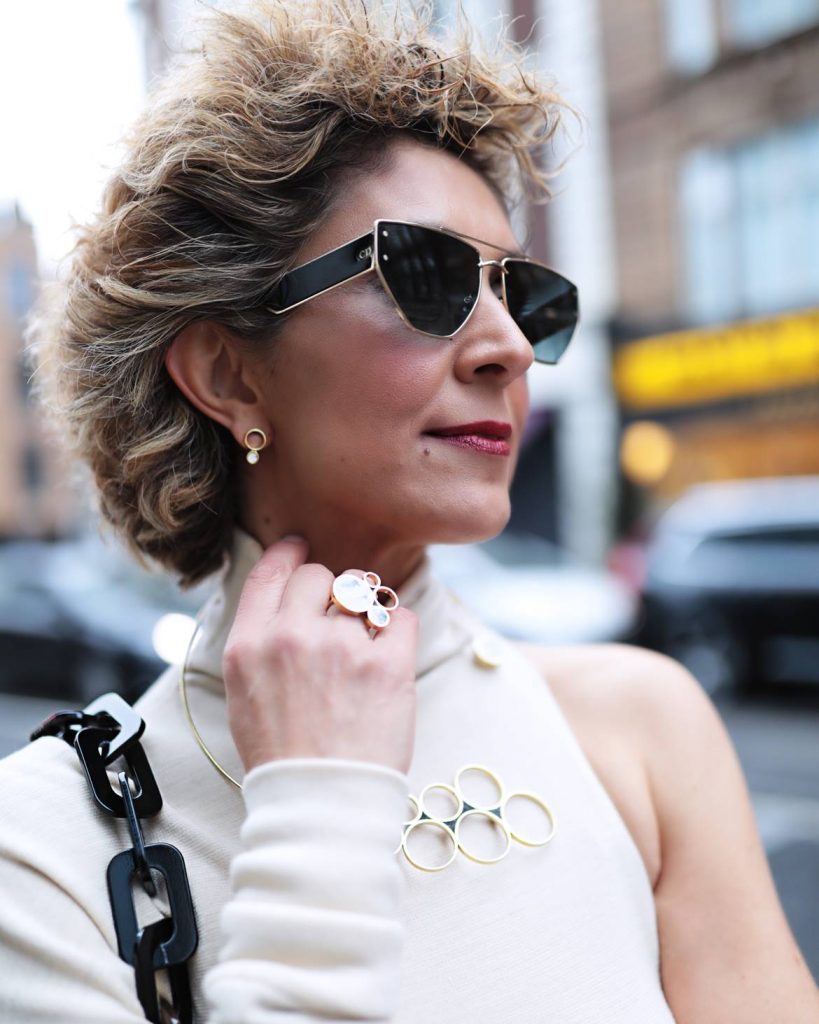 Concrete handmade jewelry by 
@alzetojewels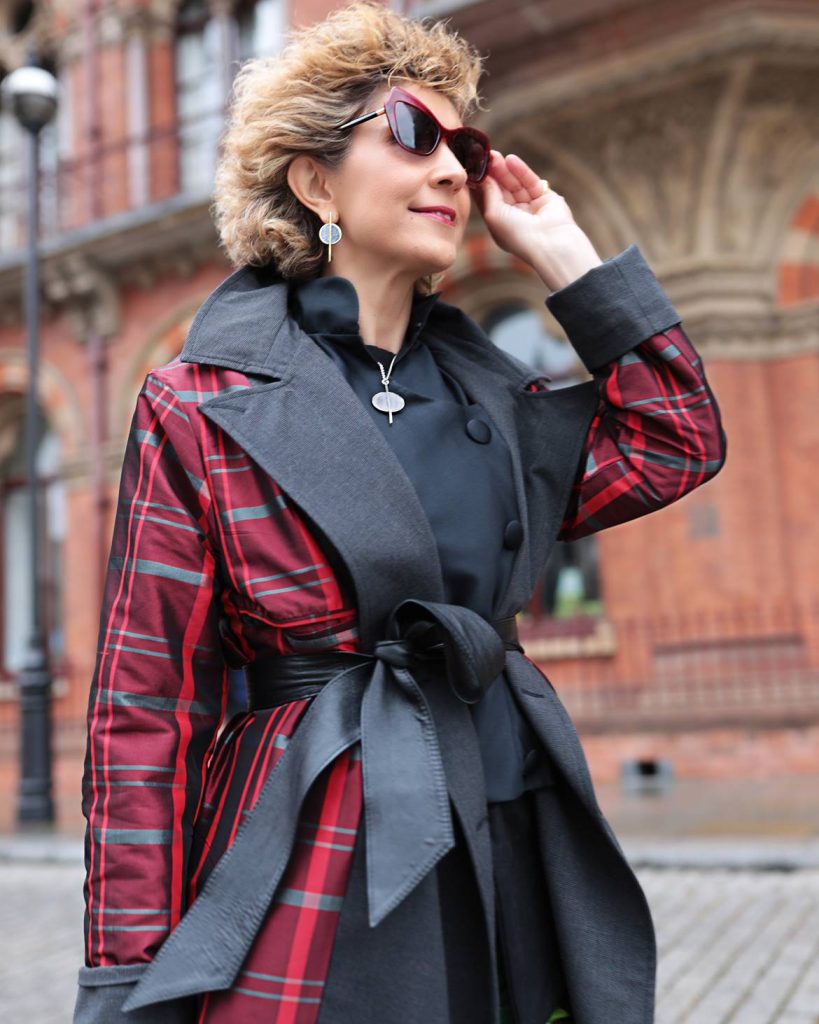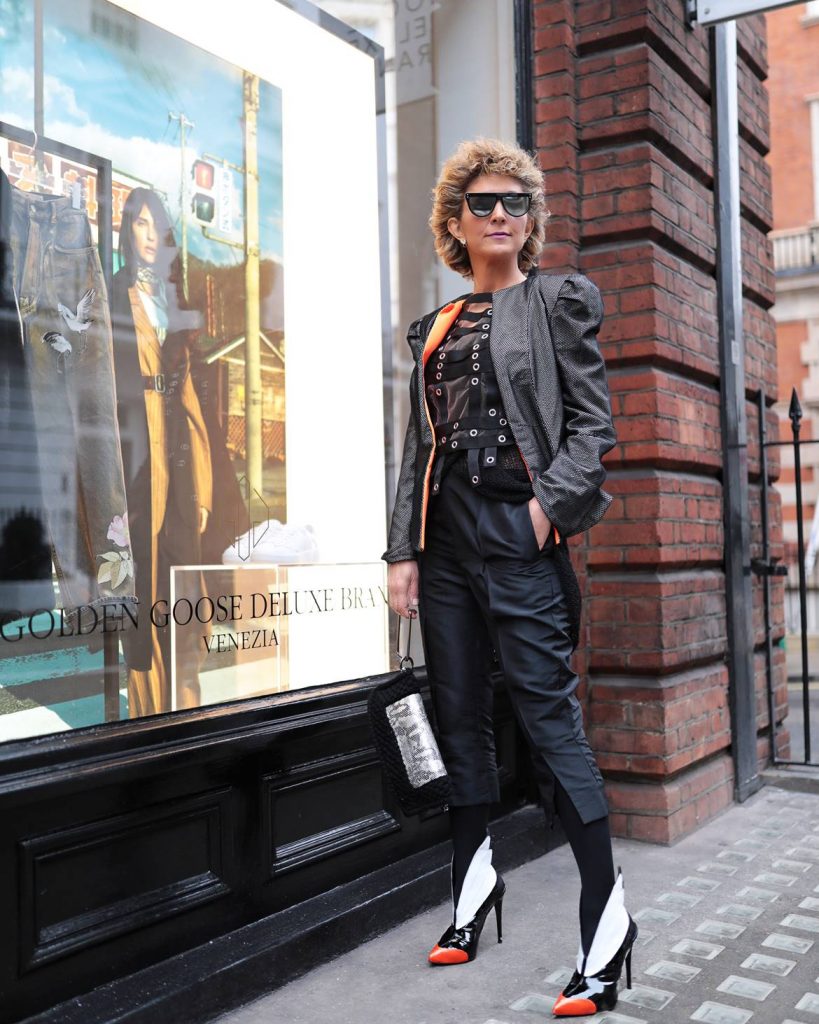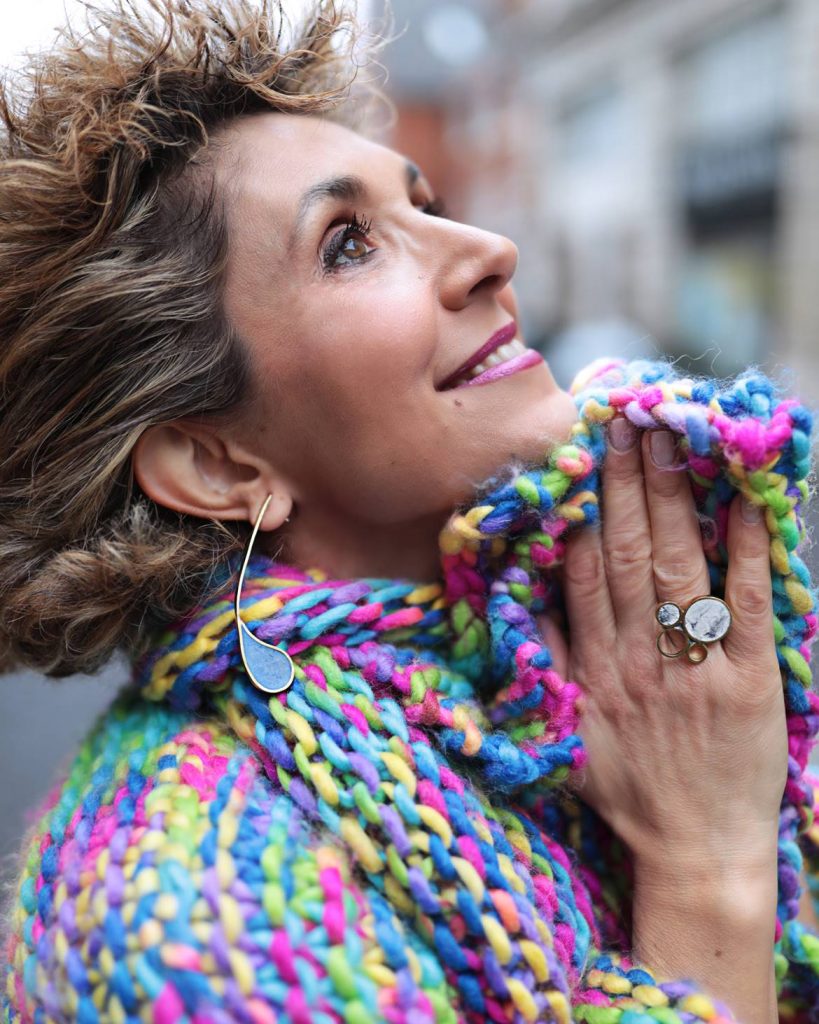 Concrete handmade jewelry by 
@alzetojewels

ALL OUTFITS STYLING BY CHRYSANTHI KOSMATOU AT FASHION AWARDS 2019, LONDON.
By Chrysanthi Kosmatou, Tuesday 24 December 2019.