How does today Paul Costelloe's style challenge the amazing fashion design of his AW19 collection during London Fashion Week in February 2019?
They say that trends come and go, while style remains. Designers during London Fashion Week are investigating traditional fabric-making methods. In my eyes, it's about the intelligence of the hand. Whether we focus on the latest technological advancements, the true meaning of style is to pieces with an authentic feel.
Last February I was excited to arrive at Simpson's in the Strand for Paul Costelloe's fashion show. It's about an iconic chess club and coffee house since first opened in 1828. During the time I was waiting for the launch of the designer's AW 2019 collection I asked myself: How are boundaries becoming increasingly flexible between Paul Costelloe's craftsmanship and new trends? So whether we focus on established techniques or new shapes, this is an opportunity to experiment with the maker. Undoubtedly the final result will surprise us.
What does finally the Paul Costelloe label represent nowadays? Stop for a minute and think: What is always important for the designer? Open your eyes and see.
Paul Costelloe is not just a label. Luxury fabrics, best quality materials, craftsmanship, and high design techniques are the designer's authentic feel and innovative style.
Paul Costelloe is born in Ireland. In 1968 he went to study at the Chambre Syndicale de la Haute Couture, in Paris. He made design Assistant to Jacques Esterel, Paris and he also became Chief House Designer for top department store La Rinascente, in Milan. Paul took a position as Designer to Anne Fogarty, in New York. He launched Paul Costelloe Collections in 1979.
The Paul Costelloe name today includes womenswear, menswear, bags, accessories, jewelry, eyewear and of course, his highly prominent collections of homeware, womenswear, menswear and children's occasionwear, an exclusive collaboration for Irish retail group Dunnes Store.
He has gained great success in developing corporate wear concepts for major multi-nationals and sports teams including British Airways, Delta Airlines, the Ryder Cup and the Irish Olympic Teams.
Based at his design studio in the heart of London's fashion district, Paul works with renowned technicians, suppliers and manufacturers to deliver collections of the highest quality. These include his sampling unit in central London as well as working with family-owned manufactures in both Italy and Portugal.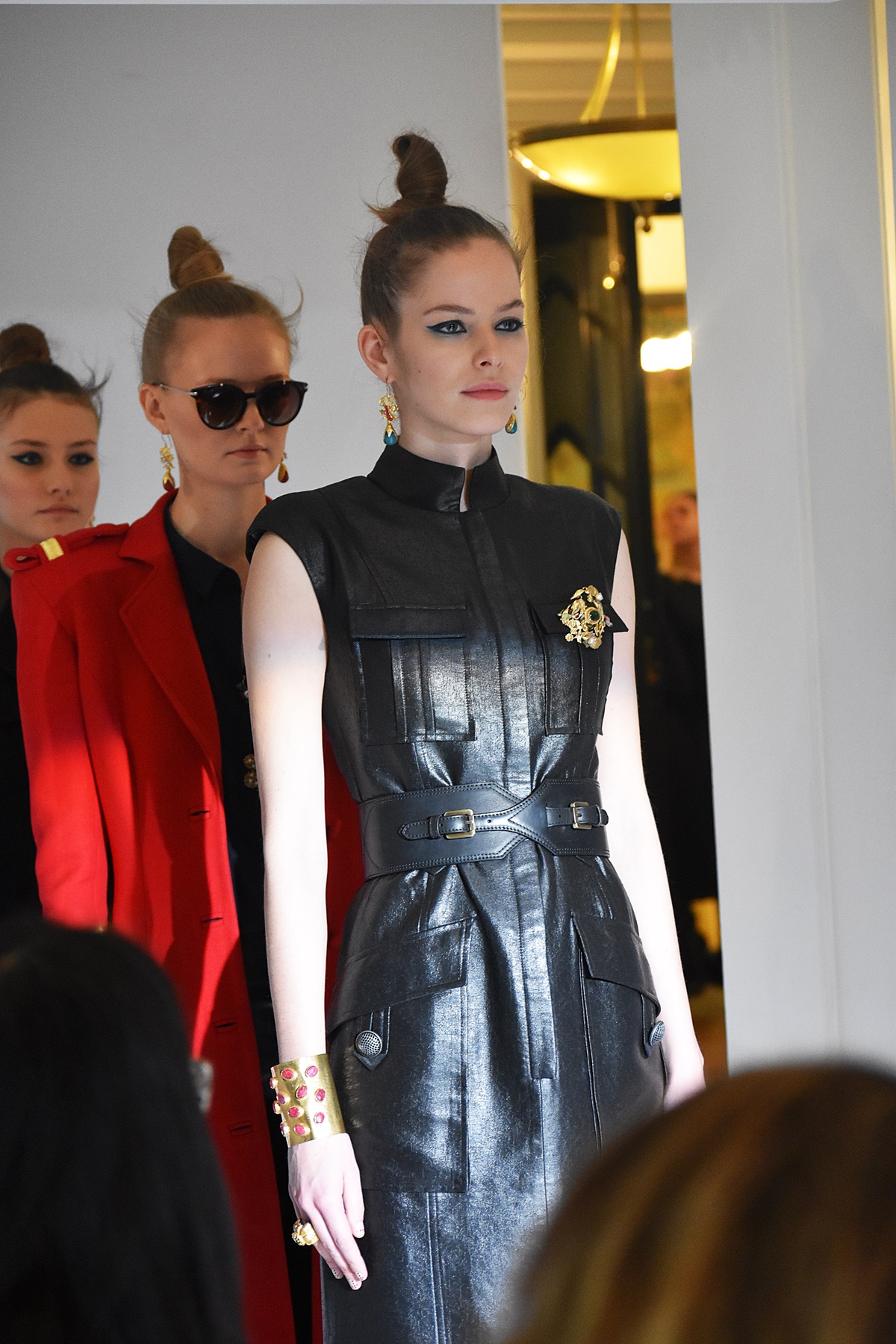 How are today boundaries becoming increasingly flexible between Paul Costelloe's amazing craftsmanship and define the new trends? Discover the military coat and feel the energy of sportswear. Stop and wear it now.
I always believed that textiles are the final direction to create the unexpected in fashion. A vintage aesthetic and a focus on artisanal skills refresh Paul Costelloe's fashion design creativity. Boundaries become flexible. New ideas are encouraged and enjoyed. "Battlefield to Ballroom" AW19 collection is dedicated to the pure beauty of Italian wool.
Tailored coats in rich colors capture our attention. It is about couture and streetwear, the real and the inspired fashion design. The military coat is not a coat. Styling becomes important. The athleisure phenomenon has been the protagonist in the last designer's catwalks. Pitch black, camel, lacquer red and blackberry attracted my attention. Afterward, Paul Costelloe introduces couture to sportswear. Things are on the move and what is to come always craftsmanship champion the change.