Share this
Which are today the best street style looks from London Fashion Week Spring 2020? Amazing Elisavet Kapogianni, all the Best London Fashion Week street style 2019 now in London. Open your eyes and see!
In many ways, there has never been a better time to be creative when I meet a new designer. There are so many talents in Greece, that as I have the honor to meet them, and collaborate with them for London Fashion Week street style 2019, I feel hope for progress. It soon became clear to me that the knowledge and the creative energy of inspiring people with values in fashion will bring the change.
Above all, I would like to thank Elisavet Kapogianni for her talent, and vision. Having something burning, and personal to say creates culture. Culture creates art, and art creates beauty in Fashion. Moreover, In the UK, my experience is that each designer is now able to bring his story to life during London Fashion Week. Teamwork and meeting of creative minds is the best way to invite people and getting to know the designer's work. Street style is our best catwalk. If an idea is truly great, it will remain. Take a step back, take a deep breath, and listen to Elisavet Kapogianni London Fashion Week street style 2019.
How should you wear your favorite Elisavet Kapogianni London Fashion Week street style 2019? What to expect this season?
Personally speaking, I'm thankful for giving me the opportunity to create a new London Fashion Week street style and share new values. Our physical and mental well-being is all that we have. Wearing the Elisavet Kapogianni collection and create new styling ideas during London Fashion Week SS20 my idea was to create a lighter way to dress. I paid attention to the quality of fabrics, the flexibility of patterns, and the silent beauty of color harmony.
In sort, Embrace Elisavet Kapogianni new style and explore how materials become a pleasure to touch and wear. Enjoy style as it is!
The Best Street Style At London Fashion Week SS20!When the streets are your catwalk! Check out your favorite look now!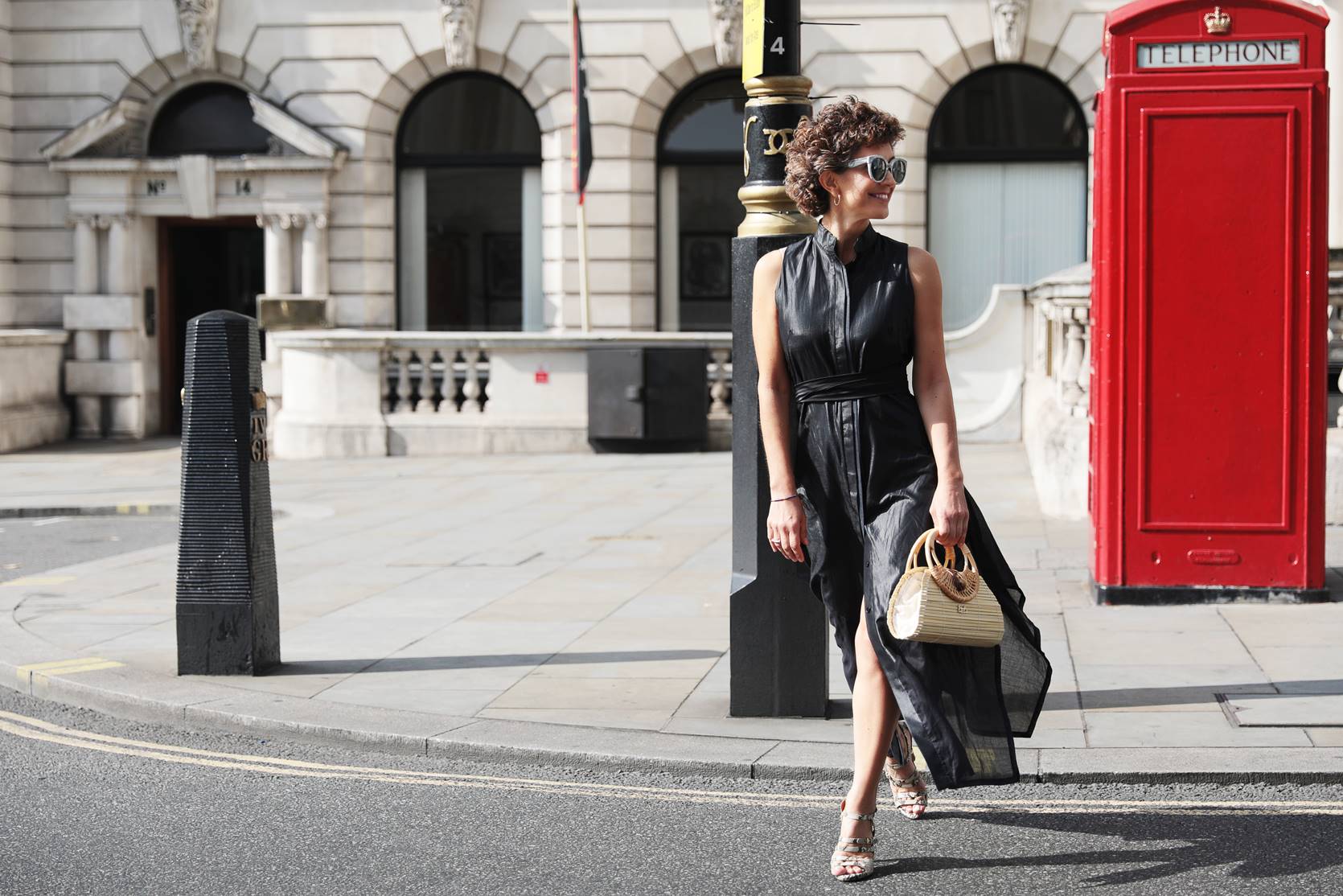 Interview with Elisavet Kapogianni, Co-Owner of Elisavet Kapogianni design Studio during LFW SS20. London Fashion Week street style 2019.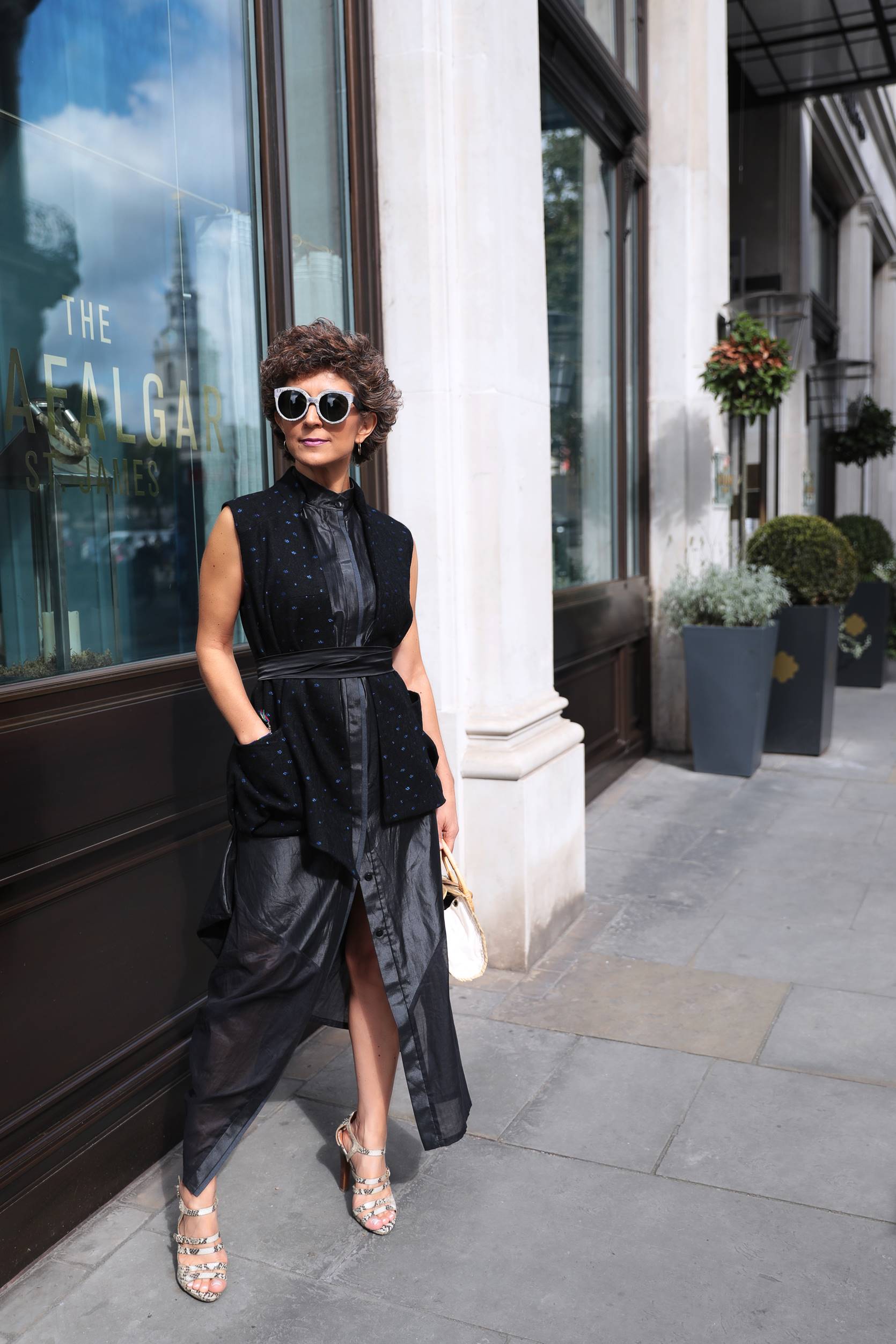 Outfit by Elisavet Kapogianni / Sunglasses by Optika Pismopoulou Eleni / Makeup by Faceshop.gr/ Bamboo Bag by BmB Bags
♦Think-Feel-Discover: When and why did you decide to become a Fashion Designer?
At a very early age, I learned how to make up a garment and played dress-up. However, I was fascinated by the way fabric can be transformed. As a result, as a child, I enjoyed making stuff out of any material available to me from scraps of paper to discarded packaging. In my late teens, I decided to become a fashion designer. In Greece of the late nineties, there was no booming fashion scene, no fashion journalism. As soon as I finished high school, I went to the UK to explore my curiosities without a clear vision.
♦Think-Feel-Discover: Where did you go to art school? What did you study? Can you tell us a bit about your studies' experience?
Firstly, I studied Fashion Design. I obtained a BA (honors) degree from the Art & Design department of Derby University in the UK.
So, I studied for 4 years, including one year of work placement experience in London, which was a prerequisite to finish and get my degree. In addition. I recall those years as one of the most inspiring, and creative years of my life. Above all, I realized the value of education in gaining strong skills. These skills shaped my way of thinking like a designer, and I'll keep on developing for the rest of my life.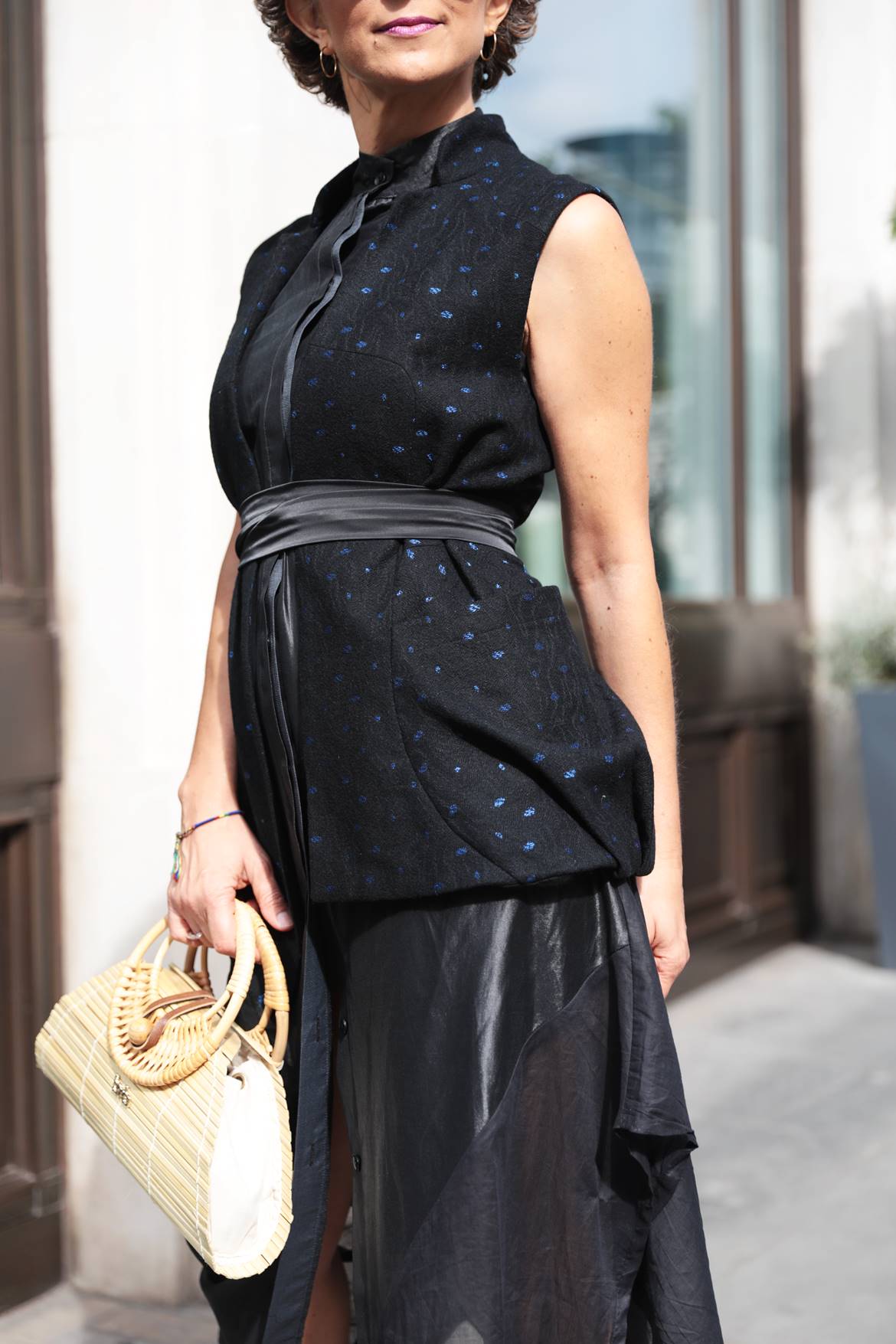 Outfit by Elisavet Kapogianni / Bamboo Bag by BmB Bags
On the other hand, I experimented with the fundamentals of fashion design practice. Moreover, I had access to the latest technological equipment, and individual studio to work. Besides, I had the freedom to explore ideas and techniques. I was encouraged to work independently in a self-managed manner of risk-taking, experimentation, and resolution. That was the ultimate experience for me.
Most importantly, I advanced my design thinking, and I took inspiration from innovative thinkers within the Fashion Department. It was my first fashion family that defined my approach to aesthetics. In short, living in the UK of the late nineties/early 2000s, there was the booming club scene and diverse cultural identities. This experience shaped my opinion on what fashion and aesthetics were and places they might be heading.
♦Think-Feel-Discover: When did you graduate? Can you tell us about your first presentation during Graduate Fashion Week?
I graduated in 2002 after having complete my written thesis on fashion sweatshops in North and South America and showcased my first collection in graduate Fashion week in London. The collection titled "Urban Pods" were structured sartorial cages with intersecting fluid forms exploring the limits of freedom and confinement within the traditional dialogue on femininity. Moreover, it was an anticipated moment by me and filled with the anxiety of exposing myself through my work to a bigger audience, other than my friends, tutors, and classmates. Likewise, I felt the excitement to show my collection alongside the work of other young creatives in my field.
♦Think-Feel-Discover: How did you get into the Fashion Industry?
My first work experience was with Vexed Generation in London in 2001. I worked with a very skillful and open-minded team. In the same vein, they encouraged me to write my thesis on fashion sweatshops, as they were exploring themselves similar ideas. After graduation, I came back to Athens, Greece. I immediately started to work as a fashion designer for a leading streetwear brand. I had a collaboration with them for nearly seven years.
♦Think-Feel-Discover: When and why did you decide to launch ELISAVET KAPOGIANNI WOMENSWEAR LABEL? 
I decided to follow my path and founded my brand under my name. Moreover,  I wanted to revisit my explorations and pursue my ideas in my terms and devices. Certainly,  I wanted to create a brand with a sophisticated and experimental approach to fashion.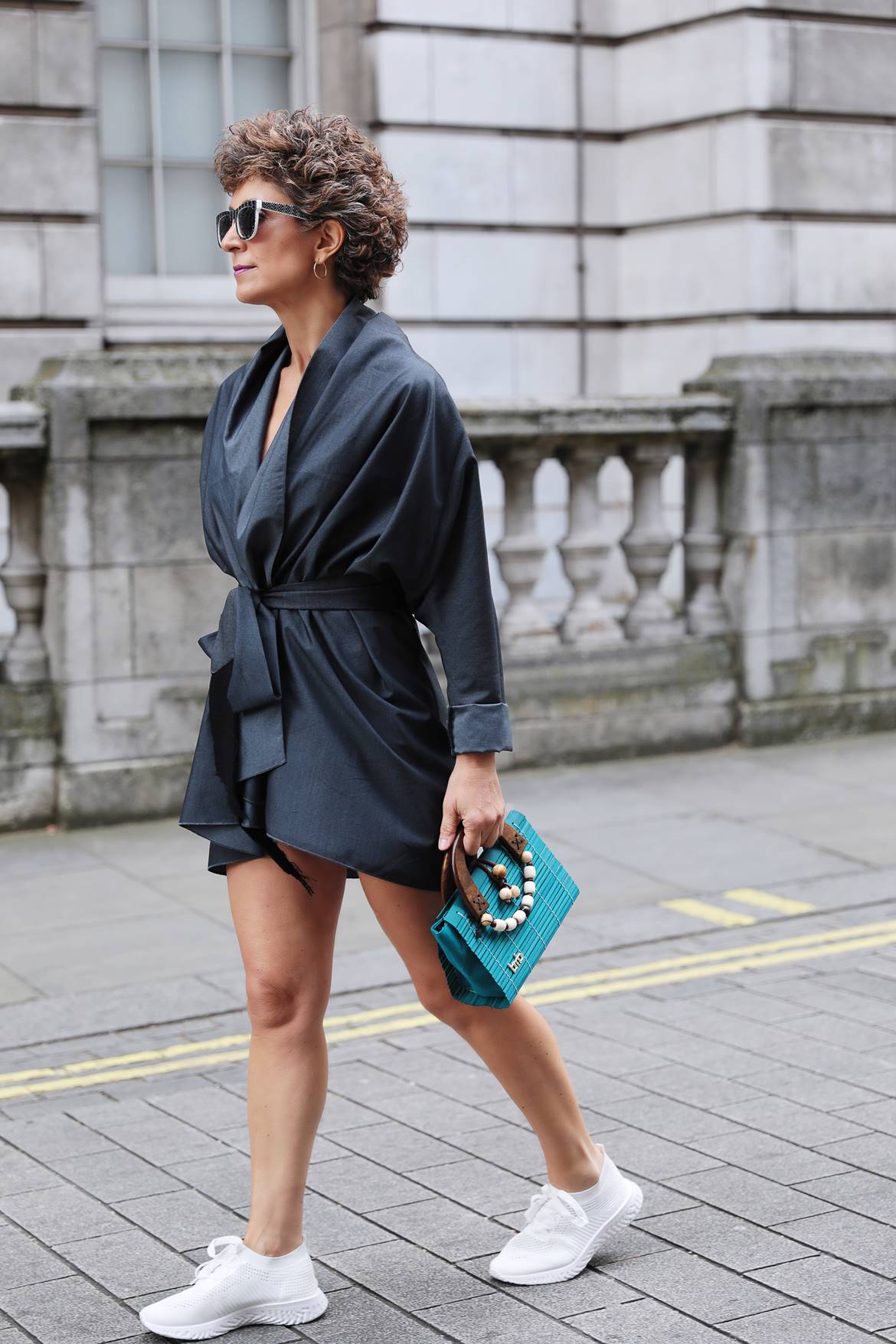 Outfit by Elisavet Kapogianni / Sunglasses by Optika Pismopoulou Eleni / Makeup by Faceshop.gr/ Bamboo Bag by BmB Bags
♦Think-Feel-Discover: What does it mean to slow fashion for you as a designer?
In my eyes, it's all about the quality and not the quantity. It means to take your time to reflect and invest in quality and labor. However, I approach slow fashion through unrushed design progress and steady development of signature pieces that you cannot pin down to a particular season or fashion caprice. All collections are produced in short runs and crafted locally in Greece by our skillful artisans.
♦Think-Feel-Discover: Which are the values of your brand?
Firstly, Elisavet Kapogianni aspires to be a designation for those in pursuit of a better version of themselves by defying norms and having faith in unrushed change.
Secondly, Elisavet Kapogianni pays homage to the intelligent, refined, contemporary woman that survives the chaotic urban life. I love to make women rethink their femininity by creating alternative options of sustainability, beauty, and function. In other words, high-quality garments with conceptual edge and versatility in styling are my priority. In my eyes, It is about balance among utility, ethics, and aesthetics.
Moreover, Elisavet Kapogianni collections reflect a dynamic timeless sophistication based on a classic aesthetic. In addition, Elisavet Kapogianni is curating a modular wardrobe like an art collection. It is limited edition, cherished, and made to last.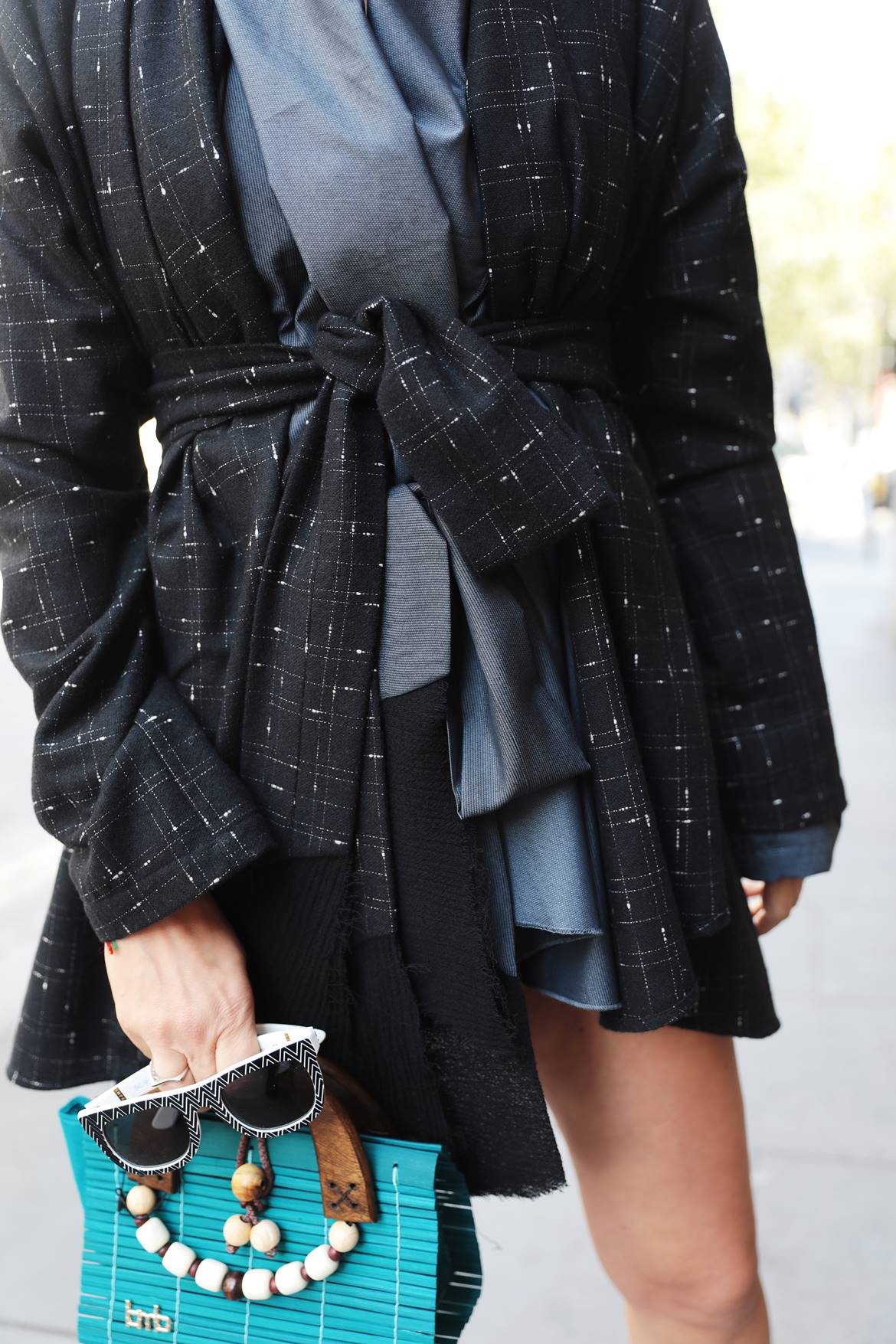 Outfit by Elisavet Kapogianni / Sunglasses by Optika Pismopoulou Eleni / Makeup by Faceshop.gr/ Bamboo Bag by BmB Bags
♦Think-Feel-Discover: Where do you make your clothes? How do you ensure the high quality of your pieces?
We assign value to our products using high quality, enduring materials, and craftsmanship. That is to say, we associate quality with mindfulness. That's why we have never used fur or wild animals. In other words, we produce locally, working closely with a team of excellent partners who we respect, ensuring fair wages, and no child labor.
♦Think-Feel-Discover: How does sustainable fashion influence the design of your collection?
Sustainability is ethics + aesthetics. For me is an aim to balance my creativity and cosmic footprint, embracing both personal obsessions and collective aspirations. We use fabrics like cotton, linen, wool but also Tencel. In the same vein, our design and development incorporate minimum waste attitudes.
Meanwhile, we adapt our original design to reduce waste in cutting. In short, we use a small stock lot of quality fabrics, up-cycling our material stock. We use offcuts discarded from the leather industry, and we update them with handcraft techniques. Recently we developed a zero-waste bag for packaging of our products from our stock fabric samples and manufacturing waste. All labels are from leather offcuts that we manually produce and print.
In conclusion, we are committed to searching for more ways of becoming more sustainable from our design process and material selection to packaging and logistics.
♦Think-Feel-Discover: What does fashion creativity mean to you?
Firstly, It means using my imagination even with limited resources to result in my interpretation of an idea. Secondly, It means to be curious persistently observing and getting involved with culture, history, art, and design to be inspired, and decode it into fashion. Moreover, it means to be observant. I love to listen to the things people talk about and try to translate them into fashion propositions that are relevant to both them and myself. Similarly, it means not being afraid to make mistakes. Explore new ways to dress. Be flexible, and think out of the box. To sum up. It means to be optimistic. As a fashion designer, I'm enthusiastic enough to make it relevant to my present through garments.
Outfit by Elisavet Kapogianni / Handmade shoes N Modisto Handcrafted shoes, Instagram @n_modisto / Bamboo Bag by BmB Bags /Sunglasses by Optika Pismopoulou Eleni