What does it take to create again the Best London Fashion Week 2020 street style? Still, why geometry and symmetry define the beauty of your bags and shoes Spring/Summer 2021 today?
In many ways, there has never been a better time to talk about fashion style than London Fashion Week. There fewer different street style 2020 ideas. However, there's a nostalgic air in my London Fashion Week 2020 street style to express a new elegance inspired by the beauty of geometry and symmetry. On the other hand, the Internet replaced the fashion show in London during London Fashion Week in September 2020. In my creative imagination challenging bags and shoes reflected my desire for what to wear in London. In short, I wanted to create a smarter, cleaner, and bespoke London Fashion week 2020 street style. Change is in the air from all directions.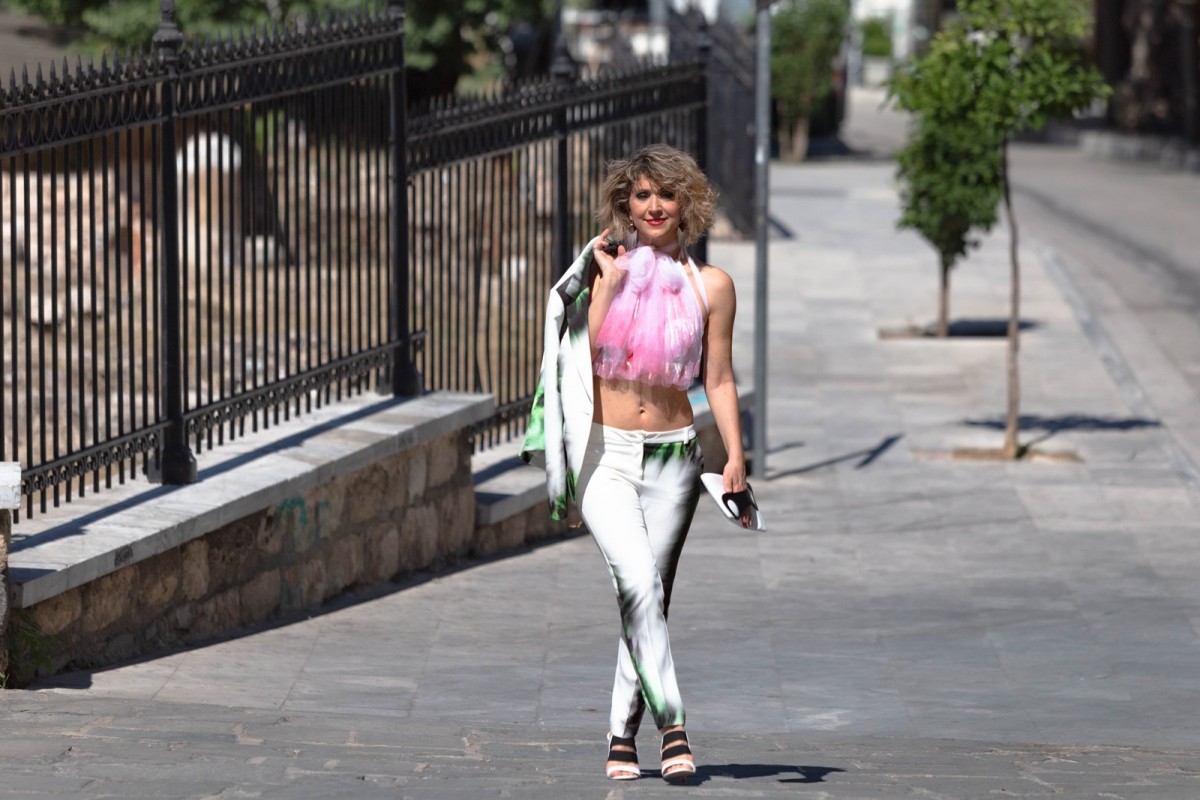 The Best street style from London Fashion Week Spring/Summer 2021. Which four looks will inspire you the most for what to wear in London now?
Firstly, casualwear is my next move to define simplicity. Slow-down, buy less, create smarter, more comfortable outfits, and wear it now. Secondly, I observed the architectural shapes and lines in Athens, Greece. I explored a self-confident woman, delicate, elegant, ready to stand out through simplicity and be authentic. Moreover, This season I was inspired by KLEOS' sources of inspiration. Since the brand's inception in 2016 have been two of Ancient Greek culture's most precious values, Geometry and Symmetry. Two words which define the philosophy of a whole world have shown us the way towards a brand new perspective of aesthetics. The circle, the triangle, the square, the curve, the parallel lines, the cross lines, shapes that related to simplicity, embrace harmony, and balance. In short, I could never explain how Fashion design inspired by architects reshape my way to dress. Accessories are the image of my London Fashion Week 2020 street style. Let's explore the four looks I created, illustrating a very up moment of sportswear, and tailoring.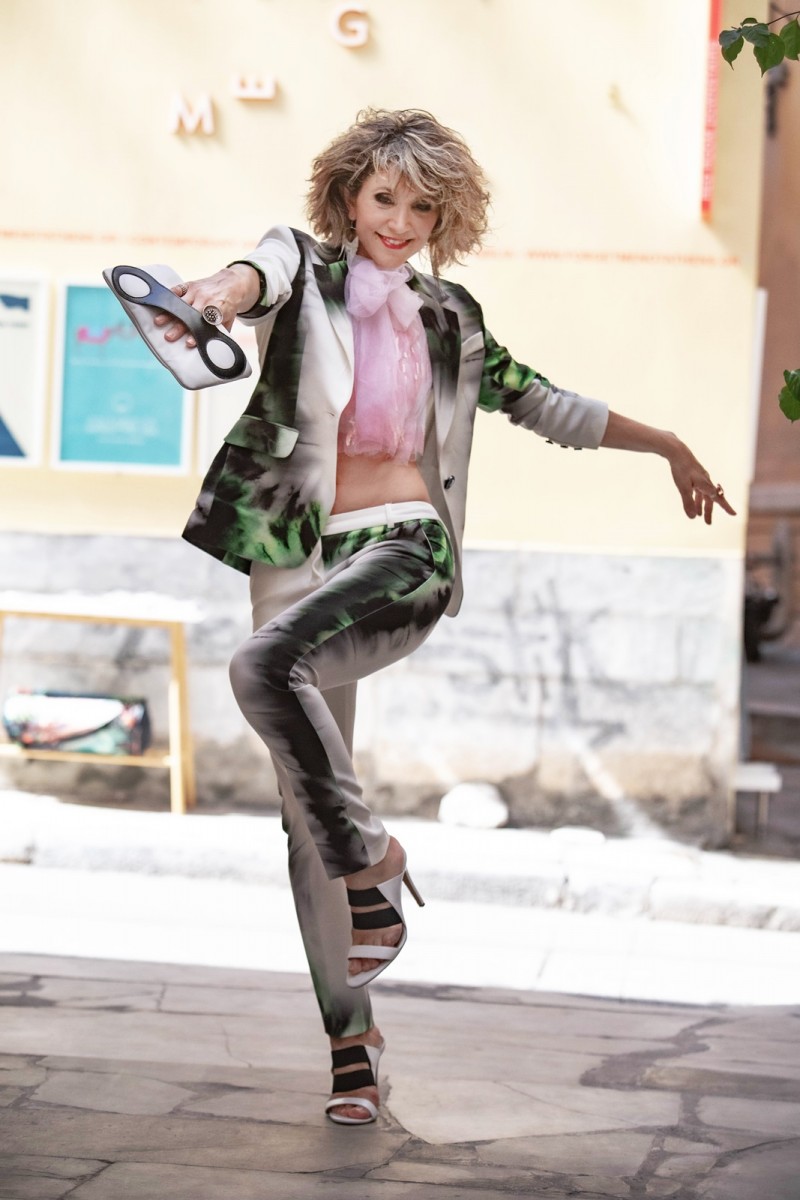 White clutch bag by KLEOS / High heels by Stathis Samantas
The latest four look we want to wear from London Fashion Week 2020 street style. When the eventually architectural design of KLEOS brand still inspires streetwear trends 2020.

1)Explore now the Red evolution of circle and rectangle. Wear now the best waist bag for a provocative call for London Fashion Week street style action.
For me, accessories like the waist bag in geometrical shapes as the circle, and the rectangle in flame red reveals femininity with self-assured power. Above all, It's about a new boho-chic style guide, provocative, and unmissable. The long skirt with ruffles in smooth neutral beige colour come together in balance with electric brights.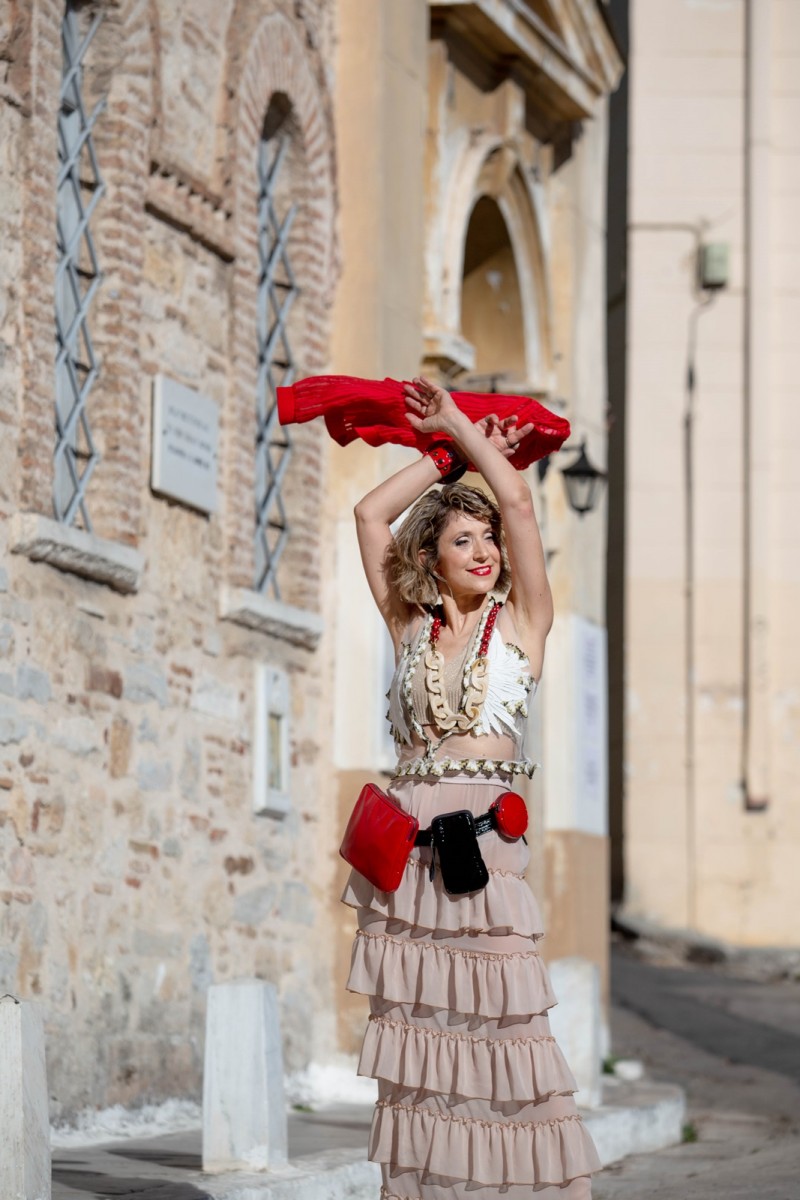 Waist bag by KLEOS / Long pencil skirt with ruffles, transparent crop top by christinejoegr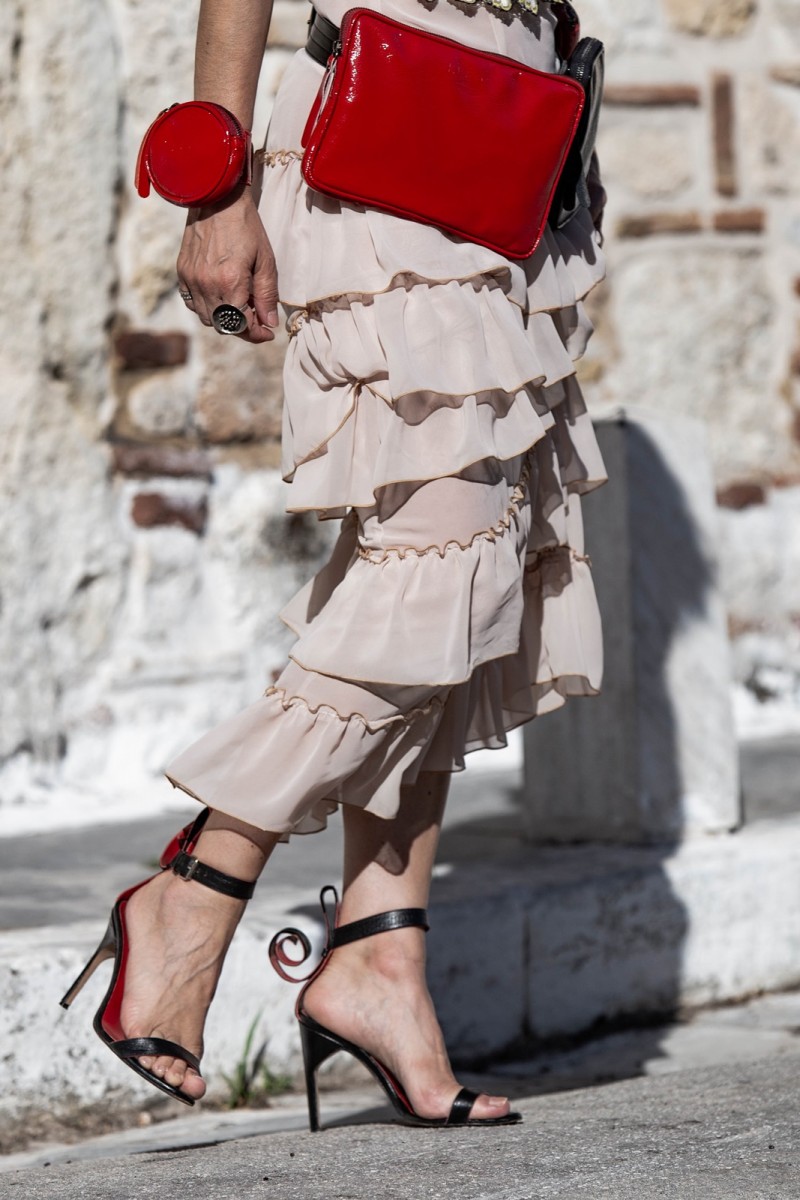 Waist bag by KLEOS / High heels by Stathis Samantas.
Meanwhile, I've chosen to wear a sophisticated, luxurious look today with traditional boho-chic clothing. Likewise, I combined a transparent crop-top with a waist bag with references to the architectural shapes of a circle and rectangle. In the same vein, an original approach to design where fluid fabrics have a handmade quality about them. The red colour is always associated with the original design. Feel free now to discover it. Certainly, dare the unexpected London Fashion Week 2020 street style.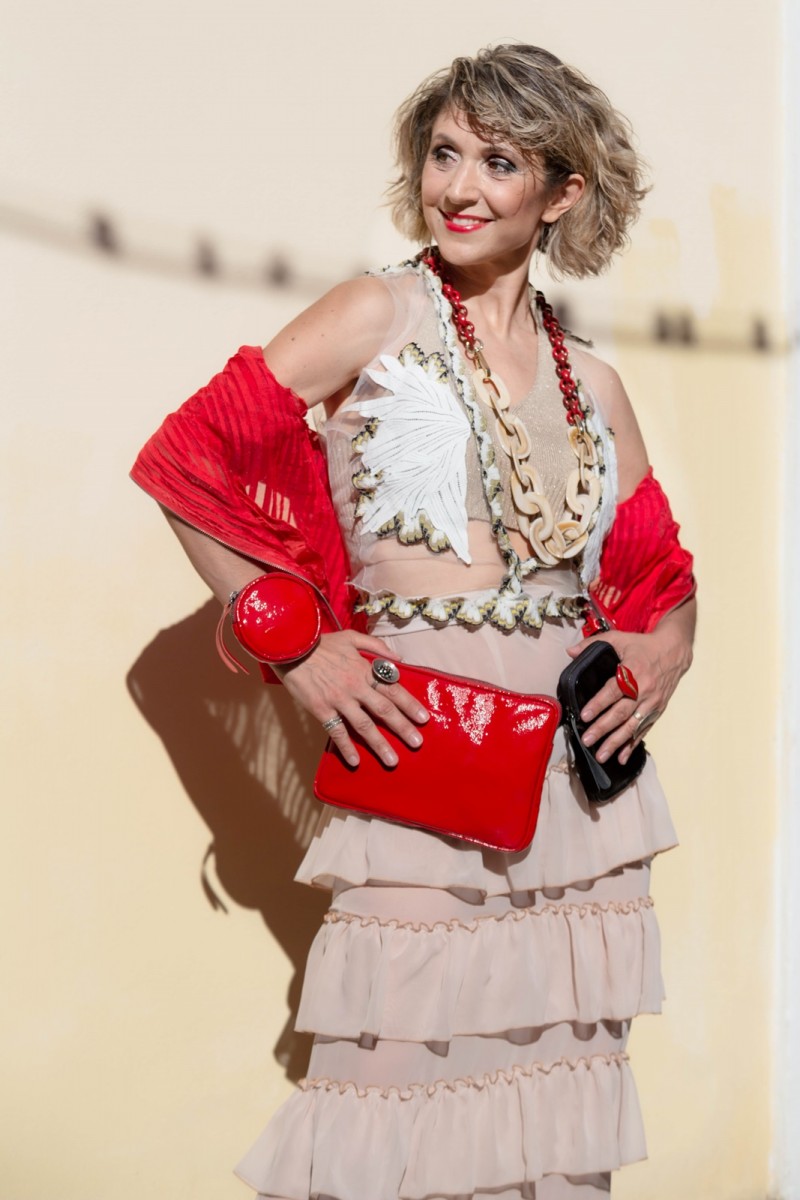 2)Discover anytime the Art of Black for your best street style 2020/ 2021: Still, the black and white new cylinder bag with checkered trousers you're guaranteed to fall in love with. Stop to wear it today.

It's about a sharp monochromatic look which plays with geometrical shapes as the cylinder and checks. That is to say, high-waist slim checkered trousers, high neck top in black, and arc-line shoes make my outfit to look stunning with the white cylinder bag. Minimal geometrical shapes with tailored clothes, in black and white, the art of elegance and style for my London Fashion Week 2020 street style. Black and white are high on the International Fashion Week Agenda for Spring/Summer 2021.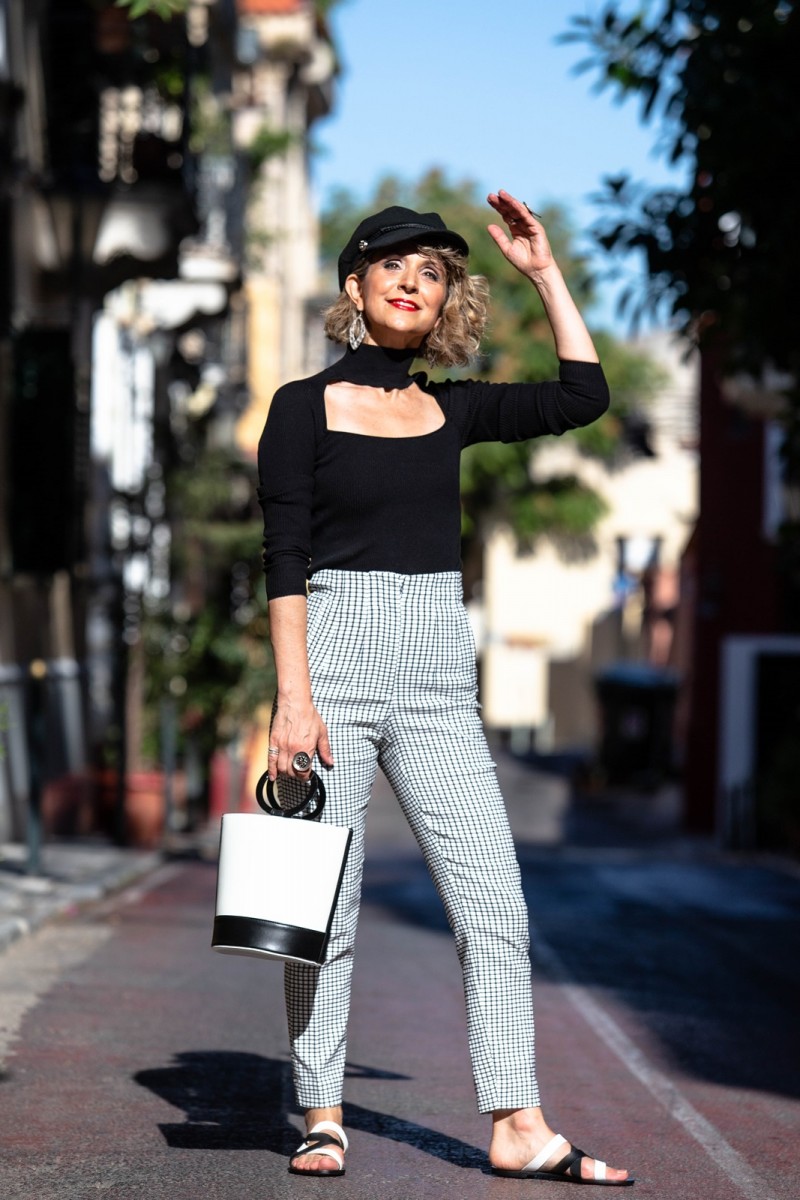 Cylinder bag in Black and White by KLEOS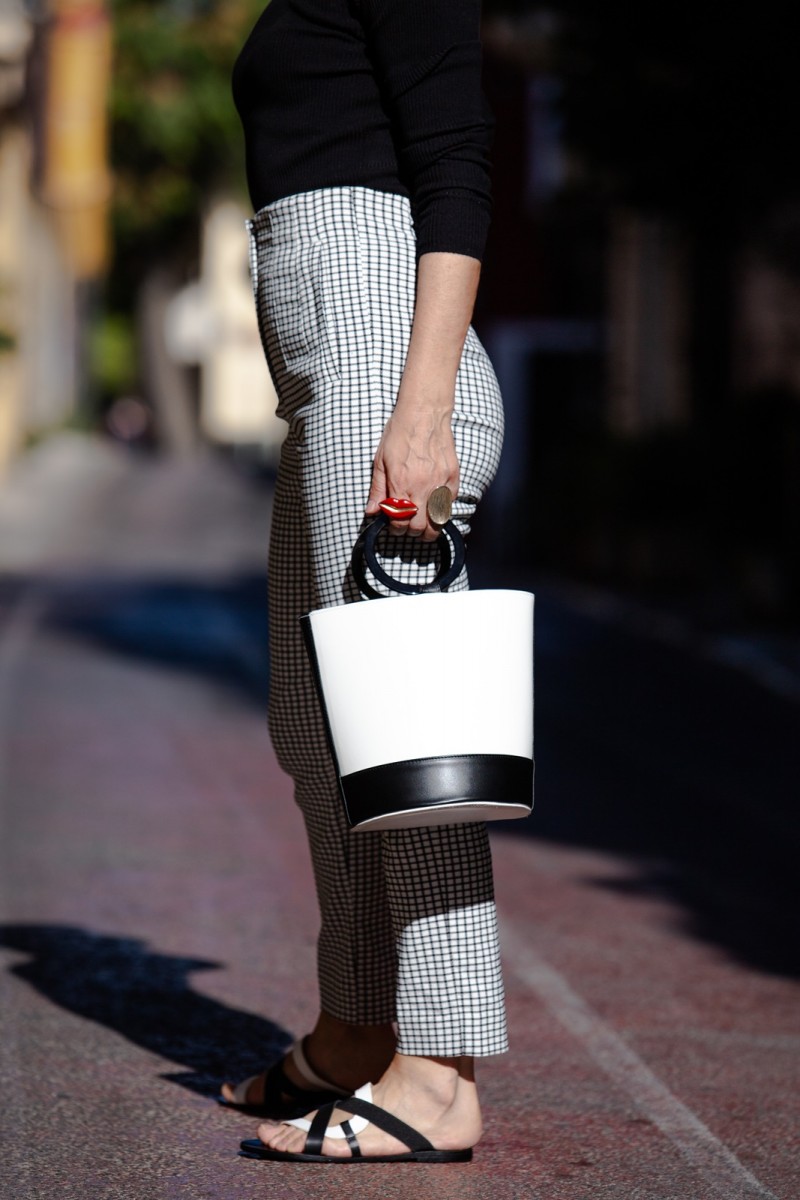 Firstly, go back to basics delivers a new luxe look for many of the season's accessories, gags, and shoes. Secondly, Simple black high neck tops with checkered pants and minimal design accessories will make your look to stand out. In conclusion, follow the challenge of geometry and symmetry in black. Always let architectural design to inspire your way to dress for SS21.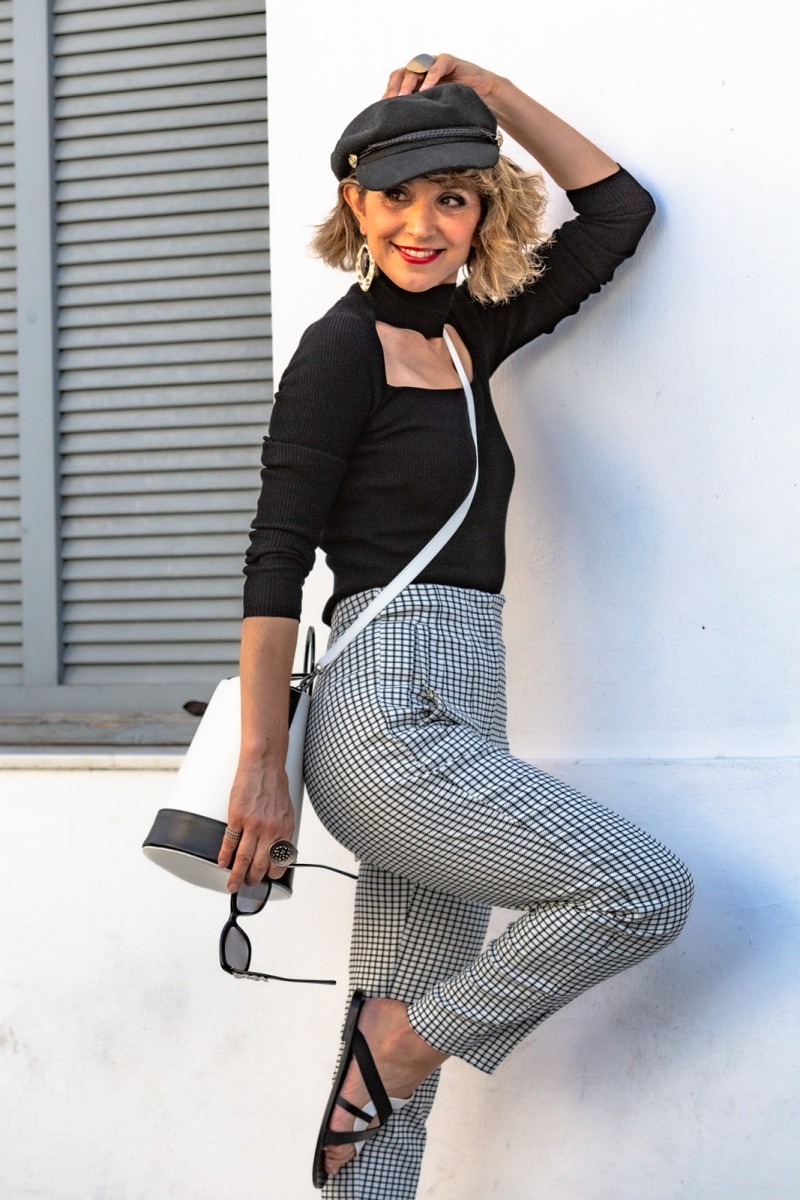 Arc Line shoes /cylinder bag in Black and white by KLEOS

3)Join today the greens with the rectangle bag and the right angle shoes. Be inspired now by the reimagined classics to a favourite knitted crop top.